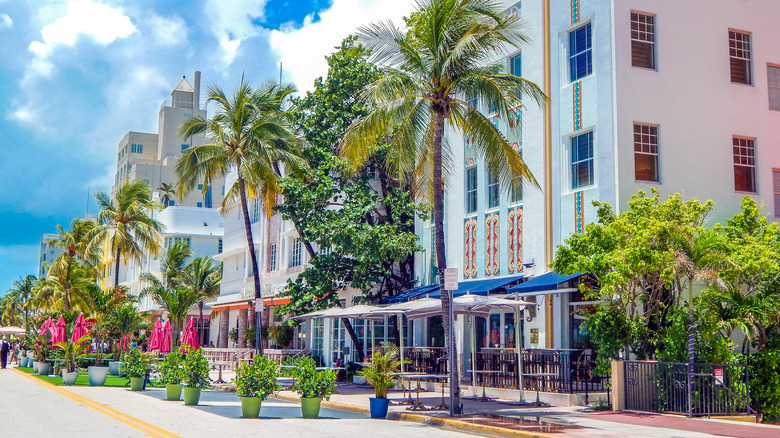 The United States is almost equal in size to the whole of Europe in terms of land. It's also spread across six time zones and is one of the most biodiverse countries in the world. If nothing else, this makes domestic travel ripe with possibilities for travelers looking for a budget vacation that gets them somewhere completely new — all without leaving their own homeland. Whether you're looking to become one with nature, explore a new city, or immerse yourself in a new culture, the United States has plenty of options that are not only breathtakingly beautiful and fun, but also easy on the bank account.
The melting pot that is the United States has created some of the most culturally rich destinations with visually stunning landscapes. While some such locations can be pricey to both live in and visit, others are actually pretty reasonable. The importance the U.S. has put on its National Parks has helped preserve some of the best natural wonders found in the 50 states, while also keeping them affordable for all to see. In addition to some truly stunning examples of nature's masterpieces, our list of budget-friendly U.S. vacation destinations includes surprisingly accessible cities as well as vital cultural and historic locales.
Philadelphia, Pennsylvania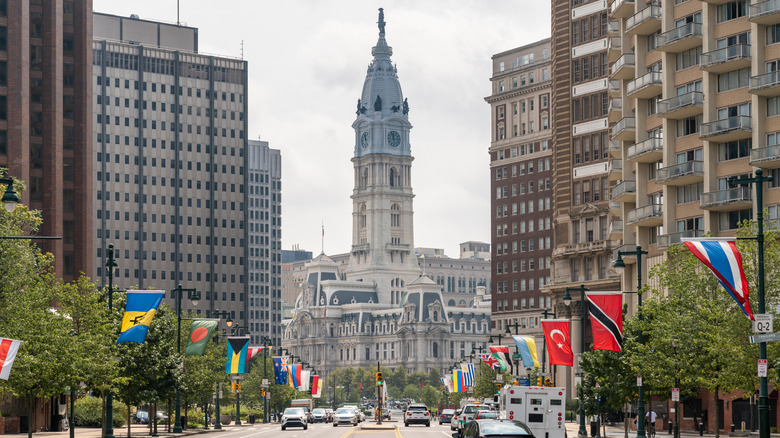 Major U.S. cities may not be the first thing that comes to mind when brainstorming affordable vacation ideas, but the truth is that some of the most interesting and historic cities in the United States can be thoroughly visited without breaking the bank. Philadelphia is one such city, with an epic art scene that should be on any culture vulture's radar. Lining up a visit with one of Philly's 12 First Fridays of the year will add an extra experience that art lovers shouldn't miss, as major art museums like the Philadelphia Museum of Art and The Barnes Foundation keep their doors open late on the first Friday of every month. Galleries also take part in First Fridays, opening their doors and serving wine to patrons.
A free or affordable art experience isn't limited to First Fridays, though, as Philly is home to over 3,000 murals that are absolutely free to view. You can take a self-guided tour throughout the city, stopping into shops, cafes, and bars along the way. An absolute must-see while in the city, though, is the Magic Gardens, a huge sprawl of mosaics covering practically every inch of a Philly native's eclectic home that's been turned into a museum.
Its massive art scene aside, Philadelphia is also an incredibly historical city and is home to many landmarks that date back to the founding of the country. Seeing the famous Liberty Bell is among the many free or pay-what-you-can attractions the city has to offer.
Miami, Florida
While many may associate Miami, Florida with luxe vacationing and a heavy party scene for the rich and famous, the culture-rich city can actually be pretty affordable for travelers wanting to forego the South Beach nightlife that is frequently linked to the city. Those who want an authentic Miami experience will find that food is one thing not to be slept on in Miami, and the good stuff is really quite affordable.
Miami is split up into smaller neighborhoods jam-packed with culture, and foodies on the lookout for some of the best Cuban food they'll likely ever eat should spend some time in Little Havana. When it comes to having a little bit of everything for not much money, Little Havana's El Palacio de los Jugos is a market-style restaurant where patrons can get anything from a Cubano to a fresh coconut cut right in front of them. There, along with other neighborhoods like Wynwood and Coconut Grove, you'll find some of the most budget-friendly eateries in Miami that serve up some amazing grub.
As far as entertainment goes, the budget-friendly hidden gems can be even more fun than the nightclubs Miami is so known for. Nestled downtown between buildings is Microtheater Miami, a unique theater group that puts on 15-minute plays in vibrantly painted shipping containers. The creative and engaging shows make for an energizing night out that just so happens to be kind to patrons' wallets.
Grand Canyon National Park, Arizona
The Grand Canyon is one of the most visited U.S. National Parks and has been a bucket list destination for people all over the world since the early 1900s, so you really wouldn't expect one of the seven natural wonders to fall on a list of budget destinations. It is, however, possible to see the great sight without dropping too much cash, but it will take some planning.
Trip Savvy's guide to visiting the Grand Canyon on a budget includes some solid advice, like planning your stay during the off season and on one of the National Parks Services' free admission days, as well as some hacks on actually getting to the canyon and snagging affordable accommodations. While there are many ways travelers can experience seeing the Grand Canyon, from helicopter rides to boat tours, those who are sticking to a strict budget may want to opt for a self-guided hike down into the canyon. Visitors willing to splurge on a unique experience may opt for the Skywalk option at Grand Canyon West, which allows visitors to walk out over the canyon.
It is, of course, important to recognize that hiking down into the Grand Canyon, while maybe not as expensive as you might think, is plenty dangerous for those who come unprepared. Hiking essentials are necessary for those descending into the canyon, as an affordable vacation could easily turn into one with a hefty search and rescue bill if travelers do not heed warnings.
Glacier National Park, Montana
Arguably one of the most beautiful National Parks with ample biodiversity, Glacier National Park in Montana is an affordable trip with admittance being no more than $35 for a full week of access. There is nothing cheap about the experience, though, as Montana is one of the most beautiful states as a whole, and anyone with a love of nature and gorgeous views should not overlook the underrated state.
Not to be confused with Glacier Bay National Park in Alaska, plane tickets to Glacier National Park are very affordable and convenient. The park has its own airport located just 30 miles from its entrance and under half that distance to the closest town of Whitefish. Once within the park, there is a free shuttle that can take visitors to the famous Going-To-The-Sun Road, which, according to The Mandagies travel bloggers, is one of the most breath-taking drives in America. This path takes about two hours to complete driving, and in that time travelers will traverse harsh twists and turns that uncover spectacular mountain views full of vibrant colors interrupted by valleys and lakes.
Backpackers and hiking connoisseurs might opt to take in the views Glacier National Park has to offer on foot, and they would have plenty of options and opportunities. The park boasts over 700 miles of trails to explore, and with the most expensive part of the trip likely being the gear needed to get around the beautiful reserve, it's an accessible experience that no one should be without.
Shenandoah Valley, Virginia
Travelers looking for the best of both outdoor worlds with a great mountain and river scene should look to the Shenandoah Valley in Western Virginia. Surrounded by the Appalachian Mountains from all sides, two major National Parks, and the Shenandoah River running right through, the valley offers a number of different beautiful views and affordable activities.
The Shenandoah Valley, as well as the surrounding Shenandoah National Park and Blue Ridge Parkway, have ample opportunities and accommodations for hiking and camping. Everywhere visitors look, they will see camping spots and the beginning of trails. Old Rag, Dark Hollow Falls, and Mary's Rock are among some of the best hikes with amazing views that travelers can tackle, according to Planet Ware. On the other hand, travelers can have a great time in the valley tubing, kayaking, or canoeing down the Shenandoah River.
Charlottesville, Virginia is not a far drive from the Shenandoah Valley at all, so a city excursion isn't out of the question for valley visitors as well. If visitors want to get a different view of the mountains, the city is surrounded by popular hiking spots like Humpback Rock, which overlooks Shenandoah National Park. Charlottesville is also known for its many breweries scattered throughout both the city and the surrounding countryside, with The Ale Trail featuring some standouts.
Moab, Utah
For the backpacker, hiker, or all-around outdoor traveler, Moab is an absolute Mecca with crisp views you won't see anywhere else in the world. Those travelers will find that the historical desert city can be quite affordable, as visitors who are already equipped with packs and outdoor gear can take full advantage of the free or near-free attractions. Gear can run quite expensive, so travelers who are new to backpacking, hiking, biking, or rafting might need to look elsewhere for a budget vacation. The views are free, though, so if you're interested in passing through quickly, it could make a great addition to a road trip.
However, the gorgeous desert views aren't the only thing free in Moab, as there are a number of activities that don't have much of a price tag, if any at all. Entrance to both Canyonlands National Park and Arches National Park, where travelers will be able to see the famous Delicate Arch, can also be pretty close to free for those who have annual passes to the National Parks and have taken advantage of any of the other affordable National Parks vacations on this list. In addition to marveling at the naturally occurring arch sculptures near Moab, visitors can also see the preserved history of dinosaur tracks by taking a short hike as well as visiting many sites where Native American rock art exists.
Reno, Nevada
For being a city highly dependent on tourism, Reno is surprisingly affordable to visit and thrive in while on vacation. The little sister to Nevada's own Las Vegas, Reno is not only much smaller but also much cheaper and less crowded, while still getting a lot of the same novelty and excitement that Sin City offers visitors. Yes, neon lights and casinos could certainly take up a good portion of visitors' time if they so choose, but there are plenty of things to do in Reno otherwise. Perhaps the biggest and most necessary stop for first-time visitors is the Riverwalk District of Reno, which offers great shopping and dining, as well as some pretty great river views and people watching, with street performers and buskers throughout.
It's not just Las Vegas that Reno beats out in terms of price. According to Where and When, the cost of living for Reno is right about average for the rest of the United States. But when it comes to leisure activities and fun, "The Biggest Little City in the World" is 12% cheaper than the average for the United States. Hotels and accommodations come in cheaper as well, but you may spend a little more when it comes to food. If you come to the gambling city with a casino budget, you may even walk away with more than you came with — don't hold us to that, though.
New Orleans, Louisiana
A trip to New Orleans is something that just can not be recreated anywhere else in the world. The city has a vibe and culture all its own, the result of African, French, and Spanish influences. The Cajun accent is found nowhere else outside of Louisiana, and the city is steeped in superstition. In addition to being so culturally rich and unique, New Orleans is also one of the most affordable cities in the country to visit. This list addition does come with a warning, though, as New Orleans' murder rate rose to number one in the U.S. for the first half of 2022 and it has never quite recovered from being ravaged by natural disasters.
Travelers Worldwide's safety guide for the city weighs the pros and cons of today's New Orleans and still deems the unique city worth a visit if you know where to go. According to the resource, Uptown and the Garden District are the safest areas to visit within New Orleans, and they boast some pretty great attractions. Old, original homes offer beautiful architecture to the neighborhoods that make for awe-inspiring exploration via foot, car, or even the streetcars that affordably run through popular neighborhoods. These exciting neighborhoods are bustling with events and festivals, the famous Mardi Gras not even making the top five on Yelp's list of best festivals near the Lower Garden District, making the destination even better in the off season.
Salt Lake City, Utah
Salt Lake City, Utah is on the top of many budget vacation lists, and for good reason. The city boasts a great outdoor scene with many free activities that could keep visitors occupied for a full week without needing to pay a cover charge at all. For major attractions that do come with a price tag, though, the cost can be significantly decreased with the city's Connect Pass, which comes in a number of affordable options – all under $100 – and gives access to a number of unique Salt Lake City attractions including a zoo, museums, and parks.
Being in Salt Lake City, though, you shouldn't miss the opportunity to step foot into the actual Salt Lake. The Great Salt Lake is the largest salt lake in the United States, and you're able to kayak, canoe, or go boating on it while taking in the gorgeous and other-worldly views seen from the lake. If you're not into the more fast-paced activities or lack the means to get the necessary gear, floating at Antelope Island State Park is not only a possibility, but it's also an enjoyable and relaxing pastime for lake goers. While the high salt content of the lake keeps fish from being able to survive in its waters, the salinity makes swimmers' bodies float with ease and is an experience so different from swimming in most other bodies of water. Plus, it's a cheap way to spend an afternoon.
Savannah, Georgia
Savannah is a great city for many things, and a budget vacation is one of them. As a destination many seek out for its relaxed vibe, rich history, and beautiful landscapes, Savannah offers a luxurious trip without luxury prices. According to Budget Your Trip, the average traveler will spend around $128 a day in Savannah. That's down from the U.S. average of $225 per day for all destinations, as reported by the same source.
There are plenty of free activities Savannah has to offer, and simply walking around the city is well worth your time. Broughton Street is home to a number of colorful and local shops that will have visitors' heads on a swivel, and Savannah even has an almost-free guided walking tour that is not only informative, but it is also a great way to get a first look at what the city has to offer.
Walking through the city is an experience only elevated by the city's many festivals. While Savannah is known for its St. Patrick's Day festival, which is certainly worth experiencing, some of the city's smaller festivals throughout the year are impressive as well. The SCAD Sidewalk Arts Festival features art pieces covering a large part of the city's famous Forsyth Park, and Savannah's PRIDE festival is a massive celebration that lasts multiple days and nights, with events that are geared toward both people of all ages and adults only. You certainly won't want to miss either of these events if your trip overlaps with their happenings.
Texas
Surprisingly, Texas is a pretty affordable state to visit – despite its increased sales tax due to the lack of income tax – and it has numerous cities that would make great vacationing spots. Texas is great at making its big cities feel like small towns, and while skyscrapers may still be present, the mingling of community and nature boasts some unique and truly beautiful experiences.
San Antonio is a gorgeous city and its River Walk runs through the center of the city, offering a spectacular experience for visitors who want a simple, yet relaxing walk through the city. Galveston is a great place to bring the family and has a number of interesting seaside museums, an expansive amusement park with very affordable ticket options, as well as miles of beaches to enjoy. Austin is a great city to visit and is another affordable option with numerous options for both outdoor and indoor fun, especially for those with an interest in the weird — in that case, the colorful Museum of Ice Cream should hit just the spot. Those wishing to vacation in the U.S.'s Southwest region can throw a dart at a map of Texas and walk away with a trip worth all the space in their camera roll, while still saving some cash to stow away for a trip to another one of the state's friendly and inexpensive cities.
Albuquerque, New Mexico
While "Breaking Bad" fans may want to visit Albuquerque for their own self-guided tour in honor of arguably one of the most perfect shows ever created, this interesting city in New Mexico is actually quite affordable and can be pretty relaxing, despite Walter White's life experiences. The city is full of rich history and, according to Frommers, the city's Old Town will transport visitors back in time to 18th century Mexico with its Pueblo-Spanish style architecture. Old Town flies the flags of the United States, Spain, and Mexico with honor and celebrates each part of its own culture rooted in each country.
Albuquerque has a number of free and not-quite-free activities that budget travelers are able to take advantage of. Art lovers will love exploring the murals in the bustling city — the ABQ Artwalk is also a good choice for travelers whose trip aligns with its monthly event. For those who enjoy a more natural landscape, Petroglyph National Monument's open-air museum is a great option for those wanting a history-filled space with fresh air.
The affordability of Albuquerque is helped by the fact that it has its own airport, so travelers will not need to transport themselves elsewhere or rent a car upon landing at Albuquerque International Sunport. Transportation once in the city is fairly easy and kind on the coin — the airport shuttle or public transportation system is sufficient within the city, though rideshare apps are common and always an option as well.