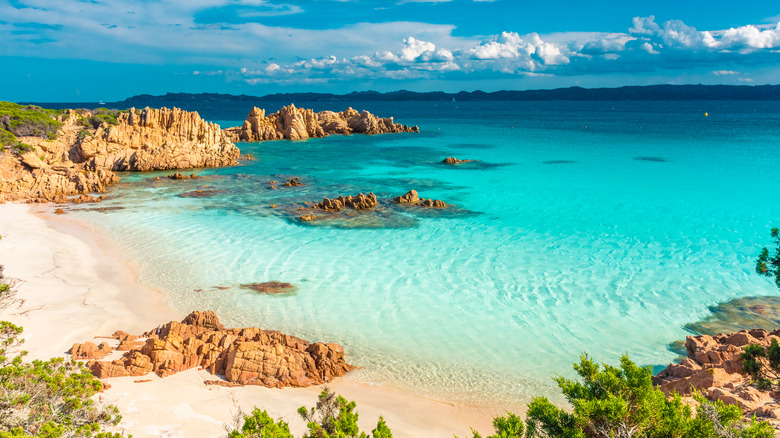 It seems like you can't open your Instagram app these days without seeing pictures from someone's trip to Italy. And from the look of our feeds, it seems like everyone's always going to the same places: Tuscan vineyards, the ruins of Rome, the canals of Venice.
After years of lockdown because of the COVID-19 pandemic, we're all dreaming about vacations — so much so that there was a nearly 250% increase in flight bookings from the United States to Europe in the first half of 2022, per PR Newswire. According to Schengen Visa Info, Italy alone saw a 66% increase in tourism-related markers, such as airport arrivals and hotel reservations in the first half of 2022. They add that mayors in Italy saw a 194% increase in revenue from their tourist tax from this time last year.
That's right: if you're traveling to Italy, plan on a tourist tax for each city you visit. Normally only collected by hotels — though Our Escape Clause reports this is increasing with private apartments and Airbnbs as well — the fee is charged per person, per night. Also, this must be paid in cash, so make sure exchanging currency is part of your travel plans.
Escaping the crowds in popular Italian destinations is possible, so don't let the numbers deter you. For the adventurous traveler, tourist-free Italian beaches are just a short hike away.
If you're visiting Tuscany, head to the coast to visit these secret beaches
Pisa, Florence, and vineyards — these are the things you probably think of when someone mentions Tuscany. Magnifico points out that Americans in particular equate Tuscany with wine, history, art, and food. But if you're looking to grab some beach time without having to brave big crowds, Tuscany's coasts should go on your Italy travel itinerary immediately.
If you're in southern Tuscany, Fodors suggests paying a visit to Capalbio, a region offering up a 7.5 mile stretch of sand, much of which is free and accessible to the public. Parco Naturale di Maremma is also nearby and is a protected wildlife area. Today, the national park attracts hikers and beachcombers alike but restricts its visitors to a certain number of people a day. Its website notes that pets are not allowed and many of its options require a guide so plan ahead.
When you're in northern Tuscany, be sure to make time to visit Isola d'Elba. Accessible by ferry from Piombino, the island is home to Spiaggia Di Sansone, which Travel Awaits recommends. If you'd rather not hop on a ferry, you can consider heading to nearby Cala Violina a Scarlino, which Visit Tuscany touts for its azure-blue waters, white sands, and deep greenery of its surrounding woods (Cala, they note, means "cove").
Visit these hidden beaches during your trip to Sicily
Sicily is home to both rocky volcanic coastlines and white sandy beaches, as well as to both modern and ancient architecture. With the opening of multiple new luxury hotels and a flourishing tourism industry, finding quiet places to enjoy Sicily's beautiful beaches can feel like a daunting task.
When we say you'll have to leave the beaten path to find these beaches, we mean be prepared to hike or take a boat to these breathtaking locations. Cala Rossa, for instance, which reviews on Beach Searcher tout for its exceedingly clear waters.
Cala Pulcino is similarly difficult to get to, requiring a ferry ride and lengthy hike, per Traveller. But the reward? A near-empty beach (almost) all to yourself — or at the very least among other adventurous beach-goers.
In the opposite direction, you'll find Riserva Vendicari. Located near Siracusa, the area is a nature reserve where you can do a bit more than enjoy the peaceful water. You can hike here, snorkel, or simply take in the amazing wildlife.
These are Sardinia's must-see secret beaches
If you're planning to visit Sardinia (Sardegna) while you're in Italy, you're probably already trying to narrow down which beaches you want to visit. If you want to hit the beach for some peace and quiet, you might want to consider skipping July and August. Not only are these the hottest months, but these are when Sardinia's beautiful white sand beaches will be at their fullest.
No matter what month you choose to plan your Italian adventure for, you're going to have to prepare for boat rides and hikes in order to get to Sardinia's most secluded beach spots. Cala Mariolu, for instance, is only accessible by boat but once you're safely there, you can enjoy snorkeling and diving. Cala Luna, too, is only accessible by boat but it's made for intrepid visitors and features natural caves you can venture into for the perfectly framed Insta shot.
Just north of Cala Marilou is where you can begin the two-and-a-half-mile hike to Oasi Bidderosa, a beach that features — you guessed it — more caves offering respite from the hot summer sun. Also, Sardegna Turismo notes that, at low tide, the water can be only as deep as a few feet.
Beat the tourist crowds in the Lazio region by going to these secret beaches
The main draws to Italy's Lazio region for tourists are Rome and The Vatican. However, the region is also known for its beaches. According to The Local, Santa Marinella and Santa Severa draw modest crowds to their golden coastlines and are two of a very small number of free public access beaches in Italy. At Santa Severa, you'll find an old medieval castle on the beach that doubles as a wedding venue and hostel. The beaches are also accessible by train from Rome.
If you're looking to grab some beach time during your trip to the Lazio region, you can do as the Romans do and head to Spiaggia di Chiaia di Luna, which features breathtaking steep cliff faces. Getting to this hidden gem isn't easy, though. The beach is only accessible by taking a ferry from Anzio to Ponza, then trekking across the island via a tunnel.
Italofile recommends heading to the Riviera d'Ulisse. Aside from being where Homer wrote that Odysseus landed during his "Odyssey," the area has multiple beaches full of ancient ruins ready to be explored. If you're just looking for quiet, however, catch a ferry to Islo Pontine, an uninhibited island chain known for its wildlife and nature preserves.
Plan on visiting this hidden gem when you're visiting the Calabria region
Despite its breathtaking rock formations and pristine beaches, Roads and Kingdoms reports the Calabria region of Italy is one of the least-visited. With 500 miles of coastline, it's not that you'll have a hard time finding a beach, it's that trying to narrow down which to visit can feel impossible. That is, as long you're not going in August. Roads and Kingdoms warns that while Calabria might not be on American tourists' radars, Italians and other Europeans flock to the area.
One of the beaches locals frequent is Spiaggia di Torre Marino in Capo Vaticano, per Travel Awaits. There, you'll find white sand beaches and high cliffs that make the beach feel pleasingly isolated — as if you're enjoying your own glam vacation shielded from the prying eyes of the paparazzi.
Visit these hidden beaches when you're in Puglia
Puglia is tucked into the country's boot heel and, according to Essentially Italy, has the most coastline out of any other mainland Italian region. Responsible for 40% of the country's olive oil production, the region is known as much for its food as its beaches on both the Adriatic and Ionian seas.
If you're up for a hike, Porto Selvaggio is a free public-access pebble beach tucked away in a sheltered bay that promises to be worth the walk. As Ryanair explains, the area is a bay with pine trees that offer perfect shade for a picnic. If you're feeling restless, there are different paths along the coast where you'll find wild rosemary and myrtle growing.
Another beach that's worth the hike lies along a 3-mile trail in San Domino to Grotta delle Viole, per The Guardian. There, you'll find endless caves to explore and Caribbean-clear water (or maybe we should say Mediterranean clear).
A trip to Puglia is not complete without visiting the Tremiti Islands. Fodors explains that this small island chain is just off the Gargano National Park and can be accessed by ferry. Of the five islands, three are only accessible on foot but promise more underwater caves and fun nooks to explore.
If you're in the Le Marche region, visit these secret beaches
Tucked between the Apennine mountains and the Adriatic Sea is where you'll find the Le Marche region of Italy, a place often overlooked by tourists. This hidden gem of Italy is quiet and slow — the perfect destination for a relaxing holiday. Michael Eldridge, a photographer, tells The New York Times Le Marche is so under-the-radar because of its pleasing slowness. The people, Eldridge explains, move at a much slower pace than Americans especially are used to experiencing.
Aside from a break from your fast-paced life, the Le Monde region has tourist-free beaches that are worth visiting. If you hop on a boat from Sirolo's Porto Humano, Ryanair says you can reach Spiaggia del Due Sorelle, aka the "Beach of the Two Sisters." Since Spiaggia del Due Sorelle is only accessible by boat, the beaches are both serene and pristine.
Italians, however prefer Portonovo, located on the popular Conero Riviera. For many, it's a longtime favorite. Located in the Conero Natural Park, Wonderful Marche promises you'll find a largely unspoiled bayside paradise but let your Italian hosts keep a few of their secrets — in the summer months, this otherwise quiet gem is a favorite of the locals.