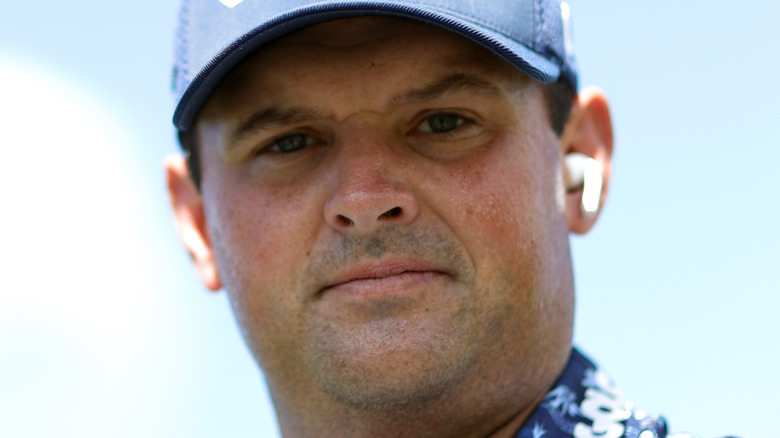 Chances are that if you follow professional golf then you know who Patrick Reed is — whether you're a fan of his or not. For those who aren't into the sport, Reed is essentially golf's resident bad boy for his questionable behavior both on and off the green. The Texas native has been playing professional golf since 2011 after having an impressive, yet contentious college career at Augusta University. Since Reed turned pro though, he's won nine PGA tours as of this writing, including the Master's Tournament in 2018.
In 2022, Reed resigned from the PGA Tour and began playing overseas, joining the LIV Golf Series. That was a controversial move in itself because the LIV Golf Series is financed by Saudi Arabia, which is known for having human rights violations. Yet, Reed told GOLF, "There's a reason why these top players, all these great golfers are coming over, because they believe in the product."
Despite his success on both tours, Reed has never had the best reputation, and because of that, is often heckled by spectators as well as criticized on social media. When it comes to those who find him negative, Reed told Golf Digest, "You have to compartmentalize the noise and throw it away rather than allow it to be distractive." However, he does admit, "It can be a challenge to maintain your mental and physical health listening to hateful things." But why is the golfer even taunted in the first place? Let's break down the shady side of Patrick Reed.
He was accused of stealing and cheating in college
You could say that Patrick Reed's controversial reputation started back in college when he briefly attended the University of Georgia. That's because Reed had been accused of cheating by his own teammates when his ball went into the rough during a qualifying round. Author Shane Ryan wrote in his book, "Slaying The Tiger," "When [Reed] approached the spot, he found another ball sitting closer to the fairway, and was preparing to hit it when several of his teammates confronted him" (via GOLF). That wasn't the only time his teammates felt he cheated, either, since Reed was accused of making up scores that were better than his actual ones.
If that's not damaging enough, according to New York Post, in another one of Ryan's books, he claimed that Reed was accused of stealing a putter, a watch, and $400 in cash from the team's locker room. While those are just rumors, Jason Payne, the assistant coach at UGA at the time, told the author that they noticed "character issues" with Reed. He added, "There is no doubting the ability of Patrick as a golfer, it was Patrick as a person that we chose not to associate with" (via GOLF).
Reed denied those accusations but left UGA and for Augusta University his sophomore year. However, his teammates there reportedly didn't like him and tried to take a vote to get him off their team.
The pro-golfer has been arrested
College may have been difficult for Patrick Reed since he also got arrested while at the University of Georgia. Reed was a freshman when the police were called on him after campus security found him intoxicated. According to the responding officer's report, "His speech was slurred and he was unsteady on his feet" (via ABC News). He had also tried giving the cop a fake ID, which led to Reed being charged with underage possession of alcohol and possession of a fraudulent ID.
Reed went on to get a fine and probation after pleading guilty. While it wasn't necessarily a huge deal for a college student to drink, Reed had already been on thin ice for his questionable behavior on the golf team and for seemingly not taking the school's sport program seriously. He then got into trouble for another alcohol-related offense, which he later asserted was the reason he was eventually dismissed from the UGA golf team.
When looking back at the incident, Reed downplayed it to ESPN, saying, "I went out, had a drink, got arrested, but I learned a lot from it." He added, "It taught me to stay focused on my goals to be successful." That wasn't the last time Reed was associated with a police incident, though, since in 2019, his caddie, Kessler Karain, was investigated for shoving a fan during the President's Cup. While Reed himself wasn't involved, it was another bad look for him and his team.
Patrick Reed has made controversial comments
It appears that Patrick Reed has hurt his own reputation by making some pretty controversial comments over the years. In 2014, for example, he was caught on camera at the WGC-HSBC Champions in China not only saying the F-word twice, but also using a gay slur after being upset over missing a putt. Reed apologized when that clip went viral, yet seemed to be a tad dismissive, calling it "a stupid error," per USA Today. He explained, "Sorry for definitely the words that I said and everything that went on … Unfortunately, it happened to me and all I can do is just learn from it and move on."
Reed once again caused a stir in 2018 when he made another questionable comment at the Arnold Palmer Invitational. When officials there wouldn't grant him a free relief after his ball went into the bushes, Reed told the crowd, "I guess my name needs to be Jordan Spieth, guys" (via GOLF). That came across to some as bad sportsmanship and while he was probably kidding, it appeared to be a dig at his former Ryder Cup partner.
Reed has expressed his annoyance with fans too, particularly those who wouldn't quiet down at the Bethpage Black event in 2016. When discussing the crowd, he told the New York Post, "They were just being loud and obnoxious." However, he did add, "It's awesome to get them chanting and cheering … They just [dragged] that one on a little too long."
The Master's champion can be entitled
Patrick Reed hasn't just put his foot in his mouth by making offensive comments, since he's apparently also said things that have come off as arrogant, too. In 2014, for example, a then 23-year-old Reed claimed to NBC that he was one of the top five players in the world, according to the Golf Channel. At the time, Reed did have some tournament wins but was still ranked 44th and was rising to just No. 20. Yet, when asked about it again, he reinforced his claims, pointing out his three PGA wins. He dished, "I just don't see a lot of guys that have done that, besides Tiger Woods, of course, and, you know, the other legends of the game."
Later in 2018, Reed also acted entitled over Red Sox tickets given to him by the PGA Tour. That's because he took to social media to complain about his seats, writing to them (via GOLF,) "I love how you put my wife, sister in law and myself in the line drive section. We paid $650 to upgrade our seats and ended up in the same section as the rest of the @PGATOUR!"
Reed has made other odd complaints like when he expressed issues with a bed at a French hotel, even withdrawing from a 2022 golf event because of it. He explained to Irish Golfer, "The mattress was just too soft for me. I played well in the pro-am but the pain in my back was getting worse."
Patrick Reed is difficult to work with
If you're the media or a fellow golfer, Patrick Reed may be difficult to work with — given some incidents from his past. One of those occurrences happened in 2018, when Reed got upset with a camera crew that were filming a game. The Golf Channel later shared the moment on Instagram, showing a video of Reed's caddie confronting a crew member for "ratting their change" in their pocket. Reed then made them move farther away from him and could be heard saying, "Camera guy too, sorry. Because he's part of you. He lost privileges by going like that with change." He even wouldn't swing until they moved and fumed over how "ridiculous" it was.
Reed apparently also got angry at a press conference for the 2018 Ryder Cup when he and Jordan Spieth were asked why they hadn't teamed up again. That's because he later admitted to The New York Times, "I was looking at [Spieth] like I was about to light the room up like Phil in '14," referring to an angry outburst golfer Phil Mickelson once had. He continued, "The issue's obviously with Jordan not wanting to play with me … I don't care if I like the person I'm paired with or if the person likes me as long as it works."
It seems Reed also started drama with the team's captain, Jim Fury, by saying, "For somebody as successful in the Ryder Cup as I am, I don't think it's smart to sit me twice."
The athlete has been accused of cheating
Perhaps the shadiest thing about Patrick Reed is that he's been accused of cheating at professional golf and was even penalized for it once. That time was in 2019 when Reed was caught on camera improving a lie at the Hero World Challenge by brushing away sand with his backswings. Reed was penalized despite him blaming the angle. He explained, "It wasn't because of any intent. I felt like I was far enough away," adding, "When you only have one camera angle, that's all you can go off of" (via Golf Channel).
It may not have been the first time Reed did that, though. Footage of him moving the sand also surfaced from the 2015 Hero World Challenge. Regardless, it wasn't good for his reputation, with Australian golfer Cameron Smith telling the New York Post, "To give a bit of a bulls**t response like the camera angle … I don't have any sympathy for anyone that cheats."
Unfortunately, more cheating accusations came Reed's way in 2021 when he picked up his ball at the Farmers Insurance Open, saying it was embedded in the rough. He didn't wait for a rules official to make that call, and cameras showed the ball bouncing. That time, the PGA Tour ruled in his favor. Yet being called a cheater does hurt Reed. He told Golf Digest, "That's so far from the truth … No golfer who works to make it to the highest level is a cheater."
Patrick Reed is estranged from his family
It seems that a lot of people find it sketchy that Patrick Reed is estranged from his entire family and has been for years, since 2012. However, his parents, Bill and Jeannette Reed, as well as his younger sister, Hannah, have still been supportive of his career. In 2018, his parents showed GOLF the sports memorabilia they had of him and the room they kept for him in their home. They've also tried to attend some of Reed's tournaments like the 2014 U.S. Open at Pinehurst, where they were escorted out by police. An official with USGA said it was Reed's wife Justine's "wishes" that they be removed.
It wasn't just Justine who didn't want them around, since Reed himself told The New York Times that he wasn't happy that his dad and sister attended the Tour Championship. "I would have called for security to throw them out," he said. Additionally, when asked about not sharing his wins with his family, GOLF reported that he replied very coldly, saying, "I'm just out here to play golf and try to win golf tournaments."
Justine, however, is more direct in her disdain for Reed's family, writing on Facebook (via The Sun), "His parents verbally and physically abused him for most of his life," and that, "They are sick people." Hannah denied those accusations in another social media post though, writing, "This is not a brother anymore, but a selfish, horrible stranger and it's heartbreaking."
If you or someone you know may be the victim of child abuse, please contact the Childhelp National Child Abuse Hotline at 1-800-4-A-Child (1-800-422-4453) or contact their live chat services.
Patrick Reed sued his critics
It's safe to say that Patrick Reed doesn't handle criticism well, since in 2022 he filed a defamation lawsuit against members of the press who critiqued him when covering golf. According to USA Today, Reed first filed the lawsuit in his native Texas, before refiling it in Florida where he sued the publication Golfweek, its holding company, and one of its columnists, Eamon Lynch. He also sued the Golf Channel and their TV personalities Damon Hack, Shane Bacon, and Brandel Chamblee, claiming they were working together to "destroy" him. Reed's lawyer stated, "These calculated malicious attacks have created hate, aided and abetted a hostile workplace environment, and have caused substantial financial and emotional damage and harm to Mr. Reed."
A judge wasn't buying that though and dismissed the lawsuit that November. Chamblee seemingly responded to that on Twitter, writing, "if you're a lawyer shouldn't you understand the essence of the first amendment." However, that same month, Reed's lawyer filed another $250 million lawsuit against other members of the golf press, as well as author Shane Ryan, and larger news organizations like Fox News and the Associated Press. Golfweek reports that his lawyer alleged, "My client, his family and colleagues have been made the whipping boy of cheap and dishonest journalists in the golf media."
Whether or not Reed really is mistreated by the golf world, it's clear he does have a shady side. Some could even say that may actually be more interesting than watching him golf.