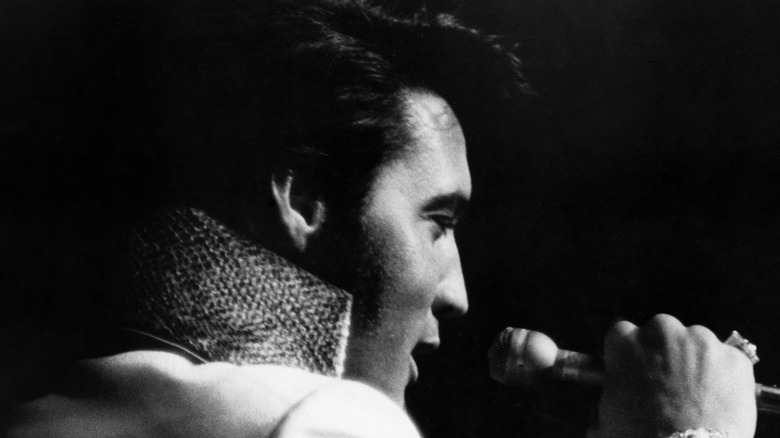 Long before Kendrick Lamar was named the King of the West Coast or even Michael Jackson gained the monicker of the King of Pop, Elvis Presley was the unchallenged King of Rock 'n' Roll.
The numbers attached to Elvis' illustrious music career are mindboggling. According to Graceland – the singer's legendary Memphis, Tennessee home which is now run as a resort and museum honoring his memory – the Recording Industry Association of America (RIAA) has certified more than 150 of his albums and singles gold, platinum, or multi-platinum, in the United States, while 149 of his songs have entered the Billboard Hot 100, including 114 top 40 hits, 40 top 10s, and 18 No. 1s. And despite all this incredible domestic success, more than 40% of Elvis' sales came from overseas; it is estimated that Elvis Presley's total sales are in excess of 1 billion units, making him the most successful musical artist – either solo or as a group – of all time.
And more than four decades after his death, Elvis is still an icon, so most likely, you knew all that. Here are some of the more obscure and surprising facts from the life and times of Elvis Aron Presley.
The tragic story of Elvis' twin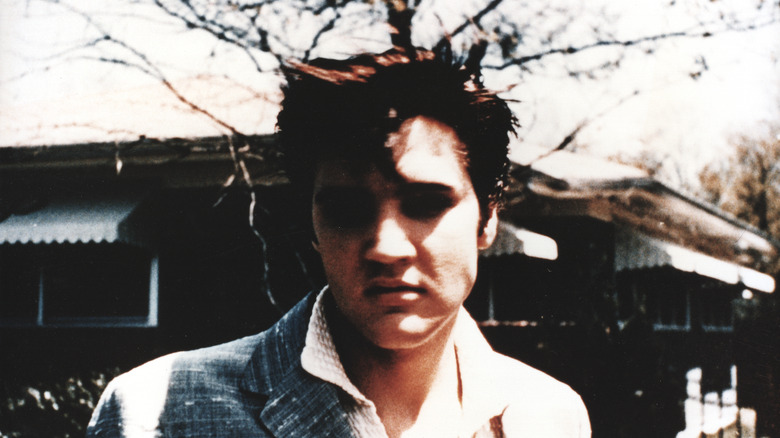 Though Elvis Presley would go on to become the King of Rock and Roll and the bestselling recording artist of all time, the Mississippi native was brought up in humble circumstances and endured a difficult and at times traumatic childhood.
The first tragedy of Elvis' life occurred at the time of his birth. According to Peter Guralnick, whose biography, "Last Train to Memphis: The Rise of Elvis Presley," was published to critical acclaim in 1995, Elvis was raised as an only child, but was, in fact, a twin. A brother, Jesse Garon, with whom Elvis had shared a womb, was stillborn, having been delivered at 4 am on January 8, 1935, around half an hour before Elvis himself.
The heartbreaking facts of Jesse's death prior to Elvis' birth had severe emotional repercussions for the surviving twin. Per the same source, the future superstar would pay repeated visits to his twin brother's unmarked grave throughout his childhood, ruminating on his lost brother at Priceville Cemetary in the Presleys' hometown of Tupelo. As he grew older and became famous, Elvis made no secret of his loss, referring to Jesse frequently in interviews, while the twins' mother, Gladys, reportedly comforted herself with the belief that Elvis' incredible success has come in part from inheriting the strength of his brother Jesse.
Elvis' father was a convicted forger
For many, the story of Elvis Presley's rise is emblematic of the American Dream, but in the early years of his childhood, it looked highly unlikely that he would find success, as financial difficulties saw his poor family struggling to survive.
Elvis was born in the middle of the Great Depression, and according to Peter Guralnick, the Presley family felt the full force of the severe economic downturn. While the maternal side of Elvis' family was closely associated with the church, his father, Vernon, who described himself as a "common laborer," took on a variety of small jobs to make ends meet, meaning that young Elvis had an unsettled life.
The most troubling moment of Elvis' early years occurred in 1937, when, via the same source, Vernon was sentenced to three years in jail, along with Gladys' brother Travis and a family friend, for forging and attempting to cash a $4 check. There is no evidence that Vernon and his accomplices were habitual criminals, and one neighbor told Guralnick that they believed that the men had been made an example of; sadly, the incident simply demonstrates the severe financial difficulties so many American families like the Presleys were experiencing at the time.
Though Vernon was released after eight months, the Presleys lost their home while he was away, meaning Gladys and young Elvis had to rely on family and friends for food and shelter.
Elvis' music teacher thought he was talentless
It may sound absurd to suggest that the most successful musician in the history of rock 'n' roll was a musical failure, but this is how his talent was considered in his early years — or at least, when it came to his high school grades.
According to Peter Guralnick, Elvis Presley was an unusual school student, with a persona seemingly far removed from that which would emerge as his musical career unfolded. His family had recently relocated from Tupelo to Memphis in yet another upheaval. Elvis was an outsider, who made little impression on those around him in his first years at the city's Humes High School.
It was through music that Elvis would eventually find his identity, playing guitar at break times and during lunch hour for his fellow students, who, on the whole, cared little for his music. Similarly, Guralnick reports that Elvis' eighth-grade music teacher, Miss Marmann, told Elvis openly that he had no talent as a singer. In response, the future King brought his guitar to class, a performed a version of Fairley Holden's "Keep Them Cold Icy Fingers Off Of Me," leading Marmann to admit she had little aptitude for assessing the merits of rock 'n' roll.
Elvis' first recording was for his mother
After graduating school at the age of 18 in 1953, Elvis Presley – who had taken on a series of odd jobs throughout his teens – became a truck driver, and seemed, like his father, to be on the path to a life of labor (per CBS News). However, 1953 was also the year that Elvis' life changed unexpectedly thanks to a single recording made for an audience of one.
As noted by The New York Times, the official story of Elvis' first record goes that on July 18, 1953, the future superstar walked into the studios of the Memphis Recording Service, operated by Sun Records, to cut an acetate as a gift for his mother, Gladys, who had bought him his first guitar way back on his eleventh birthday. The recording – with "My Happiness" on one side and "That's When Your Heartaches Begin" on the other – cost $4, and though his mother reportedly never heard the recording (as the Presley family didn't own a record player at the time), the session was to have a profound impact on Elvis' life, as it caught the attention of Sun Records boss Sam Philips, who retained Elvis to record further songs for the label.
Elvis' first recording has never been publicly released, but in 2014 the acetate was the star lot at a Graceland auction, when it sold for an eye-watering $300,000, per Rolling Stone.
Was 'Heartbreak Hotel' based on a suicide note?
In the years following his first recordings for Sun Records, Elvis Presley carved out a musical identity through a string of singles released under the guidance of label boss Sam Philips, but the song that changed everything for Elvis – and many of those who heard it – was "Heartbreak Hotel," the first single he released after signing to the major Nashville label RCA Victor in 1956. The song would become Elvis' first million-seller, and make him a household name overnight.
Per Peter Guralnick, the song was introduced to Elvis by co-writer Mae Boren Axton, whose inspiration for the song has long been believed to have been a suicide note in a local paper, reading: "I walk a lonely street," which became the song's memorable refrain (via Rolling Stone).
However, per the same source, recent research has uncovered the news story Axton and her co-writer Tommy Durden had almost certainly been inspired by the tale of Alvin Krolik, a young artist who turned to crime in the aftermath of a heartbreaking divorce. Though guilt led Krolik to hand himself in to police after a spate of robberies – following which he planned to mend his ways – he eventually returned to crime and was shot to death attempting to hold up a liquor store. The famous line was quoted as deriving from Krolik's "unpublished autobiography."
Future pop star Elton John recalled Elvis' breakthrough hit, saying it "changed my life … Elvis Presley changed everyone's life. I mean, there would be no Beatles, there would be no Hendrix. There would be no Dylan" (via Rolling Stone).
Elvis' pelvis was censored
It is unlikely that anyone viewing Elvis Presley's iconic January 1957 performance on "The Ed Sullivan Show" today would guess that it had in any way been censored. In the footage, the by-now-established musical sensation gives a characteristically charismatic performance of a number of his biggest hits so far, culminating in a soulful rendition of the forthcoming gospel single "Peace in the Valley." Somewhat movingly, the session ended with Sullivan declaring sincerely that Elvis was "a very decent, fine boy," and wishing his future career in music and movies every success (via "Last Train to Memphis").
However, the story behind Elvis' first big national television appearances is far more chequered than that last appearance on "The Ed Sullivan Show" might suggest, and, in fact, the performance was censored, in as much as the 21-year-old superstar was only filmed from the waist up, according to The Tampa Bay Times.
The decision to film Presley in such a way had been prompted by Sullivan's producers' concerns over Elvis' divisiveness among older audiences; Elvis had previously performed on "The Steve Allen Show" and "The Milton Berle Show," and outraged audiences with his pelvis-gyrating and "Rubber Leg" dance moves. Music writer Trina Young reports that, for his first two appearances for Sullivan, Elvis' performance was toned down, but still managed to attract a total of 70,000 complaints from audience members concerned that his moves could corrupt America's youth.
Elvis' manager changed his identity
Just as The Beatles would later enjoy the guidance of their legendary manager Brian Epstein, Elvis Presley's early career was given a boost thanks to the involvement of Colonel Tom Parker, a seemingly all-American talent manager from West Virginia who had made his name resurrecting the career of various singers from the 1930s and 1940s, and who had previously served in the U.S. Army. His title of Colonel was bestowed on him by Governor Jimmie Davis of Louisiana after he had helped him campaign for the governorship (via the Smithsonian Magazine).
But despite his apparent respectability, Parker – who would later gain a reputation as a vicious businessman and ruthless negotiator – was hiding a secret. According to Alanna Nash — whose book, "The Colonel: The Extraordinary Story of Colonel Tom Parker and Elvis Presley," offers an incredibly detailed account of the life of one of the most formative figures in Elvis' life — Parker wasn't from the U.S. at all, but was an illegal immigrant who had stowed away to America in his early adulthood, and that Parker was an assumed name. He was, in fact, born Andreas Cornelis van Kuijk, and had arrived from his native Holland.
Weirder still, Nash claims that Parker, whose real identity remained a mystery to the majority of his friends and family throughout his lifetime, and that, in recent years, rumors have abounded that the man formerly known as Kuijk may have had a secret to hide.
Elvis never performed internationally
It is a well-known fact that Elvis only ever performed to North American audiences, and, apart from three shows in Canada, only ever in the United States. The U.S. is, of course, a big music market, and arguably lucrative enough to sustain the career of an artist even of Elvis' caliber. But does it not seem strange that, while his contemporaries such as The Beatles were touring the world, Elvis never made the leap?
Allegedly the reason for this was Elvis' mysterious manager, Colonel Tom Parker. According to the biographer Alanna Nash, Parker – or shall we say Kuijk? – was afraid that if he traveled abroad with Elvis his status as an illegal U.S. resident might be revealed.
Why Parker should be so cautious about his true identity has puzzled historians. After Parker served in the U.S. Army, he had, as a reward, the opportunity to have his illegal immigrant status quashed and become naturalized. But as Nash notes, there are some who believe that Elvis' manager may have been involved in the murder of a Dutch woman, which may have prompted his sudden emigration. It has been postulated that Parker/Kuijk may have feared The Netherlands' extradition deal with the United States, which could have seen him brought back and interviewed over the killing, though in fact, no investigation has ever brought to light concrete evidence suggesting his involvement.
Jailhouse Rock was probably a rip-off
By 1957, Elvis was already starring in his third movie, "Jailhouse Rock," which sources such as Britannica claim is the rock 'n' roller's best, arguing that fans have a soft spot for the movie thanks to Elvis – playing a prison inmate who is behind bars for manslaughter following a bar brawl – portraying a raw and rugged rebellious archetype. Rebellion was an aspect of his early persona which was expunged with time due to Colonel Tom Parker's intentional watering-down of the Elvis brand so that he might be palatable to the widest possible audiences.
Britannica notes, too, that much of the movie's longevity is thanks to its riotous title song, the performance of which is as fun on screen as it is catchy on record. But as sources such as Rebeat Magazine and Antimusic have pointed out, the concept of a jailhouse rock party wasn't exactly new: in fact, many critics argue that "Jailhouse Rock" was pretty much a feature-length version of the song "Rock Around the Rockpile," a song describing prisoners jiving to rock 'n' roll which had appeared in the influential musical "The Girl Can't Help It" the previous year.
Not that anyone who saw "Jailhouse Rock" seemed to care. Similarly, when Elvis encountered rockers such as Gene Vincent, who had been heavily influenced by his style, the King was reportedly gracious, and took imitation as flattery.
Elvis met his wife when she was just 14
In 1958, Elvis Presley was conscripted into the U.S. Army, and was stationed in Germany for two years. The experience was reportedly transformational, and had an enormous impact on Elvis' career and public persona. But Elvis' time in Germany was also significant on a personal level, as it was during these years that he would meet the girl who would go on to be his wife. The weird thing is, she was only 14 at the time, while Elvis, one of the most famous people on the planet, was 24, according to Biography.
Pricilla was the daughter of an Air Force serviceman, who had been transferred to the same German base as Elvis. She spent her time on base playing with her younger brother, until a friend of Elvis' enquired if she was a fan of his music and whether she would like to meet him (via People). The strangeness of their courtship was also complicated by the fact that Elvis' beloved mother, Gladys, had just recently died, and the musician reportedly saw an uncanny resemblance between his mother and the 14-year-old Priscilla (via Biography).
As Priscilla revealed in a 1985 People article that after meeting her parents, the two began a long courtship of nightly meetings, private talks, and passionate kissing. She wrote: "Something in his Southern upbringing had taught him that the 'right' girl was to be saved for marriage. I was that girl."
The pair eventually married in 1967, and had a daughter together, Lisa Marie, before divorcing in 1972 (via The Metro).
Elvis was a karate obsessive
As well as his future wife Priscilla, there was another obsession that the King of Rock 'n' Roll would encounter during his years in the U.S. Army: martial arts, which would become one of the key passions of his life outside of music, especially karate.
According to the official Graceland website, Elvis began training with a German karate expert Juergen Seydel at his off-base home in Nauheim in 1958, and his dedication to the art is shown by the fact that within months his return to Memphis in 1960, he was bestowed with his first black belt by local trainer Hank Slemansky. He later trained with Master Kang Rhee, who would remain his karate teacher into the 1970s. Elvis was so enamored with karate that he even opened his own dojo, the Tennessee Karate Institute, in 1974.
Though considered by many outside observers something of an eccentricity in the Elvis Presley story, the musician's intense dedication to the art has been highlighted by martial arts publications such as Black Belt magazine as unusually pioneering and notes that, rather than his being simply celebrity practitioner, his gaining of a black belt in 1960 was notable as he was one of perhaps only 100 Americans – of all walks of life – to hold a black belt in karate at the time.
By 1974, Elvis was honored with an 8th-degree karate black belt, signally his incredibly high level of skill and dedication, according to Graceland.
He had a strange encounter with Alice Cooper
Though Elvis Presley seemed to have a real affinity with martial arts, he was reportedly more than happy to use his passion to impress. As noted by Black Belt magazine, Elvis made use of martial arts in many of his movies, being one of the very first actors to do so before the arrival of Bruce Lee heralded karate as an on-screen staple.
Behind closed doors, Elvis also used karate to impress his friends and acquaintances – leading to some extraordinary encounters with his fellow celebrities. While hosting the British pop music panel show "Never Mind the Buzzcocks" in 2011, veteran shock rocker Alice Cooper recalled meeting Elvis in 1970. According to Cooper, he was invited to meet Elvis at his hotel room in an improbable quartet alongside Liza Minnelli, Linda Lovelace, and Chubby Checker. Cooper was thrilled to meet Elvis, while Elvis reportedly told Cooper that he was a fan of his stage act, which at the time involved a live snake around his neck.
Then, things started to get weird. According to Cooper, though they had all been checked for weapons before they entered the hotel room, Elvis proceeded to reach into a draw and pull out what Cooper describes as a loaded snub-nosed .38, and hand it to Cooper, telling him that he would then demonstrate how to disarm someone with a gun.
Cooper joked that he began having intrusive thoughts about being the man who shot Elvis Presley, but that before he could act he was on his back on the floor, with Elvis standing over him, gun-in-hand.
Elvis' huge menagerie
Graceland, Elvis Presley's sprawling Memphis home, is an integral part of his legend and is today a place of pilgrimage for Elvis devotees, but in addition to the opulence of the home itself, Graceland was notable as the home of the many animals the Presleys kept throughout Elvis' lifetime.
The official Graceland website states that the singer bought the property and a surrounding 13.8 acres of surrounding land in 1957, shortly after his big national breakthrough and the success of some of his most prominent music and movies. The Presley menagerie started off with typical farm animals: Elvis' mother, Gladys, reportedly kept several chickens on the land. His father, Vernon, kept hogs, and Graceland was also the home of several donkeys. A turkey named Bowtie was reportedly the singer's own beloved pet, while the Presleys also bought horses and ponies, one of which was given to Elvis' daughter Lisa Marie. The King also had several dogs.
But soon, the menagerie grew more exotic. In 1961, Elvis bought a chimpanzee, and in 1966 was gifted a spider monkey, both of which lived at Graceland. Other animals, however, were reportedly given to Memphis Zoo, including two wallabies that had been sent to Elvis by Australian fans on learning that the King was an animal lover.
The worst album in history?
It is commonly held that Elvis Presley was devoted to his music and, generally, good to his fans, especially in his early years. But in 1974, one cynical commercial release revealed that not all was well with Elvis and his team, and led to the King's name being on the front of what has been called by many critics the very worst album of all time.
As Alanna Nash explains, in 1974 Elvis' longtime manager Colonel Tom Parker was attempting to establish a new company with Elvis' father, Boxcar Enterprises, through which to manage Elvis' commercial interests, such as merchandising. The Colonel, however, reportedly skewed the books so that he would receive ten times the income that Elvis himself received.
Parker was also attempting to wrest control of Elvis' recordings from his label, RCA Victor. Seemingly testing the waters in terms of what he could release without stepping on the toes of RCA, Boxcar Enterprises released "Having Fun With Elvis On Stage," a bizarre 'talking only' album made up of recorded bits of speech, audience interaction, and humming, taken from Elvis' live recordings which didn't actually contain any songs.
Writing for All Music, critic Mark Deming has called the album "sheer perversity," and likened the experience of listening to a full-on car crash.
Elvis bought Roosevelt's favorite ship
Elvis' avowed patriotism saw him attempt to preserve U.S. political heritage. Per White House History, in 1964 the musician bought the USS Potomac, the ship famously used by President Franklin D. Roosevelt as a "Floating White House" between 1936 and 1945. Roosvelt thought so highly of the ship that, as well as using it as a place to relax, he also received foreign guests aboard the Potomac, most notably the British Royal Family in 1939. When the ship seemed destined for the scrap heap, Elvis, with the support of Colonel Tom Parker, attempted to rescue it through the sale and repurpose it as a "national shrine" that might raise funds for the March of Dimes Foundation, a mother and baby charity set up by Roosevelt himself, but maintenance costs meant that the Foundation rejected the plan.
Following Elvis' ownership, the Potomac was seized by authorities who in 1980 believed that it was involved in drug smuggling. The ship then sank while impounded at San Francisco's Treasure Island, but was eventually raised for restoration, and is now operated and preserved by a team of volunteers.
Elvis loathed The Beatles
There are many myths and legends concerning Elvis Presley's only encounter with The Beatles, whom he met on August 27, 1965, including many accounts that an incredible jam session took place between the two acts. However, as noted by the BBC, while the Fab Four were keen to have a meeting with the King, all involved wanted to avoid the event turning into a publicity stunt, meaning that no press were invited, and that no photographs or recordings of the event were ever made for posterity.
However, Elvis' attitude towards his British counterparts would eventually be revealed years later, with the unsealing of the King's FBI files. In 1970, Elvis delivered a handwritten letter to the White House, requesting an audience with President Richard Nixon. Per the National Archives, at the meeting Elvis suggested that he could be a useful ally in the ongoing War on Drugs, and, most strangely of all, the rock 'n' roll star identified a number of his fellow entertainers as potential security risks, among them The Beatles, whom he suggested ought to be banned from entering the United States. According to the Irish Daily Mail, Elvis had grown increasingly concerned by their transformation into hippies in the years since their meeting, and saw their use of an image of Karl Marx on the cover of their album "Sgt. Pepper's Lonely Hearts Club Band" as evidence that they were "anti-American."
The truth behind Elvis' police obsession
Throughout his life, Elvis Presley maintained a rapport with numerous police officers and even entire forces, often donating funds to support policing causes. Graceland reports Memphis patrolman Jim Hammers as stating: "I don't care where he was, whenever he saw the police, Elvis always stopped and talked to them … He would drive up beside them in the street and get them to pull over. He would spend hours at a time talking with them in different places."
In one bizarre incident, Elvis also got involved in police work, when, after witnessing a traffic collision, he aided officers by directing traffic around the scene of the accident, which was surely a surreal sight for passing drivers.
Elvis was also famously a collector of police badges, having first been gifted one by a girl at a skating rink in Memphis in 1957. Elvis collected police badges from wherever he traveled in the United States, and even managed to secure for his collection a badge from the federal Bureau of Narcotics and Dangerous Drugs during his meeting with President Nixon. However, Priscilla Presley would suggest a more underhand motive, writing in her 1985 memoir "Elvis and Me": "The narc badge represented some kind of ultimate power to him. In Elvis's mind that badge would give him the right to carry any prescribed drug he had on his person." Priscilla claimed that Elvis believed having the badge would allow him to take drugs overseas, and that his entourage would be able to carry any guns they pleased on their travels.
Is Elvis still alive?
The thought that Elvis Presley might still be alive is perhaps the most famous conspiracy theory besides the faking of the Apollo 11 moon landing. When news broke that the King of Rock 'n' Roll had died on August 16, 1977, at the age of 42 following a heart attack brought on by his prescription drug use, it was so shocking that many of his fans seemingly couldn't believe it, and started casting around for clues that might challenge the official account.
On the 40th anniversary of his death, Time published an article exploring the most notable conspiracy theories surrounding Elvis' death, such as that he faked his own death to escape the mafia, or that he had entered the witness protection program after aiding the FBI.
In the years since his death, belief in such theories has declined: a poll in the mid-1990s suggested that around 11% of Americans were still open to the idea that Elvis is still alive, but this had dropped sharply to 4% by 2000.
But whatever we may think of these numbers, Elvis devotees still have reason to rejoice, as his fanbase is continuing to grow. Per CBS News, a 2017 poll revealed that 47% of Americans still count themselves as Elvis fans – the highest figure in more than a quarter of a century. It seems Elvis won't be leaving the building for some time yet.