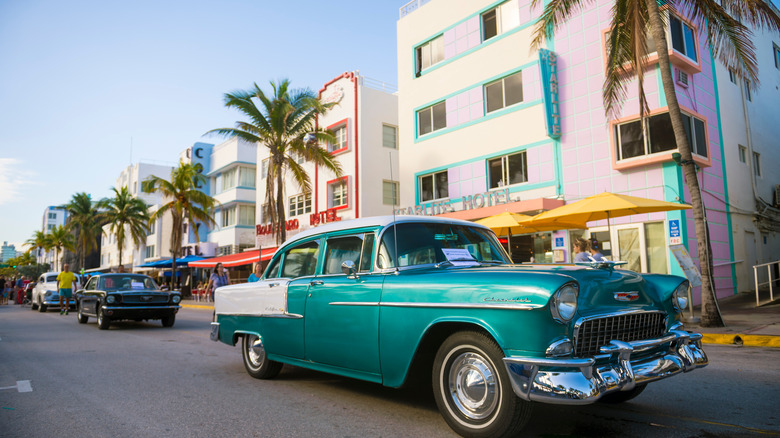 One of the coolest things to do when traveling to a new place is to check out the art scene, and some U.S. cities have such an inspiring art presence that they are worth experiencing fully through the lens of such creativity. The United States, being the melting pot that it is and massive to boot, is a smorgasbord of traditions and heritage. With culture being heavily linked to different art styles, it only makes sense that cities with the most cultural foundations would have large art presences. The exploration of great art can certainly take you places you wouldn't first expect, though.
Finding great art anywhere isn't hard – wherever there are people, creativity can be found. However, some cities are teeming with beautiful and unique finds, and we've scoured the United States for some of the very best art installations and experiences for travelers who love an art-centric vacation. From world-renowned cities that are impossible to escape notice to small towns you may have never heard of, here are some of the very best places to visit for a colorful and art-filled bucket list vacation.
Best city for tattoo collectors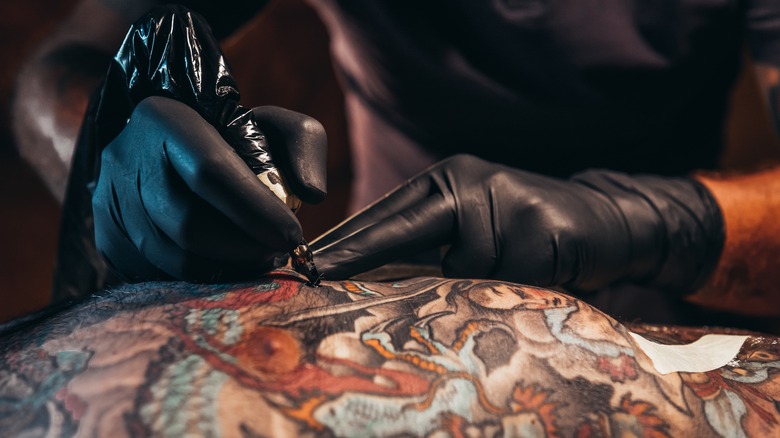 Richmond, Virginia has one of the highest rates of tattoo shops per capita in the country (via The Box Houston), beat out only by two high tourist cities that likely have a high number of shops geared toward visitors rather than residents. You'd be hard-pressed to find a Richmonder without at least one piece marking their skin, and the college city takes their ink very seriously with little to no gimmicky shops and many celebrated and renowned artists residing there. For travelers who are looking to add a little ink to their collection on vacation – especially of the traditional variety – a trip to Richmond should be highly considered.
Shops like Hold It Down Tattoo, a hidden gem found in a cobblestone alley near the Virginia Commonwealth University campus, and Heroes & Ghosts Tattoos in Richmond's popular Carytown are home to various popular artists with different styles. While most artists in the city have a style all to their own that is noticeably unique and desirable, artists like Josh Stephens and Two Pillars owner Charles Berger are stand-outs for their bold and specialized style choices.
Richmond is also home to the world's longest-running tattoo convention, which celebrated its 29th anniversary in 2022. Over 100 artists participate in the Richmond Tattoo, Art, and Music Festival and people come from all over to get tattooed at the convention, making it a great time to visit the heavily tattooed city.
Best open-air art scene
Detroit, Michigan has had a bad rap for quite some time with a high violent crime rate, but it is back on its feet and has become something of a haven for young people and artists. Art and innovation have sprung out of pure grit and willpower as the people take back Detroit, making what is still one of the nation's poorest cities into one of the coolest as well, rich in culture and creativity. The poverty still heavily present in the city should not be taken lightly when visiting, though. The city, as well as its many longtime residents, should be shown the utmost respect by tourists coming to awe at their home and creations.
It's easy to spend a few days in Detroit just visiting the various outdoor art installations and murals, and following Visit Detroit's weekend art tour itinerary will take you along a journey that visits a lot of what the city has to offer in way of inspirational experiences. One of the best ways to experience the art scene and really understand the scope of how far Detroit has come back is by visiting The Heidelberg Project, an outdoor art display that strives to rehabilitate the area by turning vacant lots into environments of art. Detroit isn't a city to overlook, especially when it comes to its art scene.
Best city for affordable and awe-inspiring art
Surprisingly, one of the most affordable U.S. cities to travel to also happens to contain some pretty amazing and jaw-dropping art installations. Many travelers visit Philadelphia because of the city's ties to American history, as it is sometimes referred to as the birthplace of the United States. For art lovers, though, Philly is also a pretty great city to see, as the entire city is peppered with breathtaking visuals.
One of the most striking and visually stimulating attractions in Philly is the Magic Gardens, which is a huge mosaic art piece and gallery that spans three city lots. The immersive art experience was first created by artist Isaiah Zagar in an effort to revitalize the South Street neighborhood of Philadelphia, which became a solid contributor to the city's art and revitalization period known as the South Street Renaissance. The wildly creative behemoth of a mosaic collection is a must-see for anyone visiting Philly, but certainly a point of focus for art lovers.
Philadelphia's Mural Mile is also a near-free attraction that has many impressive art styles on display. Travelers can take self-guided tours of all the important murals that use the city as a canvas. With over 4,000 murals crafted thanks to Mural Arts Philadelphia and local creatives who continue to fill the city with artwork, there is plenty to see when exploring the vast city.
Best cities for art museum-goers
New York City and Washington D.C. both contain some of the best museums in the United States, especially when it comes to art. With New York City being such a diverse and populous city and D.C. being the capital of the country, it makes sense that some of the most well-known art museums would reside within their limits. Both cities honor various styles and historic periods of art within their many art museums and galleries.
New York City is home to the Museum of Modern Art – popularly known as the MoMA – and The Metropolitan Museum of Art, both of which are revered as two of the most admired art museums in the world. The Met, of course, is popular for its annual Met Ball, which is basically an elaborate and upscale costume party where the most well-known celebrities wear designer outfits that reflect the year's theme. The MoMA holds some of the most influential contemporary and modern art in history. Van Gogh's "The Starry Night," arguably the single-most well-known and beloved modern painting, is among The MoMA's inhabitants, as well as paintings by Frida Kahlo, Picasso, and Andy Warhol.
Washington D.C. boasts a whole lot of museums and is home to another of the world's most beloved art museums: the National Gallery of Art. The museum hosts work from artists like Leonardo da Vinci, Monet, and Van Gogh and, better yet, is free for all to visit.
Best city for interesting and unique architecture
While cities like New Orleans and New York City are known to have amazing architecture throughout, Miami, Florida is an unexpected wonder when it comes to stylized buildings. The Art Deco Historic District is home to a number of striking buildings that showcase the Art Deco style of the 1920s, '30s, and early '40s, as well as Miami Beach's most iconic street, Ocean Drive. Movie buffs will recognize some of the striking art deco buildings from various iconic films, like "Scarface" and "Miami Vice" – it's hard not to notice how the style of architecture affected the films' whole vibe. Iconic buildings in this district like The Carlyle and Park Central Hotel with their extravagant yet subtly comfortable design are huge jewels in the crown of Miami's South Beach.
Art Deco isn't the only beautiful design choice that designers made in Miami, though, as the city boasts a pretty hefty presence of Mediterranean Revival-style buildings as well. This style pops up in many of Miami's neighborhoods, among the most famous of these buildings are The Alamo and The Freedom Tower. No matter the style, though, Miami's architecture is timeless and the diversity of its stylized buildings paired with how well the city pulls them off makes it a perfect city for art lovers to enjoy.
Best city for art festivals
Charleston, South Carolina is a Mecca for artists, and both they and their creations come in all shapes, sizes, and styles. The southern city is home to a number of annual art festivals that bring in artists from all over. Whether travelers are interested in adding to their art collections or just experiencing a wide array of artists and styles, attending one of Charleston's art festivals is a great addition to any art-led vacation.
One of Charleston's most anticipated festivals is the annual North Charleston Art Fest, a five-day festival that features not only the visual arts but a wide variety of art mediums. Similarly, the Moja Arts Festival uses different art forms to celebrate African American and Caribbean cultures and the harmonization of the many cultures that influence Charleston. For travelers more interested in music and the performing arts, Charleston's Piccolo Spoleto Festival delivers beautifully in these directions.
Festivals in Charleston are a community affair, but they also are open and welcoming to tourists who want to partake in what the many artists and creators have to offer. For being a decently sized city, Charleston still feels like a small town with its emphasis on community, the fast-paced art festival scene speeds things up in the city, making it a bustling and exciting area for creative-minded travelers to enjoy.
Best cities for guerrilla art
Graffiti and unexpectedly placed art can be found all over, specifically in highly populated cities. Naturally, New York City has a huge guerrilla art culture that can be seen in pretty much every neighborhood in the big city, like The Bushwick Collective. Local contributors as well as artists from all over the world have taken part in the massive art project that is made up of almost 100 blocks of murals and large-scale art pieces. Travelers can take a short, pay-what-you-want walking tour to see all the project has to offer.
Los Angeles is another city in which guerrilla art is heavily ingrained in the culture. Street art and graffiti have made quite a transformation over the years in L.A., and artists throughout the city are doing some pretty great things in terms of large-scale murals – a lot of which have deeper meanings than just beautifying the city. There are numerous areas that have a dense presence of beautiful and sometimes thought-provoking images, but The Arts District and The Container Yard are two that speak to the diversity of Los Angeles' street art styles, as they both display a vast number of differing works.
Graffiti has been around for a long time as a means of public creative expression. Murals have become popular all over the world, but a vacation planned around the art pieces should certainly include New York City and/or Los Angeles, as their cultural significance when it comes to guerrilla art is undeniable.
The city with the most culture-rich art
Any traveler heading into Chi-Town would be remiss to forgo any of the numerous opportunities to experience the bustling art scene the city has to offer. Chicago, Illinois has pioneered and innovated a number of different art forms and styles throughout the decades, like jazz music and the performing arts, and they remain a huge part of the creative scene in the city.
The city of Chicago is the perfect place for lovers of art in all its forms to visit, as visual art is just as prevalent as music and comedy or theater. Pablo Picasso even honored the city with a 50-foot sculpture named after himself to stand in Daley Plaza. Expo Chicago is an annual, international event that curates pieces from galleries all over the world and exposes new art from emerging talent.
The neighborhoods within Chicago are steeped in culture, and the different artworks that are scattered throughout reflect that. Neighborhoods like Wicker Park and River North are home to a number of galleries and host regular creative events like First Friday and the Art Crawl.
Best city for an emerging art scene
Though Austin, Texas has had a consistent art scene for decades, the city is still very much blooming with its indie art scene and, until very recently, a large influx of young people moving there and contributing to the creative atmosphere. Although it was projected to be one of the next big cities in the world for art, skyrocketing rent being seen in larger cities has people relocating. The affordability that first brought artists to Austin is now affecting smaller, nearby Texas towns in a great way.
While there are a number of smaller towns on the outskirts of Austin that are seeing an influx of artists, Bastrop is really emerging as a go-to spot for outdoor art. The small town has had an art presence for a number of years, but with artists from Austin recently relocating to the town along with Austin's Art Institute, it is expected to boom with creativity in the coming years. The Lost Pines Art Center is a huge gallery, offering free access daily. With murals popping up throughout the town and the Bastrop Art Fest hosting unique artists and vendors, including the metal casting company Pyrology, the town has no problem showing off its creativity. For travelers who like a more small-town feel and want to feel like they are a part of something up and coming, Bastrop is the perfect destination – especially when the established art city of Austin is just a short drive away.
A city built for more than music
While Nashville, Tennessee is overwhelmingly known as a city where would-be country music stars and musicians in various genres flock to, it also has a brilliant art scene. Exploring Nashville's art district is striking, with murals that are both beautiful, moving, and reflective of the city's rich history.
Jefferson Street is home to both history and art, the nearby Fisk College hosts a number of art galleries. A historically Black community, the art around Jefferson Street reflects the culture and experience of those who have resided there and heavily features the neighborhood's ties to music. An undeniable and impactful addition to Nashville's art scene is the Norf Art Collective, which is responsible for a number of the large murals in the city that act as historical and cultural memorials. The collective has incorporated and honored a number of Black figures important to Nashville's story in their art – exemplified in their "Family Matters" mural.
You could spend a lifetime in Nashville, but the city could also be just the thing for travelers simply looking for a creative outlet. The music scene may be what people flock to the city for, but seeing the Music City through the lens of its impactful artwork is a whole different experience.
A small town that prioritizes art
In the middle of the Ozarks is the small, eclectic town of Eureka Springs. The town is nestled in the mountains and lined with local art, galleries, and shops. The town is an art colony and is home to around 300 artists, which is about 15% of the town's population!
A month-long art festival is a feature of the town, which is a great time to visit. The annual May Festival of the Arts is a huge event, with the ARTrageous Parade starting the event off in a major way. Participants in the parade go all out creating vibrant costumes that impress residents and visitors alike. Other art-centric events and mini-festivals are scattered throughout the festival month, like an air painting festival and a performing arts workshop.
With art as the focus of pretty much the whole town, it only makes sense that Eureka Springs would be home to a pretty great art school. The Eureka Springs School of Art hosts workshops for various art mediums and is active in many of the art-centric community happenings, like the annual ARTRageous Parade. The styles of art vary greatly in Eureka Springs, making it a place where pretty much everyone can find some beauty.
Where to see natural art in the wild
Art comes in all forms and frequently takes inspiration from nature, so it only makes sense that one spot on our guide to art in the U.S. would go to a destination where you can catch some truly amazing natural masterpieces. Near the U.S. and Canadian border is Aroostook National Wildlife Refuge, one of the only places to see the Northern Lights from the United States. Not to mention that the stargazing is prime here as well.
There is so much beauty and diversity in nature, and it doesn't take a whole vacation to see something amazing as just going outside can result in a natural wonder. However, the natural world is so sensitive that changing locations can result in some truly unique experiences – seeing the Northern Lights in Aroostook National Wildlife Refuge is one such endeavor. A great place to catch the aurora borealis in the refuge is Moosehead Lake, where you not only have a large, open view of the sky, but the reflection of the lights off of the water is truly awe-inspiring.
An unexpected but necessary destination
Amarillo, Texas may not be one of the large state's most sought-after destinations, but it is quite artistic and unique in its own right. The city's crown jewel of an art installation is the ever-changing Cadillac Ranch, which features ten half-buried Cadillacs on Route 66 that are continuously graffitied by artists. The vibrant Cadillacs can be seen from Route 66, which makes it almost impossible not to stop.
Cadillac Ranch may be one of the cooler art pieces in Amarillo, but it is not nearly the only thing that brings art lovers in. The Hoodoo Mural Festival is a feel-good creative outlet for the whole community that aims to bring people together through art and beautifying public spaces. Texas Monthly's art guide to Amarillo outlines a lot of the top art destinations in the city, but it's almost as if Amarillo itself is art – a trip to the Texas town will be packed with stunning visuals and creative interactions. For travelers wanting to venture to a large city that is outside the typical art destination codex, Amarillo may be the perfect vacation.