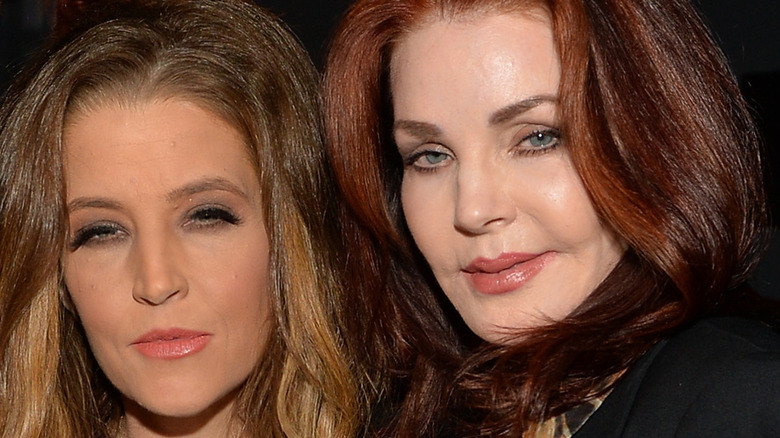 Lisa Marie Presley was the only child of Elvis and Priscilla Presley. She was born in February 1968 was and died in January 2023, and much of her life was filled with tragedy and loss. Lisa Marie was at her father's home when he died in 1977, and she and her mother went on to have a relatively rocky relationship. However, Priscilla stepped in to help her daughter when she experienced periods of financial instability. Lisa Marie inherited her father's Graceland estate upon his death but, as noted by Forbes, Priscilla is credited with restoring Graceland to prosperity, bringing its worth to $100 million by 1993.
Priscilla also helped Lisa Marie in other ways. When her daughter was faced with a custody battle for her twins during divorce proceedings from ex-husband Michael Lockwood, Priscilla stepped up in a big way (via OK! Magazine). Here is a complete look at the relationship Priscilla Presley shared with Lisa Marie Presley.
Lisa Marie Presley's parents divorced when she was 4 years old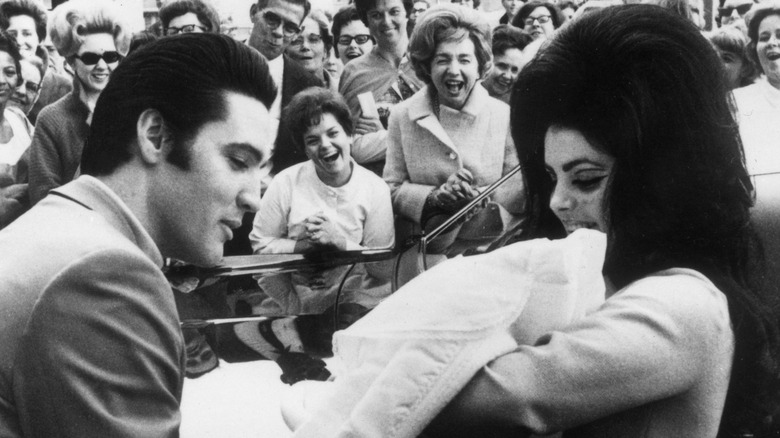 Elvis and Priscilla's marriage wasn't exactly easy, with Elvis reportedly having approached Priscilla about separating when she was seven months pregnant — which was also seven months after they got married — to which she replied, "You've got it. Just tell me when to leave" (via Country Living).
Nevertheless, Lisa Marie spent the first four years of her life at her father's famed home, Graceland. Insider has described those years as homey, and noted that the family had a number of pets (multiple dogs and a cat that Elvis gave to Lisa Marie for her birthday). Ultimately, the pair's marriage ended when Lisa Marie was 4 years old.
After her parents divorced, Lisa Marie spent most of her school holidays and breaks at Graceland with her dad. She was at the home in Memphis, Tennessee, when her father died in August 1977. Lisa Marie was only 9 years old when her dad passed away, and she ended up moving to Los Angeles with her mom permanently (via Insider).
Lisa Marie said Priscilla was the stricter parent
Lisa Marie Presley didn't open up about her childhood for a number of years. When she did speak about growing up with her famous parents, she was always clear about one thing: of the two, her mother was by far the stricter parent. Of course, Lisa Marie was also open about the fact that her mother might have had no choice, as her father gleefully went to great lengths to celebrate and spoil his only child.
While on "The Talk" in 2013, Lisa Marie explained that Priscilla often ended up having "to undo whatever was done if I went to Graceland and spent two weeks being a tyrant" (via Yahoo). She went on to detail what it was like to grow up with a mom that was very strict and shared how their relationship was impacted by this. She said, "I realized that is not going to work very well because it made us not get close for a very long time. We are now very close, but when I was younger, it was, like, difficult to have a relationship with somebody that's got you … around the neck all the time."
Priscilla turned Scientology after Lisa Marie began using drugs as a teen
Priscilla Presley was reportedly introduced to the Church of Scientology by John Travolta in the years that followed Elvis Presley's death. According to Metro, Priscilla opted to raise her daughter in the church as well, although Lisa Marie later left the church.
When Lisa Marie began experimenting with drugs at the age of 13, her mother turned to the church for help. Priscilla sent Lisa Marie to The Castle, a Hollywood-based Scientology center, in the hopes that the organization would be able to help her daughter (via Yahoo). A former member of the Church of Scientology later told the New York Post that Lisa Marie never got over her father's death, especially as she saw his body after he passed away, and that this contributed significantly to her drug use. As Karen de la Carriere told the outlet, "[Lisa Marie] drowned herself in drugs for years."
In August 2022, Lisa Marie herself addressed this trauma. As she wrote in an essay for People, "I've dealt with death, grief and loss since the age of 9 years old. I've had more than anyone's fair share of it in my lifetime and somehow, I've made it this far."
Priscilla helped support Lisa Marie in more ways than one
Lisa Marie Presley certainly endured her fair share — perhaps more than her fair share — of ups and downs in her life. She struggled with drug use as a young teen and again in her 40s and she was in financial trouble at times. However, her mom was often by her side to help her out — a dynamic that began when Lisa Marie was young.
Since Lisa Marie was just 9 years old when she inherited her father's estate, Priscilla Presley became the property's manager and turned Graceland into a profitable business (via Forbes). Priscilla continued to help out her daughter financially when she hit tough times. To help Lisa Marie avoid bankruptcy 2019, Priscilla reportedly asked her daughter's ex-boyfriends to return Elvis-related gifts, according to RadarOnline. The outlet spoke to a source who alleged, "Over the years, Priscilla gifted some of her exes with expensive items that either belonged to Elvis or that he'd given to her. Now, she's been contacting them to ask for them back."
In the same year, RadarOnline also reported that Priscilla put her $3.6-million home up for sale to help Lisa Marie as well. At the time, Lisa Marie was also in a custody battle with her ex-husband Michael Lockwood.
Priscilla Presley had temporary custody of Lisa Marie's youngest children
Lisa Marie Presley filed for divorce from her ex-husband Michael Lockwood in 2016 and the pair nearly immediately began a fierce custody battle over their twin daughters. Lisa Marie and Lockwood's fight took many twists and turns, and at one point, Priscilla Presley stepped in and assumed temporary custody of the pair's twin daughters. As reported by OK! Magazine, Priscilla entered the picture when it was alleged that Lockwood had what was termed "disturbing" photographs of children on his computer. However, his lawyer later told Us Weekly the allegations were "highly sensational, inaccurate and unproven."
As Priscilla told Us Weekly, Priscilla enjoyed taking care of her then eight-year-old granddaughters. She explained, "It's great, it's absolutely great [having them at home with me]. I love it, I love it. Having twins is quite an experience, I have to say. Both of them are very different. Wonderful kids, wonderful children."
Eventually, Lisa Marie and Lockwood entered into a new custody agreement that awarded Lisa Marie with primary physical custody of the girls. However, Lockwood challenged this order following the death of Lisa Marie's son Benjamin in 2020. Legal documents obtained by The Blast show Lockwood claimed, "With all due sympathy and respect, this creates a new and unaddressed twofold problem: the safety of the children and the greater likelihood of LMP to relapse into drug and alcohol dependency." At the time of Lisa Marie's passing, the custody agreement had not been altered, according to the Daily Mail.
Priscilla and Lisa Marie grew closer following Benjamin Keough's death
In July 2020, Lisa Marie Presley's son Benjamin Keough died by suicide. The loss of her son devastated Lisa Marie, and her mother Priscilla stepped in to help her cope. In a 2022 essay she penned for People, Lisa Marie admitted that though she lived with grief from the age of 9, losing her son was extraordinarily difficult. She wrote, "But this one, the death of my beautiful, beautiful son? The sweetest and most incredible being that I have ever had the privilege of knowing, who made me feel so honored every single day to be his mother? … No. Just no."
A source told OK! Magazine that Lisa Marie and Priscilla certainly struggled over the years, reportedly becoming estranged during Lisa Marie's protracted divorce proceedings against Michael Lockwood. However, Priscilla stepped in to help Lisa Marie after her son died. The source alleged, "They became close again after Ben's death. … Priscilla supported her as much as she could."
Priscilla Presley confirmed Lisa Marie's death in 2023
Priscilla Presley confirmed Lisa Marie Presley's death in January 2023. In a statement to People, Priscilla revealed, "It is with a heavy heart that I must share the devastating news that my beautiful daughter Lisa Marie has left us. She was the most passionate strong and loving woman I have ever known. We ask for privacy as we try to deal with this profound loss. Thank you for the love and prayers. At this time there will be no further comment."
Priscilla's statement followed the news that Lisa Marie had been taken to the hospital after experiencing an episode of cardiac arrest in her home. The Daily Mail reported that Lisa Marie was found by her housekeeper, who called paramedics to the scene. Medical personnel were able to regain Lisa Marie's pulse following the first event, but she had no brain activity when she arrived at the hospital. She reportedly suffered a second cardiac arrest in the hospital and her family signed a "do not resuscitate" while she was in an induced coma.
Priscilla was at her daughter's side when she died.
Priscilla opened her home to Lisa Marie's children following her death
Lisa Marie Presley's twin daughters were living in her home at the time of her death. TMZ reported that the girls weren't comfortable going back to the home where their mom died, and the two girls were predominantly staying with Priscilla Presley along with their older half-sister Riley Keough.
Reports that Lisa Marie's passing would impact her ongoing custody battle with ex-husband Michael Lockwood also surfaced in the days that followed her passing. As reported by Entertainment Tonight, Lisa Marie's first ex-husband Danny Keough was living in her home and considers himself a stepfather to the twins. Despite that, entertainment lawyer Mitra Ahouraian told the outlet that it's likely Lockwood will get full custody of the twins.
As Ahourian put it, "The court is going to look at the fact that the biological parent should have, at the very least, 100 percent legal custody, the ability to make all of the important decisions in the children's lives." She also asserted that it's possible Keough will receive visitation rights if he chooses to fight for them. Lockwood also reportedly got a court order upon Lisa Marie's death and a source told the outlet, "Michael will do whatever he has to do to protect it."