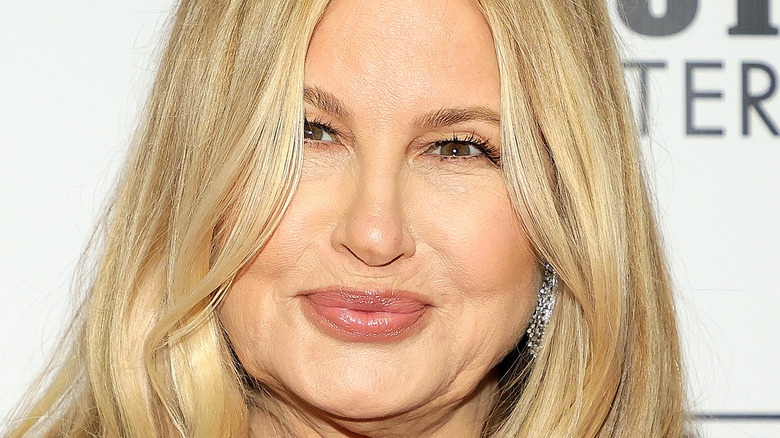 With her distinctive voice, Hollywood pout, and impeccable comedic timing, Jennifer Coolidge might be one of the most unique actors working in movies and TV. Although she's a distant relative of Calvin Coolidge, the comic actor didn't achieve fame thanks to her family: according to Vulture, she was raised in a small town in Massachusetts by her father, who worked in resin manufacturing, and her homemaker mother.
Jennifer was creative from a young age and loved movies so much that she tried to hand in her own homemade films instead of essays. "When I was 10, I made [a] remake of 'Jaws,'" she told Us Weekly. "My dad swam with a fin on his back and my sister was the shark victim." She was also musically gifted: she not only played the clarinet throughout school, but also went to an orchestra summer camp three years running. "I thought I might do it for a living," Jennifer revealed. And years before she was famous for playing Stifler's mom, the actor looked older than she really was. "I bought a case of beer when I was 11 with my neighbor's wig," she recalled.
Keep reading to find out more about the woman who brought us iconic moments in films like "Legally Blonde," "A Cinderella Story," and "American Pie." This is how comedic star Jennifer Coolidge made it in Hollywood.
Jennifer Coolidge never thought she was funny
Although Jennifer Coolidge is now known as a comedic icon, she never thought of herself as a funny person when she was young. "No one in my family thought I was funny," she revealed in an interview with Female magazine, adding that her brother was always the comedian, even if she could break out some pretty good impressions at the dinner table. "You know, they thought I was weird." When she went to the American Academy of Dramatic Arts in Manhattan, Coolidge set out to become a serious actor like Meryl Streep, whom she worshipped. "I wanted to be a straightforward actress," she insisted. "I was very serious about that and it went a different route."
But Coolidge had a hard time trying to get people to take her seriously, especially when she was told that she wasn't attractive enough for roles. "In your headshot, you look just like a young Candice Bergen," one casting agent reportedly informed her, per Vulture, brutally evaluating her appearance. "You look nothing like this. I only cast good-looking people on my soaps."
She worked with Sandra Bullock as a waitress
Before they both found fame, Jennifer Coolidge worked alongside Sandra Bullock at a restaurant called Canastels in New York. "Sandra really had her act together," she recalled years later on "Jimmy Kimmel Live!," adding that while her own performance was less professional, none of her antics got her fired thanks to a very lenient boss. During her clubbing years, Coolidge once even pretended that she had a cigarette put out in her eye to get off work. "I went to Roosevelt Hospital and found an ambulance driver and he strapped a patch and a white thing around my head," she admitted.
"Sandra Bullock was the hostess, and I was the cocktail waitress," she explained on "Conan," adding that Bullock ended up getting a lot of her shifts since Coolidge was busy partying. "I had five shifts, and I would show up for three of them," she confessed. "… And you know, we had to wear these white jackets, and like, mine was all stained in the back." It turns out that Bullock wasn't the only show business connection she made in those days: OJ Simpson also supposedly told Coolidge that he would get her a SAG card.
Jennifer Coolidge pretended to be a Hemingway during her clubbing days
To get into exclusive New York clubs in her twenties, Jennifer Coolidge posed as "Muffin" Hemingway, the imaginary sister of actor Mariel and model Margaux. "I had these thick black eyebrows and shoulder-length blond hair, so I looked the part," she told The Guardian years later, reflecting on her physical similarity to the real Hemingway family. "I'd turn up to New York clubs in high heels and a short dress and tell them I was Muffin Hemingway. You wouldn't believe how well it worked," the actor insisted. "I got a lot of mileage out of that."
Unfortunately, she started giving the fictional Ernest Hemingway granddaughter a bad name through her wild behavior. "I got kicked out of a few clubs," Coolidge admitted. "Then it wasn't so flattering for poor Muffin." As she told Vulture, one bouncer memorably threw her out and yelled after her: "Don't ever come back here, Muffin!" Although, given Ernest Hemingway's own reputation as a big drinker, maybe Coolidge could argue that she was just carrying on the family tradition.
The comedy star learned improv with The Groundlings
Jennifer Coolidge discovered her potential as a comedic character actor thanks to The Groundlings, a Los Angeles improv troupe that has produced some of the biggest names in Hollywood. "I thank god for The Groundlings," she later told Female magazine, recalling how a friend urged her to drop out of the dramatic acting class she was taking and drove her to try out for famous comedy training ground. "He said this is where you should be. I needed some direction and he made me do this audition."
As a member of The Groundlings, Coolidge learned how to do comedic improv alongside future stars like Lisa Kudrow, Kathy Griffin, Will Ferrell, Chris Kattan, Cheri Oteri, Ana Gasteyer, and Will Forte. "I happened to be there at a really great time," she observed in an interview with The Holland Sentinel. As well as learning new skills and discovering her own talent, Coolidge also found that the group gave her the opportunity to perform in front of important people.
"Mark Hirschfield that cast 'Seinfeld' was in the audience one night, he cast me on 'Seinfeld' and then all these cool things happened because of The Groundlings," she explained to Female magazine, recalling her first time on the small screen. "The Groundlings sort of changed my life."
Jennifer Coolidge's first big role was on Seinfeld
After years without any acting success, Jennifer Coolidge landed her first big break in 1993 at the age of 32. She was cast as a masseuse who dated Jerry Seinfeld on the hit sitcom "Seinfeld," and as she told GQ, it came as quite a shock. "I didn't really have any jobs before that. I only had lies on my resume," Coolidge confessed, adding that she had just named theaters at her school and invented shows that could have plausibly been performed there. "You have to do that if you have a blank resume, until you start getting jobs. Then you can slowly erase the lies," she added. "I'd love to get my hands on that resume now."
She wasn't even sure what to wear for the audition. "I didn't have any flattering outfits," Coolidge noted, explaining how a couple of store employees put together an outfit for her. Julia Louis-Dreyfus also helped her out at the table read, boosting her confidence by telling her she'd been great: "I knew I sucked, but she was still really cool about it."
But as Coolidge told Vulture, it was still a bittersweet moment: her first on-air role came right as her mother was in the final stages of pancreatic cancer. "My mother's last words to me were, like, 'I can't believe it,'" she recalled. "But she was thrilled because she didn't think anything was going to happen."
Playing Stifler's mom helped her sex life
Her breakout role in "American Pie" as Stifler's mom led to a lot of attention from younger men, according to Jennifer Coolidge. "There's always someone who's seen that movie lately, so then you sort of get a whole new group of young guys," she explained on "Watch What Happens Live," adding, "I'm single, so I'm really using it to my advantage." The actor insisted that she wasn't annoyed by people who associated her with her seductive character from the hit 1999 film, since it led to her getting a shocking amount of action. "There were so many benefits to doing that movie," she told Variety. "There would be like 200 people that I would never have slept with."
As she admitted to Conan O'Brien, she got an honorary "MILF" status from the character, despite not having any children in real life. "When you do a movie, you get credit for things, you know, the movie says you're something," Coolidge explained, adding with her characteristic self-deprecating humor: "I was very lucky. And I'm glad there weren't more girls auditioning for that part — I never would have gotten it."
Her favorite projects were with Christopher Guest
Some of Jennifer Coolidge's most beloved roles have come from Christopher Guest films like "Best in Show" and "A Mighty Wind." As the filmmaker told Variety, he first discovered the actor when she was in The Groundlings. "When I met her, I knew there was something going on that was special," Guest reflected. "And I was right, fortunately." He singled out her ability to improvise and make audiences laugh just by standing there, adding, "No one else acts the way she acts. I don't mean acting as an actor. I mean behaves the way she behaves."
For her part, Coolidge returned the compliment in 2021, telling The Guardian that Guest's films were her favorite projects to work on. "It doesn't get any better," she declared. "… He comes out with things that are so funny but with such dry, serious delivery, I can't keep it together." She also praised frequent Guest collaborators like Eugene Levy and Catherine O'Hara, adding that they were stunningly down-to-earth despite their talent. "Becoming part of that group was life-changing for me," Coolidge insisted. "Those movies, wow — you always want to get that phone call."
Jennifer Coolidge pretended to be her own twin to date two men
For Jennifer Coolidge, filming the first season of "The White Lotus" during a pandemic wasn't the craziest thing that she had ever done in Hawaii. When she was younger, the star honed her acting ability on vacation by posing as identical twins to briefly benefit her dating life.
As she revealed on "The Kelly Clarkson Show," the following scheme lasted two weeks. "Quite a few years back, I did come to Hawaii, and when you come and you're on vacation alone, you can kind of like create anything you want," Coolidge reflected. "I ended up meeting these two guys that were best friends and I liked them both, and so I told them that I had an identical twin and I dated both guys."
While the story might seem improbable — or even something out of one of her comedy flicks — the actor insisted that she was able to pull off lies like that in her youth. However, Coolidge admitted that she might not have the nerve to attempt such an antic these days. "But at the time, it really was sort of a great decision," she noted. "Because, you know, when you're younger you can just get away with anything."
She became a frequent sitcom guest
Since her years as a struggling actor, Jennifer Coolidge has never taken any role for granted. But her long string of guest appearances in sitcoms and supporting roles in comedies has arguably led to the actor being pigeon-holed over the years.
"The same script does tend to show up at my house over and over," she reflected in an interview with The Hollywood Reporter. "… Ninety percent of the scripts I get are about women with lots of plastic surgery married to rich men, or women with weight problems being ridiculed," Coolidge added, explaining that she was never offered lead roles. In reference to her iconic "Legally Blonde" role, she noted that these days, the gig would be more along the lines of "Reese Witherspoon's dumpy mother." The star explained, "You get the older version of women that you've played before."
"I know that sometimes she gets frustrated that she's always having hump-the-furniture parts," friend and collaborator Mike White told Vulture, insisting that Coolidge's range was often overlooked. "She can nail that kind of broad comedy, so of course that's what people want her to do. People love her, but she's put in a box."
Jennifer Coolidge embraces her queer icon status
Jennifer Coolidge is more than happy with her status as a queer icon, as she told The Advocate. While the actor has supported many LGBTQ+ charities over the years, like the Elton John AIDS Foundation, she noted that she always just naturally found herself drawn to LGBTQ+ people since she found common ground through her taste and sense of humor.
"Since I was young, I have had many gay friends early in my life, so my love for the community started at a very young age," she revealed. "And I've been in Hollywood a long time, so I've had the opportunity to work with so many queer actors. They give me credit, but I give it right back to them for always being there for me."
In an interview with Vulture, the star joked that many of her characters could be interpreted as drag queens and insisted that if reincarnation existed, she would choose to be a gay man. "I just … I think I'd be good at it," she reflected, adding that her friendships with gay men were important to her. "Gay men don't make you pay for having a strong point of view. And I really like that because hetero men don't like that."
Her spooky New Orleans home has appeared on screen
For years, Jennifer Coolidge has lived in a reportedly haunted mansion in New Orleans. "Everyone tells me a story that they've had at my house … they hear these ghost stories," Coolidge informed E! Insider, insisting that she'd never seen a ghost herself. "… But I've heard people say, 'Oh, there was an old sea captain sitting at the piano … a little girl bouncing a ball down the stairs.'" Her seemingly spooky mansion has also appeared in movies and TV: for example, Sofia Coppola took advantage of its old-fashioned charms and shot the interior scenes for "The Beguiled" in Coolidge's home.
In a 2022 interview about working with Ryan Murphy on "The Watcher," Coolidge revealed that she had been hoping for a call since the producer borrowed her house for an episode of "American Horror Story" a decade prior. "I thought for sure he would call me and say, 'Well, we're using your house, I'm gonna put you in a scene,'" the actor told Pride, insisting that she had been longing to do "something dark and creepy" with him for years. "I knew that Jessica Lange was up on the second floor one time and I went, 'Oh, my God, I want to be in this so bad.'"
Although her house got a starring role and she didn't, there was a happy conclusion to the story: "Ten years later and I get to do this creepy story with Ryan Murphy."
Jennifer Coolidge was reluctant to take on The White Lotus
Jennifer Coolidge has had a triumphant career resurgence thanks to "The White Lotus," winning an Emmy, a Critics Choice Award, and a Golden Globe in the space of a few months. But she almost refused to appear in the HBO comedy-drama series that her friend, Mike White, wrote for her, as he told Vulture. "I would love to be able to write something that allows her to show the person that I know," White reflected, adding that he told HBO he wouldn't do the show without Coolidge. As the writer explained, he wanted her to have a role that would demonstrate her talent: "The same way people feel about her in 'Legally Blonde' is how I feel about her in life. I want to see her win."
Coolidge was less certain about the show, however. She nearly turned the whole opportunity down because she was self-conscious about not being in "fighting shape" after eating a lot of vegan pizza during the COVID-19 pandemic. "It was just very lonely times. … And not that I was 110 pounds before, but somehow it led to my demise," she told People. "… It became my excuse not to do it." Luckily, a friend gave her some sound advice before Coolidge could fake a foot injury to escape filming, telling her: "This is the worst thing you could do to yourself. Just go, just f**king go do it.'"
"For once in my life, I listened," Coolidge added.