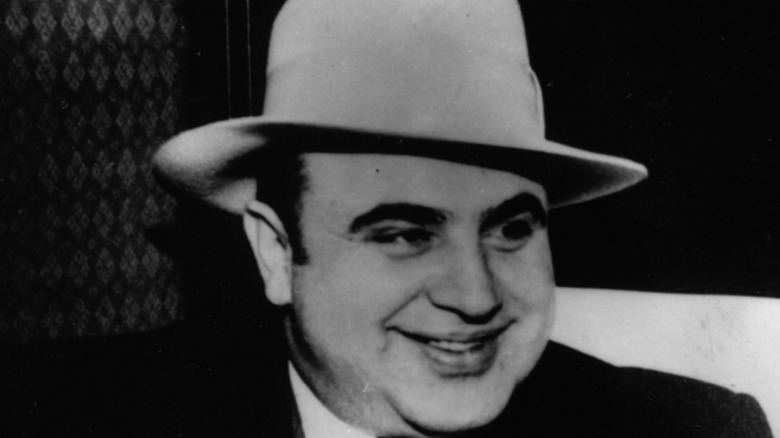 Since they first asserted their presence in the early 20th century, the American Mafia has become synonymous with organized crime. According to History, the mafia first made its mark during the Prohibition era and has remained a significant presence in the criminal underworld ever since. From the likes of Al Capone and Charles "Lucky" Luciano in the 1920s to Whitey Bulger and John Gottis of the '80s and '90s, infamous mafioso have long been splashed across the pages of major newspapers, intriguing readers with sensationalized tales of murder, extortion, and drug dealing.
Within their publicity an interesting dichotomy has emerged, where they are alternatively deified and demonized, depending on who you ask. While their exploits are often depicted through idealized and romanticized stories like "Casino," "The Sopranos," and "The Godfather," they are also subject to negative and disparaging coverage that acknowledges the real-life victims of their crimes. Still, for better or for worse, the American Mafia is undoubtedly one of the most popular targets for the media.
Some of the more unsavory topics mafioso often find themselves linked to are homicides and murders. From the infamous St. Valentine's Day Massacre during Prohibition to the brazen killing of Paul Castellano in midtown Manhattan, the mafia and murder are too often connected. These are the most notorious mob murders in history.
Dean O'Banion is killed in his flower shop
In the 1920s, the primary rival to Al Capone and Johnny Torrio's Chicago Outfit was the North Side Gang led by Dean O'Banion and Bugs Moran. After making his bones working as an enforcer for various newspapers, including the Chicago Tribune, O'Banion and the North Side Gang started getting into bootlegging when Prohibition hit in the '20s (per The Mob Museum).
An uneasy truce prevailed between the O'Banion and Capone gangs for a short time, but it broke down when Torrio and Capone's associates started to make trouble on the north side. Then, on one November night in 1924, three killers hired by Torrio stepped into O'Banion's florist shop on North State Street in Chicago. The New York Times reported what happened next. O'Banion was wearing his specially tailored suit that had three hidden gun pockets, but it was useless.
One of the killers grabbed O'Banion's hand for a handshake, and then he and his associates proceeded to rake the florist with bullets. Then, in a smoothly planned getaway, the killers fled into a waiting car and other associates skillfully blocked traffic with their own vehicles, allowing the assassins a swift escape. The North Side Gang would be finished a few years later following the St. Valentine's Day massacre, leaving Capone in control of Chicago.
Al Capone and the 1929 St. Valentine's Day Massacre
When Chicago residents awoke to their papers on February 15, 1929, the headlines must have read like a bombshell: "7 Chicago Gangsters Slain by Firing Squad of Rivals, Some in Police Uniforms," reported The New York Times. Police discovered the bodies of seven mobsters, all of them belonging to the North Side Gang of George "Bugs" Moran and Dean O'Banion. Police found the bodies inside an illegal alcohol warehouse — in the midst of the dark ages of Prohibition — that was owned by Moran.
As History explains, the killings were the result of a mob war between Chicago gangsters Al Capone and Bugs Moran. Both sides were competing for the largest slice of Chicago's illegal bootlegging pie, and Capone decided to take it on one fateful February morning.
Though details are murky, it appears as though several executioners hired by Capone confronted the North Side gangsters at their own warehouse, ostensibly under the guise of being police officers. They lined up all the members of the gang against the wall, but instead of arresting them, they executed them with machine guns. The killers were trying to kill Moran himself, who barely escaped death by being late. Jack McGurn was initially indicted on the murders, but the case was dropped and, as of nearly a century later, has never been solved (via The New York Times).
Joe Masseria's death ends a war
Giuseppe "Joe The Boss" Masseria was once one of the most important and most feared crime figures in all of New York City during Prohibition. Originally born in Sicily, Italy in 1886, Masseria made it stateside as a teenager and soon ingratiated himself with the local criminal underworld (per The Mob Museum). However, when Salvatore Maranzano immigrated to the U.S. and started to make inroads into the city's illegal alcohol smuggling game, which Masseria controlled, Masseria went to war with him.
Now known as the Castellammare War, named for Maranzano's hometown in Sicily, the war pitted New York gangs against each other in open warfare. Finally, on April 15, 1931, Masseria was killed while playing cards at a Coney Island restaurant, as reported by The New York Times. Though no one has been convicted, it is thought that Masseria's execution was ordered by a coalition of gangsters including Maranzano, Charles "Lucky" Luciano, Albert Anastasia, and Vito Genovese. With his death, the Castellammare War came to an end, and Maranzano briefly ascended to power.
Salvatore Maranzano's short reign as capo di tutti capi
Born in 1868 in Castellammare del Golfo, Sicily, Italy, Salvatore Maranzano was a prominent gangster in the United States during the years of Prohibition. According to Britannica, Maranzano arrived stateside after WWII, coming to New York City. Prohibition kicked off in the early 1920s, and Maranzano quickly established himself and his gang of other Castellammare mobsters as major players in the bootlegging game. Fighting for control of New York City's liquor distribution, Maranzano and his gang found themselves in a war against rival mobster Joe "The Boss" Masseria.
After a year of warfare that resulted in at least 60 mobster deaths, the feud finally ended when gangsters headed by Charles "Lucky" Luciano gunned down Masseria in a restaurant. Following his death, Maranzano tried to consolidate his winning of the Castellammare War by inaugurating himself the capo di tutti capi, or "boss of all bosses." But Luciano had other plans.
On September 10, 1931, acting on Luciano's orders, four gunmen confronted Maranzano at his place of work on Park Avenue in New York City. The men were armed with pistols, and they shot Maranzano to death inside his office while eight terrified witnesses stood outside and listened (via The New York Times). Though Al Capone and several others were initially linked to the murder, most people consider Luciano to have been the real mastermind, but once again, nearly a century later, no one has yet been officially charged with the killing.
Dutch Schultz's final meal at the Chop House
Originally born Arthur Flegenheimer, infamous mobster Dutch Schultz was a prominent bootlegger during the era of Prohibition. According to History, he smuggled liquor from Canada into New York City, at one point making as much as $20 million a year. After Prohibition ended, Schultz was tried on charges of tax evasion, but he was eventually acquitted. In 1935, facing federal tax charges once again, Schultz concocted a plan to have Thomas E. Dewey murdered, the special prosecutor assigned to the case.
However, this made other mobsters worried about the potential heat it would bring, and Schultz found himself on the wrong end of a gun instead of Dewey (per Biography). On October 23, 1935, members of the Jewish crime syndicate Murder, Inc. tracked Schultz to the Palace Chop House in Newark, New Jersey, and shot him multiple times while he was in the bathroom. The New York Times reported that he had been shot in the stomach and was close to death. He fell into a coma, dying the next day, and he never identified his killer, though it is thought to have been Charlie "Bug" Workman.
Machine Gun Jack McGurn's unfortunate anniversary
"Machine Gun Jack" McGurn was an Italian-born mobster who roamed the Chicago streets during the years of Prohibition. He allied himself with Al Capone and Johnny Torrio of the Chicago Outfit, working as a personal bodyguard (per The Mob Museum). Having already been implicated in numerous murders, including that of Illinois state's attorney Wiliam McSwiggin and gangster Hymie Weiss, in 1929, McGurn was reportedly involved in organizing the St. Valentine's Day massacre that took out Capone's rivals in the North Side Gang.
McGurn was initially indicted in the Valentine's Day murders but escaped prosecution when the charges were dropped. Two years later, in 1931, McGurn was sentenced to two years in prison for violating the Mann Act, which basically prohibits sex trafficking (via The New York Times). McGurn's alibi for the massacre had been that he was staying with Louise Rolfe, a woman he later married, and when the government could not charge him for the slayings they instead pursued Mann Act charges.
On February 15, 1936, the seventh anniversary of the St. Valentine's Day massacre, McGurn himself was gunned down in a Chicago bowling alley. He was most likely killed on the orders of Outfit boss and former associate Frank Nitti, though once again, whoever committed the crime skirted conviction.
Bugsy Siegel and the Flamingo
One of the most interesting periods of the mafia timeline in America was its takeover of the Las Vegas casino scene, and one of the first people involved was Jewish gangster Bugsy Siegel. As The Mob Museum explains, Siegel had grown up in New York and spent the Prohibition years in the employ of both Meyer Lansky and Charles "Lucky" Luciano. He may have been involved in the murders of Joe Masseria and Salvatore Maranzano, but that's only speculation.
Even if he didn't, the mob still had him relocate to California to escape increasing police heat, and he moved there in 1936 to start racketeering. By 1945, he was in Las Vegas struggling to build his casino, The Flamingo, which was being financed by mob money. The casino eventually opened in December 1946 but closed shortly after due to complications before reopening again in March 1947 (per PBS).
Yet, just three months later, on June 21, The New York Times reported that Siegel had been murdered while in the Beverly Hills house of actress Virginia Hill. An assassin had crept up to a window through the bushes, firing a rifle at Siegel through the window. The person who committed the murder remains unknown as of 2023.
Albert Anastasia's final haircut
Born in Italy and later immigrating to the United States, Albert Anastasia was a notorious mobster and a member of the Murder, Inc. crime syndicate that assassinated many gangsters through a murder-for-hire business model (per The Mob Museum). Working for Charlie "Lucky" Luciano, Anastasia has been implicated in numerous murders, including three he was charged with between 1928 and 1933, none of which he was convicted for on account of the death of key witnesses.
Reportedly, Anastasia was one of the four gangsters who killed former capo di tutti capi Salvatore Maranzano in 1931 under the orders of Luciano. During the Second World War, Anastasia served in the army between 1942 and 1944, after which he went back to a life of organized crime. He became the head of what would later become the Gambino Crime Family in 1951.
However, on October 25, 1957, Anastasia was murdered while sitting for a haircut by two unknown gunmen with their faces obscured by scarves, as reported by The New York Times. The gunmen ditched their weapons in a vestibule and trash can, but they were recovered soon after. The murder was carried out in full view of 11 other patrons of the barbershop and was done on the orders of Carlo Gambino, who would soon take control of the family.
Sam Giancana gets whacked at home in Oak Park
A longtime member of the Midwest mob's Chicago Outfit, Sam Giancana was one of the most infamous mobsters of the 1960s. Not only were his exploits with the mob legendary, but he has also been implicated in conspiracy theories related to former president John F. Kennedy's election and his November 1963 death (per The Mob Museum). Giancana has been suspected to have worked with the CIA and to have committed several murders in his youth, and in 1957 he became head of the Chicago Outfit after Tony "Joe Batters" Accardo named him his successor.
However, in the 1960s, Giancana lost control of the outfit. Shortly after, he moved to Mexico. Yet, in 1974 Giancana returned stateside, partly to testify for the CIA involving assassination plots of Fidel Castro. After being home for just a year, on June 19, 1975, Giancana was assassinated in his Oak Park home (per The New York Times). He had been killed with seven shots to the head, and the FBI noted it had the hallmarks of a mob killing. No one had been charged with the murder as of 2023, but most people think it was Tony Spilotro, an up-and-coming Chicago gangster.
Carmine Galante meets his fate in Brooklyn
Raised on the streets of East Harlem in New York City, Carmine "The Cigar" Galante established himself as a serious gangster through his ruthless murders and drug dealing. He worked with the founders of both the Genovese and Bonanno crime families, eventually becoming the disputed head of the Bonanno family following a decade-long stint in prison for drugs (per The Mob Museum).
However, The Commission, the American mafia's informal government, had already decided that Phillip "Rusty" Rastelli was going to be the Bonanno boss — something Galante did not accede to. Galante still started calling himself the capo di tutti capi, implying he was in control of The Commission, which ended up being a major mistake.
In retaliation, Rastelli, the recognized boss of the Bonanno family, ordered two of his capos to infiltrate Galante's close circle of associates and murder him. The plan worked like clockwork, and on July 12, 1979, Galante was blasted to death in broad daylight with a shotgun while eating at the Joe and Mary Italian‐American Restaurant in Brooklyn, New York (via The New York Times). In 1986, Anthony "Bruno" Indelicato was convicted of Galante's murder, but his two other accomplices were not charged.
Paul Castellano is gunned down in Manhattan
There are brazen mob murders and there are audacious mob murders, but nothing quite compares to how Paul Castellano was killed in 1985. Prior to his death, Castellano was the reputed head of the Gambino Crime family, one of the most powerful American Mafia families in New York (via The New York Times). He was facing charges over a "racketeering indictment" and conspiracy to commit murder, and officials had held the family was responsible for at least 25 extracurricular killings over the past years.
Then, on December 16, 1985, Castellano and mobster associate Thomas Bilotti were both shot to death after exiting their limousine to eat at a restaurant in midtown Manhattan. The killers, who reportedly used semi-automatic weapons, immediately fled in a getaway car. According to History, the order was given by a subordinate member of the Gambino crime family, John Gotti, who would take over as the new Gambino family boss following Castellano's death.
The purported reason that Gotti ordered the hit on Castellano was over drug dealing. Gotti was distributing dangerous narcotics like heroin, even against Castellano's wishes. Fearing Castellano was going to have them killed, Gotti and his mobster associates preemptively had him murdered first, with Gotti watching the whole thing from a nearby vantage point.
Tony Spilotro finds a shallow grave
Notorious mobster Anthony Spilotro was a longtime member of the Chicago Outfit. In the 1970s, he was sent to Las Vegas to replace Marshall Caifano as an enforcer for a mob-run casino the Stardust, as The Mob Museum explains. Throughout the '70s, Spilotro made Vegas his personal fiefdom, protecting Frank "Lefty" Rosenthal and the skim at the Stardust casino, while also committing numerous robberies and selling the stolen goods.
In the 1980s, after being blackballed from the casinos, Spilotro ran afoul of the mob by getting arrested numerous times and having an affair with Rosenthal's wife. Then, in mid-June 1986, Spilotro and his brother were found beaten to death in a "shallow grave in an Indiana cornfield," as reported by The New York Times.
In 2007, mobster Nicholas Calabrese testified that 10 mobsters had beaten the brothers to death in an Illinois basement before transporting him to his poorly dug grave in Indiana (via the Chicago Tribune). Both James "Little Jimmy" Marcello and Calabrese were convicted in the slayings at the "Family Jewels" mob trial. In February 2009, Marcello received a sentence of life in prison (via the Chicago Sun-Times), and a month later Calabrese was given 12 years (per the Chicago Breaking News Center). Spilotro's life was famously dramatized by actor Joe Pesci as the character Nicky Santoro in Martin Scorsese's 1995 film "Casino."
Francesco Cali refuses a citizen's arrest
Our next victim is Francesco "Franky Boy" Cali, who was shot and killed in the front yard of his Staten Island home in 2019 (per The New York Times). Cali was reported to be a Gambino crime family boss. Initially, the murder was thought to have potentially been a mob hit, and the possibility of a war within the American mafia was suggested in the weeks after Cali's death
However, it turns out that instead of another gangland murder, this seems to be a bizarre case related to mental illness. According to lawyers for Anthony Comello, the man who was charged with Cali's murder, he was wrapped up in numerous conspiracy theories, and he thought that Cali was a deep-state criminal. Comello was apparently trying to perform a citizen's arrest on Cali when he ended up shooting him 10 times instead. In March 2020, Comello was officially declared mentally unfit to stand trial and has been receiving mental health treatment at a state hospital since.
If you or someone you know needs help with mental health, please contact the Crisis Text Line by texting HOME to 741741, call the National Alliance on Mental Illness helpline at 1-800-950-NAMI (6264), or visit the National Institute of Mental Health website.