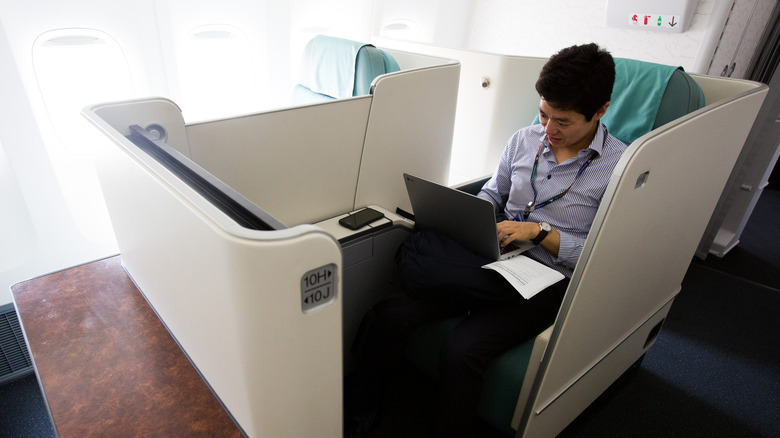 Although distressing to think about, it's important to know what to do to keep your valuable technology safe while traveling. Domestic or abroad, it's easy to get something small like your phone swiped, but laptops are also commodities that need to be protected. Luckily, keeping your computer safe is fairly easy with some planning that you can use for travel over and over again. By planning ahead and being vigilant, you are less likely to be stuck with the headache of losing a laptop while traveling.
Per Security Boulevard, laptop theft or loss is still a pretty big problem. The site reports that 86% of IT folks have had laptops lost by colleagues in their organization and over half of those losses resulted in a data breach of some kind. Even if the laptop you travel with isn't owned by your employer, there is plenty of personal data that can be taken from it.
Even if some places in the world are known to be safer than others, it's best to focus on security. Unless you're willing to bet the large sum of money paid for a new laptop, it's better to be safe than sorry. So, here we have compiled a list of ways to ensure that the laptop you leave home with returns home with you after your trip, with data untouched and intact.
Get a secure laptop bag
Not only does a good laptop bag keep your item padded while traveling, but it also keeps it safe from RFID data theft. "When looking for the ideal travel laptop bag, I seek out style and overall functionality," celebrity fashion stylist and consultant Chelsea Volpe told People. "First and foremost, I want the bag to look good (what can I say, I'm a stylist!)." One of the things Volpe told People to look for in a bag is both durability and storage options, which is certainly possible with all of the bag options available to consumers.
Alpaka Gear suggests using a sling bag for your laptop to further deter pickpocketing or theft while you're traveling. The site recommends that in part because you can flip the bag in front of you to keep a closer eye on your things without hindering the bag's functionality. The same can't be said for traditional backpacks, which aren't really meant to be worn in more than one way. Further, make sure the laptop bag is lockable, RFID-blocking, and slash-proof, so no one can cut into your bag and steal what's inside.
Not only is a sling bag excellent for keeping your laptop safe, but you can also use it as your daypack while you're traveling. Having a bag that's multifunctional is a great essential to have, especially if you're trying to pack light. Utilizing items with more than one purpose means less to pack and lug around later.
Backup your files
By backing up your files, you are keeping your info secure at home. It's an important habit to get into, especially if you bring your laptop with you on trips. Travel Happy says it's much easier to back up your files before leaving home because you never know what kind of connection you'll have elsewhere in the world. You might want to bring back-up drives to back up things while you're traveling to avoid losing anything you might come up with while you're away. For instance, all those photos you might be taking!
Nomadic Matt agrees and suggests backing up your data in multiple places because, as the tech geeks say, if data only exists in one place, it doesn't actually exist at all. He suggests backing up your data to another device as well as the cloud so you've got more than one copy. Additionally, if you're backing up photos, move your photos over from your camera or phone daily to avoid losing anything on those too.
Do keep in mind, however, that certain clouds might not be accessible in certain parts of the world. According to Make Use Of, there are several countries that have limited or no access to Google services. Those countries are China, North Korea, South Korea, and Russia. If Google isn't available where you are, you might still be able to access what you need via a VPN.
Keep your laptop in a case
Different from a laptop bag, a case stays on or near your laptop most of the time. Hard shell cases fit over the laptop itself whereas soft cases are where laptops rest when they're off for the day. Cases protect laptops during day-to-day use. Digi Travelist says if you really care about your laptop, you'll have a sleeve for it. Not only can a sleeve or case protect it from damage, but they can also help prevent scratches or other wear on your device over time.
Part of having a laptop case is to prevent damage from impacts or falls, which is why so many laptop cases are made from rubbery neoprene, per Harper and Blake. Neoprene cases are also water repellent so, while you can't dump a bottle of water on your laptop and expect it to survive, little mishaps won't have such a big effect, thanks to your handy-dandy laptop case.
Even if you have a laptop bag to carry your tech around in, having a case too is just a little bit more protection from the elements, per Digi Travelist. Especially since they tend to be inexpensive (especially when compared to a new laptop), it's worth it to find one or even make one if you are adept at sewing, the outlet added. Digi Travelist also mentioned that many laptop cases are easily cleaned as well, in case you encounter some messy travel adventures.
Turn your laptop off
Putting a laptop to sleep and properly turning it off are two different things. Not only is it better for your laptop's battery and usage in the long run, but properly turning it off lets it operate better. Although letting your laptop go into sleep mode isn't super detrimental in the short term, it will add to the laptop's wear and tear over time, according to Digital Trends.
"Some items have a limited life cycle," Ajay Gupta, director of Notebook Product Management and Commercial PCs at HP told Digital Trends. "For instance, if the [LCD] panel is left on all the time, it's only specced for about 15,000 hours or about two years. For this reason, it's good to let the panel time out and turn off when not being used." He said the battery and hard drive may also have limited life cycles, so turning them off completely will help extend the life of these parts of your computer.
Derek Meister of Geek Squad also told Reader's Digest that the idea that computer systems get stressed out through the shutdown process is actually dated and no longer true. Newer models don't have that problem or use more power when shutting down or starting back up, so it's perfectly fine to let the laptop shut down completely when you're done with it. So, when you're done with your laptop, turn it off to give it a break.
Be wary of public Wi-Fi
People can snag your information from public Wi-Fi and hackers can get through it fairly easily. So, when using wide-open Wi-Fi, be aware of what kinds of information you're accessing. While free Wi-Fi is clearly not secure for users, GlobalSign reminds folks that even password-protected public Wi-Fi isn't as secure either. The site notes that there are two main ways hackers utilize public Wi-Fi to steal information and data from laptop or tech users: using the same network to intercept data and creating fake Wi-Fi hotspots. If a hacker makes a fake hot spot they can also push malware onto your device as well, added GlobalSign.
There is never zero risk in using public Wi-Fi, so it's important for users to be vigilant, according to Reader's Digest. One way you can protect your laptop is by using your phone as a mobile hotspot and turning on a virtual private network. Doing this with a strong password will encrypt your data and protect the files on your computer.
A few more ways you can protect your computer from attacks while using public Wi-Fi is by turning off file-sharing abilities and/or switching up your passwords from website to website.
Utilize a VPN
Virtual Private Networks (VPNs) are an easy way to encrypt your online activities when at home or abroad, and it is especially helpful with unfamiliar Wi-Fi. Essentially, VPNs work by encrypting your data and scrambling your location, which makes it much harder for hackers to get access to your information (via Forbes). "A VPN is the only way to ensure that all data you send from your computer or phone over the network is secure and not being read by other people," Eli White, chief technology officer at smarTours, told the outlet.
Using a VPN is one way people can protect themselves while using public Wi-Fi, particularly while traveling, according to Business News Daily. More than that, a VPN allows you to access websites that might otherwise be blocked because of the location you're in, such as social media sites. Per Business News Daily VPNs are a cost-effective security solution with some of the biggest players being ExpressVPN, NordVPN, and PureVPN.
Not only are VPNs excellent safety solutions, but they're also the most likely to keep you safe. Per Reader's Digest, a VPN is actually one of the best ways to keep your information safe across Wi-Fi networks. The outlet adds that businesses can install VPNs across their company's devices but individuals can do the same. Mobile devices can also use VPNs in the same way laptops can so keep an eye out for VPN solutions for your cell phone, too. VPNs like NordVPN, for example, also have mobile apps.
Keep your laptop in view
When you're traveling, don't assume that anywhere you are is like your local cafe. Don't leave your laptop out in public when you can't see it, even for a quick bathroom run. Leaving your laptop unattended isn't just about protecting the expensive equipment, it's about keeping your data safe too, notes Biz Space. If you really need to step away from your computer, bring it with you, says the outlet. If you really cannot bring it with you for whatever reason, be sure to log out of your account to make your information harder to access, Biz Space added. Though it's not a total security fix, logging out is one extra step you can take if you really need to walk away from your device.
And definitely don't ask a stranger to watch your laptop or other belongings if you need to step away for a minute, notes NBC. Not only does the act of asking someone you don't know to watch your things intrusive, but it's also quite assumptive to presume they are not themselves a thief. After all, one in ten laptops are stolen within a year of purchase in the United States, so don't assume that your things are safe, even if you are somewhere familiar (via Total Defense.) Be on the safe side and just bring your tech with you, even if it is slightly inconvenient at the time. Use that travel bag to keep your laptop safe and with you at all times.
Use that Do Not Disturb sign
On days when you don't want to lug your laptop around, feel free to leave it in your hotel room. For added security, be sure to put your "do not disturb" sign out. The fewer people have access to your device, the less likely you are to lose it. Hotel staff respect the sign and will not bother you if it is out, according to Insider. If someone really needs to access your room, they will call you before entering, the outlet added.
On top of utilizing the "do not disturb" sign, consider investing in a cable lock, which is a cheap way to lock down your laptop wherever you leave it, notes Tech Geek 365. With or without a built-in alarm, the cable lock will prevent someone from easily walking away with your device if they were to enter your room. It should be noted that some hotels are changing their policies around "do not disturb" signs, namely how long a guest can occupy a room without a welfare check. Be sure to ask the people at the check-in desk what their policy is regarding the "do not disturb" sign so you're not surprised by a visit.
Install antivirus software
Even if you are the most vigilant laptop owner, viruses still exist and can wreak havoc on your technology. That's why it is crucial to have antivirus software installed on your laptop. Not only is it an affordable security measure, but it can also protect you in all regions of the world, according to Vacations Travel. The site adds that the software can protect your computer itself from hackers as well as your data.
Antivirus software works by detecting and then eliminating viruses before they can attack your computer or swipe your data (per Go Backpacking). Users can also utilize malware protection to further shield their important personal data like credit card numbers or other identifying information, added the site. But before you shell out money for antivirus software, check into what might be available for free for your device like Microsoft Defender.
Whether free or paid, using antivirus software, especially when you're traveling, is a no-brainer. Also, be sure to allow your laptop to update whenever it needs to for that extra protection.
Insure your laptop
To cover your worst-case scenario situation, be sure to insure your laptop before traveling with it. This financially protects you if something were to happen and can give you peace of mind while you're away from home. While not all travel insurance will cover electronics, many have a set amount they will pay for lost electronics, according to USA Today. That coverage usually covers theft, loss, or damage but can vary from insurer to insurer so be sure to read the fine print before purchasing the travel insurance (per USA Today).
CoverTrip suggests a slightly less conventional way of insuring your tech–utilizing your home insurance on top of travel insurance. According to the site, you can use the travel insurance claim to cover your home insurance deductible in the case of property loss while traveling. Not only does this create better coverage for your belongings, but it also helps you come out ahead as well, CoverTrip added.