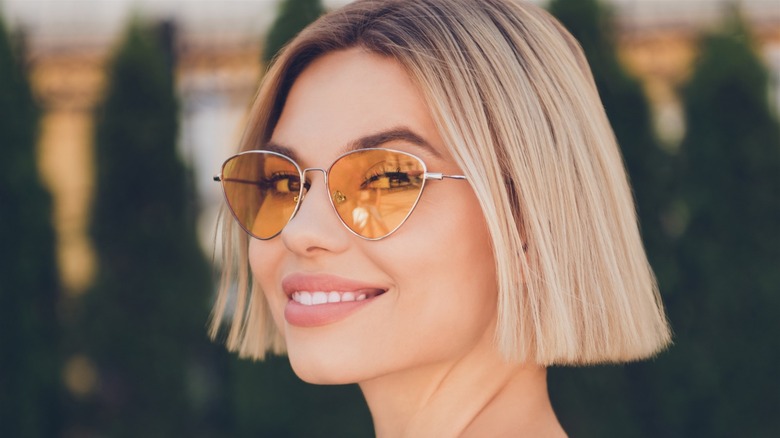 Defined by its short and often blunt shape, falling just above the shoulders, bobs are considered a universally flattering cut that can be worn on anybody. Over the years, the bob has become something of an umbrella term for a range of other styles that fall under it, including the long bob, the layered bob, the A-line bob, and the asymmetrical bob. But one bob cut that is perhaps less commonly known is the box bob. With close similarities to the French bob, the box bob is also cut along the jawline, sometimes grazing higher on the face around the cheekbones. However, the box bob is typically more angular and less layered than its French counterpart, making it great for those with fine hair because the hair appears thicker than it is, per Woman and Home.
When the cut started trending in the early 1920s, hairdressers would not snip short hair on their clients — at first. Instead, defiant women marched to barbershops in droves. The trend proved to be more than a fad after all; it was a cultural movement. Paired with prohibition and the rise of speakeasies, jazz, and the newly-minted right for women to vote — though Black women faced and continue to face barriers to voting — soon these women with bobbed hair, lipstick, rouge, and short dresses became known as "flappers," per History. Now here we are in 2023, our feet firmly planted in the new decade, one century after flappers scandalized a society with straitlaced expectations for women.
Like all bobs, the way you wear your box bob can be tailored to your specific hair needs and face shape. But there are a lot of options, so it can be tough to know what's perfect for you.