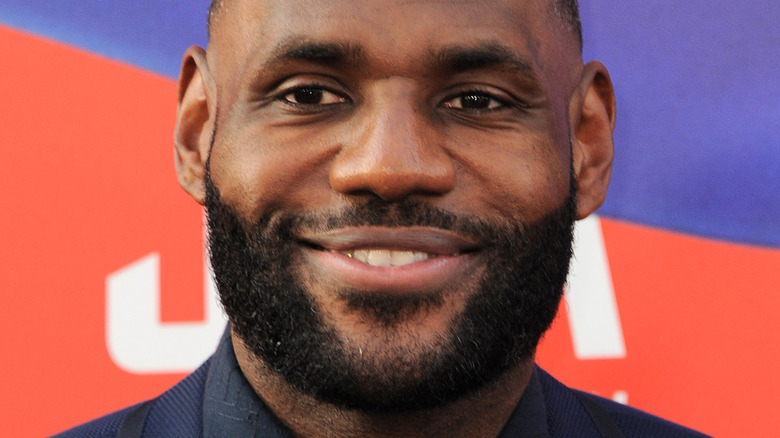 If shows like "Lifestyles of the Rich and Famous" and "Cribs" taught us anything, it's that the sky seems to be the limit when it comes to an A-list celebrity's extravagant purchases. From Richard Branson's private island to Master P's gold ceilings to Melissa Joan Hart's Picasso collection, stars have never seemed less like us.
And as for the money stars don't plunk down on sprawling homes and incredible cars and custom refrigerators and palatial shoe closets? There's always the investment route. Leonardo DiCaprio backed Beyond Meat. Ashton Kutcher helped start a venture capital firm. Selena Gomez became an investor for grocery delivery startup company Gopuff. Diddy helped develop Cîroc and secured 50% of the profits. And, of course, there are the celebrities who have gotten involved in sports teams — and we mean really involved.
A number of musicians, sports stars, and actors took the steps necessary (i.e., shelled out serious cash) to become owners of professional sports teams. Here's how and when they made the bold acquisitions.
Ciara and Russell Wilson co-own the Seattle Sounders FC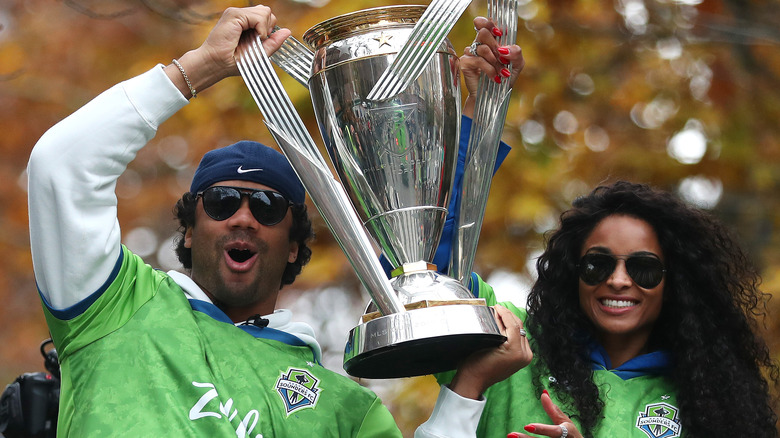 When ex-Seattle Seahawks quarterback Russell Wilson first made his way to the Emerald City, he sensed he'd be there for a long, long time. "It was a place I felt like I could call home forever," he said in a video shared by Seattle Sounders FC. Wilson had a ten-season run that eventually came to an end with a trade to the Denver Broncos.
As Wilson made headlines for his outstanding performance on the field during the course of his time with the Seahawks, his personal life also took center stage. In 2020, he married "Like a Boy" hitmaker Ciara Princess Harris in a star-studded wedding in England. The previous year, Wilson and Ciara had been unveiled as part of the Seattle Sounders FC ownership group alongside ten other families, including that of Seattle native, rapper Macklemore.
On Twitter, Ciara brought attention to the need for female ownership, writing in part, "There's only a small handful of female owners of any Major League Sports team, and I'm proud to be one of them!"
Ryan Reynolds and Rob McElhenney bought Wrexham AFC
In a 2019 conversation with The Wall Street Journal, "Deadpool" actor Ryan Reynolds shared that he doesn't identify with the word "entrepreneur." "I would characterize myself as someone who has found a couple of different things in life that I believed in with every cell in my body," Reynolds told the outlet.
One of those things came about thanks to a star of "It's Always Sunny in Philadelphia." In 2020, Rob McElhenney and Reynolds pooled resources and purchased the Welsh soccer team Wrexham AFC. "[McElhenney] is the reason it happened. He called me and said, 'Let's do this absolutely insane thing," Reynolds shared in an interview with "Good Morning America." Before they became co-owners of a football club, they didn't really know each other, but on an episode of "The Late Late Show with Stephen Colbert," McElhenney pulled no punches about why he reached out to Reynolds. "I've been very successful, I've been very fortunate, but I do work in basic cable late-night comedy television, so I've got TV money. I needed movie star money. I needed superhero money," he said.
Reynolds and McElhenney also launched a Hulu series dubbed "Welcome to Wrexham," which documents their journey as the newest owners of the historic team.
Natalie Portman co-founded Angel City Football Club
With two co-founders and a number of investors— including familiar faces such as Lilly Singh, Reddit founder Alexis Ohanian, and fellow actors Eva Longoria, Uzo Aduba, Jennifer Garner and Jessica Chastain— Natalie Portman started Angel City FC in 2020. The Los Angeles-based soccer team was founded by three women and has a majority female ownership group.
As Portman told ESPN, the ball got rolling after she heard living legend Abby Wambach speak about the pay gap between men's and women's soccer. Inspired to make a change, the actor connected with venture capitalist Karen Nortman and entrepreneur Julie Uhrman. And then, Portman reached out to other high-profile stars about hopping aboard. Though it was originally the Oscar winner's idea, she's the first to acknowledge that it took a team to start the team. "I would never know how to do anything on my own, I show up to work and say lines other people write for me, I don't know how to start something like this," Portman said.
In addition to closing the pay gap, Portman hopes to see women's soccer stars get the credit they deserve. "Watching my son idolize players like Megan Rapinoe and Alex Morgan the same way he did Lionel Messi or Karim Benzema, I realized that amplifying female athletes could rapidly shift culture," she told The Guardian.
The Williams sisters have a stake in the Miami Dolphins
While a majority of the team is owned by Stephen M. Ross, the Miami Dolphins boasts a vast chain of celebrity investors, including singers like Gloria Estefan and Fergie, as well as a very famous pair of racket-wielding sisters. When tennis icons Venus and Serena Williams became part owners of the NFL team in 2009, they became the first female African American owners in NFL history.
"Having spent so much of my childhood in the area, being involved with a staple of Miami culture is a huge honor. We look forward to many championships and much success together with the Miami Dolphins," Serena said of the purchase, per People. Her sentiments were echoed by her sister. Venus went on to express her gratitude toward the Dolphins' majority owner.
After she and her sister became owners of the team, Serena admitted she was a little nervous about the owners' meeting — but not for a reason you might expect. "I'm trying to decide what to wear," she said on an episode of "Jimmy Kimmel Live." "I'm clearly worried about the wrong things."
David Letterman co-owns Rahal Letterman Lanigan Racing
Yes, the "Letterman" in Rahal Letterman Lanigan Racing is indeed linked to David Letterman. In 1996, late-night talk show host joined the Zionsville, Indiana-based Team Rahal as a co-owner, ten years after meeting three-time IndyCar champion Bob Rahal.
Letterman, who was born and raised in Indianapolis, has long been a fan of the Indianapolis 500. "To me, my world was Indiana. I spent 27 years here," he said in 2018, per Autoweek. "I have a deep, rigid, long, strong, relationship with this place." His love for the race came full circle in 2015 when his team celebrated his retirement from the "Late Show," per Associated Press. Out of the partnership, which includes LANCO Group of Companies co-owner, Mike Lanigan, two lucky racing stimulation drivers at Letterman's alma mater Ball State University received scholarships worth $5,000 to boost an esports project, per IndyStar.
The team is set to reach newer and perhaps even greater heights. As WRTV Indianapolis reported in December 2022, a 100,000-square-foot HQ building is just about finished. As Rahal said while giving WRTV a tour of the state-of-the-art facility, "If you create the environment that brings the best in your people, that will win races for you."
Michelle Williams became a Chicago Sky minority owner
"I'm thrilled to have a stake in the WNBA as it expands into my hometown." These were the words of former Destiny's Child member Michelle Williams when she was announced as a part-owner of the Chicago Sky in 2006. On an episode of the "Huge Fan" podcast, Williams opened up about the investment decision. "The main thing that got me interested was, like, there is going to be a women's team here that young girls can literally look at," she said. As of this writing, the team's majority owner is the president of the Alter Group, Michael Alter.
Through the years, Williams has publicly shown support for the team. In 2014, she rose to the occasion by tweeting when Sky recorded its first WNBA Finals appearance, facing the Phoenix Mercury. Unfortunately, Sky lost to Mercury. In 2021, the team redeemed itself by clinching the WNBA championship in yet another face-off with the Mercury, a feat credited heavily to spectacular play by signee, Candace Parker.
Of course, Williams was front and center in cheering her squad on. "GIVE IT ALLLLLLLL THE WAY UP for the @WNBA Champions, THE CHICAGO SKYYYYYYYYY! @chicagosky!!!!" she tweeted.
Michael Jordan is the chairman of the Charlotte Hornets
In 2010, ESPN reported that six-time NBA champion Michael Jordan had acquired North Carolina's Charlotte Hornets (née the Charlotte Bobcats) in a $275 million deal. Jordan's large investment came after four years of being in the Hornets' ownership group. "Purchasing the Bobcats is the culmination of my post-playing career goal of becoming the majority owner of an NBA franchise," the former Chicago Bulls shooting guard said in a statement. Jordan stepped in as the team's chairman, and right before the commencement of the 2014-2015 season, spearheaded a rebrand.
In the long run, Jordan's plunge into the deep end paid off, since Forbes valued the Hornets at $1.05 billion in 2018 and estimated that it had grown to the tune of 757% since his takeover. The publication further reported that Jordan made a killing by giving up a percentage of his stake in 2019.
Being in the ownership camp isn't a breeze. "A little bit more work on this side than what I had to do on the other side," Jordan said at a press conference, per ESPN. "This time it's a little bit more activity, but the pleasure is still the same."
David Beckham is a two-time owner
Legendary footballer David Beckham hung up his kit once and for all in 2013, but in no way did he step away from the sport entirely. Following his retirement, the former Manchester United midfielder helped launch Inter Miami CF. Per Beckham's website, he said of his involvement with the team, "It had to be Inter Miami. The amazing energy and spirit of this city is unique, and the opportunity to build a club here is really special."
Even with a soccer superstar leading the charge, getting a brand new organization up and running was easier said than done. "Many times I also doubted, you know, over the seven years, I doubted night and day that this wasn't gonna happen," Beckham revealed. "But there was one thing I wasn't going to do, and that was give up." It was a gamble he was willing to put money on, so much that he increased his stake in a buyout reported by ESPN.
That wouldn't be the last time Beckham wrote a whopper of a check to a team. In 2019, The Guardian reported that the LA Galaxy alum had become part of England's Salford City FC Class of '92 ownership group when he bought 10% of the club.
Actor Jami Gertz became an owner of an NBA team
"The Lost Boys" actor Jami Gertz owes her basketball team ownership to good old hard work and marrying the right partner. According to The Hollywood Reporter, Gertz and her husband, billionaire hedge fund manager Tony Ressler, purchased the Atlanta Hawks in 2015 for $720 million.
Longtime basketball fans, Gertz and Ressler's family decided to take their love of the game one (very expensive) step further and buy a team. Gertz has since put her acting career on the back burner. As of this writing, she is yet to get a championship out of the Hawks, who last won the NBA Finals in 1958 against the Boston Celtics. "Winning is hard," Gertz once said, per Bally Sports South. "And I like to win." And those victories won't come if the entire organization isn't in it to win it. "What should matter is your coach, your teammates, your general manager, the people that are working with you every day for the shared idea to be the best that you can be and to, you know, win an NBA Finals," she said.
Mark Wahlberg is a cricket fanatic
Following an introduction to cricket in Barbados by a friend, "Planet of the Apes" actor Mark Wahlberg acquired a minority stake in the Barbados Tridents, which has since been renamed the Barbados Royals. "I'm excited to be a part of the Limacol Caribbean Premier League because I know cricket is huge in the Caribbean and a rich part of the region's heritage," Wahlberg said in a 2013 statement published by the Caribbean Journal.
While having minority interest in a sports team is nothing to sneeze at, apparently, Wahlberg's involvement with the Barbados Royals is not common knowledge. When Wahlberg and Will Ferrell appeared on "Good Morning Britain" to promote "Daddy's Home 2" in 2017, Ferrell revealed that he had no idea that his co-star was part owner of a cricket team.
It's not all work in the Caribbean for Wahlberg. He and his wife Rhea Durham were seen having a fun holiday in Barbados in December 2022, per TMZ.
Usher partly acquired the Cleveland Cavaliers in 2005
In 2005, "Confessions" singer Usher Raymond IV became a minority owner of the Cleveland Cavaliers as part of a group acquisition, as reported by Entertainment Weekly. Back then, the singing sensation was on a mission to take the team a notch higher and banked on the hope of making a home out of Cleveland. According to Forbes, Usher spent $9 million to acquire 1% of the Cavaliers.
In 2016, the "Climax" singer was overjoyed when Cleveland Cavaliers, led by small forward LeBron James —who made him a lot wealthier — triumphed over the Golden State Warriors to secure their first NBA championship in 52 years. It was a moment Raymond had been waiting on for a long time. "After eleven years," he expressed when he appeared on "Rickey Smiley Morning Show." "And with all the transitions. I mean, [it's] greater than just having this one season. Like, eleven years of being with an organization that's grown, taken some hits, turned around and they came back in."
LeBron James is a jack of all trades
In a 2015 chat facilitated by CNBC, LeBron James asked billionaire Warren Buffett for investment hacks. Naturally, Buffett had some helpful tips for the basketball superstar. "Owning a piece of America, diversified piece, bought over time, held for thirty of forty years, it's bound to do well," said Buffet. By 2022, James was the first active NBA player to become a billionaire, so if he did follow Buffett's advice, it seemed to work out for him.
As for what James does with all that cash? For starters, he spends it on sports. In 2022, the Major League Pickleball announced that James, through his investment firm LRMR Ventures, would be joining the ownership pool with other investors. The year before, James partnered with Fenway Sports Group, making him a part-owner of the Boston Red Sox. A decade before that, James scooped up 2% ownership of Liverpool FC, per Business Insider.
Becoming an owner of the Red Sox was a move James was proud of. "It gives me and people that look like me hope and inspiration that they can be in a position like that as well," he said at a press conference, per CBS. "That it can be done."
Reese Witherspoon invested in her home team
In April 2022, "Legally Blonde" actor Reese Witherspoon announced that she and her husband were part owners of the Nashville Soccer Club. "As a Tennessee native, it is thrilling to see how much growth and development has come to our home state," Witherspoon wrote on Instagram.
The accompanying reel, which has since been viewed 2.3 million times, shows the Major League Soccer team in action, and thereafter cuts to Witherspoon and her spouse Jim Toth sporting bright yellow Nashville Soccer Club jerseys with the number 22.
As Witherspoon made rather clear in her IG post, soccer is a family affair, as they're all big fans. True to her word, she and her brood were spotted having a blast at their very first game as owners, per ESPN. The Louisiana-born Academy Award winner was not only raised in Tennessee, but shares a home there with her family. What's more, Witherspoon named her third child Tennessee James Toth. Needless to say, she's got a lot of Tennessee pride.
Dwyane Wade staked claim in Utah
Just like David Beckham, Dwyane Wade is a man on a mission. His assignment? To conquer Utah as far as sports ownership is concerned. In 2020, word went around that Qualtrics co-founder Ryan Smith was eyeing a $1.6 billion Utah Jazz purchase with an unnamed team of investors, per Forbes. Wade was unveiled as part of the ownership pool in 2021.
The three-time NBA champion had been in contact with Smith over the years, but the conversation about owning a team was in the spur of the moment. "We actually started talking about the ownership piece of this right about the time when it happened," Smith said.
January 2022 came with more good news from Wade, who made public the acquisition of Major League Soccer 2009 winners, Real Salt Lake. "Excited to join the soccer world and be part of @realsaltlake alongside my partners at Smith Entertainment Group @RyanQualtrics and @ryanjsweeney. Let's go!" Wade tweeted. Nothing but net income.