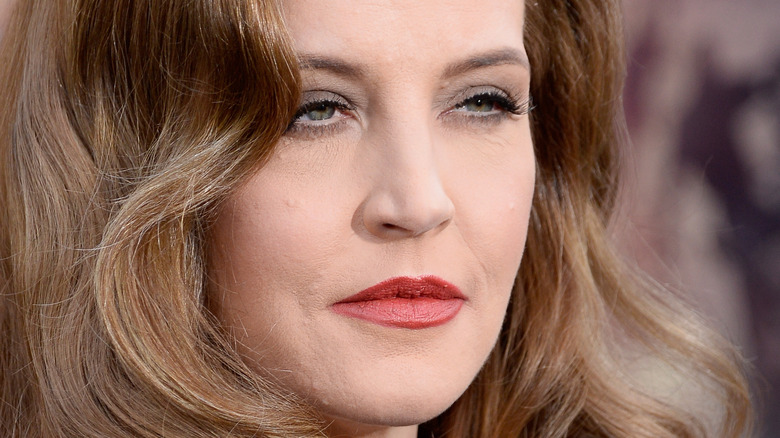 Legend. King. Elvis. The world knew him by many names. Lisa Marie Presley knew him by only one: dad. Even so, she could never seem to run out of descriptors when talking about her legendary father, Elvis Presley. "He was the most incredible, enigmatic, powerful, dynamic human being I've ever met," she once gushed (via The Sydney Morning Herald). It may be difficult to decipher from how she raved endlessly about him, but father and daughter were together for only nine years of their lives. Elvis died in 1977, leaving her with an overwhelming legacy to inherit and infinite memories to cherish. For Lisa — whose troubled youth and adulthood were continuous tabloid fodder — the happiest moments of her life were spent at Graceland with her father (via The Guardian).
Even among the many men who famously punctuated her highly-publicized romantic life, Lisa looked for a partner who could touch the standard her father had set for loving her. Obviously, "nobody could ever compare" (via The New York Times). Elvis' influence over Lisa remained forever unyielding — through her deft navigation of the pressures that came with the family name to her music career that, in voice and tone, inevitably captured the Elvis essence. On January 12, 2023, Lisa died following a cardiac arrest at 54. She will be laid to rest at Graceland, the Presley family property, Elvis' final resting place. Take a look at the eternal bond Lisa Marie Presley shared with Elvis Presley.
Her birth changed the dynamic between her parents
Lisa Marie Presley was the personification of what being born into fame meant. The only daughter of rock and roll legend Elvis Presley and his famous wife Priscilla Presley, arrived on February 1, 1968. Born in Memphis, Tennessee, she spent her childhood on the sprawling Presley property of Graceland. Elvis and Priscilla's love story is well-engraved in the pages of history — as is the tumult their iconic relationship comprised. In the run-up to Lisa's birth, which occurred nine months after the couple married in May 1967, the Presley household buzzed with apprehension. Priscilla was anxious over the impending changes in their lives — so much so that she even considered getting an abortion (via Showbiz Cheatsheet). It turns out suspicious minds don't always lie!
Elvis had reportedly considered separating from Priscilla when she was heavily pregnant. But while they did welcome their child together, Lisa's birth altered the dynamic of their sex life. Elvis apparently wasn't keen on making love to a mother figure (via ABC News). Then there were the ever-persistent questions over Elvis' faithfulness to his pregnant wife since the news was that the "Burning Love" hitmaker was getting his charms on for Frank Sinatra's daughter, Nancy. Ironically, Nancy later recalled that Elvis called her after Lisa's birth, telling her "how he was so moved by the experience" (via Express). The King didn't produce more children in his lifetime, reserving all his attention for his first and only daughter.
Elvis indulged his daughter to no extent
Lisa Marie Presley grew up amid luxury. As the sole daughter and heir of Elvis Presley, love was never in short supply for her — and neither was indulgence. For all the nine years of her life that he was alive, Elvis lavished attention on her and complied with every whim that came his way. Perhaps the most well-known and abundant testament to that was when Elvis famously flew his daughter to Idaho for a mere half an hour to play with snow for the first time (via The New York Times). "I just knew he was crazy about me, and that was just him showing his love for me," a grownup Lisa said.
His smashing comeback in the late 1960s meant Elvis was back to being away from home and on the road. Though he wasn't always a hands-on dad, as Priscilla Presley observed, per The Guardian, he made sure to make up for it with gifts and leniency whenever he was around. Besides the extravagance, their relationship was built on sweet father-daughter moments, such as Elvis singing to Lisa or Lisa always getting the first look at Elvis' iconic showman fineries before he went on stage (via Billboard). Being the apple of his eye shielded Lisa from her father's infamous temper, and she could boast of getting away with most anything. "No rules. I loved it! Anything I wanted, I just had to ask," Lisa recalled (via The Week).
She was a daddy's girl even after her parents' divorce
Elvis and Priscilla Presley's lifelong love affair suffered a diversion in October 1973, when the couple parted ways. Though the iconic Presley pairing came to an end, one could hardly make out changes in their close-knit family unit. As Priscilla put it, "When we were together, you never knew we were divorced" (via Today). Priscilla and Elvis shared custody of their only daughter Lisa Marie Presley, who flitted between Graceland and Los Angeles to spend time with her parents. But if she had to choose between the disciplinarian parent and the fun one, Lisa naturally preferred the latter. "He was not strict at all," she revealed on "The Talk" (via YouTube). In fact, the free pass from her father prevented anyone on Graceland from reining her in: "I was, truthfully, a terror."
Meanwhile, Priscilla's attempts at keeping her daughter unspoiled were often overshadowed by her ex-husband's lavish gifting (via Oprah.com). At five, he gave Lisa a mink coat and, at six, a diamond ring — all of which Priscilla's judgment of excess privilege prompted her to stow away. When Elvis wasn't showering priceless presents upon Lisa, he was riding with her around the neighborhood in their golf cart or crooning "Can't Help Falling in Love" to her (per Reuters). Lisa's special bond with Elvis survived her parents' divorce; if anything, the event brought them closer: "We really wanted him to stay in her life," Priscilla said, per The Guardian.
Elvis' flailing health troubled her childhood
Lisa Marie Presley spent nine wholesome years of her life with Elvis Presley before he passed away on August 16, 1977. The heart attack he suffered was believed to have been brought on by his drug addiction, with PBS reporting that at the time of his death, the King's bloodstream was laced heavily with drugs. In the final years of Elvis' life, there was accelerated substance abuse that distressed both his health, as well as his daughter. Though she was only a little girl at the time, Lisa admitted to being disturbed by the signs of her father's flailing condition, recalling how "he'd come to my room and sort of stumble to my doorway and start to fall, and I had to go catch him" (via ABC News). She used to plead: "Don't die. Are you going to die?"
Elvis' lifestyle didn't deter him from playing the ever-diligent father to Lisa. He pampered her with wonky sleep schedules, allowed her to miss school, named a private jet after her, and so on. Despite the gaiety, Lisa could sense something was off as the years progressed. "His temper was getting worse, he was gaining weight, he was not happy," she recalled (via Elvis.com). His drug habit, which Elvis tried to keep concealed from Lisa, revealed itself to her once when she apparently saw him popping pills. Throughout her own lifetime, Lisa also battled drug addiction, checking into rehab multiple times in her youth and adulthood.
Lisa was one of the last people Elvis saw before death
Lisa Marie Presley was around when Elvis Presley left the building in 1977. Before the light went out, Elvis had regained his public image as the world's most charismatic showman with comeback tours and his legendary Vegas residency during the 1960s and 70s. He was a changed man though, a truth reflected most evidently in his altered physical form and ill health caused by continued drug abuse. At home, his little daughter could see it, too. She confronted him with her fears, only to be consoled gently by him: "Don't worry about me. I'm not going anywhere" (via Rolling Stone). Impending tragedy soon struck and Elvis was found dead on his bathroom in Graceland one ill-fated afternoon.
Lisa was reportedly on the Memphis property when her father died. She rarely divulged about this particular memory in her interviews, although she did once recall their last meeting. In the wee hours of August 16, Lisa was fortuitously awake when her father was only just making it home. Elvis, 42 at the time, packed her off to bed. "He came in and kissed me good night after that. That was the last time I saw him alive," Lisa said (per Express). She remembered being with Elvis' body for as long as it was in Graceland and engaging in inexplicable behavior — including secretly smoking — on the day his body was shown to the public (via ABC News).
Lisa produced multiple posthumous father-daughter duets
"I was just nine when my father died, but I had a very special relationship with him," Lisa Marie Presley told The Sydney Morning Herald, echoing a sentiment she espoused all her life. He may have been the Elvis Presley to the world; to her, he was the man she watched television and took golf cart rides with. Growing up at Graceland, Lisa spent a lot of time with Elvis, but aside from being treated to private performances of "Can't Help Falling in Love" from the original himself, she admittedly didn't immediately immerse herself in music. During her youth, when her career finally converged with that of her late father's and Lisa picked up the lineal profession of singing, she didn't forget to pay tribute where it was due — and in the sweetest manner possible.
A bunch of reimagined duets were produced in a way that showed the father-daughter duetting on some of Elvis' most beloved tracks, including "Don't Cry Daddy," "In the Ghetto," and "Where No One Stands Alone." Of the latter recording, Lisa said: "It was a very powerful and moving experience to sing with my father" (via USA Today). Lisa's heritage granted her the prestigious title of "Princess of Rock," which, all her life, she tried to live up to (via The Washington Post). Though the smooth baritone she bore made it impossible to ignore the Elvis element in her, Lisa was insistent about creating her own career path.
She felt the burden of living in the shadow of Elvis' legacy
Having a star for a parent comes with many advantages but also one very glaring disadvantage: the pressure to live up to their legacy. And imagine the weight of responsibility on the shoulders of Lisa Marie Presley, whose father's fame knew no scale. Aside from living in the public eye from the day she was born, Lisa had to exist in the magnificent shadow of Elvis Presley's talent. "I'm not him, I could never be like him, ever, and I don't want to try," she stated (via The Baltimore Sun). Unfortunately, the drawing of continuous comparisons was an inevitable consequence of being Elvis' daughter. As was the criticism: "Not bad, not her dad," read one media headline after one of Lisa's concerts.
Growing up among music that moved hearts around the world surprisingly didn't motivate Lisa to pick up the microphone — at least, not until much later. She was well into her teens when she considered a singing career, her debut track "Lights Out" earning a positive response (via the Los Angeles Times). With her first album, "To Whom it May Concern," Lisa kickstarted a journey of establishing what she said was her own thumbprint: "I'm not trying to be Elvis Presley's child. And I'm not trying to run from it either" (via The New York Times). She released two more albums in her lifelong quest to seek out her own identity.
Even after his death, Lisa turned to her father for guidance
Lisa Marie Presley remained a committed daddy's girl all her life, even turning to him for advice as a grownup. Elvis Presley's time with Lisa was limited, but in the nine years that the father-daughter duo doted on each other, he left a lasting impression. He never really did leave his baby girl's side, though: "I can just remember everything and just can, sort of, pull out of the files, whatever memory I have … And maybe, occasionally ask for help," she revealed on Lorraine (via YouTube). Graceland is where Elvis' spirit survives most powerfully, living on in the upper floors where he spent the most time, as did Lisa whenever she visited her family home as an adult. "Nothing has been touched," she told Rolling Stone. "It's very comforting for me … all of his videos are still there. All of his records."
Elvis endured through her own four children, too. Lisa, mother to a son and three daughters from marriages to Danny Keough and Michael Lockwood, gushed on multiple occasions that she got glimpses of her father in her children. "They've all got a little bit of him in them," she told CMT. A physical likeness was especially drawn between the rock and roll legend and his grandson Benjamin Keough, who died in 2020. Lisa filled her social media with childhood moments spent with her father, which were her earliest and happiest memories, per The Guardian.
As his only child, she was the sole heir to Elvis' estate
One would think that as the daughter of one of history's grandest musical acts, Lisa Marie Presley would have been well-set to thrive in neck-deep wealth for as long as she lived. Being the only child of Elvis Presley, Lisa enjoyed a plush lifestyle growing up in Graceland, the majestic Memphis property she called home. After Elvis' death in 1977, a shocking truth came to light: the King had left his family with significant debt and millions-worth taxes to be paid off. A report by the Los Angeles Times that detailed the state of the plummeting Presley finances observed that Priscilla Presley took charge of her husband's estate, jacking its value up to $100 million, before Lisa claimed her inheritance.
Lisa legally assumed her role as the sole heir of the Presley property in 1993 upon turning 25. In 2004, reports emerged that Lisa was selling a big chunk of Elvis' estate in a $100 million deal. Graceland was retained. The goal, Lisa said at the time, was to make the Elvis Presley Enterprises "an even greater force in the entertainment industry." Behind the curtains, it was all shook up. By 2018, she had sued her longtime business manager Barry Siegel, alleging his mismanagement of funds had led her to financial ruin and losses in excess of $100 million (via Reuters). In an unfortunate parallel to her father's death, Lisa died in 2023 with debt to her name.
A biopic on her father made her smile after a long time
Baz Luhrmann's "Elvis" swept nominations at award shows in 2022, even receiving one of the longest standing ovations ever seen at Cannes (per Variety). But the biopic's biggest win was the applause it won from Lisa Marie Presley. "Absolutely exquisite. Austin Butler channeled and embodied my father's heart & soul beautifully," she tweeted. Along with her mother Priscilla Presley, she was at the forefront of promotions for the film, raving about it with such passion that she even said she would eat her foot if it didn't pull an Oscar. The film gave her an opportunity to bask in her father's legacy, as did her three children.
Butler's definitive big screen role was also his most intimidating one, given the shoes he had to fill. But encouragement from Lisa "brought [him] to tears," he said (via The New York Times). "Elvis" came at a crucial point in the life of the music titan's only daughter, who lost her son to suicide only two years prior to the film's release. Following the tragedy, Lisa had all but retreated from public life, until "Elvis" brought her back to the red carpet in a big way. "I do believe that this may be my first smile in 2 years," she remarked ahead of the biopic's release. Lisa made her final public appearance on January 11, 2023 at the Golden Globes to see Butler clinch the Best Actor for portraying her father.