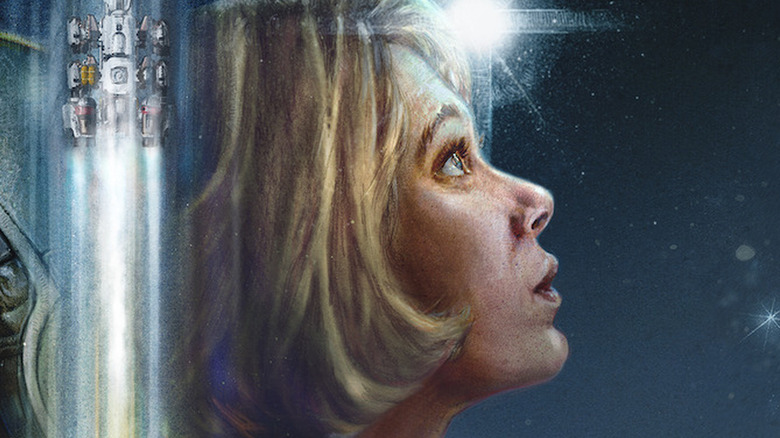 The concept of open world games first exploded in a major way with the release of "Grand Theft Auto 3" in 2001. It was most people's first real exposure to being able to freely explore a large 3D world that featured a variety of missions to take on at any given time — or just cause random havoc. As time went on, open world games became much more common and began to include almost every existing genre.
While there are plenty of smaller, more linear gaming experiences to choose from, gamers can't get enough of open world games. Not only does every major publisher have at least one huge AAA open world game in the works, but even indie studios are no strangers to the genre and are eager to make their marks on it. 2023 is looking to be yet another banner year for open world games, and here are the most exciting ones that are set to release this year — with a few that are either scheduled for 2024 or don't have an official release date.
Assassin's Creed: Mirage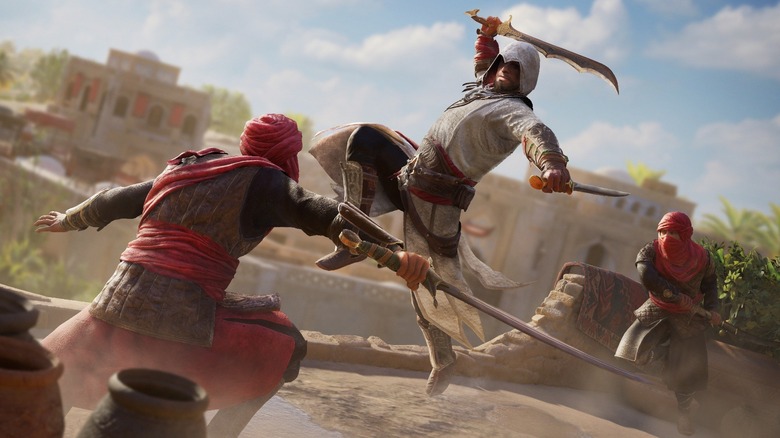 "Assassin's Creed" wasn't going to be able to rest on its laurels forever, but some fans feel that the series has strayed a little too far from its roots in recent years. Ubisoft has heard those fans loud and clear, as the first trailer for its upcoming "Assassin's Creed: Mirage" makes it apparent that the game will very much be a return to the stealth-based vibe of the Ezio era of the franchise.
This time, the action will be set in ninth-century Baghdad and star "Assassin's Creed Valhalla" supporting character Basim Ibn Ishaq. In an interview with IGN, series producer Marc-Alexis Côté explained that "Mirage" will serve as a celebration of the franchise's roots. To that end, things will be scaled back a bit so that "Mirage" matches the shorter main story and smaller game world that was typical of the earliest entries in the series. This means that the open world of "Mirage" will be much denser and more tightly-packed than the sprawling areas typical of modern "Assassin's Creed," so players will never be far removed from the action at any given moment. "Mirage" is due out before the end of the year.
Release Date: TBA 2023
Genre: Action-Adventure, Open World
Game Modes: Single-player
Platforms: PC, PS4, PS5, Xbox One, Xbox Series X|S, Amazon Luna
Marvel's Spider-Man 2
The 2018 "Spider-Man" game quickly established itself as one of the best superhero games of all time, as it would later go on to become the best-selling superhero game ever, according to NPD. The game was built on such a strong foundation, and its virtual approximation of NYC was so well-designed, that developer Insomniac released "Spider-Man: Miles Morales" just two years later and it was also highly acclaimed despite largely just being a refinement of the original.
Even though Insomniac insisted that "Miles Morales" was indeed the "next adventure in the Marvel's Spider-Man universe," the fact that the next announced game in the series is called "Spider-Man 2" seems to suggest that the true sequel is the one coming to PS5 in 2023. As for what makes it worthy of being deemed the full-fledged successor to the first installment, that's anyone's guess as things have been largely quiet since the 2021 reveal. All we really know for sure is that both the Peter Parker and Miles Morales versions of Spider-Man will play prominent roles, as will longtime frenemy Venom.
Release Date: Fall 2023
Genre: Action-Adventure, Open World
Game Modes: Single-player
Platforms: PS5
The Legend of Zelda: Tears of the Kingdom
The Nintendo Switch's first killer app — and still one of its best games — will finally see its long-delayed follow up hit in May of this year. There have only been a few instances throughout the history of the "Legend of Zelda" franchise where one of its entries received a direct sequel and on the same platform, and past examples of this typically mean half-step follow-ups like "Majora's Mask." So for "Breath of the Wild" to be getting what seems to be full-fledged sequel for Switch in "Tears of the Kingdom" is reason to be excited indeed.
The game looks to take place in much the same game world as "BotW" for at least part of the adventure, but various trailers have revealed the ways "Tears" will be different. Most notably, there seems to be an emphasis on Link taking to the skies, suggesting travel between land- and sky-based areas as seen in 2011's "Skyward Sword." In addition, seeing Zelda on the adventure alongside Link in the earliest trailers has led many to wonder if she'll be playable in some kind of multiplayer context. Either way, expect nothing less than another grand adventure.
Release Date: May 12, 2023
Genre: Action-Adventure, Open World
Game Modes: Single-player
Platforms: Nintendo Switch
S.T.A.L.K.E.R. 2: Heart of Chornobyl
A lot happened in the thirteen years since the release of the last "S.T.A.L.K.E.R." game, from "S.T.A.L.K.E.R. 2" being announced for a 2012 release that came and went, to a failed attempt to revive the series on Kickstarter that may or may not have been a scam (via VG247).
We finally seem to be on the precipice of the long-awaited follow-up to the series. The only trailer so far lacks actual gameplay but seems to show the in-game versions of various locations, and things are definitely looking promising. It takes place in an alternate future where the Chornobyl meltdown not only went very differently than it did in real life, but a second one also occurred about 20 years later, with radiation leaks so severe that reality itself was mutated. Players will wander this radioactive-altered wasteland in a story that is promised to be non-linear and heavily influenced by player choice.
The exact release date of "S.T.A.L.K.E.R. 2" hasn't been announced, but it will be a day-one Game Pass release.
Release Date: TBA 2023
Genre: First-Person Shooter, Survival Horror, Open World
Game Modes: Single-player
Platforms: PC, Xbox Series X|S
Forspoken
Square Enix knows its way around open world RPGs pretty well at this point, going back to at least 2006's "Final Fantasy 12." But the upcoming "Forspoken" represents Square Enix's first completely new open world IP in years, and it looks to be an exciting entry in both the company's catalog and the genre itself.
"Forspoken" is being developed by Luminous Productions, previously known as Business Division 2, and the team responsible for the fairly well-received and extremely profitable "Final Fantasy 15." Director Takeshi Aramaki shared with the PlayStation blog that protagonist Frey will be able to freely explore the world of Athia "with incredible speed and fluidity" and said players will find it "satisfying" to control and move the character through the environment. Frey will also have access to various magical abilities and a cloak that she'll be able to upgrade as the game progresses.
Release Date: January 24, 2023
Genre: Action, RPG, Open World
Game Modes: Single-player
Platforms: PC, PS5
Skull and Bones
Ubisoft has already done pirates in an open world by way of "Assassin's Creed 4: Black Flag." In fact, per Kotaku, the company's upcoming "Skull and Bones" began life as an expansion to "Black Flag." It then spent a few years in limbo. Finally, five years after the first incarnation of the project entered development, 2017 saw "Skull and Bones" officially announced by the company.
"Skull and Bones" is a tactical, open world naval action game where players take their own customized and upgradable pirate ship out to sea in either the game's single-player campaign or its multiplayer versus modes. Those looking to storm other boats on foot or engage in swashbuckling sword fights will have to look elsewhere, as the combat of "Skull and Bones" was confirmed in a True Achievements interview with director Ryan Barnard to be entirely ship-based. That being said, there is plenty of on-foot gameplay that will have players exploring outposts and looking for treasure.
Unsurprisingly, "Skull and Bones" has been delayed again, and is now set to release in late 2023 or early 2024.
Release Date: TBA 2023/2024
Genre: Action-Adventure, RPG, Open World
Game Modes: Single-player, Online Multiplayer
Platforms: PC, PS5, Xbox Series X|S, Amazon Luna
Redfall
After the success of "Dishonored," Arkane Studios split off into two separate divisions. Arkane Lyon made "Dishonored 2" and, later, "Deathloop," while Arkane Austin worked on "Prey" and then went quiet for a couple of years. The studio eventually announced its open world multiplayer vampire-hunting game called "Redfall." After a minor delay, we now expect to see that game sometime within the first half of 2023.
"Redfall" is set in a fictional Massachusetts town where vampires have taken over as a result of an experiment gone wrong. The vampires have cut Redfall off from the rest of the world and blocked the sun from shining there, allowing them to freely exist indoors and out, at any time of the day or night. Four playable characters fight against the vampires, each with their own strengths, weaknesses, and abilities. If you play solo, you'll go it completely alone rather than the other three being AI-controlled.
The main attraction of the game seems to be getting four players together to tackle things cooperatively, working together and utilizing each character's unique abilities to combat the vampires and help their allies.
Release Date: TBA 2023
Genre: First-Person Shooter, Open World
Game Modes: Single-player, Online Multiplayer
Platforms: PC, Xbox Series X|S
Dune: Awakening
Though licensed MMOs have a spotty history, the fact that "Dune: Awakening" is being developed by genre veterans Funcom is cause for optimism. Details on the game are still scarce, but what has been revealed is enough to suggest great things.
Funcom released a pre-alpha teaser trailer in December, and the footage included a brief glimpse of combat between a tank and some flying vehicles, plus a number of soldiers on foot scurrying about — not to mention a brief look at a giant sandworm emerging from the desert to join the battle. The trailer ends by stating that the game will take inspiration from both Frank Herbert's novels and the most recent film adaptation — and, presumably, its upcoming sequel — and will be an open world survival MMO. Other clues about the game can be culled from its Steam page, including that you'll be playing as a new character that you'll create and customize.
While it may still be a ways off, you can sign up for the beta now in preparation for its eventual release for PS5, Xbox Series X|S, and PC.
Release Date: TBA 2023/2024
Genre: Survival, MMO, Open World
Game Modes: Online Multiplayer
Platforms: PC, PS4, PS5, Xbox One, Xbox Series X|S
Hogwarts Legacy
The Wizarding World of Harry Potter's video game history is vast and includes over two dozen different titles. The majority of them have been the movie tie-in games and the various "LEGO Harry Potter" releases. But no previous "Harry Potter" video game has been as ambitious as the upcoming open world action-RPG "Hogwarts Legacy," which will allow players to create their own student and then take them through their lessons at the famed school of witchcraft and wizardry.
Of course, the entire game won't just take place within the walls of Hogwarts. The game's website mentions that players will venture out to Hogsmeade, the Forbidden Forest, and "the surrounding Overland area." There also promises to be some territory covered in the game that has yet to be seen in the "Harry Potter" universe, with the website stating that players will be able to "experience the wizarding world in an unexplored era to uncover a hidden truth from its past."
"Hogwarts Legacy" is set to launch on PS5, Xbox X|S, and PC in February, with PS4 and Xbox One versions to follow in April and, finally, a Switch version coming in July.
Release Date: February 10, 2023
Genre: Action, RPG, Open World
Game Modes: Single-player
Platforms: PC, PS4, PS5, Xbox One, Xbox Series X|S, Nintendo Switch
Season: A Letter to the Future
Another January release on this list is "Season: A Letter to the Future." Meg Hutchison, narrative designer for developer Scavengers Studio, explained in a blog post for PlayStation.com that "Season" follows a protagonist named Estelle as she "navigates through a strange yet familiar world, witnessing life on the brink of an impending but mysterious change." Estelle's main source of transport in the game's visually arresting world is her bicycle, but she can get off it at any time and further explore on foot as the situation necessitates.
Hutchison goes on to explain that Estelle will encounter others on her journey that experiencing "moments of quiet crisis" and it will be up to you to decide how to help them. But more importantly, you will connect with them, and their individual stories will become part of your overarching one. It definitely seems like a more chill, artistic, and introspective take on the open world genre, not reliant on bombastic set pieces or collecting X number of doodads and seemingly lacking any sort of violence whatsoever.
Release Date: January 31, 2023
Genre: Adventure, Open World
Game Modes: Single-player
Platforms: PC, PS4, PS5
Suicide Squad: Kill the Justice League
Taking the basic framework of the "Batman: Arkham" series and letting other characters besides the caped crusader have a turn seems like a great idea on paper. And yet the first attempt to do so, 2022's WB Games Montreal-developed "Gotham Knights," received some praise for introducing co-op but was otherwise poorly received overall.
"Suicide Squad: Kill the Justice League" sees main "Arkham" developer Rocksteady Studios make that same attempt. Like "Gotham Knights," "Suicide Squad" features four playable characters — Harley Quinn, Deadshot, Captain Boomerang, and King Shark — plus a co-op multiplayer option. Otherwise, the game can be played as a solo experience, with the player switching between the four characters and the others being AI-controlled. Even more exciting is that the action moves from Gotham to Metropolis this time around, giving longtime "Arkham" fans a whole new playground to explore with the antihero team.
It's worth noting that Batman does appear in the game, and this title marks Kevin Conroy's final performance of the character before his passing in 2022.
Release Date: May 26, 2023
Genre: Action-Adventure, Open World
Game Modes: Single-player, Online Multiplayer
Platforms: PC, PS5, Xbox Series X|S
Avowed
Obsidian Entertainment has been on a roll as of late, with "The Outer Worlds," "Grounded," and "Pentiment" all releasing to acclaim. In addition to having a sequel to "The Outer Worlds" in the works, the studio also announced a first-person open world RPG called "Avowed," which is based in the same universe as its "Pillars of Eternity" series.
Looking to fill the hole left by "Elder Scrolls" fans as they continue the twelve-years-and-counting wait for the true follow-up to "Skyrim," "Avowed" takes place in Eora, a medieval-esque land of kings, queens, gods, and magic. The reveal trailer showed a little taste of the game's two-handed combat system, where the left hand seems to be used for casting magic, and the right for wielding weapons like swords. While it looks to be a target render rather than actual in-engine gameplay footage, it's easy to assume the final game will look similar (if not better).
Like "The Outer Worlds 2," all fans know about "Avowed" in terms of a release date is the dreaded "TBA." But it's being published by Xbox Game Studios, which likely means a day one Game Pass release whenever that day turns out to be.
Release Date: TBA 2023
Genre: Action, RPG, Open World
Game Modes: Single-player
Platforms: PC, Xbox Series X|S
Crimson Desert
Another game that doesn't have an announced release date yet, "Crimson Desert" is still worth talking about. Announced in 2020 by the developers of MMO "Black Desert," it was initially planned to be a direct prequel but instead evolved into its own project — though the two games still seem to be connected somehow (per PC Gamer). One thing that's for certain is how absolutely stunning "Crimson Desert" looks, with Business Insider pointing out that multiple outlets gushed about the graphics and effects after seeing the first gameplay trailer.
Speaking of gameplay, it looks to be fast, smooth, and very bloody. A variety of bladed weapons have been shown off so far, as well as bows for longer-range combat, and it looks like the fights will be pretty intense. The man doing the fighting is named Macduff, and you will get to choose which of the game's three warring factions he will join up with — though whether that choice is permanent isn't yet known.
Take Macduff on a rampage through the beautiful land of Pywell when "Crimson Desert" comes to both last- and current-gen PlayStation and Xbox consoles, as well as PC, at some point in the (hopefully near) future.
Release Date: TBA 2023
Genre: Action, RPG, Open World
Game Modes: Single-player, Online Multiplayer
Platforms: PC, PS4, PS5, Xbox One, Xbox Series X|S
Flintlock: The Siege of Dawn
The title "Flintlock: The Siege of Dawn" comes from a concept known as "flintlock fantasy," in which magic and firearms are equally powerful. Director Hayden Asplet told Gamespot that it's a genre that has primarily existed in books but has been little seen on screen — in film or in video games. So "Flintlock" is looking to be something of a trailblazer in that respect.
The game stars a character named Nor Verek, who is unique in her world in that she is skilled in both the firearms used by humans and the dark magic used by the gods. This will lead to many exciting combat opportunities where Nor can combine her various combat skillsets to enact elaborate strings of attacks that use multiple elements. Nor will be battling with an undead army that has taken over the land and forced humans to near extinction. Preparing and powering up for a big final stand against the army seems to be what the entire game is about.
Release Date: TBA 2023
Genre: Action, RPG, Open World
Game Modes: Single-player
Platforms: PC, PS4, PS5, Xbox One, Xbox Series X|S
Starfield
Bethesda Game Studios has been almost exclusively in the "Elder Scrolls" and "Fallout" business for as long as it has existed. So it was with a significant amount of surprise when, in 2018, "Starfield" was announced as Bethesda's first new property in 25 years.
In a Washington Post interview, members of the team described the game as "like 'Skyrim' in space" and "the Han Solo simulator." It's clear that "Starfield" will be built with the blueprints of the developer's other two big franchises, but obviously with the added scope and complexity that current technology allows. Bethesda is keeping pretty tight-lipped about "Starfield," even as the game is supposedly releasing by Q2 2023. But some games are best experienced fresh, and "Starfield" seems to be that type of game. We don't know much, but we're pretty certain it will be awesome.
It's definitely one of the biggest gets for Game Pass in the service's history, as it's confirmed to be a day one release — and it not coming to PlayStation is a huge loss for PS4 and PS5 owners who are Bethesda fans.
Release Date: TBA 2023
Genre: Action, RPG, Open World
Game Modes: Single-player
Platforms: PC, Xbox Series X|S