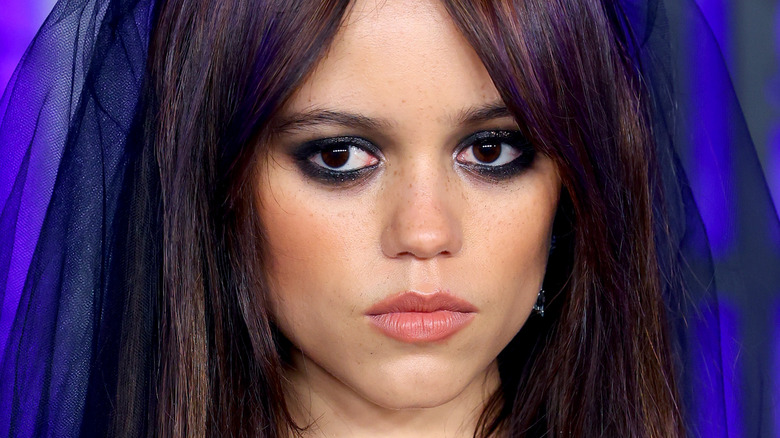 Netflix's "Wednesday" was an immediate hit with viewers and became the "third most-popular English-language TV series of all time," according to Deadline. It's easy to see why the series took off — with a star-studded cast including Christina Ricci, Jenna Ortega, and Catherine Zeta-Jones, the modern take on the spooky-ooky series perfectly captures classic "Addams Family" vibes while also bringing some new characters to the table.
Another fun part of the show is the romantic component, with almost every main character on the show having some sort of romantic interest in another character. This makes for some exciting — and drama-filled — love triangles, to say the least. And though it's fun to see the onscreen romance, we must admit, we're curious about the dating lives of the actors who play each "Wednesday" character in real life, which is why we're here to fill you in on the cast of "Wednesday" and their real-life partners.
Wednesday Addams/Jenna Ortega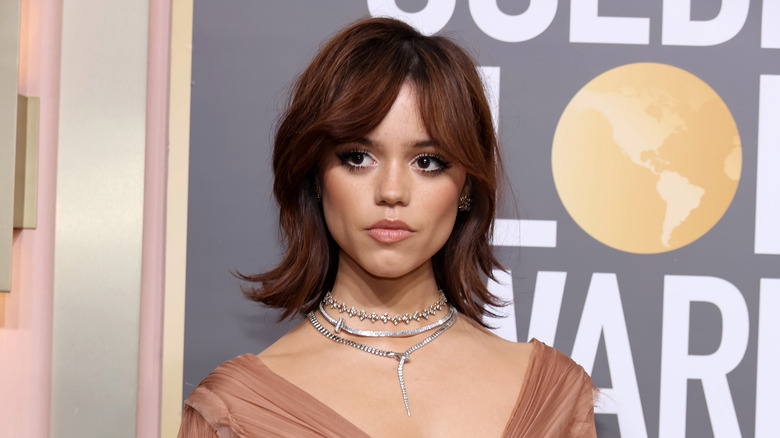 Wednesday Addams would probably opt for being forever alone, but is the same true for the actor who plays Wednesday, 20-year-old Jenna Ortega? The jury is out. According to Bustle, Ortega was linked to actor Asher Angel back in 2018 when the pair attended a premiere together. Shortly after, Ortega and Angel also attended a Halloween event together dressed as Ariana Grande and Pete Davidson, who were engaged at that time. Doing a couple's costume — and, furthermore, dressing up as an engaged couple — does suggest that the two were more than friends, but we'll never know for sure because neither Ortega nor Angel ever confirmed a relationship.
Back in 2017, Ortega starred as the love interest in Jacob Sartorius' "Chapstick" music video, and the two do share a smooch in the video (via Bustle). This led fans to believe that the pair were romantically involved, but, again, no real evidence surfaced to prove this. And in fact, on a 2019 podcast, Ortega shot down all the dating rumors about her: "According to the internet, I dated like six guys, [but I] dated none of them" (via Bustle).
The only crush Ortega has ever publicly owned up to? Barack Obama. "When I was younger, Barack Obama was my first crush," she said on the "20 Questions: On Deadline" podcast (via Bustle). "I was obsessed with him. I watched the inauguration with goo-goo eyes on my face."
Marilyn Thornhill/Christina Ricci
The O.G. Wednesday Addams, Christina Ricci, has had a few long-term partners. Known on "Wednesday" as the quirky Marilyn Thornhill, Ricci married film producer James Heerdegen in 2013 after the two met while filming "Pan Am" back in 2011 (per Us Weekly). The two had a son together in 2014 and seemed to be happy … but behind closed doors, Ricci was dealing with a devastating reality. In June 2020, Ricci got a protective order against Heerdegen and filed for divorce. Court documents from 2021 revealed that Ricci had faced domestic violence from Heerdegen since 2013, with the violence heightening during the pandemic (per Us Weekly). This resulted in Ricci getting full custody of the couple's son and their dog.
Ricci began dating hairstylist Mark Hampton in 2021, and it seems that this relationship is going well — the two married in December 2021 and welcomed their daughter Cleopatra the same month. Though the relationship seems to have moved quickly, Ricci says it's one of the healthiest relationships she's been in. "I would say the first time I really fell in love in a healthy way is probably this marriage that I'm in now," Ricci said on Anna Farris' podcast "Unqualified" (via Us Weekly).
Xavier Thorpe/Percy Hynes White
Xavier Thorpe is quite the lady's man in "Wednesday," with the show linking him with his classmate Bianca (Joy Sunday) as well as the leading lady herself, Wednesday (Jenna Ortega). However, in real life, Canadian actor Percy Hynes White's dating life appears to be a bit more private, though fans suspect a potential romance between him and Jenna Ortega (via Elle). Whether this is true or not is yet to be seen; while it's not uncommon for co-stars to date each other, it's also not uncommon for fans to "ship" cast members even when the two have no romantic involvement in real life.
Hynes White was recently linked to "Ginny and Georgia" actor Katie Douglas after the two worked together on "Pretty Hard Cases" (per Distractify). However, their potential romantic involvement is also pretty speculative, since neither Hynes White nor Douglas ever confirmed a relationship. Looks like this onscreen heartthrob is keeping things lowkey in real life.
Larissa Weems/Gwendoline Christie
You may have recognized Principal Weems from another popular TV show, "Game of Thrones," where Gwendoline Christie plays Brienne of Tarth. But "Game of Thrones" isn't the only thing Christie is known for; she has a history of modeling and also had starring roles in "Star Wars: The Force Awakens" and "Star Wars: The Last Jedi."
When it comes to Christie's romantic life, the actor has been dating her partner Giles Deacon since 2013. Deacon, a British fashion designer who is well-known for creating Pippa Middleton's wedding dress (via PopSugar), told The Telegraph in 2016 that Christie was "a fantastic muse" who helped inspire some of his designs. He added: "She's a character herself, and her trail of various characters is brilliant — she's pretty transformative, which is always an interesting thing from a designer's point of view." Overall, Christie and Deacon keep their relationship pretty private, but the two are often spotted together at events and are seen on each other's social media (via Instagram).
Morticia Addams/Catherine Zeta-Jones
It's clear on "Wednesday" that Morticia is pretty obsessed with her husband, but is the same true for the actor off-screen? It appears so since Catherine Zeta-Jones has been married to fellow actor Michael Douglas since 2000 (per Us Weekly). When the two first met in 1998, Douglas used a pick-up line he thought would work: "I said to her after about half an hour [of hanging out], 'You know, I'm going to be the father of your children.'" Unsurprisingly, his very forward pickup line did not work, and Zeta-Jones reportedly left, insulted (per Us Weekly).
However, Douglas soon apologized, and the apology led to Zeta-Jones having a change of heart — by the next year, the two had married. Douglas and Zeta-Jones have been candid about the ups and downs that come with a long-term relationship, but both agree that openness has kept them close over the years. Douglas said to Us Weekly: "It's taken me a long time, but resentment is an easy thing to keep under the surface. I think most of the times it's really good to get things out sooner than later." Zeta-Jones seems to agree with this take, noting the importance of being "open and honest" with your partner (via Us Weekly).
Gomez Addams/Luis Guzmán
Luis Guzmán — also known as Gomez Addams — and his wife, Angelita Galarza-Guzmán, are definitely couple goals. Though we don't know much about Galarza-Guzmán, we do know that the two have been married for nearly 40 years since tying the knot in 1985 (per Married Biography). Guzmán and his wife have five children together, and — surprisingly, for a popular actor like Guzmán — he and his family live in Sutton, Vermont, where they can maintain some privacy (per Married Biography).
While Guzmán keeps his romantic and personal life pretty private, he has been vocal about his excitement at being a part of "Wednesday." In an interview with the Daily Dead, the actor reflected on how surreal it is to be part of the show he watched as a kid. "I grew up watching The Addams Family and I love the Addams Family! I used to run home from school just to watch The Addams Family. It was something that was just so brilliant, that was so kooky and spooky at the same time," he said. "This is what dreams are made of and this show that I grew up on and now I am a part of it and giving it a breath of new, fresh air, a new life, a continuation … I'm just happy to be here. I pinch myself every day."
Tyler Galpin/Hunter Doohan
Hunter Doohan, who plays the cute barista Tyler Galpin and Wednesday's friend on the show, recently tied the knot in real life. The 28-year-old "Westworld" actor married his now-husband, Fielder Jewett, in June 2022 (per Distractify). It's unclear when Doohan and Jewett first started seeing each other, but Instagram photos of the two date back to 2018. Doohan proposed during the pandemic, captioning a shot of the proposal with: "Is there anything more 2020 than an at-home proposal? I love you … Can't wait to marry you!" (via Instagram).
In another recent Instagram post, Doohan shared a picture of himself and Jewett on their beautiful wedding day, captioning the cheerful photo: "Trying to sum up your wedding day in an Instagram caption is hard… It was absolutely the best day of our lives! Thank you to everyone who made it so special!" We love to see it.
Bianca Barclay/Joy Sunday
On "Wednesday," Bianca Barclay (played by Joy Sunday) is single … ish, but has a bit of history with Xavier Thorpe. In real life, the model and actor appears to be single, or if she is in a relationship, she's keeping it very private. On Sunday's Instagram, she posts mostly selfies, photos of her travels, and pictures of her and her friends.
She also posted a video interview with Strong Black Lead (via Instagram) where she talks about her similarities and differences with her "Wednesday" character. "Both Bianca and I are very persuasive, very confident, and — I like to think — fashionable," she said. As far as their differences go, Sunday said: "I think on first approach I'm a little bit kinder. … I was nowhere close to as popular in high school," she said. When it comes to her character's slightly villainous nature, Sunday takes an empathetic approach: "I don't agree with how she judges others, but I don't think it's necessarily her fault," she says. "I think she just has her guard up and she wants to make sure she doesn't get hurt."
Uncle Fester/Fred Armisen
Uncle Fester (played by Fred Armisen) makes a brief appearance in the seventh episode of "Wednesday," helping his niece in her investigation and also doing some weird, unsetting Uncle Fester antics that "The Addams Family" fans have come to expect from the quirky character.
Armisen is pretty different from his creepy onscreen counterpart. Armisen is known for his comedy roles in "Portlandia," "Saturday Night Live," "Anchorman," and "Easy A." When it comes to Armisen's dating life, he was married twice; once in 1998 to singer Sally Timms until 2004; and again in 2009 to Elizabeth Moss until 2011 (per Us Weekly). In 2014, Armisen began dating "Russian Doll" actor Natasha Lyonne. Armisen said the two were very different but that's part of what attracted them to each other. "We're very similar but opposite. … She likes the sort of feeling of chaos and I like quiet all the time," Armisen said in 2019 to Conan O'Brien (via Us Weekly).
The two were together for seven years, but, like many other couples, broke up during the pandemic. The main reason for the breakup? Lyonne wanted a swimming pool and Armisen didn't. "We love each other just about as much as two people can love each other and we're still talking all the time, but Freddy doesn't like a swimming pool," Lyonne said (via Us Weekly). "It might seem like a mundane reason for a breakup, but during that pandemic, you've got to get your laps." Fair enough.
Ajax Petropolus/Georgie Farmer
Ajax Petropolus is a gorgon on "Wednesday," with the ability to turn people to stone if he looks them in the eye, which makes dating a bit difficult for him. Fortunately, the actor who plays Ajax, Georgie Farmer, isn't a gorgon (as far as we know), but his dating life does seem to have some ups and downs.
In an interview with Hollywire, Farmer said: "I've had a couple bad dates. I think my worst date was … I remember going to the movie theater … with a girl and we didn't really talk on the way to the movie theater, and then we didn't talk within the movie … and then we came out, and then we just said, 'Well, that was a good movie.' … And then we sort of hugged and then that was it. We never spoke to each other again."
It appears Farmer is single now — he mostly posts pictures of his friends and "Wednesday" castmates on his Instagram — but we're hoping that his future dates go better than his worst ones.
Dr. Valerie Kinbott/Riki Lindhome
Dr. Valerie Kinbott plays Wednesday's therapist on the show, but who is she in real life? Riki Lindhome is an actor and musician known for her roles in "Knives Out" and "The Last House on the Left," as well as her singing and songwriting for the comedy folk group in "Garfunkel and Oates."
As far as Lindhome's romantic life goes, she's kept things pretty private. However, on an episode of "The Endless Honeymoon Podcast" with comedians Natasha Leggero and Moshe Kasher, Lindhome revealed that she is in a relationship. After discussing her lack of "luck" with finding love in the past, she explained that, after traveling solo across Europe in between filming "Wednesday," she happened to meet someone in Los Angeles that she clicked with. "I kept having bad luck," she said (via YouTube). "I kept striking out." But it looks like luck is now on her side since she and her new partner seem to be happy and doing well.
Lindhome also offers some good advice for anyone who's having bad luck in love. On the podcast, she said: "I think my only advice is: Don't be in purgatory if you're single. Live your life. Go to Paris. Have a baby. Don't wait. Don't put your fate in someone else's hands if the luck doesn't work out" (via YouTube). Sounds like Lindhome has as much good advice in real life as her therapist counterpart does on "Wednesday."
Enid Sinclair/Emma Myers
On "Wednesday," Emma Myers plays Enid Sinclair, Wednesday Addam's cheerful and supportive roommate. In real life, Myers appears to be just as upbeat and charming, with several interviews showing the breakout star's cheeky personality. Though it appears Myers is single, many fans have taken to "shipping" her with Wednesday, even coming up with a relationship name — "Wenclair." Myers' co-star Jenna Ortega said in a red-carpet interview with Pride (via Teen Vogue) that "in a perfect world, [Wenclair] would have been a thing."
Though there is little information out there about Myers' offscreen dating life, she does have a lot of love for a particular band: Seventeen. The South Korean boyband, known for songs like "Hot" and "Pretty U," is Myers' current obsession. On her first-ever talk show appearance, the 20-year-old told Jimmy Fallon that they have been her favorite band since she was 15. As for their best song? "My favorite song is — I think everyone would kind of like this song called 'To you.' It's really fun, it's upbeat, it's got a great story behind it," she said (via YouTube). Noted!
Lurch/George Burcea
Lurch, the Addams family's butler, only makes a brief appearance in Netflix's critically-acclaimed "Wednesday." Information about the actor George Burcea who plays Lurch is also pretty hard to come by. But what we do know is that Burcea is a Romanian actor who has starred in several Romanian movies and got his big break in the 2012 Romanian film "Süskind" in which he played the role of a soldier (per GH Gossip). Another fun fact about Burcea is that prior to his acting career, he was a sailor!
As far as his dating life goes, Burcea was reportedly dating a Romanian vocalist named Andreea Bălan but is now dating Viviana Sposub. Burcea also has two children named Clara Maria Burcea Bălan and Ella Bălan Burcea (per GH Gossip). We're looking forward to learning more about Burcea and hopefully seeing more of him in the second season of "Wednesday."