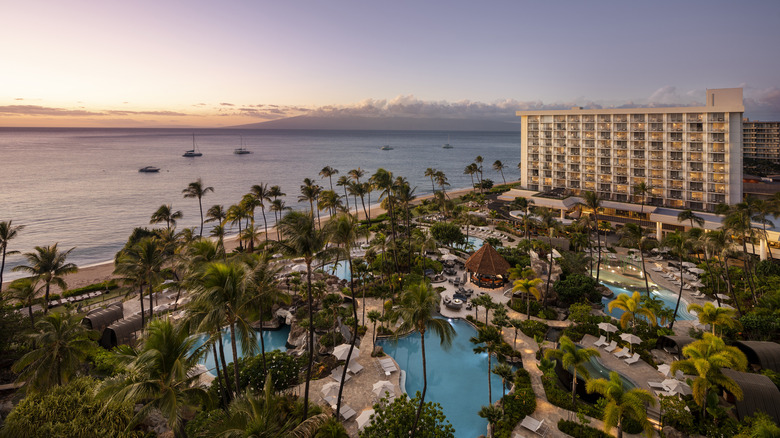 Home to mountains, whales, reefs, fresh seafood, ornate resorts, and picture-perfect beaches, Maui is a place of almost mythical beauty, whose singular geography, larger-than-life nature, and world-class luxuries make it an oceanic oasis in the middle of the Pacific. While the beachside views on Maui are reason enough to prioritize this dreamy vacation destination, there are numerous other reasons why this incredible island should be at the top of your bucket list.
Unlike Oahu, the far more metropolitan island home to Honolulu and tourist attractions like Pearl Harbor, Maui is an island filled with smaller villages and towns, whose shores are simultaneously lined with soaring resorts and sky-scraping volcanoes. It's a place of lush jungles, cavernous craters, adrenaline-pumping water sports, and comfort food as vibrant and colorful as the art outfitting local galleries. Ultimately, Maui is a place like no other, where luxe amenities like poolside cabanas and foodie festivals share turf with hardcore hikes, cultural luaus, and sunsets luminous enough to light up a horizon. Here are 15 reasons why Maui deserves a top spot on your travel wishlist.
1. The volcanoes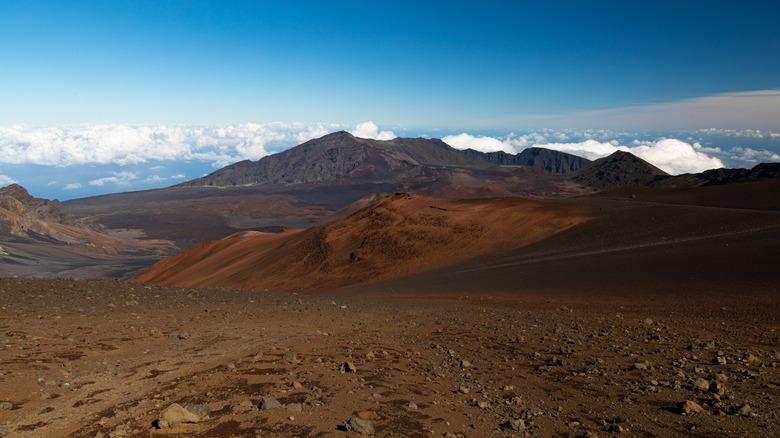 Aside from a few dormant sleeping giants in the Pacific Northwest (hello, Mount St. Helens), Hawaii is one of the few places in the U.S. where real-deal volcanoes are front and center, many of which can be hiked and explored. Despite the fact that Maui is only about 735-sq.-mi. (via Maui County), the island boasts its fair share of explosive mountaintops, some of which soar to such staggering heights that they're literally above the clouds. Considering the fact that Maui was formed by volcanoes, it makes sense that these dormant topographic titans are a star attraction here — and due to their sheer size, they're also impossible to miss.
Maui is anchored by two main volcanoes, Haleakala on the east side of the island and Mauna Kahalawai on the west side (via The Hawaii Vacation Guide). While these two volcanoes are thankfully in non-eruptive stages (Maui's sole active volcano, Haleakala, has only erupted 10 times over the past 1,000 years, according to U.S. Geological Survey), you'll still be able to marvel at them from afar, no matter where you are on the island. Or, for a more immersive foray, visitors can hike Haleakala on trails like Sliding Sands (via Uprooted Traveler), which lets adventurous travelers literally trek into the volcano. On the west side of the island, the Waihe'e Ridge Trail (via AllTrails) is a comparatively easier hike that ascends up through rugged volcanic terrain, with expansive valley and ocean views along the way.
2. The beaches
Maui is an island of striking natural beauty — it's a rare place where sky-high volcanoes are juxtaposed by peaceful bamboo forests and lush jungles. Then there are the beaches, truly in a league of their own for their snow-white sandy shores, turquoise-tinted waters, and volcanic black rock cliffs acting as all-natural diving boards for those without a fear of heights. And with more than 30 miles of beach to explore (via Go Hawaii), there's no shortage of fun in the sun to be had.
On the island's west shore, Kāʻanapali Beach is among the best. Here, on a three-mile stretch of pastoral oceanfront lined with world-class resorts and pools, visitors will find beaches that are some of the prettiest on the island, with alcoves and activities for all ages. As one of the top-rated beaches in the entire U.S. (via Maui Now), this was Hawaii's first planned resort (via Go Hawaii). It paved the way for some of Maui's premiere hotels, golf courses, shopping, and of course, beachfront luxury. With less intense waves than the north shore, it's a beach that's primed for swimming, snorkeling, sunbathing, paddle-boarding, and even cliff-jumping off Black Rock (via Maui Guidebook).
3. The resorts
Right up there with South Beach in Miami or San Diego, Maui is home to some of the most quintessential beachfront hotels in the U.S. As picturesque and majestic as the island is, these are the kinds of resorts that poise guests to drink it all in, with balconies and terraces offering sweeping panoramas of one of the most beautiful vistas in the nation. From the hidden gem of Kapalua to the natural majesty of seaside Lahaina, there are no shortage of areas, vibes, and styles to choose between (via Go Hawaii).
Some of the most prized resorts on Maui are clustered along Kāʻanapali Beach, a world-renowned epicenter of nautical family fun, coastal restaurants, and beachfront glam. Here, you'll find top-tier resorts like the Westin Maui Resort & Spa, where multiple pools, waterfalls, and a lobby-side lagoon filled with flamingos bring in the wow factor. Guests staying in the Westin's recently redesigned Hokupa'a Tower — which offers the best panoramic views from its soaring balconies — will also have access to the exclusive Lanai, a private lounge offering breakfast, a bar, and infinity pools. Other coveted resorts in the region include the chic Sheraton Maui Resort & Spa and the Hyatt Regency Maui Resort and Spa, the latter of which contains a grotto-style pool bar and a rooftop astronomy program (via Kaanapali Resort), while the Royal Lahaina Resort & Bungalows offers a more classic Hawaiian vibe, complete with nightly luaus and homey bungalows shaded by mighty trees.
4. The shave ice
All over the U.S., cool treats are a patriotic pastime that spans generations. While Americans everywhere scream for ice cream, regional renditions include snowballs in New Orleans (via New Orleans) and Cuban ice cream in Miami's Little Havana (like at Azucar). In Hawaii, the tradition is shave ice, a timeworn technique that involves glazing different syrups over fluffy domes of freshly shaved ice (via Hawaiian Airlines).
A requisite afternoon snack on an island notorious for its omnipresent sunshine and heat, shave ice can be found all over Maui, from hip resort counters to mom-and-pop operations scattered throughout small towns and villages. Among the cream of the crop, Ululani's Hawaiian Shave Ice is revered for using the purest ice, gourmet toppings, and scratch-made syrups, like the Sunset Beach option that combines guava, mango, and passion orange syrups. Another, more offbeat, go-to is the Halfway to Hana roadside stand along the scenic Road to Hana. Here, hungry passersby will find fresh banana bread and shave ice with 13 different tropical flavor options.
5. The seafood
Surrounded by the Pacific Ocean and all its nautical bounty, Maui is among the best places in the country for fresh-as-can-be fish and seafood. Particularly renowned for seafood like mahi-mahi, ahi tuna, and opakapaka (via Two Roaming Souls), this is a place where fresh fish spans a wide spectrum of cuisines and dining styles, from poké bowls at farmers' markets to dazzling, high-end novelties like Mahi-mahi Wellington at Pacific'o on the Beach.
Poké, which means "to slice or cut" in Hawaiian, is an island essential, found throughout Maui in all forms and flavors. Some of the best can be savored at Huihui, where two different types of poké offer a refined rendition of traditional seafood, as well as a neoteric version made with wok-seared venison from the neighboring island of Molokai. Or for something more casual, Tobi's Maui specializes in frills-free poké salads and vibrant poké plates brimming with fresh ahi, green onions, sweet white onions, and sesame seeds. Beyond poké, there's a whole world of seafood to explore at Japengo, a modern Asian hot spot slinging some of the best sushi on the island, along with curry-dusted calamari, seafood udon, and plump Hawaiian shrimp swimming in white wine garlic butter. And don't overlook the sea-to-table fare at Waicoco, helmed by celebrity chefs Mourad Lahlou and Chris Kajioka, the beachfront restaurant wows with the likes of cornmeal-crusted calamari with bonito remoulade, poached prawns with salt and vinegar furikake, and ahi tuna steaks seasoned with volcano spice.
6. The mai tais
A place renowned for tropical beauty and bucolic beaches is bound to boast plenty of tropical cocktails. Indeed, fruity rum-based tipples are abundant on Maui, and no drink typifies beachfront imbibing quite like a classic mai tai. While mai tais weren't invented in Hawaii (that honor belongs to the Bay Area, according to Curacao Liqueur), it's arguably been perfected on the islands, where native tropical ingredients lend their luster and round out the rum.
As commonplace in Maui as poké and shave ice, mai tais are a veritable rite of passage for those who partake. Traditionally made with rum, curaçao, fresh lime juice, and orgeat (via Liquor), variations of the cocktail can be found all over, from high-end restaurants and buzzy bars to casual watering holes. One of the most popular mai tais on the island can be sipped at Monkeypod Kitchen, where the signature drink features two kinds of rums, lime, housemade macadamia nut orgeat (a locally inspired departure from the standard almond-flavored orgeat), orange curaçao, and the key: a fluffy cloud of honey-lilikoi foam. Other island favorites include the coconut-kissed version at Kimo's Maui, the vibrant Mai Tai Roa Ae at Mama's Fish House, and the offerings at Duke's Maui, loaded up with fresh Hawaiian juices.
7. The national park
As a place of larger-than-life natural beauty that spans from sky-high mountains to azure-blue shores, it's no wonder that Maui is home to one of the mightiest national parks in the country. One of Hawaii's two national parks, Haleakalā National Park, resides on the island, comprising a hefty chunk of all-natural real estate on Maui's east side. Featuring 34,294 acres of singular geography and wildlife (via Skyline Hawaii), the park is divvied into the popular Summit District, and the more off-the-beaten-path Kīpahulu District, the latter of which features cascading waterfalls, bamboo forests, and fruitful jungles along the rugged coast.
The most popular area in the park — and a true bucket list destination for any nature enthusiast — is the namesake volcanic mountain of Haleakalā. A behemoth to behold, clocking in at 10,023 feet tall and comprising 75% of the entire island (via Haleakala Crater), it's a place of unparalleled beauty, serenity, and unique awe. A hike into the crater takes visitors through six of the world's 14 climate zones, including a depression that has been studied to be one of the quietest places on Earth. There are more than 30 miles worth of hiking trails in the national park's summit area (via National Park Service), with routes into the crater like the Sliding Sands trail and the Halemau'u trail that traverses a panoramic natural bridge nicknamed "Rainbow Bridge."
8. The art
Natural beauty isn't the only artful splendor on display in Maui. Literal art is just as epic, as evidenced by a particular cluster of galleries along Front Street on the southwest side of the island. Located in Lahaina, Front Street boasts a plethora of boutique galleries (via EVO Art Maui), including Fine Art Photography by Andrew Shoemaker, Bill Wyland Galleries in the historic Lahaina theater building, and metaphorical realism on full display at Kush Fine Art.
One can't-miss stop is Harte International Galleries, an intimate gallery containing works from the world's most esteemed artists, like Pablo Picasso, Salvador Dalí, and Henri Matisse. Notably, this is also the only gallery in the world to carry the art of Oscar-winning actor, Sir Anthony Hopkins. Here, the star has his own room of art, so visitors can marvel at his work and learn about the thought processes and inspirations behind pieces like Solstice Retreat, Hyde Park, and Through The Looking Glass.
9. The festivals
There is much to celebrate in Maui, and festivals are among the best ways to drink in all the colors, flavors, and culture of it all. Year-round, festivals are held all over the island (via Go Hawaii), providing endless entertainment and cultural programming, from food and wine to music, nature, and film.
Among Maui's most popular festivals are the Hawaii Food & Wine Festival, a spectacle of culinary and drinkable delights held annually in October. Drawing top-tier talent from across the country, while also spotlighting some of the island's most revered chefs and restaurants, it's an indulgent showcase that features walk-around tasting events, as well as multi-course al fresco feasts by the ocean, all taking place under the ambient glow of twinkling lights. Another food-centric fixture is the East Maui Taro Festival, celebrating the island's taro farmers on the east side of the island. In terms of other cultural entertainments, the Hawaii Slack Key Guitar Festival is put on in June by the Maui Arts & Cultural Center, while the summertime Maui Film Festival showcases indie movie-makers with outdoor screenings under the stars.
10. The water sports
In addition to swimming and sunbathing, the ample ocean that surrounds Maui provides endless opportunities to literally dive in headfirst and explore. With its docile waters, colorful reefs, and aquatic wildlife aplenty, Maui is a veritable playground for water activities (via Go Hawaii).
Surfing at Honolua Bay, snorkeling through serene reefs, and stand-up paddle-boarding are just scratching the surface of watery wonders to explore, with options for self-exploration (many beachside resorts, like Sheraton Maui Resort & Spa, offer rentals for equipment like snorkels, surfboards, and paddle boards), as well as guided excursions. For the latter, one epic adventure is a parasailing trip with UFO Parasail, which takes guests onto the waters off of Kaanapali Beach for a thrilling romp over the water, soaring as high as 1,200 feet and culminating with a dip in the ocean. For a more immersive experience, hop aboard a cruise with Teralani Sailing Charters, which takes groups out for hours-long sailings to snorkel and swim in tranquil lagoons and reefs. While aboard, the boats serve food and drink (the bar opens in the afternoon, giving travelers time to acclimate to the vessel and their first swim), and sunset dinner sails are also available.
11. The shopping
In towns throughout the island, boutique shops are stocked with original Maui items, tropical garb, art, and nautical trinkets. Malls, shopping centers, and markets abound, offering an array of different shopping styles and vibes, ensuring your souvenirs are as unique as the island itself.
Whalers Village is one must-see area — it's an open-air shopping center on Kaanapali Beach, with more than 80 shops and restaurants across three levels, including Whalers Fine Jewelry and Watches, Cinnamon Girl boutique, Chapel Hats, and Glass Mango Designs for glasswork and intricate accessories. The Shops at Wailea are another expansive collective of 70-plus shops, galleries, and restaurants, from designer stores like Louis Vuitton and Bottega Veneta to Olukai, a beloved local shoe store known for its high-end leather sandals. Offering a more intimate, quirky shopping experience, vintage shops like Antique Freak and the fashionable and thrifty Rainbow Attic are loaded with all kinds of second-hand treasures. For a different kind of shopping, stock up on local tropical produce at the Maui Nui Farmers' Market, held every Thursday-Sunday, or shop for macadamia nut butter, banana bread, and Hawaiian honey while listening to live Hawaiian music at Napili Farmers Market.
12. The luaus
Among Maui's cultural traditions and island pastimes, the luau is a historic slice of cultural lore that needs to be seen — and tasted — to be believed. Dating back hundreds of years, these traditional parties and feasts were long referred to as an 'aha'aina, which translates to a "gathering" and "meal" (via Maui Luau). Places of timeworn music, dancing, art, and food, they're still a regular occurrence on Maui, and they're a fascinating, interactive experience to behold.
Held all over the island, including some large enough to accommodate 500 attendees (via Pride of Maui), luminous luaus include the longstanding Old Lahaina Luau and the Feast at Lele Luau, which differs from tradition by offering private tables over communal ones. If there's one not to miss, though, make it the Myths of Maui Luau at the Royal Lahaina Resort & Bungalows. Perched right on the Maui oceanfront, with an all-you-can-eat spread of Hawaiian food and drinks, this is one of the island's oldest celebrations, in operation since the 1970s. Held nightly, each luau welcomes guests with a shell lei, proceeding with ceremonial activities like the unearthing of the pig, fire dancing, rhythmic drums, and hula dances, along with all the roasted pork, teriyaki chicken, stir-fried noodles, and mai tais you could want.
13. The wildlife
Home to some truly out-of-this-world wildlife, including endangered species like birds and seals (via Hawaii Ocean Project), Maui is an awe-inspiring place to explore and experience nature. This includes the opportunity to witness Hawaiian green sea turtles, dolphins, blowfish, sharks, and octopi while boating and snorkeling, and Pacific humpback whales that hang out in the surrounding waters during whale watching season (November through May, according to Pacific Whale). In fact, whales can be so prolific in the waters around Maui during certain times that the ocean is nicknamed "whale soup" (via Rapt Roaming).
On shore, there are plenty of animals to spot as well. Chief among them is the state bird, the nene goose, found only on the Hawaiian islands (via Destination Maui Vacations), and particularly prominent at the higher points of Haleakalā National Park. Mongooses, geckos, and Hawaiian owls roam the land and sky, and Maui is also home to a few unexpected surprises, like flamingos in the lobby at the Westin Maui Resort and Spa and African black-footed penguins in the lobby of the Hyatt Regency Maui (via Kaanapali Resort).
14. The cabanas
Right up there with beachfront sunbathing and swimming, cabana culture is very real on Maui, and it's a truly decadent, marvelous way to revel in the majesty of this luxe island. A glam counterpoint to Maui's rugged wildlife and nature, poolside cabanas are a cozy and chic alternative befitting a pampered vacation with a side of endless mai tais and tropical snacks.
Marked by shaded alcoves with comfy lounge chairs and couches, and typically found scattered around opulent pool areas at beachside resorts, cabanas can be booked all over the island. A unique way to elevate any resort experience, at places like the Sheraton Maui Resort & Spa, some hotels also offer day passes for non-guests (via Resort Pass). One of the best cabana options is at the Westin Maui Resort & Spa, which features shaded grottos in the adults-only pool areas, complete with waiter service and Netflix-equipped TVs.
15. The sunsets
No matter your activity or luxury of choice, at the end of the day, show-stopping sunsets on Maui are unlike anything else in the country (via Hawaii Photography Tours), illuminating the oceanic horizon like a giant luau with tints of pink and orange. As the sun sinks into the Pacific, Maui's west-facing restaurants are magical places to dine outside on a terrace, drinking it all in and reveling in the natural beauty of this spectacular place. Might we recommend synchronizing your sunset with a slice of mango bread or coconut cream pie at Waicoco? Or malasadas with lilikoi butter at Japengo?
On the other end of the spectrum, Maui is just as magical at sunrise. In fact, it's such a spectacular showcase that the island's most famous sunrise spot, Haleakalā National Park, is so popular that it requires hard-to-get reservations that can be made up to 60 days in advance. That's a lot of advance planning for a sunrise, but it's a jaw-dropping experience that's well worth the early wakeup call.