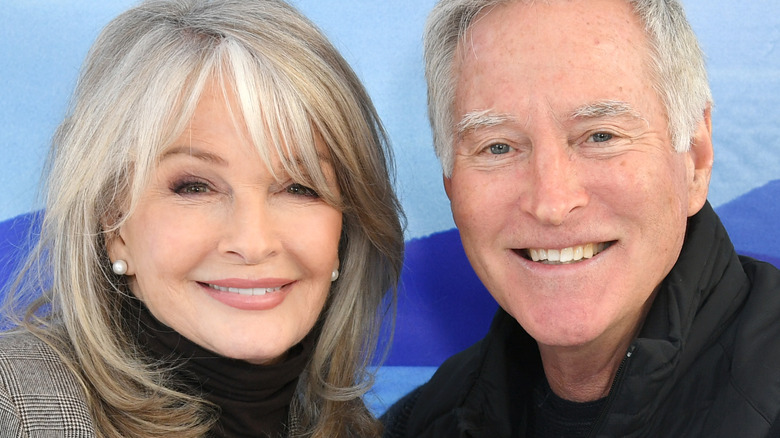 Trigger Warning: This article contains mentions of child loss.
"Days of Our Lives" viewers have watched the soap opera evolve over the decades. During that time, the storylines have become more dramatic, the characters bolder, and the romances more intriguing. While the show has certainly delivered its share of supercouples like Bo and Hope Brady, Steve and Kayla Johnson, and Tom and Alice Horton, per Nine, it's also given viewers one of the most iconic pairings of all time: John Black (Drake Hogestyn) and Marlena Evans (Deidre Hall).
Over the years, John and Marlena's relationship has been interesting, shocking, dramatic, and romantic. The pair never seem to disappoint. Whether they're going through good times or bad, John and Marlena always find a way to get through it together and seemingly come out stronger on the other side (via Soap Hub). John and Marlena's romantic journey hasn't been easy, but it's been fun for fans to watch. In their early years, the couple fell in love when Marlena believed John to be her presumed dead husband, Roman Brady. However, when Roman returned to Salem, Marlena couldn't deny her feelings for John.
The couple eventually made their way back to each other and, over the years, have created a loving and beautiful blended family together.
Eric Brady is Roman and Marlena's son
Before Marlena Evans met John Black, she had been living in Salem and working as a psychiatrist (via Soap Central). "Days of Our Lives" viewers watched her fall in love with Don Craig (Jed Allan) and have a child with him named Don Jr., who sadly passed away from SIDS. After the death of their child, Don and Marlena couldn't fully recover, and their relationship began to break down. They eventually got a divorce but remained friends. Marlena then met and fell for Roman Brady (then Wayne Northrop). The couple became a favorite among fans, who enjoyed watching the pairing.
Roman and Marlena seemed happier than ever when they welcomed twins Eric and Sami together. The twins were later sent to live in Colorado with Marlena's family but returned to Salem as teenagers. Eric Brady has been portrayed by actors Jensen Ackles and Greg Vaughan over the years. Eric's love life has often taken center stage in Salem, as he's had relationships with women like Nicole Walker and Sarah Horton, per Soaps in Depth.
Eric has also been a priest in the past and struggled with substance abuse issues. Sadly, one of Eric's biggest storylines came when he got behind the wheel drunk and caused a car accident that killed Dr. Daniel Jonas.
Sami Brady is Eric's rebellious twin sister
Sami Brady is Eric's twin sister and one of the most rebellious members of the Brady family. Alison Sweeney took over the role of Sami in 1993 and became a huge hit with fans, per Soap Central. Sami has been involved in some iconic storylines over the decades, and it all started with her obsession with her half-sister Carrie Brady's boyfriend, Austin Reed (then Austin Peck). Sami fell hard for Austin and, for years, tried everything in her power to steal him away from Carrie. She even drugged Austin to make him believe that they had slept together and that he had fathered her son, Will. However, Sami's list of crimes goes way behind her infatuation with Austin.
Over the years, Sami has been on death row and was nearly executed after she was framed for the murder of Franco Kelly. She also disguised herself as a man named Stan in order to hide in plain sight in Salem (via Soaps). Sami's also altered many DNA test results over the years and has been engaged in many feuds in Salem. However, her biggest rival has always been Nicole Walker, per Soaps in Depth.
In addition to her dramatic storylines, Sami's love life has always been interesting as she's been involved with many Salem men like Lucas Horton, Rafe Hernandez, Brandon Walker, and EJ DiMera over the years.
Brady Black is John's son with Isabella Toscano
Eventually, John Black and Marlena Evans went their separate ways and had their own lives. Although they never fell out of love, they did pursue other relationships (via Soap Hub). "Days of Our Lives" viewers watched John fall head over heels in love with Isabella Toscano (Staci Greason). The two seemed like a great match. Isabella was strong, patient, and kind, and she also helped John search for answers about his mysterious past. John and Isabella got married and welcomed a son together, Brady Black. However, shortly after Brady's birth, Isabella was diagnosed with cancer and died in one of the show's most heartbreaking moments, per Daily Soap Dish.
John raised Brady on his own for a while, and then when he and Marlena got back together, she became his stepmother. Brady hasn't always been thrilled to have Marlena in his life, per Soaps in Depth. However, over the years, he has come to love her as his mother. Although Brady has never forgotten his biological mother and has carried her in his heart, Marlena is really the only mom that Brady has ever known. Their evolving relationship has become one of the best to watch on the soap opera.
Of course, John and Marlena also had their own child, as well.
Belle Black is the only child John and Marlena share together
After Roman Brady returned to Salem alive, John Black and Marlena Evans went their separate ways. However, they could never deny their strong love for each other. "Days of Our Lives" fans were stunned when the pair engaged in a torrid affair behind Roman's back. That affair resulted in a pregnancy, and the pair later welcomed their one and only biological child together, Belle Black. Named after John's late wife, Isabella, Belle was the light of her parents' lives. However, Belle's sister Sami Brady wasn't thrilled about her birth and even tried to sell her on the black market (via Soaps in Depth).
Over the years, Belle became one of the most beloved characters in Salem as fans watched her fall in love with the offspring of another iconic couple, Bo and Hope Brady's son, Shawn Douglas Brady (Brandon Beemer). The two were high school sweethearts and later got married and welcomed their own child together, a daughter named Claire, per Soap Central. While Belle has had a rocky relationship with her half-sister Sami over the years, she has built strong connections with her brothers, Brady and Eric.
Meanwhile, John found out that he had another child later in life.
John was surprised to find out that Paul Narita was his biological son
In 2014, Paul Narita (Christopher Sean) came to "Days of Our Lives." He was revealed to be a professional baseball player who wanted Dr. Daniel Jonas to operate on his shoulder. Fans also learned that Paul and Sonny Kiriakis had a romantic history. Paul eventually found himself in the middle of a love triangle with Sonny and his husband, Will Horton. Paul got the courage to come out publicly, and he began to live as his authentic self. However, his life was shaken up when it was revealed that John Black was his biological father, per Soaps in Depth.
Of course, John was happy to add another child to his family, and Marlena also welcomed Paul with open arms. John and Paul began to bond, and while living in Salem, Paul joined his father's private investigation firm, Black Patch, which he owned with Steve Johnson (via Soaps). After going through many ups and downs in his personal life, Paul opted to leave Salem and move to San Francisco, per Soap Hub.
Over the years, John and Marlena have built a beautiful life together and blended their family to become a loving and supportive unit. Despite any drama, the Brady-Evans-Black-Narita family seems to be thriving.