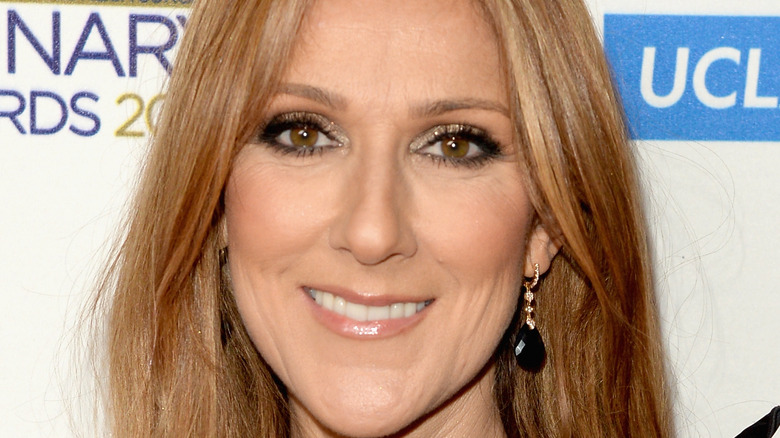 Canadian legend Celine Dion is undeniably one of music's top defining vocalists — and looks so good doing it. She's belted out iconic ballads for almost four decades — transmuting lyrics with her powerful pipes, distinctive tone, and poignant performances. Her music is inextricably knitted into the fabric of pop culture.
Dion comes from humble roots, growing up in Charlemagne, Quebec, as the youngest of 14 children. The impoverished family had to get creative with Dion's first bed — a drawer fashioned with pillows. Despite the odds, she rose above it all, becoming a member of the "vocal trinity" with pop divas Whitney Houston and Mariah Carey, partly thanks to epochal soundtrack hits "Beauty and the Beast" and Titanic's "My Heart Will Go On," which helped to define the '90s.
Although Dion wasn't always known as a fashion icon, she's always been fearless in her style, leading her to become a couture queen.
1997's naked dresses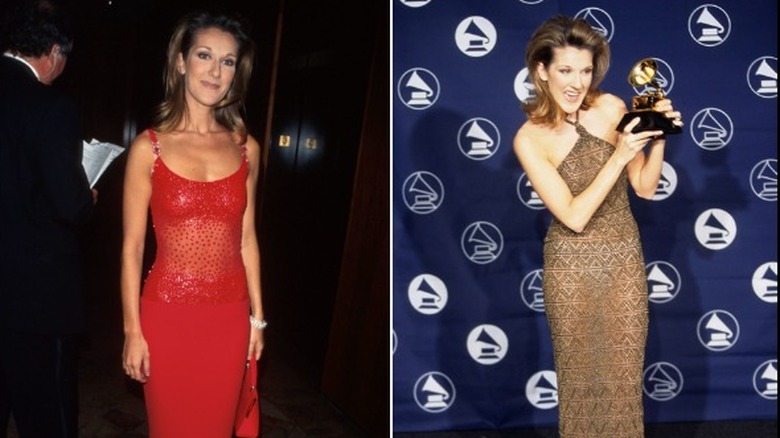 This December marked the 25th anniversary of the blockbuster hit, "Titanic," which had '90s tweens flocking to movie theaters and returning again … and again. The cultural phenomenon that the film drummed up was almost an obsession. Of course, Dion's award-winning movie track, "My Heart Will Go On," was a large element of the fandom. The song became a jewel in Dion's discography, much like the famous 56-carat "heart of the ocean" necklace from the film she actually wore to the 70th Academy Awards (via People).
As Dion's fame rose with "Titanic" sales, she set aside the excess of the '80s and elevated the prom dresses of her youth, opting for looks that embodied the minimalist mood of the era. She began stunning in sheer, sleek, spaghetti-strap maxi dresses, getting bold with the "naked" look — like the above red, sparkly dress with sheer paneling on the waist that she wore to the '97 T.J. Martell Foundation Gala. (via CelineDionWeb). She also wore the "naked" brown halter crochet dress above with nude underwear to the '97 Grammy Awards.
A new era of the "naked dress" is upon us, making a mark on red carpets, this fall and winter seasons (via Vogue). Another '97 look of Dion's that's made a resurgence is crochet; summer '22 runways embraced the breezy style (via Marie Claire). Dion's bold steps in the "naked" dress trend of the '90s set the foundations for today.
Unconventional tuxedo looks
Celine Dion's now-infamous backward Galliano tuxedo she wore to the 1999 Oscars was polarizing, standing out amongst the glittering dresses on the red carpet. But the daring fashion twist is now known as one of her most iconic looks. Dion's decision to wear the blazer backward created a backless moment. Dion in 2017 told People that the controversial look would be received better in 2017 than in 1999. "When I wore that look, yes, it was at the Oscars, and when I wore that, everyone was wearing dresses, not pants. I was the only one with pants in a backward suit from Galliano and if I would do this today, it would work."
Even though she considered the look a flop, it opened the door to different ideas of glamour and remained one of her favorites. "People thought, Is that a joke? What is she trying to say? I wasn't trying to say anything. I'm just having a great time," she later said in 2019 (via Vanity Fair).
Dion presented an updated version of her backward tux at the Giorgio Armani Prive Haute couture show that same year, wearing Armani wide-leg trousers and a white shirt that created its own knee-length tail and a large black bow tie around the collar. Dion has often gone viral for her unfiltered and enthusiastic love of fashion. One such moment was at the show, where she was filmed agape after a gown passed on the runway (via Twitter).
Dazzling plunging neckline gowns
Celine Dion has always been a fan of shimmering like an elegant chandelier on stage during her Las Vegas residencies at Caesar's Palace. In 2003, she took up her first residency in Vegas to give her family some "stability" (via People), and it remained her domain for the next 16 years. Before Dion, Vegas was no longer a glamorous place for major stars — instead, it had become a graveyard of the once-famous. When she first announced her residency, "People thought we were absolutely bazooka for performing here!" Dion told Elle. Jon Gray, GM of Palms Casino, explained, "Vegas was a place where singers go to die. Celine changed that."
During her epic performances, Dion awed crowds in glamorous gowns with dramatically low necklines and sparkles. In 2011, show-opening curtains rose, revealing Dion in a 25,000 crystal Armani Privé gown, illuminated by stage lights. Her stylist at the time, Annie Horth, put together the glam looks. "You want people to be excited by what they see," Horth explained. "The stage clothes have an edge all their own" (via Review-Journal). Horth and Dion originally teamed up in the late '90s, taking a break when Dion moved to Vegas. But when Dion decided to move away from traditional Vegas costumes toward couture, she got Horth back on board to give her wardrobe a facelift. Horth collaborated with haute couture designers to develop seven distinct looks. Ever since, she almost only wears couture for performances (via Harper's Bazaar).
The pink Gucci dress
In 2016, Celine Dion's style transformed couture-diva to "The avant-garde style maverick" (via Harper's Bazaar) with help from stylist Law Roach. Their partnership began after she saw Zendaya's stylish outfits on Instagram. After finding out who the style architect was, she immediately called. "My first words were: Céline who?" Roach told Vanity Fair. "I don't think I had dreamed that big of a dream. That this legend, this woman who we've all grown up to her music, that's been around for 30 years, was calling me to work with me." Dion invited him to move to Paris for a month as her stylist starting the next day!
Their artistic relationship bloomed from there with a vibrant flourish. However, it was a difficult time for Dion, only six months after her husband's and brother's deaths, who tragically died of cancer two days apart. Roach told Vanity Fair that she credits him and fashion week with "helping her through her grieving process."
Dion lifted her spirits, turning the Parisian cobblestones into a catwalk, causing a commotion (via The Cut). One standout look is this stunning, pink, floor-length tiered Gucci dress, which she paired with vintage-style Gucci sunglasses and black Fendi stilettos (via Instagram). Throughout the week, the duo embraced more street-wear labels, including Vetements, helping solidify her spot as an on-trend icon. Law told In Style that the Vetements "Titanic" hoodie she wore was "the catalyst that brought all of the attention that's happening now."
Her angel look
Celine Dion's couture angel look gave her performance of Titanic's "My Heart Will Go On" wings at the 2017 Billboard Music Awards. Her dramatic performance was for the song's 20th anniversary. Her emotional vocals, paired with the breathtaking crystal chandelier curtain and visuals of the tragic movie romance playing behind her, made for an emotional watch. The Atlantic said the performance "saved the Billboard Music Awards."
Stylist Law Roach told Billboard, "I think when those lights come up, people are really going to have that clutch my pearl, that deep sigh moment. You will remember her performance and her voice, but you will also remember her dress. No doubt about it." Stéphane Rolland Couture created the captivating gown (via Harper's Bazaar). It features dramatic puffed shoulders over a long-sleeved body-hugging gown and a deep plunging neckline with silver accents. He kept the accessories minimal, adding only a ring by Harry Kotlar.
"I think I've really grown to know who Celine is as an artist, a woman, and a fashion girl. I don't think a lot of people got to see that before and it's so fun for me to be able to show people through our fashion choices exactly who this woman is that we all grew up listening to our entire lives," Law told Billboard. "It's fun to see her out and about and really having fun, taking risks and doing all types of things that's really still kind of unexpected for her."
The golden suit
In 2018, Celine Dion took a break from Vegas to tour, with costuming that played more boldly with fashion. In the above regal gold suit by Schiaparelli Couture, Dion embodied Liberace with a modern twist. The high-waisted pants and structured blazer combo were made of gold foil fabric and embellished with flashy adornments and embossed prints on top of a white tuxedo shirt with two bold sheer lace panels (via Vogue). Dion has long had a thing for gold suits, wearing one back in the '90s as she sang "Falling into You" (via Instagram).
"Céline has no fear," Roach said to Vanity Fair. "And when you have that type of energy, you have this attitude that we can do whatever we want and we don't care who likes it or dislikes it. Fashion is supposed to be polarizing. It has to be overwhelming." Even though Roach has been credited with the Canadian singers' revamped style, he was taken aback by how fashion-savvy she already was and is, he explained.
Dion also wore Schiaparelli Haute couture on "The Tonight Show Starring Jimmy Fallon" (via Schiaparelli). The beige look included a gathered-sleeve top in double organza, which she paired with a nude pleated wool skirt and black pumps. The gathered sleeves that tumbled off her shoulders gave a dramatic, sexy look. In the interview, Fallon said, "We're in a Celine-aissance," after she took Paris Fashion Week by storm (Via YouTube).
Epic sparkling fringe bodysuits
Celine Dion dropped jaws at the 2019 Met Gala in an Oscar de la Renta bodysuit, decked out with sequins and draped in glorious glittering, beaded fringe, topped off with a towering feathered headpiece. Glamorous costumes worn by Ziegfeld Follies' 1930s showgirls inspired the look (via Popsugar). Dion's homage was constructed from 18 panels, was hand-beaded by 52 master embroiderers, took 3,000 hours to create, and weighed over 22 pounds. While strutting it on the red carpet, Dion played into the nostalgia with showgirl poses.
2019 was only her second Met Gala. She first attended in 2017, wearing a black and white Versace gown and a modern structured headpiece. Dion radiated a vibrant, bubbly energy and wasn't shy to let people know how thrilled she was to be attending. Videos and photos of her went viral, and critics proclaimed 2017 as "the year of Celine Dion" (via Global News).
The 2019 theme, "Camp: Notes on Fashion," confused many, including Dion (via Cosmopolitan). Dion told People, "I was ready to camp and sleep all night. They said, 'Girl, you don't know what camp is. Oscar de la Renta's going to show you.'" Unbeknownst to Dion, she's always embodied camp, even if the word confused the native French Canadian, so she rose to the occasion. The title refers to Susan Sontag's 1964 essay "Notes on Camp." She writes that "the hallmark of Camp is the spirit of extravagance," and it's "playful" and "anti-serious" (via the BBC).
Feathered Valentino
Celine Dion continued to impress during 2019's Fashion Week, making her mark on the French capital. She attended all the top shows in stunning outfits, which took bold and playful risks. When she attended the Valentino show, she wore this elegant, modern, feathered turtleneck dress (by Valentino) which she combined with silver heels and a shimmering metallic purse. She told Vanity Fair that at the event, "Valentino blew my mind."
It's obvious how much Dion loves fashion. You can witness her joy as she's often caught clapping and cheering in the subdued fashion crowd. At Giambattista Valli's show in 2017, an Instagram video showed her jumping up and down in excitement. At Valentino creative head, Pierpaolo Piccioli's show, Dion went viral again in another video, wiping away tears as models floated by in colorful organza while surrounded by flowers and opulence. Dion is often moved to tears of joy, but these seemed to be tinged more with melancholy. The impactful show also brought reporter Samira Nasr to tears, writing on Instagram that it "celebrated diversity. We forget how powerful it is to see your likeness reflected back to you and celebrated."
For Dion, another element of the moment could have been the fact that the show played Roberta Flack's "The First Time Ever I Saw Your Face," which is the song that she and her late husband had their first wedding dance to in '94. The date coincided around the anniversary of his death (via Page Six).
Elegant sleeves for days
Celine Dion continued her fashion parade during 2019's Paris Fashion Week, stepping out in a satin, bridal-inspired Alexandre Vauthier gown with billowing floor-length sleeves. The sleeves gave the illusion of a long gown when in reality, the off-the-shoulder crossover midi-dress was short. She combined the dress with gold strappy heels and layered bling on her fingers (via Daily Mail).
In an interview with the Associated Press, Dion said, "I just love his work so much, it's so classy, so chic and just so sexy at the same time." Dion is apparently obsessed with buying designer pieces, jokingly lamenting, "I dunno what I'm gonna do. Once again, I'm in trouble!" She already has such a large fashion collection — 10,000 pairs of shoes, to be exact — that she needs a warehouse (via WWD)! She told Vanity Fair, "I treated myself to a playground: two stories of archives for all my clothes, shoes, belts."
"I cannot give anything away, because every piece that I buy has brought me to where I am tonight. They're part of every step that I take and I have an attachment to it," she told WWD. In a segment of "Carpool Karaoke," James Corden surprised Dion with a plan to give away five pairs of her shoes to passersby on the Strip, joking that she would still have 9,975 pairs left (via YouTube). The relatable queen theatrically screamed out the window as they drove away from her beloved shoes.
Executive couture
2019's Fashion Week produced some of Dion's best looks. She wore the executive couture look by Ronald Van Der Kemp to his fashion show. The shimmering, sharp, metallic-gray suit, with pointed sculptural padded shoulders, made her look like the boss she is. The look was more subdued than her others but just as luxurious, especially with the gold accents of her jewelry and high stilettos. She told Vanity Fair that her current fashion obsession is "RVDK. Every piece they do is one of a kind."
Stylist Sydney Lopez told People, "I don't think Céline is limited to any type of look … she is able to capture so many styles and own them."
"It's such an amazing way of making people look and feel their best. It helps me to sing, it helps me to feel strong, to be happier, to function in life in a better way — I wear [couture] and it gets me to where I want to go," Dion added (via Yahoo!). In 2019, Dion was dubbed "the couture queen" as well as "the designer darling," per People. But as we know, she wasn't born with a couture spoon in her mouth. "I have 13 siblings, and I was the last," she told Vanity Fair. "Clothing. My mom didn't have money to buy it, so she made the clothes. She was very sensitive to the cut of the moment, if the pants were wide or narrow. She was paying attention."