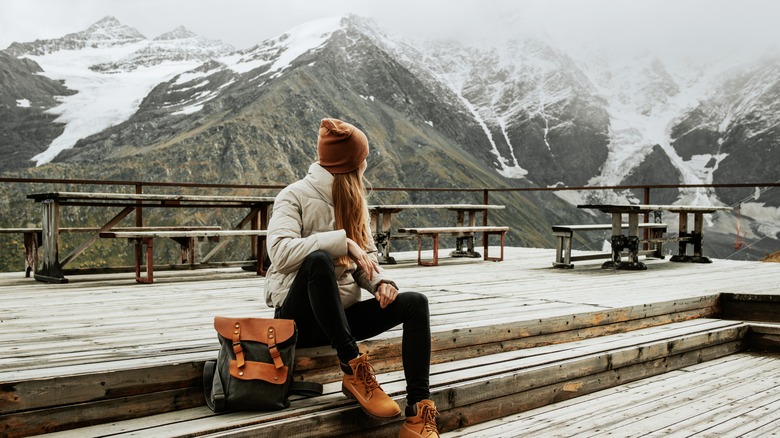 Traveling alone can be a very exciting and liberating experience. Solo travel means you don't have to compromise or be on anyone else's time schedule, plus you'll inevitably build your self-confidence and independence. If you're traveling in a foreign country, being alone will encourage you to work on your foreign language skills, since you'll not be able to rely on anyone else to do the talking (via Insight Guides). And believe it or not, traveling alone is the perfect recipe for meeting new people.
Think about it: when you travel with a partner or a group of people, you tend to stay with them, instead of seeking conversations with others outside the group. Solo travel helps you get out of your comfort zone and presents more opportunities to be social, even if it's simply asking someone a simple question. Let's explore some tips and tricks for how to easily meet new people while traveling alone.
Stay in a hostel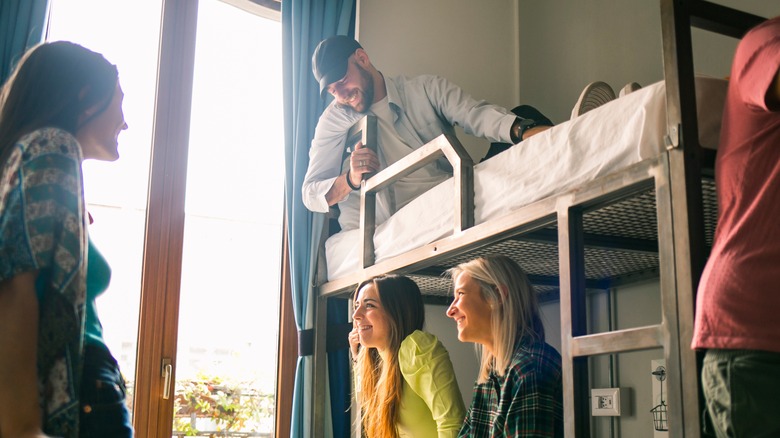 Let's face it: traveling alone can feel, well, lonely. If you stay in a room in a hotel or a private Airbnb all by yourself, it can feel even more isolating. However, hostels are practically set up to help solo travelers meet other travelers. Most hostels have dorm rooms with several beds per room. This lodging option is not only budget-friendly but sharing a room with others makes conversation almost inevitable (via Hostelworld).
Even if you prefer to stay in a private room in a hostel — which many offer — typically hostels have common areas like lounges, bars, or shared kitchens that encourage people to connect with each other. Plus, people that stay in hostels are likely to be a traveler like yourself, which can make for easy dialogue, as tourists often have similar itineraries. An easy conversation starter could be something like, "What are your travel plans while you're here?" or "Do you have any recommendations for a place to eat?" Who knows, maybe you'll find that you want to visit the same places or do the same things — this type of conversation can easily turn into a plan to do something together.
Stay with a local
If you'd rather connect with locals than other tourists, why not stay with a native? Couchsurfing makes this option viable. The website connects members who love to travel with other people throughout the world with similar desires. Once you set up your profile and get vetted, you can request to stay with locals — for free. You also have the option to list your space as available to other travelers. Sure, sometimes you might be sleeping on a couch, but you also might get your own guest bedroom (via The Huffington Post). The best way to have success on the website is by building up your profile and acquiring references, so you'll want to start by connecting with your local Couchsurfing community. There are tons of meet-ups through Couchsurfing across the globe, so even if you don't plan to stay with someone during your trip, you might find a local event where you can meet new people.
Staying with a local has many perks — not only is it cost-effective, but you also get to see how the locals live and experience the culture on a deeper level. Usually, hosts will offer recommendations of their favorite non-touristy spots that are off the beaten path — and they might even take you there — providing you with a unique travel adventure you could never experience on your own. Plus, once you get involved and meet members of the Couchsurfing community, you will feel like you have new friends all over the world.
Participate in a free walking tour
Most walking tours are free and offer you a great way to not only see the sights but also discover the depth of your travel destination. Typically the other people joining the walking tour with you will share your common interest in exploring the place you're in, so it's easier to strike up conversations about things covered in the tour or activities on your to-do list. The nature of walking and learning about a new place ignites a sense of shared excitement that can stifle social anxiety and make conversations feel easier (per Lonely Planet).
According to FreeTour.com, it's quite common to witness people on walking tours continue to hang out after the tour, heading to a bar or local restaurant, or even exchanging contact information to meet up the following day. Free walking tours are common in many cities across the world, so it's very likely you'll be able to find one wherever you are going.
Break the ice
The number one way to meet new people is to work up the courage to break the ice and start a conversation. This can be hard for those of you who tend to be more introverted or naturally shy. You can start small by just making an effort to acknowledge people — even simply saying "hello" or "how's it going" when you enter a room can make you seem more approachable. Don't be afraid to ask questions about anything, from directions to travel advice or recommendations on places to go or things to do. Focus on open-ended questions instead of straight yes or no questions to help open up the floor for additional conversation (via The Flashpacker).
If you see someone having a hard time taking a selfie, be polite and offer to take their photo — odds are they are also traveling solo and wouldn't mind the assistance. This can also potentially lead to a conversation or quick chat, depending on the other person.
Volunteer
Volunteering is not only a great way to meet people, but it also offers an opportunity to give back to the local community you are visiting (per Lonely Planet). If you're traveling in a foreign country, it can also help you work on your foreign language skills. Volunteering also provides a more authentic and immersive travel experience.
That being said, make sure to be aware of "voluntourism" — a portmanteau of the words volunteer and tourism (via World Vision). There have been some reports of organizations using children and orphanages to make money, attracting volunteers that end up doing more harm than good. Voluntourism can also be damaging if the volunteers are inexperienced and not assigned tasks that match their skill sets. Be sure to do your research on the organization you choose to work with and be realistic about your skills and the types of volunteer work you are able to offer. One great option to find opportunities is through Workaway, where oftentimes room and board is exchanged for your volunteer work.
Use apps and the internet
We live in a digital age. Instead of turning to dating apps — which can be helpful but might not be exactly what you're looking for — you can check out the many different apps made specifically for connecting with fellow travelers. There is the Travel Buddies website or the Backpackr app, which are social networks geared towards helping you find travel partners, or Tourlina, a similar app made just for women. Then there is the Eat With app, created for traveling foodies to connect with local chefs who are hosting dinner parties, cooking classes, and more. And for interesting and intimate local music events, check out Sofar Sounds.
Also, don't forget to check your Facebook friends to see if anyone you know lives in your travel destination. Maybe someone recently moved there and you haven't gotten the memo yet. You can literally type "my friends who live in [location]" straight into the search bar on Facebook (via The Huffington Post). You can also search for Facebook groups and check out Reddit threads to connect with both locals and travelers.
Attend a local Meetup group
Meetup.com is a website platform that helps you find free local events or group gatherings focused on a wide range of interests. Whether you enjoy crafting or board games, hiking or Qigong, you should be able to find a meet up group that strikes your fancy. You can search by interest and location, or simply browse the trending events in your area. Conversation can be easy to come by when you are participating in an activity with like-minded people who share your hobbies.
The Meetup community contains over 30 million members in 184 countries, which are pretty good odds for meeting new people (per Lonely Planet). Meet ups can be a lot of fun or a bit of a disappointment, but as long as you keep an open mind, you should do just fine (via The Huffington Post). And remember — if you're not enjoying yourself, you can always leave whenever you want.
Sign up for a group tour or hostel event
Many hostels host a variety of events and activities, from yoga and cooking classes to pub crawls and surfing lessons. Just check in with the front desk reception and ask about their offerings. Even if you're not staying at the hostel, they will more than likely be happy to take your money and have you join their events! Many hostels offer free group activities as well (per Hostelworld).
You can also look into group tours, which can last anywhere from a couple of hours to several days or more. While they can be a bit more pricey, booking a group tour guarantees that you won't be alone and gives you the opportunity to meet new people in your tour group. There are even companies that organize group tours designed specifically for solo travelers, like Go Ahead Tours, Bucket List Group Travel, World Trips, and more.
Travel with a purpose
Having a goal or purpose in mind for your trip can be a good way to meet people. For example, if you're attending a yoga retreat, you're bound to be surrounded by like-minded people, with many opportunities to connect since retreats commonly last for several days (via Bookmundi). You could also sign up for one class or a class series centered around a topic that embraces the culture of the area you're visiting, like cooking, foreign language, art, or dancing. Plus, many types of dancing involve linking up with a partner, which will require a bit of socializing (per The Huffington Post).
If you're an avid rock climber and are traveling to a rock climbing destination, odds are you will meet other climbers at the crag or local rock climbing gym. The same goes for other adventure sports activities like snorkeling, scuba diving, surfing, skateboarding, skiing, and so on. Making a plan to do the hobbies you love will open up more opportunities to connect with new people who have similar passions.
Eat at the bar
Oftentimes it can feel awkward to go out to eat by yourself — not everyone enjoys eating alone or feeling like other people are staring and wondering if you're being stood up. However, one of the best things about traveling includes enjoying and indulging in the local cuisine, and you can't miss out on that. Instead of sitting uncomfortably at a restaurant table all alone, ask to eat at the bar. This type of seating arrangement makes it easier for you to interact with others, especially the people sitting next to you, who might also be dining alone and ready for a chat (via Lonely Planet).
Plus, you'll be closer to the bartender who might be talkative and interested in having a conversation with you, or at least giving you advice on things to do from the perspective of a local. Just be sure not to bother them too much while they are working!
Seek local events or festivals
It may take a little bit of sleuthing work to find out about local events or festivals, but it's much easier to meet people in a party-like atmosphere that naturally encourages mingling, dancing, and more. Generally, people are more open to talking to other people at a festival or party, so you'll have a high probability of spur-of-the-moment connections (via Bookmundi).
A music festival is an obvious choice, but you can also look for art, film, comedy, food, or beer festivals. If your travel dates are flexible, do some research and see if there are any big gatherings or festivals happening any time soon in your destination of choice. Be sure to search through local newspapers, magazines, or other publications that might advertise such events. Or you can be more impulsive and wait until you are there to ask locals for their recommendations for local gatherings.
Find a coworking space
If you're one of the lucky people who can work remotely, you'll likely want to seek out a coworking space to work at while you're traveling. Coworking spaces are like shared office spaces for those who are self-employed, work from home, freelance, and so on. These spaces give you the opportunity to work among like-minded individuals and facilitate easy connections with others. A coworking space is more fun than working alone in your hotel room — plus, it's way easier to concentrate in a coworking space compared to a coffee shop.
Many spots host group social gatherings, so be sure to check the event calendars. Membership options range from day drop-ins to monthly fees, and some places even offer free trials (via The Huffington Post). There's even a Facebook group called "Digital nomads around the world" where you can connect with other remote workers to ask questions and get recommendations.
Reach out to friends and family
It's time to consult your address book. Do you know anyone that lives in the area you are traveling to that you can meet up with? Or do you have any friends or family members that might know people who live there? One easy way to figure this out is by utilizing social media: make a post on your Facebook or Instagram about your travel plans and ask if anyone can connect you with someone who lives there.
Also, it's a good idea to share your travel plans with friends and family during conversations — simply mentioning that you are going somewhere soon might inspire them to recommend you meet someone that they know who lives there (via Bookmundi). You might be surprised at what you find out! Plus, arranging meet-ups with friends of friends can be fun and help you meet more new people in the process.
Be spontaneous
When it comes down to it, the easiest way to meet new people while you're traveling alone is by being open to it. Being authentic and friendly can go a long way. Keep an open mind and be interested in meeting anyone and everyone. When you're traveling solo, don't make a rigid travel plan that doesn't leave room for any flexibility or free time. Having a more open schedule will give you the space to say yes if you get an invite for something unexpected (via Hostelworld).
Also, find a balance between being inquisitive and annoying. Sure, you want to be able to ask questions and start conversations with new people, but you should also learn how to read social cues and body language to notice if the person actually wants to engage with you. Sometimes people are busy or just having a bad day and won't be open to chatting with you — and that's ok. Respect people's boundaries; don't take things too personally; and most importantly, enjoy your adventure.