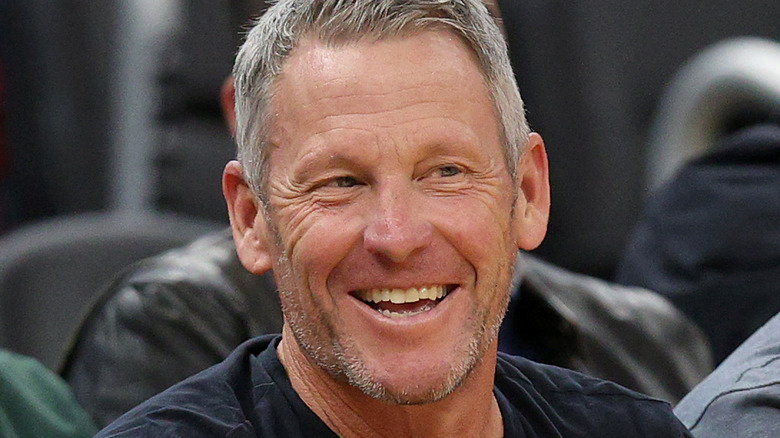 Modern sports stars are often regarded as celebrities, and as a result, they are constantly in the public eye. From post-game interviews to multi-page Sports Illustrated magazine spreads, today more than ever professional athletes are talked about and written about in the media. In some cities, there are now entire sports channels dedicated to single sports teams and franchises.
However, for as much attention and publicity as they receive, there is still a lot we don't know about that goes on behind the scenes in the world of sports. Case in point: the many doping and abuse scandals that have shocked the world upon their discovery. Unfortunately, by now there have been so many of these scandals that it's nearly impossible to keep track of all of them. From the infamous Major League Baseball steroid scandal that enveloped the country in the early 2000s, to the recently released report detailing explosive allegations in the National Women's Soccer League, these scandals have captivated the public and led to the destruction of countless careers. Here are some of the most infamous and memorable doping and abuse scandals to hit the sports world.
The steroid era in baseball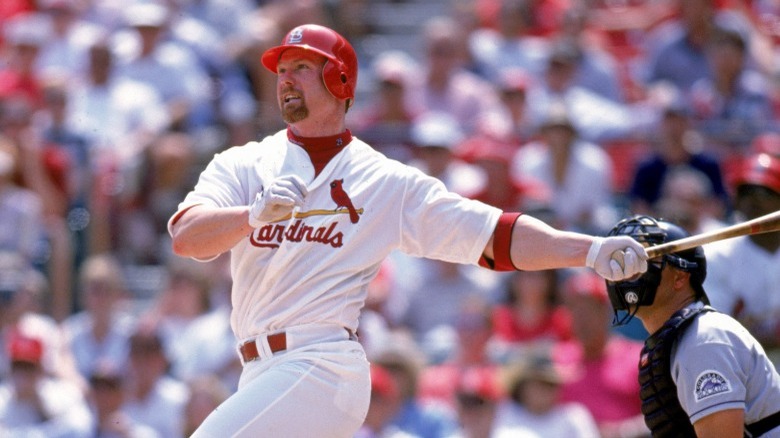 In the late 1990s, Major League Baseball superstars like Mark McGwire, Sammy Sosa, and Barry Bonds set the sports world on fire when they battled it out for the single-season home run record. As ESPN explains, after the 1994 season had ended without a World Series, the MLB was hemorrhaging fans. But, the McGwire and Sosa home run race brought a lot of them back and created many new ones.
In 1998, McGwire and Sosa both broke the MLB home run record, which Bonds followed up with his own record-breaking season in 2001. However, what seemed like one of the greatest stories in sports history turned out to be one of its biggest frauds. In 1998, McGwire was found to have been using a steroid known as androstenedione, but it was legal under league rules at the time and nothing happened.
In 2003, things started to heat up when federal investigations began into Bonds' use of steroids, and that quickly spiraled into an indictment of many of the MLB's leading players. In 2007, then U.S. Senator George Mitchell released "The Mitchell Report," and linked 89 current and retired MLB players to performance-enhancing drugs, creating an uproar in the sports world. In 2005, McGwire and several other players were even called to testify in front of Congress over the allegations, which they denied. McGwire finally admitted to using them in a 2010 interview with the Associated Press, calling it "the hardest day of [his] life."
The Biogenesis doping scandal
As if one steroid scandal in Major League Baseball wasn't enough, in the summer of 2013, the use of performance-enhancing drugs amongst the game's biggest sluggers was once again on the front page of all the national newspapers as one of the biggest sports scandals of the 2010s. That August, The Washington Post reported that more than a dozen MLB players, including superstars Alex "A-Rod" Rodriguez, Nelson Cruz, and Ryan Braun, were all suspended for the use of performance-enhancing drugs.
The players had been illegally getting steroids from a distributor known as the Biogenesis clinic, which was run out of Miami, Florida. The Washington Post reported that the investigation into Biogenesis had begun that January, and after interviews, the owner of the clinic admitted to the allegations and implicated the players.
The most severe suspension was levied against Rodriguez, who was given a 211-game suspension, initially. However, Rodriguez appealed the suspension and it was reduced to 162 games, the equivalent of a full season (per The New York Times). Rodriguez filed multiple suits against MLB over the suspension and arbitration, which he ended up dropping after they were destined to fail in court, as reported by The New York Times. The scandal was one of the biggest doping scandals in American sports history and gave MLB another black eye less than a decade after the release of "The Mitchell Report."
Widespread abuse in the National Women's Soccer League
In October 2022, widespread fury and anger erupted following the release of a report into abuse allegations regarding coaches within the U.S. National Women's Soccer League (NWSL). The report was performed independently by former Deputy Attorney General Sally Q. Yates. It stated that abuse of players by coaches was incredibly widespread and systematic.
The investigation was initiated following a series of troubling complaints against NWSL coaches during the 2021 season, many of whom were fired due to misconduct allegations. The report faulted the NWSL and the U.S. Soccer Federation, for negligently allowing the manipulation and abuse to happen for many years. The report described many instances of unwanted verbal, physical, and sexual abuse from coaches toward players, which was routinely ignored by those in power.
The report relied on hundreds of interviews with NWSL players, some of whom were reportedly former Olympians and members of the U.S. Women's National Team. The report also describes a widespread culture of abusive conduct within the entire female soccer world, starting in youth sports and continuing to the pros. After the report was released, the NWSL vowed to review it and create a list of recommendations to improve player safety in the future.
If you or anyone you know has been a victim of sexual assault, help is available. Visit the Rape, Abuse & Incest National Network website or contact RAINN's National Helpline at 1-800-656-HOPE (4673).
The Lance Armstrong doping scandal
In the mid-to-late 2000s, Lance Armstrong was on top of the world. Not only was he one of the biggest cycling champions in sports history, but he was the face of the massively successful Livestrong Foundation that made the famous yellow Livestrong bracelets. Armstrong had catapulted to fame after winning a record seven consecutive Tour de France titles between 1999 and 2005, all after overcoming a devastating bout of testicular cancer (via ESPN).
However, allegations against Armstrong over the use of performance-enhancing drugs and blood doping had hounded him throughout his career. After his first Tour de France win in 1999, he was suspected of doping, and between 2000 and 2002, his cycling team was under investigation — but Armstrong was still not officially accused.
That all changed in 2010 when former teammate Floyd Landis accused Armstrong of doping in the early-2000s. Eventually, more teammates came out and said they had used performance-enhancing drugs with Armstrong. In 2012, the United States Anti-Doping Agency (USADA) officially accused Armstrong of doping, stripped him of all his Tour de France titles, and banned him from cycling competition for life. Finally, in 2013, Armstrong admitted to using performance-enhancing drugs during an interview with Oprah. Following his admission, Armstrong was faced with multiple lawsuits over previous winnings, which he agreed to settle out of court for millions each.
The Russian doping program at the Sochi Olympics
The Olympics are one of the few truly international competitions between countries and are cause for celebration whenever they are held every two years. However, Russia's actions during the 2014 Winter Olympics, which were hosted in Sochi, Russia, are anything but celebratory. According to The Washington Post while Russia won an Olympic-most 33 medals at the game, they soon came under scrutiny for the use of performance-enhancing drugs among their athletes and accusations of cheating in the Olympics.
In late 2014, a former Russian Anti-Doping Agency (RUSADA) official explicitly accused Russia of orchestrating a systematic doping program in which 99% of its athletes participated. Almost a year later, the World Anti-Doping Agency (WADA) released a report that largely confirmed much of the 2014 allegations. According to WADA, Grigory Rodchenko, RUSADA's former head, conducted a state-sanctioned scheme that involved destroying results, creating a second laboratory to cover up positive results, and forcing Russian athletes to take part in the program if they wanted to compete in the Olympics.
Following the revelations, Russia was immediately banned from participating in the track and field events at the 2016 Rio Olympics and was also subsequently banned from participating as a country in the 2018 and 2020 games. Russian athletes were still allowed to compete independently, though. In 2022, another allegation of doping was levied against Kamila Valieva, a Russian figure skater, per The New York Times.
Jerry Sandusky and Penn State
For decades, Joe Paterno was one of the most revered coaches in all of college sports history. His famous career as the leader of the Nittany Lions for 46 seasons, winning more than 400 games, made him a surefire College Football Hall of Famer (via the Los Angeles Times). However, within weeks of his being named one of the best coaches in college football history, a scandal broke that would forever tarnish his and Penn State's legacies.
According to the Los Angeles Times, the scandal involved the defensive coordinator on Paterno's staff at Penn State, Jerry Sandusky, who was convicted in 2012 on 45 counts of sexual abuse against a child and given a prison sentence of 30 to 60 years. As CNN reported, the accusations against Sandusky had started as early as the 1990s, and Paterno had been aware of them since at least the early 2000s.
After the grand jury report was released in 2011, which indicated Paterno could have done more about the allegation (something his supporters have vigorously denied), Paterno was fired and his wins were removed from the sports record books due to his involvement with drugs. Eventually, they were restored, but not before his and Penn State's reputations were forever tarnished.
If you or anyone you know has been a victim of sexual assault, help is available. Visit the Rape, Abuse & Incest National Network website or contact RAINN's National Helpline at 1-800-656-HOPE (4673).
Larry Nassar's chronic abuse with USA Gymnastics
In 2018, one of the most notorious sexual predators in sports history was finally convicted of his crimes and sentenced to essentially a life sentence in prison. Larry Nassar was responsible for committing egregious sexual abuse violations against athletes in his care.
According to History, Nassar had previously worked as a doctor for both the U.S. Gymnastics (USAG) Team since the 1980s and at Michigan State University. Nassar abused more than 260 individuals dating back to at least the 1990s, with some of them as young as six years old. Revelations about the abuse came out in 2015 and led to Nassar's immediate firing from his position as a doctor. Nassar was also found in possession of 37,000 images of child pornography.
Nassar's sexual abuse scandal brought scrutiny to both Michigan State and USAG, leading to the resignation of the university's president and the entire USAG board of directors. Eventually, Nassar's victims settled with the university for $500 million in damages. Nassar appealed his conviction to the Michigan Supreme Court, but it was upheld in 2022 (via the Associated Press).
If you or anyone you know has been a victim of sexual assault, help is available. Visit the Rape, Abuse & Incest National Network website or contact RAINN's National Helpline at 1-800-656-HOPE (4673).
The Duke Lacrosse sexual abuse scandal
Duke University is widely regarded as one of the top college sports schools in the country, but in 2006 their football program got attention for all of the wrong reasons. As History explains, following an off-campus party in March 2006, three members of the Duke lacrosse team were accused of sexually assaulting an adult dancer who was working at the party. The school was immediately thrust into chaos, and soon Duke canceled the lacrosse team's season.
Even though DNA evidence had not shown a link with the players, within two months three of them were indicted on rape and kidnapping charges by Durham County District Attorney Mike Nifong. Less than a year later in April 2007, all of the charges against the students were dropped, with the North Caroline District Attorney vigorously defending them while criticizing the actions of Nifong (per The New York Times).
The rape charges had already been dropped the previous December due to issues with the accuser's testimony, and the players were reportedly cooperative with the entire incident. In the end, the students were exonerated of all wrongdoing, won a settlement from Duke University, and Nifong was disbarred for his conduct.
If you or anyone you know has been a victim of sexual assault, help is available. Visit the Rape, Abuse & Incest National Network website or contact RAINN's National Helpline at 1-800-656-HOPE (4673).
The BALCO Olympic doping scandal
One of the most infamous doping scandals of all time was the Bay Area Laboratory Collective (BALCO) fiasco from the early 2000s. According to The Mercury News, the scandal started back in 2003, when the U.S. Anti-Doping Agency (USADA) received a tip regarding Victor Conte Jr., the owner of BALCO. The tip claimed a PED known as "the clear," later identified as tetrahydrogestrinone (THG), was being distributed by Conte to numerous professional athletes.
Within months, federal agents had raided the BALCO labs, and MLB star Barry Bonds and Olympic athlete Marion Jones were linked to "the clear." Soon, more professional sports stars were implicated in BALCO — which soon led to revelations regarding the wider MLB steroid scandal — including former Olympian Tim Montgomery and cyclist Tammy Thomas.
Eventually, Conte and several other accomplices were sentenced to various prison terms, and Bonds, Jones, and MLB pitcher Roger Clemens soon faced charges for lying to investigators. Jones pled guilty to making false statements and was sentenced to six months in prison (via The New York Times), while Clemens was acquitted of perjury charges (per The New York Times). Bonds was initially convicted for obstruction of justice, but it was later overturned on appeal (per the Los Angeles Times). Since his release from prison, Conte has continued to work with sports stars, including former NFL running back Frank Gore (via SFGate).
The Katie Hnida sexual abuse scandal
During the 2003 college football season, placekicker Katie Hnida accomplished what was once unthinkable when she became the first female to score points in a Division I NCAA football game. As History explains, in a game against Texas State, Hnida successfully kicked two extra points, helping the University of New Mexico win.
However, for as successful a career as she had with the Lobos, her previous stint at the University of Colorado was horrible. As she detailed in a 2005 interview with Sports Illustrated, during her time there, Hnida was mercilessly harassed and bullied by her teammates. They would constantly say abusive comments and sexually assault her, and she revealed that one teammate had even raped her one night.
Though the scandal outraged the nation, Hnida got little support from her former coach and was treated poorly by some in the press (per ESPN). Her coach, who was later suspended and fired, made sexist remarks about her and deflected all blame. In a 2021 op-ed published in the Albuquerque Journal, Hnida praised the Lobos for how they treated her and said she had since pursued a career advocating for the fight against gender violence.
If you or anyone you know has been a victim of sexual assault, help is available. Visit the Rape, Abuse & Incest National Network website or contact RAINN's National Helpline at 1-800-656-HOPE (4673).
Deshaun Watson's sexual abuse scandal
In early 2021, the NFL and sporting world was thrown into chaos upon the announcement of sexual misconduct allegations regarding former Houston Texans quarterback Deshaun Watson. That March, Texas lawyer Tony Buzbee announced he was filing several lawsuits against Watson, and the NFL announced they were opening their own investigation into the allegations, according to The Athletic. Watson was accused of acting inappropriately during massage sessions, but he denied all wrongdoing and quickly hired lawyers for his defense.
By the end of the month, almost 20 different women had accused Watson of misconduct, while he had almost an equal number of massage therapist defenders. Watson would end up missing the entire 2021 season while the investigation played out, eventually getting suspended for 11 games of the 2022 season and fined $5 million by the league. It was announced that Watson would not face criminal charges for his conduct, and both he and the Texans have settled a number of lawsuits with accusers.
As of October 2022, 26 civil lawsuits had been filed against Watson alleging misconduct, though he has settled most of them. In March 2022, Watson was traded to Cleveland and given a $230 million contract.
If you or anyone you know has been a victim of sexual assault, help is available. Visit the Rape, Abuse & Incest National Network website or contact RAINN's National Helpline at 1-800-656-HOPE (4673).
The 1998 Tour de France and the Festina Affair
As one of the most shocking scandals in the world of cycling, the Festina Affair is still pretty incredible more than two decades later. It all started just a few days before the '98 Tour de France was about to kick off, when the Festina team was accused of doping. As noted by The Guardian, team masseur Willy Voet had been caught with steroids and masking agents, immediately bringing everyone under suspicion. The Festina team was quickly kicked off the tour, and several members admitted to using performance-enhancing drugs during police questioning (via The New York Times). According to Cycling News, police had found more than 250 bottles of the steroid EPO in Voet's car, and he tried to unconvincingly claim they were for his own personal use.
Other teams were implicated in doping, and the TVM team from the Netherlands had performance-enhancing drugs and masking agents found in their hotel room. Authorities also searched the garbage of the Italian team looking for more evidence. Upset over the media coverage and police tactics, cyclists threatened to start striking over the chaos, and several of them left the tour in protest, as reported in The New York Times.