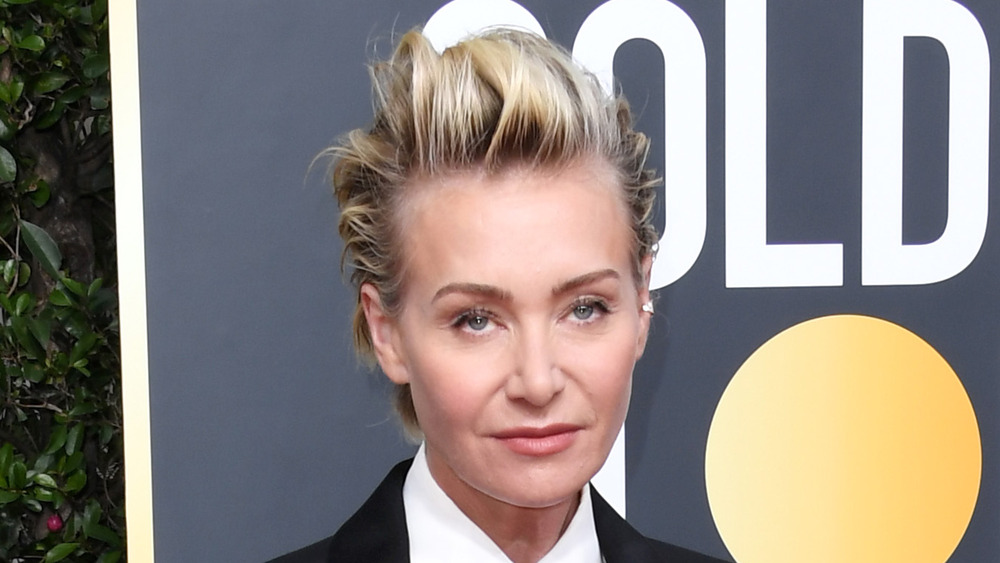 Portia de Rossi's career has included quite a few roles that required a dry, sometimes even cold brand of comedy and drama that few actresses can deliver. Her particular style of humor has made her something of a darling in the offbeat television circle. While in reality she's warm and dedicated, two of her best-loved roles, Nelle Porter (the lawyer on Ally McBeal) and Lindsay Bluth (on Arrested Development), are known for emotional detachment.
But although she has played these and many other parts impeccably, none of her roles seem all that recent, when you stop and think about it. Has she detached herself from Hollywood after all — or vice versa? It's true that her career and personal life haven't been immune to controversy: Arrested Development, one of her most critically acclaimed projects, suffered a lawsuit and allegations against one of its stars, for example, and her wife Ellen DeGeneres was the subject of a huge toxic workplace scandal in 2020.
Though she's a notoriously private person, there's a reason her hard-won career has seemingly come to a halt — and it's probably not what you're thinking. Here's a closer look at why you rarely see Portia de Rossi these days.
Amanda Rogers, J.D.
Portia de Rossi had a long journey to reach full self-acceptance, covering sexuality, mental health, love, and loss.
One of her first steps on this path was the empowering act of giving herself her own distinctive name. Portia de Rossi was born in Australia as Amanda Rogers. Although less memorable than her chosen moniker, her birth name wasn't incompatible with fame — but the rebranding went much deeper than careerism. De Rossi has commented that changing her name at 15 reflected her struggle to reconcile her sexuality with an as-yet unaccepting world: "Everything just didn't fit, and I was trying to find things I could identify myself with, and it started with my name." She picked her first name, Portia, from Shakespeare's The Merchant of Venice; she picked de Rossi because it sounded exotic and sophisticated to her.
It didn't stop there. Instead of trying to conform, de Rossi began the slow and sometimes painful process of building a life that fit her. This meant struggling through a crippling eating disorder, changing her course from studying law to acting, and coming out of the closet in Hollywood.
Early career and emerging success
De Rossi started out with a few commercials before transitioning to a few small silver screen roles. At that time, she was a young student at the University of Melbourne studying for a career in law. Her first credit was in a low-budget Australian comedy called Sirens that came out in 1994. Though de Rossi's role was not a main one, the film received attention because it was one of three films released that year that raised Hugh Grant's profile with American audiences.
Portia herself began to garner attention from the American public just three years later when she starred in Scream 2 as Murphy, a leader of the Delta Lambda Zeta sorority with plenty of attitude who attempts to get Sidney to join. Like many of de Rossi's characters, Murphy comes across as a bit vapid.
In 1998, de Rossi landed the part of Nelle Porter in Ally McBeal. This character was known as the "Ice Queen" while also serving as a form of comic relief, an early example of de Rossi's singular prowess: playing difficult personalities to humorous effect. (Lindsay Bluth, we're looking at you.)
Commitment to her career
In order to both create her own identity and cement her career as a respected American television actress, de Rossi has demonstrated a colossal level of commitment.
One of the pivotal moments in her life was her marriage to Mel Metcalfe in 1996. By this time, de Rossi was a rising star, and wanted to stake a permanent claim in Hollywood. To do that, she needed a green card. Her marriage served the dual function of securing her future as well as veiling her struggle with her sexuality.
De Rossi says she couldn't go through with the green card scheme in the end, but the fact that she considered the option is a testament to how important her career was to her, at least back then. She took all kinds of transformative measures to solidify her Hollywood reputation, even training herself out of her Australian accent while living in LA.
Misfires in TV and movies
Portia de Rossi's career commitment had to weather some pretty heavy discouragement over the years, as some of her career choices didn't go so well. Maybe the weight of her disappointments eventually took their toll, despite her broader success.
As we've seen in the case of Arrested Development, quality doesn't always equate to wide viewership. The surreal satirical sitcom Better Off Ted starred de Rossi and began airing in 2009, when Portia was fresh off a recurring role in the successful medical drama Nip/Tuck. Sadly, Better Off Ted was canceled the next year, despite praise from critics and a cult following that was unfortunately too small. (Where have we heard that before?)
Of course, some of her ventures were clear missteps. Nick Freno: Licensed Teacher made it two seasons starting in 1996 before being canceled. That's a better story than that of Mister Sterling, though, which only made it two months and 10 episodes before being canceled.
De Rossi's attempts at crossing over to film were mostly unsuccessful as well, from the box-office bomb Who Is Cletis Tout? in 2001 to 2003's I Witness, which was at best unknown and at worst unpopular. She also appeared in Australian production The Night We Called It a Day (which also featured Dennis Hopper playing Frank Sinatra), the poorly reviewed Wes Craven flick Cursed, and a few made-for-TV movies.
Missed opportunities
In addition to the aforementioned misfires, some of de Rossi's endeavors never had the chance to get off the ground. One in particular that we would have loved to see had NBC not pulled the plug was a potential Munsters reboot all the way back in 2012. From the looks of its pilot, it would've been a hit. It also would have constituted a bit of a reboot for her career after producers decided Better Off Ted was better off dead. Instead, the show's cancellation was both costly and conspicuous.
It's easy to imagine de Rossi as Lily Munster in Mockingbird Lane, the first episode of which aired as a Halloween special in 2012. It had the option for a series pickup as well as a huge budget and years of planning, but NBC declined, robbing us of yet another hilarious Portia de Rossi character. Lily Munster is a literal vampire, but unlike the cold, dead personality for which the mythical species is known, the elegant Lily is benevolent toward humans and deeply loving and caring toward her family.
If this more high-profile spot had stuck, we might be seeing more of de Rossi today.
Too good at her job?
While many of de Rossi's projects are critically loved for their uniqueness and cleverness, they don't always fare well enough with audiences to avoid cancellation.
Outside of Arrested Development, de Rossi's most recent appearance on television was in 2017 (her last film appearance occurred even further back, in 2015). She played another quintessential Portia character in a guest appearance on Netflix's Santa Clarita Diet: a socially awkward doctor who spends so much time studying the dead that she's forgotten how to interact with living people (she tries to hug Drew Barrymore's character thrice just to figure out the correct technique).
This critically acclaimed cult favorite began at 78% on Rotten Tomatoes and climbed 11 points each season for a 100% rating in season 3, which is when Netflix decided to cancel it. Though de Rossi hadn't had a huge role at that time, critics called her the show's "secret weapon." Unfortunately, this saga reads like so many of her ventures that deserved better.
In Better Off Ted, Portia's character was described as "cheerfully amoral," and in this role she expertly and quotably landed a nearly impossible tone. In Arrested Development, she is a capricious absent mother (and spoiled daughter). Her roles are an acquired and even refined taste — perhaps because she presents us with traits we're supposed to hate, then forces us to love her anyway.
Authentic on screen and in life
De Rossi's roles represent her own unapologetic authenticity, and her later successes (enough about the failures!) attest to that. In Nip/Tuck, she played the mother of villain Eden Lord, remaining loyal to her despite knowing what she's done — just as in real life, Portia stuck by her spouse Ellen during controversy. And on Scandal, de Rossi was a strong, intelligent woman who did whatever it took to get what she wanted.
In addition to showcasing her versatility as a formidable comedic and dramatic actress, these roles showcase her strength as a person. Despite a preference for privacy, she has used her status as a celebrity to become a voice for many vulnerable populations: She opened up about her struggle with an eating disorder in her book Unbearable Lightness: A Story of Loss and Gain, and is also an active champion of animal rights.
As one of the first openly gay women in Hollywood, she lent courage to members of the LGBTQ community. It was a challenging road to self-acceptance; for a long time she refused to publicly discuss her relationships or sexual orientation. She opened up about her private life only after she began dating Ellen DeGeneres in 2004. She has been willing to talk about the long road to accepting her sexuality — which included her first husband leaving her for her brother's wife. De Rossi is very aware that while she didn't choose to be gay, living her life as an openly gay woman was a choice she had to make.
A sudden and shocking death
While it appeared that de Rossi's decisions had taken her on an upward trajectory, leaving her with a successful television career and a loving relationship, something happened in 2017 that threw at least her career into question: her dynamic character on Scandal went out with a bang, murdered in her office with a golf club.
Elizabeth North's death was a notoriously shocking one for the series. When someone leaves a show in such dramatic fashion, fans are often inclined to wonder whether there is something deeper going on. Was Hollywood done with Portia for good?
Part of the shock factor derived from the gruesomeness of the murder, but most of it sprang from the fact that no one saw it coming. Many deaths in drama series come as surprises, but de Rossi had just been elevated from recurring character to series regular in the previous season. It seemed like things were looking up and that she was becoming an indispensable character. De Rossi was only the second series regular to be killed off the show; the first, Columbus Short, was passed over for contract renewal because of domestic abuse allegations.
No scandal in sight
But for de Rossi, it was the opposite: She had found plenty of contentment, just no longer with acting. According to an interview de Rossi and showrunner Shonda Rhimes gave after her character was killed off, she chose to leave the show and brought it up with Rhimes.
The two have nothing but good things to say about each other. Rhimes describes herself as a longtime fan of Portia who wishes she could hang onto her forever. Portia says that she loved Scandal, but chose to leave because she found a new career direction she was excited about (more on that later). Shonda was "nothing but supportive."
And so de Rossi left Hollywood quietly (a feat in itself). She's since revealed that it was her choice to retire not just from Scandal, but from acting as a whole. She spoke more about this decision on her wife's talk show, The Ellen DeGeneres Show, explaining that as she approached 45 years old, she began to take stock of her life and what challenges she could take on that she hadn't before — especially since she had a pretty good idea of what acting would continue to look like for her.
Silent partner
This quiet exit is on-brand for Portia, who, despite her openness about some aspects of her life, has a record of being pretty quiet in public commentary. In the same interview with her wife, Ellen commented on Portia's aversion to press and talk shows. De Rossi has said that, as "trite" as it may sound, her private life is hers and hers alone, and with the media trying to get as close a look into celebrity relationships and homes as they possibly can, "about the only thing you can control is how you respond publicly."
Portia has certainly exercised a great deal of control over her own public actions and reactions, even when controversy erupts around her. For example, she was noticeably absent when The New York Times sat down with the other major cast members of Arrested Development to discuss the accusations of sexual misconduct and verbal abuse against Jeffrey Tambor.
She was also mostly silent (outside of posting "I Stand With Ellen" on Instagram) when her spouse became the focus of a toxic workplace scandal in 2020. Ellen has since described the quietly supportive Portia as her "rock" during that time.
She might have quit a bit too quietly
Portia's understated personality might be why you still see her in a bit of Arrested Development season five. De Rossi once joked that creator Mitchell Hurwitz essentially "ignored her" when she quit and wrote her into the fifth season anyway. She and Hurwitz had a good, supportive conversation when she quit — and then suddenly she was in five more episodes! But that's all right with her. De Rossi explained that Arrested Development, the show she loves so much and whose cast she has referred to as her "other family," is the only exception to her retirement from acting.
But the actress appears in only a handful of episodes in the fifth season, and most of these appearances are pretty odd, to say the least. As fans quickly noticed, her scenes are mostly green-screened in this season. Lindsay Bluth also develops the habit of covering herself with a sheet, which means that de Rossi is largely hidden from view in a few scenes. She's as distant from Hollywood as she can possibly be.
Now, she's just a member of the general public
Just kidding. She's still quite the celebrity, but she has now capitalized on her art appreciation to start a high-end art printing business and online gallery called General Public.
Whereas her iconic character on Arrested Development had the habit of pursuing new careers with mercurial abandon and pioneering obscure and naive charitable events without much forethought, Portia de Rossi put a lot of thought and effort into her venture, even teaming up with Fujifilm to create a new 3D technology that General Public uses to print its recreations.
She's also involved in a lot of philanthropy, especially animal-related, from the Best Friends Animal Society to the Gentle Barn. She and her wife are responsible for the Ellen DeGeneres Wildlife Fund, and the two traveled to Rwanda in 2019 to officially break ground on the Ellen DeGeneres campus of the Dian Fossey Gorilla Fund. It's safe to say de Rossi has stayed busy even as she takes her creative talents in a new direction.