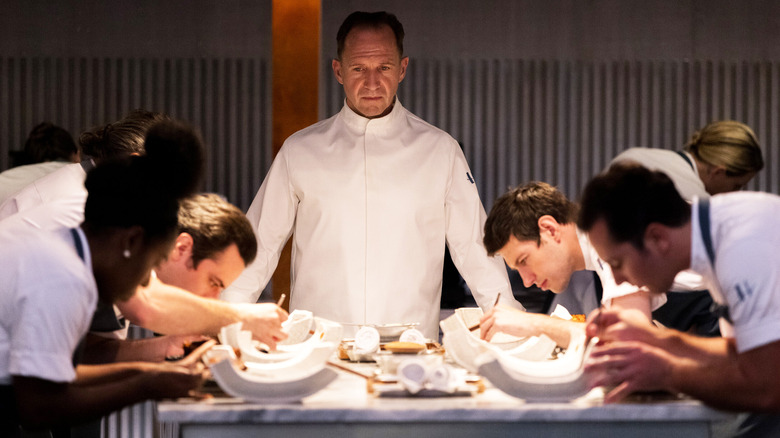 Warning: This article contains major spoilers for "The Menu."
Following in the class-conscious footsteps of horror comedy films like "Ready or Not" and "The Hunt," "The Menu" serves its viewers a deliciously deranged takedown of society's elite members. Centered around an exclusive dining experience on a private island, Chef Julian (Ralph Fiennes) has decided his craft (and life) will no longer be ruled by the demanding whims of wealthy people. With each course, Julian's remaining grip on reality and sanity loosens. By the film's end, he and his burnt-out crew literally go up in flames, damning his impossible-to-please clientele along the way. Director Mark Mylod crafts an impeccably paced film — something the fictional Julian would appreciate — that dials up its tension through each foreboding frame.
Pairing "The Menu" with other horror films about food is an unenviable task. No horror comedy movie balances its thrills, dark humor, and food design as well as Mylod's work. "The Menu" production even had Dominique Crenn craft the film's courses at the level of three Michelin-star restaurants. This film is about the capitalistic culture we craft around food, but the food tells the story. Each plate breaks down the divide between the server and the served. Horror movies that center around food usually discuss something other than its dishes (like the evils of consumer culture in "The Stuff"), so it's refreshing to have a film value its meals. Here, we'll explore how other directors spun edible treats into biting horror films.
Dumplings (2004)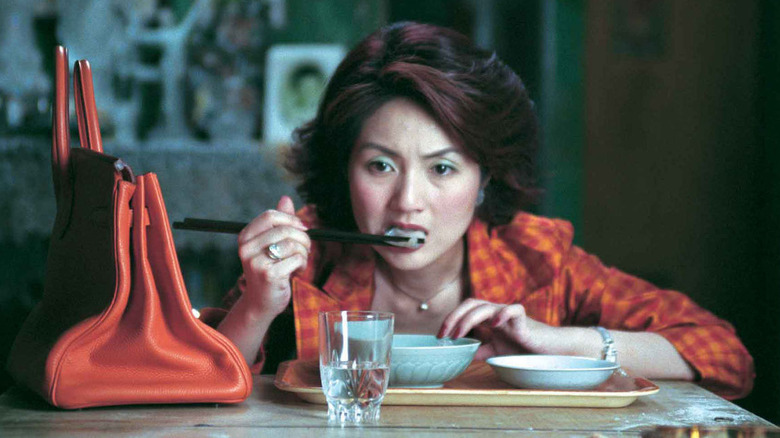 After teaming up to craft the short film "Dumplings" for "Three…Extremes," director Fruit Chen and writer Lilian Lee Pik-Wah released a feature-length version of the harrowing tale. Miriam Chin Wah Yeung stars as Mrs. Li, an aging actress desperate for her philandering husband (Tony Leung Ka Fai) to find her attractive. Mrs. Li discovers a dumplings shop rumored to restore youth and owned by Aunt Mei (Bai Ling), a former gynecologist. While I won't spoil how these dumplings do (or don't) work, I will say that Mrs. Li's obsession to become young again is remarkable to watch on-screen.
In several ways, she reminds audiences of Anne (Judith Light) in "The Menu." She's aware that her husband has affairs with younger women, but she would never dare say it aloud. Both characters carry themselves with pride and are hungry for sexual satisfaction. Dressed to the nines and bejeweled, these middle-aged women regard working-class people like Margot (Anna Taylor-Joy) and Aunt Mei as lowly. Knowing this, you won't feel too bad about Mrs. Li's ill-fated journey. However, what works best in this film is how it visually depicts the dumplings' secret ingredient and the unabashed ways the camera lingers on Mrs. Li biting into the boiled dough. Like "The Menu," it cleverly relies on the suggestive gore entailed in the cooking process than depicting brutality on screen.
Attack of the Killer Tomatoes! (1978)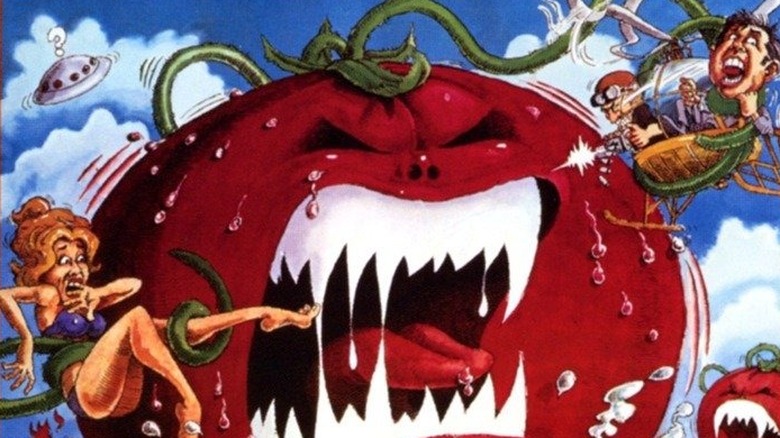 After "Dumplings" or "The Menu," you might be craving lighter horror fare. I got you! 1978's "Attack of the Killer Tomatoes!" unleashes a comedic spoof on the low-budget atomic age-era sci-fi films. This time it isn't a kaiju running amock or a giant spider killing individuals: now mutated tomatoes are out to destroy humanity. The film is delightfully sillier than most imagine, especially as its self-aware cast cowers in fear of unruly vegetables. The film has such a beloved cult following that Atomic Toybox is actively working on a reboot.
At times, it's hard to explain when a film is deliberately or accidentally campy. Camp is a type of broad comedy that hinges on the paradox of being operatic and simultaneously self-serious. The logic of the world makes sense for the characters living there, but for the audience, its absurdity is glaring. 1999's "The Deep Blue Sea" billed itself as a horror film, but its genius-shark premise turned it into camp, whereas John Waters' "Serial Mom" knew it was a satirical comedy about the lengths suburban moms go to for their children's bliss. Fans of the latter will find a lot to love in this splatter-happy 1978 film about killer food.
Fresh (2022)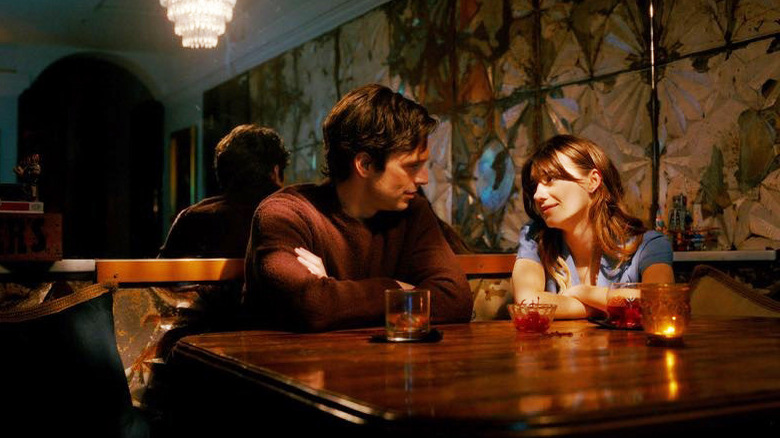 Most people I talked to about "The Menu" assume that the film's big twist will involve cannibalism. Spoiler alert: It doesn't! Based on the trailer for "The Menu," it's easy to see why. There are so many close-ups of their meal preparation that a knowing horror fan will suspect that the camera's lingering eye must mean something is wrong. However, "The Menu" is the one horror film on this list that uses its foodie lens solely to appreciate the dishes, as if they too are characters.
However, if that disappointed you and you're a fan of human-eating monsters, Searchlight Pictures' tackled that subject earlier this year with "Fresh." Yes, that's a light spoiler for the film. (But the film's Twitter presence has already ruined that turn, so if you're reading this you likely know as much about the film.) Similarly to "The Menu," "Fresh" also offers a look at the seedy pleasures and vices the extremely wealthy have.
Noa (Daisy Edgar-Jones) stumbles into this world after dating someone new. Unlike "The Menu," we see a lot of innocent people sacrificed — in one way or another — for the elite's appetite. If body horror and violence against women on screen aren't triggers for you, sit back for an entertaining flick on the perils of online dating and trusting men. Margot would certainly root for Noa's survival.
If you or someone you know is dealing with domestic abuse, you can call the National Domestic Violence Hotline at 1−800−799−7233. You can also find more information, resources, and support at their website.
301, 302 (1995)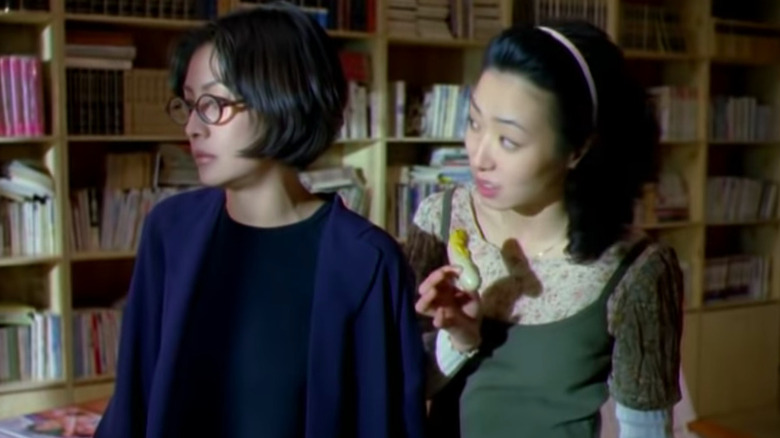 Another cannibalistic classic! Helmed by Park Chul-soo, one of the first South Korea's most proflific directors, "301/302" took a detour from the filmmaker's typically romantic films. Unlike his prior work, this film is a tense, psychological drama with a brutal ending. "301/302" centers on two women living in an apartment building, Chef Song-hee (Bang Eun-jin) and writer Yoon-hee (Hwang Shin-hye). The movie jumps back and forth through time, exploring how these vastly different women approach their hunger (or not) for life, love, and stability. Chef Song-hee discovers that Yoon-hee has a fraught relationship with food. However, don't let that dramatic premise fool you as it's also a bloody mystery. At the start of the film, Yoon-hee is missing and the audience eventually learns why.
Like "The Menu," "301/302" uses food as a metaphor to discuss someone's appetite in life — what they desire and why. But this film focuses more on the despair of living an unsatisfied life. Due to this setup, Yoon-hee's anorexia becomes the crux of the film's central mystery, a fact to know upfront as it doesn't hold back in depicting her struggles with eating. Additionally, it's worth warning gore-adverse and doggie-loving readers that there is a grotesque dog death in "301/302."
If you need help with an eating disorder, or know someone who is, help is available. Visit the National Eating Disorders Association website or contact NEDA's Live Helpline at 1-800-931-2237. You can also receive 24/7 Crisis Support via text (send NEDA to 741-741).
The Stuff (1985)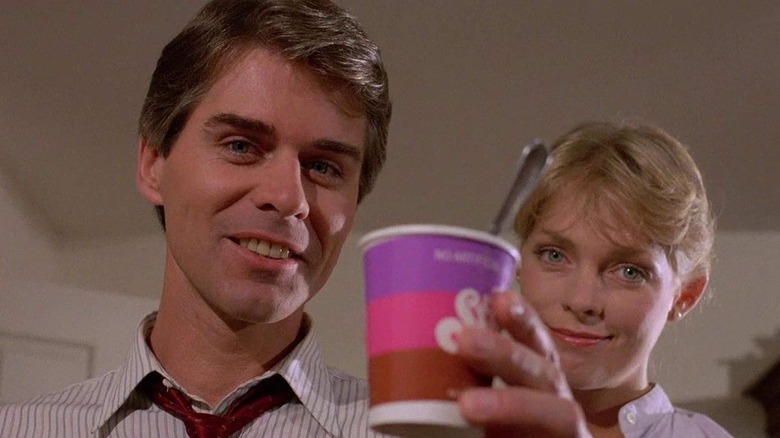 "Enough is never enough of the stuff!" That's a line from the catchy jingle featured in "The Stuff," a film written and directed by Larry Cohen. Is the stuff even food? Nope! Technically, it's a sweet-tasting parasite that destabilizes the ice cream industry once it goes mainstream. Of course, there's a killer catch here. Whoever eats the stuff doesn't live very long as it plots to take over its host, often erupting people into white, frothy bursts of cream. Imagine if "The Blob" and "Attack of the Killer Tomatoes!" had a child, and that's not too far off from what this 1985 horror comedy delivers.
If Chef Julian saw a carton of this stuff, he'd flip a table. However, I think he'd appreciate the film's underlining message. These people are eating, but they're not tasting anything. There's no joy in this food or respect shown for its ingredients. The stuff gives people a quick way to eat something with no calories, but their unsatiable appetite will betray them. Ultimately, "The Stuff" uses its comedic premise to remind viewers of the dangers of a life built around consumer culture: You become a mindless zombie. Is it on the nose? Yes, but that doesn't take away from its overall effective metaphor and zany set pieces.
The Invitation (2015)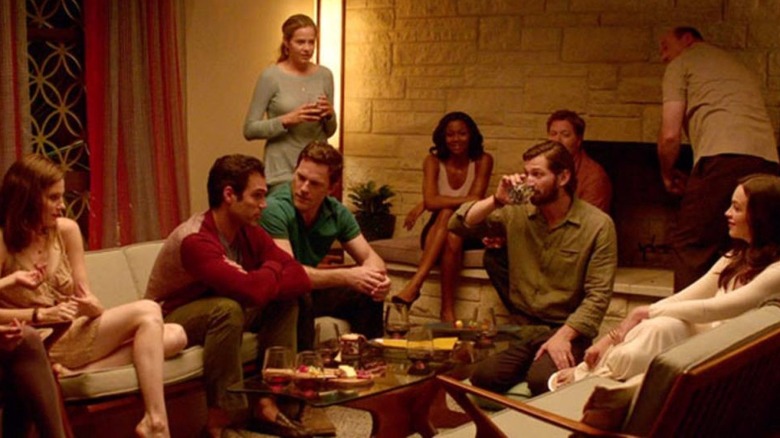 If the thriller aspects of "The Menu" pleased you, set your sights next on 2015's "The Invitation." Like the Anna Taylor-Joy-starring film, "The Invitation" centers on a planned dinner that goes murderously awry. However, this time the dining experience is at Will's (Logan Marshall-Green) ex-wife's (Tammy Blanchard) house. The viewer soon learns that Will and Eden divorced after the death of their son. Directed by Karyn Kusama ("Jennifer's Body"), "The Invitation" is an unsettling, edge-of-your-seat affair.
Similar to Margot, Will senses that something is off with the party. Everyone assumes his feelings are manifestations of his grief and that he's looking for problems that aren't there. (Again, if people only listened to the intuitive Wills and Margots of the world, then maybe some of the party members would have survived.) What comes next is a film that investigates what it means to endure grief and the sad lengths that some go to escape their pain. This film is much darker than "The Menu," though, so go in prepared for several courses of dread.
If you or someone you know needs help with mental health, please contact the Crisis Text Line by texting HOME to 741741, call the National Alliance on Mental Illness helpline at 1-800-950-NAMI (6264), or visit the National Institute of Mental Health website.
Ice Cream Man (1995)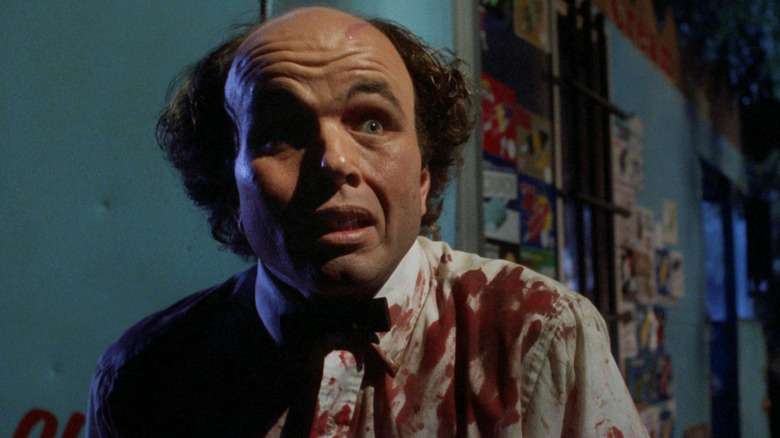 While "Attack of the Killer Tomatoes!" felt intentionally campy, 1995's direct-to-video "Ice Cream Man" definitely slides more into the unintentionally campy category. Now considered a "quintessential cult horror film of the mid-'90s," the dark comedy slasher revels in its gore-filled scenes. If you thought "The Menu" could have used a midnight movie-style treatment, this film will fit that bill. Starring a zany Clint Howard, "Ice Cream Man" follows an escaped mental patient who decides to craft ice cream with human body parts. He kills anyone who ruins his day.
"Ice Cream Man" is not for the weak stomachs in the crowd. (For those who need to know if any dogs die in a horror film before watching it, don't see this one.) But gorehounds looking for unhinged laughs will find a lot to love in this dismemberment-filled concoction. If you wanted Chef Julian to switch his passive aggression antics into full-on murder spree mode earlier on in "The Menu," then look no further than this madcap classic.
If you or someone you know needs help with mental health, please contact the Crisis Text Line by texting HOME to 741741, call the National Alliance on Mental Illness helpline at 1-800-950-NAMI (6264), or visit the National Institute of Mental Health website.
We Are What We Are (2013)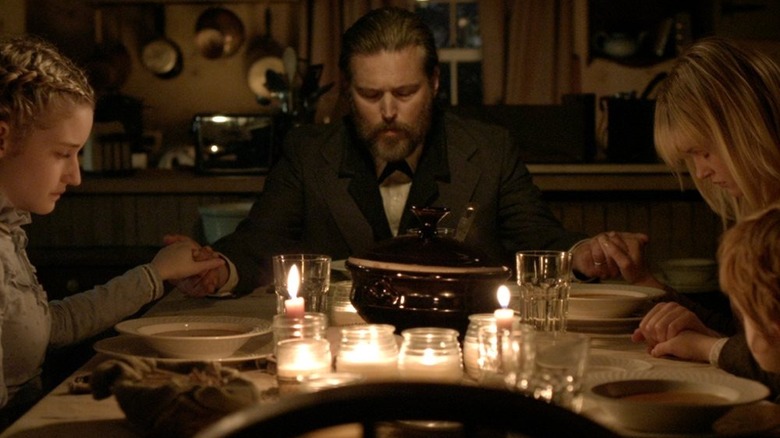 Director Jim Mickle considers 2013's "We Are What We Are" to be an interpretation — not a direct remake — of "Somos lo que hay." I think that's a fair statement as enough creative liberties are taken in his American reimagining, swapping themes of urban plight with rural-based poverty of middle America. In the film's opening scene, a seemingly healthy Mrs. Parker (Kassie DePaiva) mysteriously dies amidst errands. An investigation ensues that uncovers darker truths lingering in the Parker's family past. (Yes, we got another cannibalism flick on this list!)
Unlike "The Menu," "We Are What We Are" doesn't take too long to reveal the murderous tendencies in the Parker family. To its credit, the film hinges its terror on whether or not the Parker children will carry on the family's annual ritual of "Lamb's Day," when they sacrifice, say grace, and eat someone. But a common thread between the two films is the idea of questioning the status quo. Rose Parker (Julia Garner), like Margot, doesn't want to blindly follow protocol. The long-held esteem for the practice in her family makes her the odd one out here, though. Her willingness to find an (arguably) alternative lifestyle propels her story forward. What she does or does not consume becomes a potent metaphor for the roles religion and tradition play in her life. The choice to not eat these values becomes an empowering one.
Raw (2016)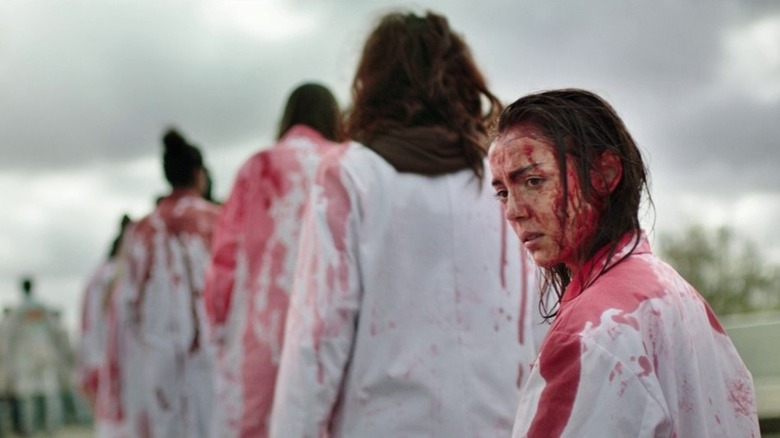 Julia Ducournau's "Raw" is a meaty film. Like other films on this list, what to consume becomes a metaphor. The film focuses on the consequences (and pleasures) of Justine following her appetite. In "Raw," Justine (Garance Marillier), a strict vegetarian, attends her first year at vet school. Amongst hazing rituals, she decides to try eating meat for the first time. Inevitably, this choice leads to Justine questioning what she hungers for in life. Thanks to this premise, this "hunger" can represent a variety of identity-based themes. I see it as a story about queer repression and the internal and external violence that brings.
What strikes me the most about this film's connection to "The Menu" is its focus on individuals' morals. Justine breaks her dietary rules, and tragedy follows. Similarly, when Chef Julian stops cooking for himself only to turn a ridiculous profit, he loses his culinary way. Both films narratively punish their leading characters for losing sight of their values. However, it's equally interesting that these characters' rigidness that dooms them. If Justine had meat earlier in life, maybe what follows wouldn't have been so full of bloody longing? If Chef Julian cooked cheeseburgers every now and again for the hell of it, maybe he wouldn't have had to roast an entire room of dinner guests!
Dead Sushi (2012)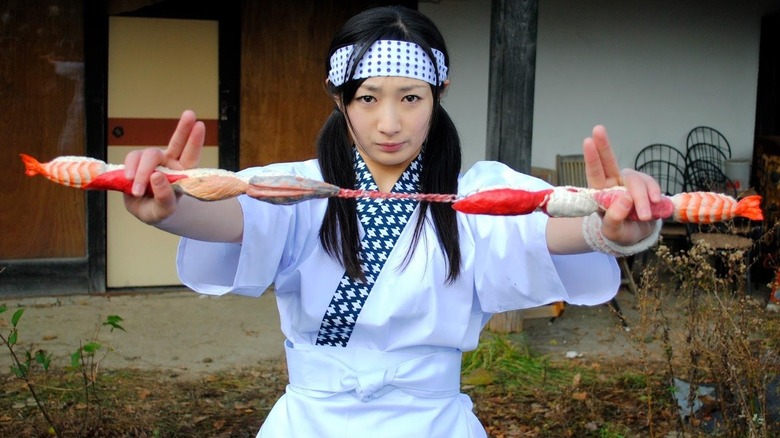 If Japanese splatterfest films are your jam, take a seat and prepare to never think about maki rolls the same way again after seeing Noboru Iguchi's "Dead Sushi." Unlike "The Menu," which used a steady and careful hand to dole out violence, "Dead Sushi" revels in exploitation. If you finished "The Menu" and wondered what the film would have been like if it started with burning people alive as s'mores, this is the bloody midnight movie for you!
Iguchi's film follows Rina Takeda's Keiko, the daughter of a legendary sushi maker. However, she finds him and sushi-making too strict of a lifestyle. (Her dad would probably be besties with Chef Julian, based on that fact alone.) Keiko then decides to work at an inn. Entitled guests make fun of her, but the joke ends up being on them. A researcher unlocks something that turns sushi murderous. Of course, Keiko is the only one to save them from homicidal tentacles and spiky claws. Do they deserve her? No, but Keiko is nicer than Margot.
Takeda has a history of starring in films that showcase her karate skills, and this one is no different. If you can stomach its graphic moments, it's worth it to see how deftly she moves on-screen. While Margot might have saved herself through a meeting of the minds, Keiko wins through her physical strength, determination, and badass martial arts skills.