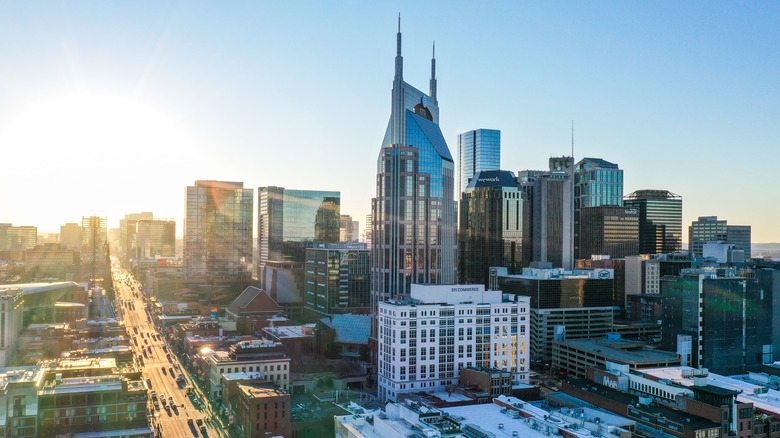 Nashville, Tennessee is known as the capital of country music for a major reason. The city has housed and showcased some of the biggest acts in the game, including legends like Johnny Cash, Dolly Parton, and more. As noted by Nashville Music City, the city began to nurture its identity as a home for musicians and performers in the late 1700s when Congressman Davy Crockett became known for playing his fiddle around town. The city moved into music publishing in the following century, and by the 1930s had established itself as a thriving home for nightlife in general.
While country music might be the genre Nashville is most closely associated with, that's not all that's played in the city. Nashville is also home to a rich spectrum of music and tunes, and currently boasts an impressive array of soul, blues, rap, and gospel performers. The city's most famous venue, the Ryman Auditorium, was built in 1892 and has been a hub of creativity and art since 1904. Beyond that, here is everything music lovers need to know about traveling to Nashville, Tennessee.
The National Museum of African American Music is an incredible experience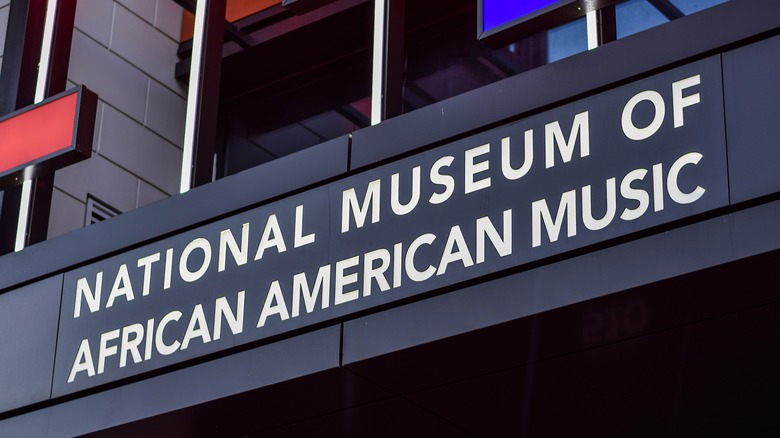 Nashville, Tennessee, is known as a music destination for people around the world. And while a lot of people might most strongly associate Nashville with one image or genre of music, the truth is that the city has always been home to creative people and artistic souls from all races, ethnicities, backgrounds, abilities, and walks of life.
Construction began on the National Museum of African American Music back in 2017, and the museum officially opened its doors in 2021. Nearly every genre of music is celebrated within its walls — country, R&B, rap, soul, blues, and jazz — and the museum impresses upon visitors the enormous contributions that Black people have made to American culture time and time again.
The museum's website explains how the museum aims to connect African American experiences and traditions with creative and interactive technology. Visitors are treated to a wide berth of galleries, documentaries, and experiences (like being able to make your own beats, or putting together a massive playlist from each section of the museum) that showcase and uplift the undeniable impact that Black Americans have had and continue to have on music, and Nashville is lucky to be home to such an incredible journey.
Touring the Ryman Auditorium is a must
If there is one spot in Nashville that just might be considered truly hallowed ground, it's the Ryman Auditorium. The venue, which was originally home to the city's Union Gospel Tabernacle church, is known as the "Mother Church of Country Music" for a few reasons. While founder Thomas Ryman intended the then-church to be a central location for revivals and gospel events, the identity of the Ryman has shifted and meandered through the years. As noted by Nashville Sightseeing Tours, Helen Keller used to give lectures at the Ryman, the Grand Ole Opry is hosted there to this day, and a number of artists and acts including Johnny Cash and Emmylou Harris as well as Coldplay and the Wu-Tang Clan have performed under its roof.
There are a few different ways that visitors and locals alike can enjoy the Ryman in all of its glory. There are guided tours every day from 9:30 a.m. to 3:30 p.m. that include walks through the backstage area, and visitors also have the option to embark on their own self-guided tour if that's preferable (per Nashville Sightseeing Tours). Of course, the best way to see the Ryman is to attend a concert there, and luckily the venue's schedule is on its website and easy to access.
Robert's Western World is a well-known venue for local music
While Nashville certainly has a number of venues that attract ultra-famous acts and individuals from around the world, the city is also home to a number of local venues that can be just as fun to visit (or maybe even more fun). Robert's Western World boasts that locals have voted the spot as the best honky tonk in the city several years in a row. Robert's is easy to find (just look for the telltale cowboy boot sign lit up on lower Broadway).
Robert's is a great place to stop and grab a bite to eat and a drink just about any time of the day, and local acts begin performing as early as 11 a.m. The venue doesn't charge a cover fee at all for any show but does encourage visitors to tip the entertainers and servers (via Robert's Western World).
Nashville's Exit/In is poised to make a comeback
Another local venue that has been historically beloved for decades is the Exit/In. The venue has been a Nashville legend since its founding in 1971 and has hosted acts such as Chuck Berry, Leonard Cohen, R.E.M., The B-52s, The Red Hot Chili Peppers, and many more. It was sold along with a neighboring bar in 2021, and in March 2022 the venue's owners indicated that several acts intended to play the venue that year to say goodbye to the space as they knew it (via Nashville Scene).
Happily, it seems like the Exit/In will live on to host many more bands and acts to come. The new owners at Adventurous Journeys Capital Partners have since announced that the Exit/In will reopen under the same name and for the same purpose in 2023. In fact, live music will be returning as soon as April of this year, The Tennessean reported. Vérité is set to perform on April 1 at Exit/In, with several other acts set to perform throughout the month.
Visiting Nashville's Walk of Fame will introduce you to new artists
Nashville is the type of city that celebrates music and artists every chance it gets in as many ways as possible. As much as Hollywood, California, boasts its own Walk of Fame, Nashville has a Walk of Fame that can serve a number of purposes. In addition to visiting the stars of your most beloved singers, songwriters, and performers, the Walk of Fame might just introduce visitors to a few names that are new. Before you know it, you might have a new favorite artist, or a reignited love for an artist you haven't listened to in far too long.
Visiting the Walk of Fame is easy, as the area is free and open 24 hours a day, so visitors can come anytime. It's pretty easy to find once you're in downtown Nashville — just navigate to Demonbreun Street between 4th and 5th Avenues South.
Stars on the Walk of Fame include Trace Adkins, Johnny Cash, Patsy Cline, Little Richard, Keb' Mo', Cece Winans, Trisha Yearwood, and many others (via Visit Music City).
Johnny Cash used to escape to the Storytellers Hideaway Farm
Johnny Cash is one of the most famous musicians associated with Nashville and the singer lived in nearby Hendersonville for years with his family. He also spent a lot of time at the Storytellers Hideaway Farm approximately 45 minutes outside the city (via Nashville Music City). Cash took over ownership of the farm unexpectedly in the 1970s after finding out his accountant had been taking money from him and buying homes and properties. It turns out the farm was one of the properties, and Cash fell in love with the 107 acres (via Storytellers Hideaway Farm).
Curtis Lyell and his family bought the farm following Cash's death and began restoring the property, which is now a museum. The grounds are also home to the "One Piece At A Time" Cadillac, which commemorates Cash's song from 1976 about an assembly line worker who dreams of one day owning a Cadillac.
The 5 Spot became famous after being featured on Nashville
Fans of the TV show "Nashville" were introduced to a lot of music venues around the city throughout the show's run. One of these venues is The 5 Spot, a small dive that regularly features local bands on stage. Most shows at The 5 Spot will only set you back $10 and the venue is strictly only open for those who are 21 years and older. The 5 Spot made its debut in "Nashville" early in season one when Avery Barkley and his band played the venue in the second episode.
As reported by The Nashville Bridge, even though the show bearing the city's name was ultimately canceled, it proved to be lucrative for many venues in the city itself. The outlet reported that while the country music-focused series might not be for everyone, every episode brought in an estimated $4 million in revenue for the city.
Loretta Lynn's famous ranch is just out of town
Loretta Lynn is yet another name who is synonymous with all things country music in Nashville, Tennessee. Lynn and her husband were looking for a home for their family in the late 1960s when they found the former plantation home and purchased it and 1,450 surrounding acres for $220,000. The pair spent quite some time renovating the home before moving into it in 1967. They started their ranch in the 1970s, and the home continued to operate as such in the decades that followed (via The Clio).
The ranch is located about an hour outside of Nashville, but fans of Lynn's as well as anyone who appreciates history will likely find that the trek is worth it. Visitors can tour the home as well as three museums that are on the property. These include the Native American Artifact Museum, the Grist Mill Museum, and the Coal Miner Daughter's Museum (per Nashville Music City).
Nashville has a thriving R&B music scene
Country music is a major part of the culture of Nashville, Tennessee, but it isn't the only genre of music that thrives in the Music City. As local soul singer Anita Jay has covered extensively, the city celebrates all genres of music including soul, gospel, new age, and punk.
Nashville also boasts an impressive cadre of R&B artists. As noted by NPR, the Country Music Hall of Fame hosted an exhibit that showcased the impact of soul music in the city from the 1940s to the 1960s, and these days a number of artists are living and working in the city. Emoni Wilkins told the national news outlet that she was already living in Nashville when she was approached about joining a TV show being produced in the city. Wilkins has been joined by other artists like Jason Eckridge to revitalize the city's R&B scene by uniting artists who work in similar fields and share a passion for similar types of music.
These days, visitors and locals seeking R&B music in Nashville have a number of spots and venues to choose from. The 5 Spot hosts Sunday Night Soul twice a month and 3rd and Lindsley boasts its own soul music series, just to name a few.
Nashville is full of Dolly Parton landmarks
If there is one artist who just might truly embody the best parts of country music and all things that make Nashville the city it is, it's living legend Dolly Parton. Just as Parton has given so much of herself to country music, country music's capital city has given a lot right back.
Parton might not have been born in Nashville, but the city is where she began and built her storied career. There are a number of landmarks dedicated to Parton throughout the city. As noted by Fodors, these include an exhibit and poster at the Country Music Hall of Fame and the famous RCA Studio B, where Parton recorded several of her hits, including "I Will Always Love You" and "Coat of Many Colors." The studio is also where other well-known artists like Willie Nelson and Connie Smith recorded. Parton also has a spot on the Music City Walk of Fame, which is easy to find on the sidewalk across from the Country Music Hall of Fame downtown.
Visitors who are looking for a more immersive experience in Nashville might enjoy a stay at the Graduate Nashville hotel, which boasts a Dolly Parton-themed room as well as an animatronic fox that covers Parton's song "Jolene" (via Fodors).
Nashville is in the midst of a rap music rebirth
Music fans know that Nashville is steeped in country, gospel, R&B, and blues, but the city is also enjoying a transformative period in its rap scene. As Nashville Scene noted in 2022, a number of local rappers are taking over and pushing the city to grow and expand its musical horizons.
The outlet sat in at the monthly showcase Vibes, which features six rappers and singers who all performed onstage at The Dive Motel. The article notes that rap has a long history in the city, going all the way back to 1987 when local rap trio The Blow Pop Crew released their first record "Drop the Bass" and were met with success. The group was soon performing along with NWA and 2 Live Crew before a member ended up in jail. Things in Nashville's rap scene paused for a bit until Pistol released his debut album in 1994.
Nashville's rap scene rose in prominence in 2004 when Young Buck broke through with "Straight Outta Cashville," though the genre didn't crack the city's surface. These days, there are a number of local performers and groups who are on the verge of making it big, and as Nashville Scene notes, they just might pull it off.
RCA Studio B gave birth to the Nashville Sound
There are a number of music and recording studios in Nashville, but the most famous of them all has to be RCA Studio B. Credited with giving birth to the "Nashville Sound," the studio has seen a number of hits recorded within its walls. Visitors to the studio can tour the same rooms where some of the biggest tracks in country music were laid down.
The Country Music Hall of Fame offers a lot of detail and history about the museum. Artists who have recorded within its walls include Dolly Parton, Chet Atkins, and Charlie Daniels, all of whom were in the studio between 1957 and 1977. The museum also shares that Elvis Presley used to show up late at night to record, and modern artists such as Carrie Underwood still come to the studio for their own work.
Tickets to visit the museum begin at $38, and the tours run from 10:30 a.m. to 3:30 p.m. and are one hour long. The studio is open every day except for three: Thanksgiving, Christmas Eve, and Christmas Day (via Nashville Music City).
Jack White's Third Man Records is worth a visit
Jack White was launched into fame as one-half of The White Stripes years ago, and these days he lives in Nashville, Tennessee, where he opened up Third Man Records in 2009. The Nashville spot features a lounge, a record store, a photo studio, offices, and even a venue where acts can perform live.
Third Man Records actually began as a location-free business designed to make it easier for The White Stripes to establish deals with larger record labels. Third Man helped the band license their songs to these larger labels, allowing them to retain control of their work beginning in 2009 when the rights came back to Jack White. After establishing the brick-and-mortar location, White began selling his songs on vinyl. Third Man expanded to White's hometown of Detroit, Michigan, in 2015 (via It's Psychedelic Baby Magazine), and currently boasts 28 employees in Nashville and 40 in Detroit.