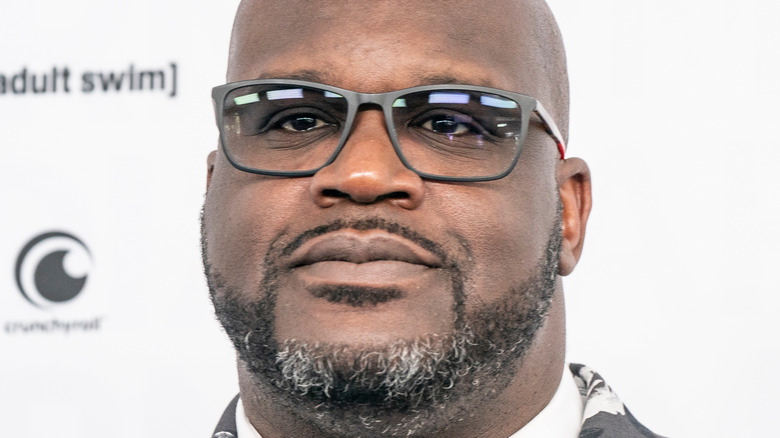 When a sports star makes a physics-defying goal with only seconds left in a season-defining game, they can almost seem invincible. Of course, that is far from the case. Sure, they are capable of what many of us consider to be superhuman feats, but at the end of the day, pro athletes are but human beings. If you watch enough sports, you've certainly seen star players be sidelined by injuries sustained during matches. And though we've seen many bounce back from said injuries, it isn't always so easy. Again, they are but human beings.
While some athletes have dealt with a pulled hamstring or a ruptured Achilles tendon, others have been reminded of their own mortality following close brushes with death. One star, for example, decided to change his life for the better after a tragic accident, while another retired and hung up his sport for good. There's even a real tear-jerker story that sounds like something you'd see on the big screen. Without further ado, here are some athletes who have opened up about their near-death experiences.
Chris Johnson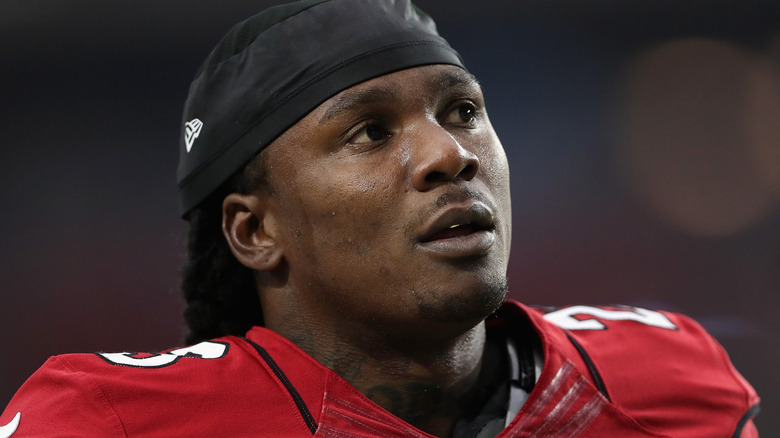 Retired NFL running back Chris Johnson could've easily lost his life when he was shot in his hometown of Orlando, Florida, in March 2015. According to TMZ, he was in a vehicle with two other men at the time, and the driver, Dreekius Johnson, was shot and killed. Chris was in the passenger seat and took a bullet in the shoulder, which broke his collarbone. He talked about the horrible incident on the "I Am Athlete" podcast in 2022.
"We're at the red light, just happened so quick," said Chris. "[I] just hear windows shattering … One of my other friends in the back seat, my other friend driving … So I'm sitting there and the next thing you know, I look to the left, I see one of my friends, he's leaning on the horn. He gone. I shake him, like, wake up, wake up … I call my homeboy in the back seat, he's talking to me … We go to the hospital."
Chris — who posted a photo of his bullet wound — also explained that he thought his NFL playing days were over since he was having serious problems with his right hand. But during the offseason, the Florida native received the necessary treatment and returned to the NFL in the 2015 season as a member of the Arizona Cardinals.
Lamar Odom
After splitting with his ex-wife Khloé Kardashian, Lamar Odom nearly lost his life in 2015 at the Love Ranch, a brothel in Nevada. Later it was reported that he suffered a dozen seizures and six strokes after passing out. It was all from ingesting cocaine, as well as 10 doses of Viagra, per the Los Angeles Times. He then spent nearly three months in a Los Angeles hospital, before heading to a rehab facility.
Odom talked about his near-death experience in 2019 on "Good Morning America" and explained why he went to the Love Ranch with drugs in the first place. "I was just thinking about trying to go have fun," said Odom, whose heart reportedly stopped twice during the ordeal. "I wasn't thinking, being selfish."
Then after recovering, Odom turned into a busy beaver, releasing his memoir "Darkness to Light" and appearing on TV shows like "Dancing with the Stars" as well as "Celebrity Big Brother 3." He got engaged to fitness coach Sabrina Parr as well before they split. But based on what Odom told the Los Angeles Times in 2019, he's just happy to be alive. "My doctors say I'm a walking miracle; they're amazed that I'm here," he said. "When I woke up and I couldn't talk or walk I never thought I would be here. I never thought I would play basketball again or talk to you. Just to be here is a win for me."
Keyontae Johnson
"I would say I'm blessed to be here … There's just not a lot more to say than that."
Those are words spoken by former University of Florida basketball player Keyontae Johnson during an interview with FloridaGators.com. He was talking about collapsing during a game in Tallahassee in December 2020 while playing against Florida State. Luckily for Johnson, there was a cardiologist who was sitting near the floor, who quickly leaped into action. "I was passed out. I could have died. She jumped out on the court and saved me. If it isn't for her, I may not have had a second chance in life. You just can't take life for granted," he stated.
But after being in critical condition, placed in a medically induced coma, and checked out by a team of cardiologists, the then-21-year-old was able to join his team just three weeks later. Johnson was advised against playing, however, so he helped his team and coach on the bench. Then fast-forward 15 months after collapsing, and Johnson started in a game on Senior Day against the Kentucky Wildcats, playing for 10 seconds. It was a way for his coach and team to honor him. Later, he transferred to Kansas State to play for the Thorobreds. As of 2022, the reason that Johnson passed out hasn't been revealed.
Serena Williams
In a 2022 piece for Elle magazine, Serena Williams wrote about a harrowing experience that she went through after giving birth to her daughter Alexis Olympia Ohanian Jr. in 2017. In 2010, Williams was diagnosed with blood clots in her lungs, and that same health issue resurfaced after her little one arrived.
After having a C-section, Williams told the nurses and others that she was in pain. She was experiencing heavy coughing on top of that and couldn't move her legs or back. It was later determined that Williams had a blood clot in one of her arteries, as well as other clots that doctors had to keep from moving to her lungs. Plus, she had other health issues and had to undergo four surgeries.
The thing is, based on Williams' account, the blood clots were determined after she demanded a CAT Scan from the nurses, who initially dismissed her pain. "I fought hard, and I ended up getting the CAT scan," wrote the 23-time grand slam winner. "They needed to insert a filter into my veins to break up the clot before it reached my heart." In the same feature, Williams wrote about the importance of being heard by doctors after trying desperately to convince them that something was wrong. "Being heard and appropriately treated was the difference between life or death for me," she scribed.
Erick All
While this story may sound like something straight out of a tearjerker of a movie, it wasn't crafted by a team of screenwriters. This is the real-life story of University of Michigan football player Erick All, who almost died in a house fire in Indiana when he was 5 months old. His parents recounted the incident in a Big Ten Network segment.
The day was February 13, 2001. Erick's father, Erick All Sr. was home with him, while his mother Kelly All was at work. After the fire broke out, a tiny Erick was in his playpen, trapped in his bedroom. But his father couldn't get to him because of the thick smoke. Someone else did, however: Firefighter Tom Broyles rescued the infant through a window. Erick's little body appeared lifeless at first. That was until EMT Shawn Phenis gave him mouth-to-mouth resuscitation. "I don't think Erick really understands how close he was to dying. He really was dead," Erick Sr. said.
Ready for the tears? Years later, Broyles saw that same kid score a touchdown in the 2021 Big Ten Championship. Broyles' wife reached out to Erick's mother over social media after the game, and the families reconnected. "I just thanked them so much. If it wasn't for the firemen, I wouldn't be here," Erick said.
Lerone Murphy
So, why was the mixed martial artist Lerone Murphy wearing a bandage around his head in an Instagram photo that he posted in May of 2022? It was due to having a nasty accident on his bicycle that almost took his life. But it wasn't just the accident that almost did Murphy in, according to his post. It was how long it took for help to arrive.
"I can't catch a break. Another near death experience," wrote Murphy in the caption of his photo. "Yesterday while cycling, a oncoming car turned right without looking and we collided at speed. Which caused a nasty head wound. The ambulance took 45 minutes to arrive which nearly caused me to bleed out. Im here still breathing for a greater purpose clearly."
Murphy's nickname is "The Miracle," which seems more than fitting. That's because the bicycle accident was his second brush with death, as he indicated. In 2013 when he was 21 years old, and before becoming an MMA fighter, Murphy was shot in the face, later detailed by talkSPORT. In 2019 he told MMA Fighting the shooting got him to turn his life around and start training, a decision that led to his professional fighting career.
Shaquille O'Neal
Shaquille O'Neal helped to lead both the Los Angeles Lakers and Miami Heat to NBA titles, but by his own admission, he was far from a leader as a young person growing up on a military base in Germany. But one incident from his teen years would change O'Neal forever. As reported by Fox Sports, he shared the story in 2022 at an event called "An Evening with Shaq."
After a night out, some of O'Neal's buddies went for a drive without the future NBA star. "They decided to drive in Germany during a winter storm. Something told me not to get in the car, and I didn't get in the car, and everybody in the car passed away," he recalled. "After that, I was like, 'you know what, I have to be a leader. I can't just follow guys because I'm trying to be cool.'" And how's this for O'Neal putting his days of following others behind him while becoming a leader? In 2012, he received a doctorate from Barry University in guess what? Organizational learning and leadership.
Paul 'Triple H' Levesque
In 2022, WWE legend Paul "Triple H" Levesque announced his retirement. This decision came about following a scary episode involving his heart the year before. Detailing the ordeal to Stephen A. Smith on "Stephen A's World," Levesque described first having shortness of breath, which he felt after being on a grueling work schedule. But he thought the ill feeling was COVID-19.
Then after getting tested for the virus and coming up negative, Levesque found out that he had viral pneumonia. That was before he learned there was fluid in his lungs and heart. From there, Levesque, who was experiencing heart failure, received a text message from one of his doctors that said he should pack a bag and head to the emergency room. At one point in the interview, he got emotional. "There's moments when they're putting you out for stuff and you think, 'Is this it? Do you wake up from this?' That's tough to swallow … It makes you think differently about life," Levesque explained.
Thanks to his physicians, he was able to return to his family but don't expect him to see him wrestle any time soon. "As far as in-ring … I'm done. I will never wrestle again," said the 6'4" star. "First of all, I have a defibrillator in my chest, and it's probably not wise for me to get zapped on live TV."
Paul Pierce
Just like any professional sports star, Paul Pierce has seen his fair share of ups and downs in his career. But his biggest challenge was probably dealing with the aftermath of being stabbed eight times in Boston at a place called Buzz Club in 2000. He was playing for the Boston Celtics at the time.
"I caught myself talking to some young ladies. … Next thing I know, one of the young ladies, I don't know if it's her dude, I don't know what," said Pierce in 2020 while talking about that night on the "All the Smoke" podcast. "Next thing I know a guy approached me like, 'Don't talk to her' … Next thing you know I'm in a tussle with him. … I was fighting with three guys. … I didn't even know I was being stabbed. … I look up, my jacket is ripped, blood everywhere, [it's] leaking down my face."
After arriving at the hospital, Pierce said he kept asking the medical professionals if he was going to die. He also suffered mentally and emotionally afterward, saying that he couldn't sleep, hired 24-hour police surveillance, and began carrying a weapon. William Ragland, the man who stabbed Pierce, was found guilty in 2002 and sentenced seven to 10 years, per the New York Post. Another man, Trevor Watson, received a one-year sentence for striking him during the attack, while a third man, Anthony Hurston was acquitted on all charges, as per The Washington Post.