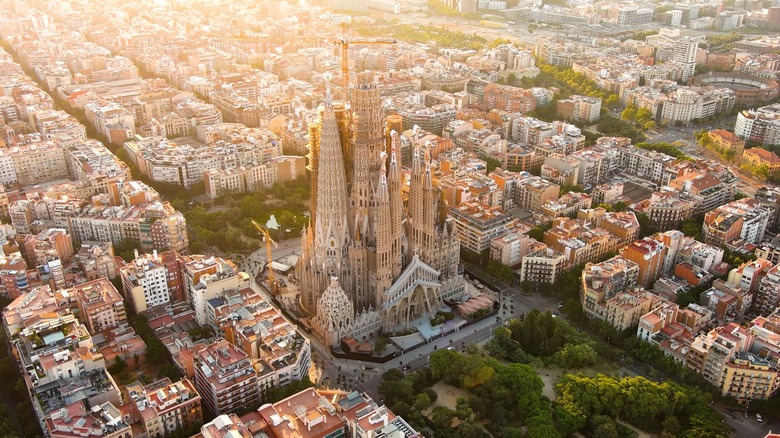 If you're looking to plan a short yet sweet trip, there are plenty of great weekend getaways across the globe, including Barcelona, Spain, which should definitely top your list. There are several reasons why Spain should be your next dream destination, but Barcelona in particular is a special gem that offers the best of Spain mixed with its own unique heritage. That's because Barcelona is actually the capital of Catalonia, an autonomous region in the northeastern corner of the country that boasts a unique history, dialect, and cuisine.
What's more, Lonely Planet finds that Barcelona is a great spot for both short and long stays. It's a bustling, vibrant metropolis that has plenty to keep you busy, but its city center is compact enough that you won't waste time moving from one attraction to another. Not to mention public transit is fast, affordable, and reliable. Another major selling point is the diversity of activities you'll find. It's not just folks looking for a beach vacation who'll love Barcelona, although there are plenty of great beaches to enjoy right in the city. As Culture Trip notes, everyone should visit Barcelona at least once in their lifetime to experience its rich history, thriving art scene, unique regional cuisine, and unrivaled nightlife. Here's how to plan the perfect three-day getaway to Barcelona.
Master some basic Spanish phrases
Barcelona may be in Spain, but it has a history and culture all of its own, as well as two official languages. According to Barcelona University, 98% of folks speak Castilian (or the Spanish spoken in the rest of the country), but a large majority also speak a different, regional version of Spanish called Catalan. If you'd like to master some basic phrases before taking off on your getaway, you may want to stick with the more widely spoken Castilian. First things first: greetings. As Rosetta Stone notes, you can say "hello" as "hola" and "goodbye" as "adiós" or the more informal "chao." Being polite in the local tongue also always goes a long way and you can say "por favor" ("please"), "gracias" ("thank you"), "sí ("yes"), and "no" ("no").
If you'd like to go one step further and introduce yourself, you can tell people your name by saying "Me llamo [name]," then ask for theirs by saying, "¿Cómo te llamas?" You can also ask a local how they're doing — "¿Cómo estás?" — and let them know you're doing well — "Estoy bien, gracias." At that point, you may want to swap back to English. Busuu offers a few key phrases to keep in mind: "No entiendo" ("I don't understand"), "No hablo español" ("I don't speak Spanish") and "¿Habla inglés?" ("Do you speak English?")
Choose the right accommodation
Barcelona is a large city with an array of buzzing, tourist-friendly neighborhoods, which can make choosing the perfect place to stay tricky, but you'll want to select the area that best speaks to your travel style. Breaking down some of the top spots for tourists, blogger Santorini Dave recommends Barri Gòtic (the historically-rich city center), El Raval (the hipster part of town full of bars and museums), and the Barceloneta 'hood right on the beach. There's also Poblenou, which is all about nightlife, but according to The Nomad Advisor, El Born is the coolest place to set down roots because it has plenty of historical charm and is buzzing with life and energy. Finally, there's Passeig de Gracia with its swanky, luxurious options, while Gràcia serves up bohemian vibes.
When it comes to hotels, the Kimpton Vividora Barcelona in Barri Gòtic will put you in the middle of the action, as it's just steps away from the famous Las Ramblas, the buzzing tree-lined pedestrian street considered to be the heart of the city. For a budget-friendly option that doesn't compromise on design, there's Motel One Barcelona-Ciutadella near the Arc de Triomf, or, if you want to splurge, Mandarin Oriental, Barcelona on Passeig de Gràcia is a five-star option. Meanwhile, Telegraph ranks Soho House Barcelona by the marina as its fave because its luxurious accommodations can't be beaten.
Tuck into delicious cuisine
Gastronomy lovers will be quick to discover that Barcelona is a foodie paradise. Whether you'd prefer to eat at a historic hole in the wall or a lavish Michelin-starred restaurant, this city has something for everyone. What makes its culinary scene extra special is that it features the best of Spanish cuisine, as well as unique Catalan specialties. Some must-try dishes include paella, gazpacho, and patatas bravas, per Celebrity Cruises. When it comes to food born in Barcelona, you'll want to savor potato bombas (deep-fried mashed potato balls that are top-rated at La Bombeta) and esqueixada, a zesty salad made with shredded salt cod, tomatoes, onions, olive oil, and vinegar. According to TasteAtlas, Taverna El Glop has the best esqueixada in the city. And because Barcelona is right on the sea, fresh seafood is also a must. La Paradeta, founded in 1994, has hundreds of five-star reviews on TripAdvisor, as does the famed La Boqueria market where you can sit at a counter and enjoy mouth-watering dishes.
If you'd like to rub shoulders with locals, Eater's essential stops include Cañete for tapas, Churrería J. Argilés for the classic churros and hot chocolate combo, and Cova Fumada, one of the oldest restaurants in La Barceloneta. You also can't leave Barcelona without trying pintxos, unique bar snacks native to the Basque region of Spain. Finally, if you're looking for fine dining, The World's 50 Best highlights Alkimia and Lasarte, which serve up inventive takes on Catalonian and Basque cuisine, respectively.
Hit a memorable bar
If you're searching for delicious libations, Barcelona has you covered. Eater recommends getting your fix of beers at BierCaB (choose from 30 on-tap brews) while Bar Brutal is all about wine, featuring both a wine shop and a wine-centric restaurant. Alternatively, if you're searching for memorable cocktails, Barcelona is home to three of The World's 50 Best Bars for 2022. Those include Two Schmucks, Sips, and Paradiso, which was actually ranked No.1. The latter offers a truly memorable experience as you walk into a pastrami shop for a sandwich, then walk through a freezer door into the speakeasy space. There, you'll be met with unique drink offerings, like the 'Great Gatsby' made with whisky, white truffle honey, amaro, and lavender essence.
Other top bars in the city include Caribbean Club, a rum bar that opened in 1974, and Ideal Cocktail Bar, which has been focusing on classic cocktails since 1931. Culture Trip also loves El Xampanyet, an eccentric local hangout serving cava (sparkling wine made in Spain) while Time Out ranks Dr. Stravinsky as its go-to fave bar in Barcelona. The outlet gives it five out of five stars and recommends trying the Camp Nou, which it promises is different from any cocktail you've had.
Enjoy an epic beach day
When you think of a trip to Spain, you likely envision yourself carving out plenty of time to bask in the sun and enjoy a beach day or two. One thing to keep in mind, however, is timing. Yes, Barcelona is a sunny Spanish city with plenty of beaches right in the city center, but it's not exceedingly warm all year round. Indeed, temperatures dip quite a bit at the start and end of each year and can hit the low 50s. That doesn't exactly make for great sunbathing weather, so if you have your heart set on enjoying the sand and surf, you'll need to aim to travel between May and October.
As for the beaches themselves, you won't be short on choices and, better yet, many of them are easily accessible by foot or public transit. The city's most famous (and most central) is Barceloneta Beach. Here, you can rent an umbrella and lounge chair for the day, enjoy a refreshing dip in the water, and easily break for lunch by popping into one of the many nearby restaurants. Alternatively, Planetware recommends visiting Bogatell beach, which is home to an older crowd and more activities, including volleyball nets, kayak rentals, and kitesurfing lessons. Just a bit further north, you'll find Mar Bella beach, which should be your go-to if you're looking for a more relaxed vibe with fewer tourists, less vendors and more locals.
Take in art and culture galore
Barcelona has a rich artistic heritage and, throughout the decades, it has played home to some of the biggest artists in the world. As Frommer's notes, architect Antoni Gaudí is undoubtedly Catalonia's superstar native son, but greats like Pablo Picasso and Joan Miró have also spent time in the city. Today, you'll find their work immortalized in a number of impressive museums, namely the Museu Picasso, which is home to over 4,000 pieces of art, and the Fundació Joan Miró, which has hundreds of paintings and sculptures and almost all his prints. Meanwhile, the massive Museu Nacional d'Art de Catalunya prides itself on showing a thousand years of art history under one roof while the MACBA Museum of Contemporary Art of Barcelona and CCCB: Centre de Cultura Contemporània de Barcelona cater to contemporary art lovers. Time Out also recommends visiting the Fundació Antoni Tàpies, which the Barcelona-born painter built himself to show off his art, as well as that of other contemporary artists.
If you're looking for something more unique, CN Traveler recommends MUHBA Refugi 307, a preserved bomb shelter from the Spanish Civil War, as well as CaixaForum Barcelona, a space dedicated to presenting exciting temporary exhibitions. Last but not least, there's the excavation site known as El Born Centre de Cultura I Memòria, which will give you a glimpse of city ruins dating all the way back to the 1700s.
Walk in Antoni Gaudí's footsteps
Whether you're an architecture buff or not, Antoni Gaudí's work is not to be missed. The Catalan architect (who was born in 1852 and died suddenly in 1926 when he was hit by a tram) left a permanent mark on Barcelona with his unique style. If you only have time to take in one of his works, make it La Sagrada Família. It's Barcelona's most recognizable building, not only because of its over-the-top design but because it's still under construction. Work began in 1882, per Britannica, and won't be finished before 2026. The sheer size of the church, combined with the design and energy of the place, will surely blow you away. In other words, there's nothing quite like it anywhere else in the world.
If you have more time to devote to Gaudí, there are several other UNESCO-listed buildings that are also must-sees. Blogger Nomadic Matt highlights Casa Batlló (its skull-like balconies will stop you in your tracks), Palau Güell, and the famed Park Güell. There's also La Pedrera with its stunning roof full of Insta-worthy chimneys and Casa Vicens, the first home Gaudí completed which only opened to the public in 2017 after a full restoration. Another recent addition to the tourist circuit is The Bellesguard Tower, a private home opened to tourists in 2013.
Have the ultimate night on the town
Barcelona is known for many things and its vibrant nightlife definitely tops the list. The city has plenty of options for anyone looking to party the night away, but as Barcelo notes, there are some things that may take you by surprise. Before heading out to a club, you'll want to remember that folks in Barcelona like to do everything later than what you're probably accustomed to. That means that dinner usually starts around 9 p.m. and so, people won't be showing up at clubs until midnight. If that sounds incredibly late, consider that most venues will keep their doors open until 6 a.m., per Nightflow. Indeed, the city takes its partying seriously and on Saturdays, the subway runs nonstop through the night, so you never have to worry about getting home.
Now, for the best places to dance the night away. Culture Trip crowns Razzmatazz as Barcelona's top nightclub because it has something for everyone. The huge space is made up of five different areas, bringing together a variety of musical genres. The Loft, for example, plays techno while Pop Bar focuses on pop (of course) and the Rex Room hosts live concerts from major names. The outlet also recommends paying a visit to Pacha Barcelona for its beachfront terrace, as well as Opium Barcelona on Barceloneta beach if you're looking for the most luxe experience around, complete with the strictest dress code in the city.
Hit the road for a day trip
While there is plenty to do in Barcelona to keep you busy during a three-day getaway, if you'd like to get a bit further afield and explore outside the city center, there are some fantastic (and easy) day trips you can take. Planetware recommends traveling about an hour by train to see Montserrat and its stunning 11th-century monastery. The historic building is surrounded by a breathtaking mountainous rock formation, making Montserrat a natural wonder and one of the prettiest spots in the region. Le Long Weekend also suggests taking a half-hour ride on the high-speed train to explore the city of Tarragona and see its Roman ruins. Alternatively, a 40-minute train ride will deliver you to the picturesque town of Girona, which boasts medieval walls and a historic center. However, its Jewish Quarter is the real stunner. As Earth Trekkers notes, the 500-year-old area is one of the best preserved in the world.
A few other options, per Planetware, include Sitges, a resort town with an impressive 18 beaches which is just 20 minutes from Barcelona by train. There's also Figueres, the birthplace of surrealist artist Salvador Dalí. In just under an hour by train, you'll arrive at the Dalí Theatre-Museum. This sprawling museum is housed in the painter's former home and includes an incredible collection of his art, as well as the crypt where he was buried.
Embrace your inner soccer fan
Barcelona is a soccer city. Or, as they say in Europe, a football city. Given that its home team, FC Barcelona, was ranked first in Spain's football league, La Liga, as of January 2023, it's really no wonder that Barcelona lives for soccer. The game is part of its DNA and, regardless of your knowledge or enthusiasm for the game, no visit to the city would really be complete without a little Barça.
One great way to learn more about the sport is by visiting the team's home stadium, Camp Nou. It's the biggest stadium in Europe (it boasts an impressive 99,354 capacity!) and is open for various tours throughout the year. The most basic visit includes a stop at the Barça Museum, as well as Camp Nou itself, including a walk through the stands and field. If you'd like to upgrade your experience, you can also see the players' changing room, the pressroom, and even have professional photos taken throughout your visit. Another great option is to take in a live match. Purchasing tickets for a game is easy and can be done directly through the FC Barcelona site. You can take your pick from a standard seat (prices start at 49€ or about $53), a VIP seat (which comes with access to the VIP lounge and catering), or choose the ultimate Players Experience, which lets you watch all of the action from right behind the players' bench.
Attend an unforgettable music festival
Barcelona may be fanatical about its soccer, but it's also passionate about live music. In fact, the city plays host to a number of memorable music festivals throughout the summer, which are guaranteed to make for an unforgettable trip. There are six main festivals to choose from, according to Spain's official tourism site, spanning a number of genres and catering to a wide variety of music lovers.
The biggest and most popular is Primavera Sound, which has been going strong since 2001. It runs for four days in the first week of June at Parc del Fòrum and brings together major headliners, like Kendrick Lamar, Calvin Harris, and Depeche Mode, as well as up-and-coming artists. Another summer staple is Sónar, founded in 1994, which runs for three days in mid-June and is the city's oldest electronic music festival. Other highlights include July's Barcelona Beach Festival (focused on EDM), July's Cruïlla (focused on showcasing indie artists), and October's Voll-Damm Barcelona Jazz Festival (focused on jazz, of course).