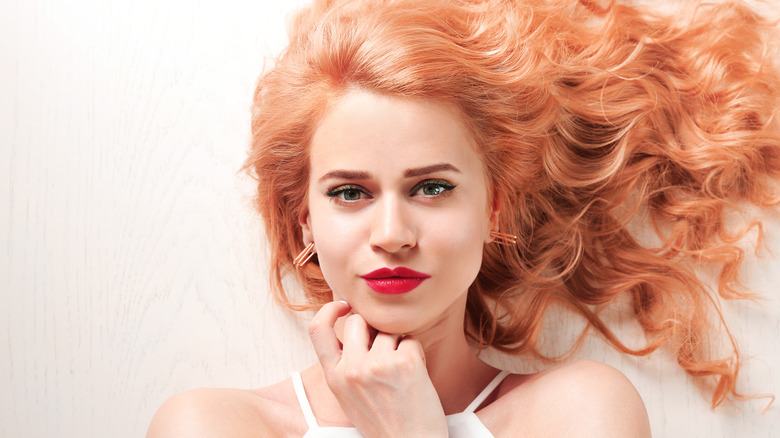 If you've been on TikTok lately, you've probably seen the viral filter that aims to find the best color palette for you (via HITC). This has gotten plenty of people interested in color analysis, which, per The Concept Wardrobe, is a way to figure out which colors you can wear to make you look your best.
Your true color analysis takes your natural color palette into consideration, including your eyes, hair, skin tone, and undertones. Professionals can help determine your ideal color story, or you can try the notoriously complicated TikTok filter, but no matter how you go about it, finding the right clothing colors for your skin tone can be more complex than you may think. Luckily, while just taking your hair color into consideration isn't a surefire way to find your exact matches, it is an easy way to get a general idea of which shades work best on you.
As we all know, red is an especially rare natural hair color. According to Jean Louis David, there are different shades of natural red hair, and strawberry blonde is on the lighter side. Many think of red hair as prone to clashing and difficult to coordinate with clothing colors.
Consequently, if you're a strawberry blonde, you probably know what it means when a color washes you out and which colors you believe may clash with your scarlet locks. But, we've got all the colors strawberry blondes should definitely wear, and some of them just might surprise you.
Cream
Neutrals are an important part of any wardrobe, because they're, well, neutral! Still, neutrals can be a bit tricky for folks with lighter skin, since both black and white have the capacity to make your light complexion look washed out. If you're a natural strawberry blonde — or even just a temporary strawberry blonde who feels the color suits you, your skin likely has warm undertones.
Per Roberta Lee, cream should be your neutral of choice, as it gives folks with warm undertones a glowy look. Taupe and warm grays are also great neutral picks (via 4 Fashion Advice).
Peachy pinks
Sporting peach hues may not be your first instinct as a strawberry blonde, since this does give off a bit of a monochromatic vibe with your hair and likely your rosy skin tone.
According to She Knows, however, shades of peachy pink are actually some of the best colors for strawberry blondes. Peach is a fresh, yet soft color for folks with red hair, especially in the warmer spring and summer months. Per How to Be a Redhead, if you need further proof, check out Jessica Chastain's look at the London premiere of "Interstellar" in 2014.
Coral
Hand-in-hand with peachy hues is coral. Coral is a bright and summery way to rock pink that will coordinate beautifully with your natural coloring. Bella Thorne's gown at the 2012 Daytime Creative Emmy Awards shows just how perfectly a bold coral complements soft strawberry blonde locks.
It's also worth noting that Essie named coral one of the top nail polish colors for the coming year, so don't be afraid to give yourself a mani/pedi that will coordinate flawlessly with your whole look.
Bold, saturated pinks
Sadie Sink has to be one of our ultimate natural strawberry blonde icons, and she shows just how vibrant and striking a bold, saturated hot pink can look on people with light red hair and naturally rosy cheeks.
True pink is another color that many strawberry blondes may not think of when choosing an outfit. In reality, though, pure pinks and magentas offer a contrast that will make your features pop and stand out amidst a sea of warm hues, per She Knows.
Red
As someone in the redhead family, you likely tend to steer clear of warm colors for the most part. You may have noticed that in reality, however, many warm colors actually suit you best.
If you're a strawberry blonde, you've probably heard the old stereotype that redheads can't wear red. Well, plenty of famous gingers like Emma Stone and Julianne Moore have proven that notion very wrong. According to Effortless Style, a ruby red or red in the jewel tone family is likely to make your complexion pop the most.
Purple
According to WGSN, "digital lavender" is set to be the color of the year in 2023. This is very good news for all the strawberry blondes of the world, because purple is another one of the best shades to wear with your reddish-blonde hair.
Per Effortless Style, if you're shopping in hopes of adding to the purple section of your closet, look for shades of purple that are closer to the blue side, rather than red; these are the purples that will suit your locks best.
Blue
We all know that complementary colors tend to make each other stand out. While we call red hair "red" and often think of blonde hair as yellow (as seen on famous animated blondies like Cinderella and Angelica Pickles), strawberry blonde hair is actually closest to orange when it comes to the classic ROYGBIV rainbow.
Consequently, blue hues will make your hair pop and bring out your features, especially if you've got lighter eyes. According to She Knows, some of the best blue choices are the ones closest to their neighbors on the color wheel: violet and aqua.
Green
Surely you could have guessed that green would make the list of best colors for strawberry blondes. Green is basically the most classic color to pair with any shade of red hair.
Jewel tones always make lighter hair pop and look especially vibrant (via Love to Know). However, lighter shades, like mint green or sea foam green, will bring out the red tones in your locks and complement your look as well. Opt for these lighter tones in the warmer seasons for a refreshed, springy look.
Chartreuse
Designer Aliza Ackerman explains, "Chartreuse is really a mix of warm and cool colors. The greener shades of chartreuse have more of a fresh springtime, retro feel to them, while the yellow shades of chartreuse can be a little bit perkier. In general, it's a very reassuring and refreshing color. It represents life, growth, and vitality" (via Adobe). Still, yellowy-green chartreuse is a notoriously tough color to pull off.
Well, as Sadie Sink shows us, the strawberry blondes out there are among the lucky ones. Per Ginger Parrot, yellow hues like chartreuse are strawberry blondes' matches made in color heaven.
Butterscotch yellow
All yellows may not be flattering for every strawberry blonde, especially if you lean more to the blonde side of the unique hair color. That said, per She Knows, golden yellows are one of the best colors for strawberry blondes. Warm yellows play perfectly into your natural color palette and make you look golden and glowy.
And, this doesn't just apply to your clothes. According to 4 Fashion Advice, those with warm skin tones should opt for gold jewelry over silver. Pair a warm yellow outfit with gold accessories and those strawberry blonde locks for a superbly sunny style.