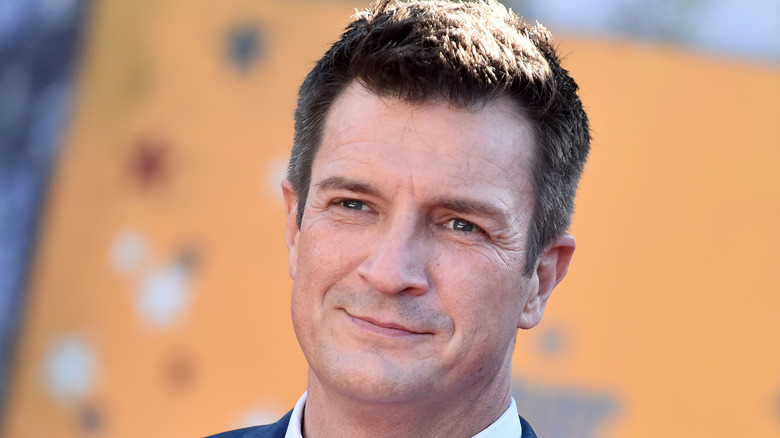 "Castle" is a crime mystery comedy (and sometimes drama) that ran on ABC for eight seasons from 2009-2016. There's no shortage of other cop crime drama/comedies out there, "Castle" stood out from the rest for its unique decision to partner a famous murder mystery writer with a seemingly no-nonsense team of NYPD homicide detectives. Add to that a sprinkle of Nathan Fillion's (the actor who portrays Richard Castle) exuberant charm and you've got yourself one heck of a show.
"Castle" often incorporates scientific plot elements into its case-of-the-day formula. Richard Castle is a character known for his willingness to jump the gun and for his belief in the supernatural, including vampires, time travel, and even mummies. While audiences enjoy being along for the ride on Castle's wildest fantasies, his NYPD partners Beckett (Stana Katic), Javier (Jon Huertas), and Ryan (Seamus Dever) always pull Castle back down to reality.
The series hoped to be renewed for a ninth season. Because of this, they shot the final episode of Season 8 with a massive cliffhanger. However, once it was revealed that the show would not be picked up for another season, the creators quickly added a scene at the end in an attempt to wrap things up smoothly (via CBR). This ending has left fans feeling somewhat cheated, as it's a decisive take on a once-beloved show. It's time we break down exactly what happened with the ending of "Castle" and why it felt so disconnected from the previous loved seasons.
Castle was meant to be renewed
The writers of "Castle" planned on getting Season 9 greenlit for the series. Because of this, they created a story where Beckett and Castle are attacked and gunned down in their home. The season was meant to end with both Castle and Beckett lying in a pool of their own blood, with their fate left up in the air (via Entertainment Weekly).
While that would have made for a good season finale, the fate of the cliffhanger was already revealed. According to The Washington Post, the team at "Castle" already announced that Beckett would succumb to her injuries, as Stana Katic was not slated to return for Season 9. The actress was unceremoniously fired.
This came as a surprise, as the entire premise of the series had been built around the relationship between Castle and Beckett. It's because of her that he's connected to the NYPD homicide team. It's because of her that there are murders to solve at all. This decision was not received positively amongst long-time "Castle" fans, as the entire point of the show would seemingly change with her death (via Reddit). Luckily (or not so luckily, depending on whom you ask) "Castle" was canceled, and audiences never had to experience a season without Beckett.
Season 9 was going in a new direction
Before it was revealed that Season 8 would be the final season for "Castle," the series was gearing up to go in an entirely new direction. With the death of Stana Katic's Detective Beckett, the premise of the show was going to shift. Season 8 had already laid the groundwork for this change, as Castle stopped working with the NYPD homicide department. In order to appease his interest in all things murder, he opens his own PI business, where his daughter Alexis (Molly Quinn) works with him. He also works with a new female protagonist, Hayley Shipton (Toks Olagundoye) a former MI6 operative who's moved into the security business. She was clearly meant to be a Beckett replacement for the show if it continued into Season 9.
According to Entertainment Weekly, had "Castle" been renewed for another season, it would have revolved around Castle's PI business as he hunts down his wife's killer. It's likely that Castle would have uncovered a bigger conspiracy revolving around Beckett's death. Everyone in the show would be out for blood, which would allow "Castle" to include all previous main characters, such as Detective Javier and Detective Ryan, in the new series shift.
Season 9 could have shown how Castle's search for vengeance would take him down a dark path, but it's likely that, by the end of the season, Castle would have found some form of closure.
There was behind-the-scenes drama
It's been suggested that "Castle" stars Nathan Fillion and Stana Katic did not get along on set, and that this friction is the reason Katic was reportedly fired from the show. If the series had continued for another season, it would have been without Katic's Detective Kate Beckett.
Hello Magazine reports that an inside source detailed just how bad the castmates' relationship was. The insider suggests that the actors would not speak to each other outside of filming and that Katic could often be found in tears in her dressing room. According to the insider, the crew tried to encourage the two to take part in therapy in order to resolve their intense feelings against each other.
US Weekly also reports the tense energy between the two on set. Another insider states that Fillion was horrible to his co-star, who just wanted to get her job done without complications. While neither Katic nor Fillion has ever commented on these rumors, the fact that they haven't refuted these reports also speaks volumes, especially in light of Katic's reported surprise firing from the series.
Stana Katic felt hurt by how the show handled her departure
Adding more fire to the flame, Katic reportedly felt blindsided by "Castle's" decision to terminate her contract with the series. However, at the time, the actress remained professional and did not comment on the controversy surrounding her departure, her supposed tense relationship with co-star Nathan Fillion, and the show's rushed ending (via TV Commentary).
After some time had passed, Katic shared with News Corp. her thoughts when looking back at her time on "Castle." While she was proud of her work on the show and how special her character Beckett was, she still felt hurt and confused by how the experience ended. "It would be a disservice to the work that I did, which I feel partly contributed to the success of the show if I looked back on it and was anything but grateful for the awesome run," the actress said (via The Daily Mail).
Katic also shared with Entertainment Weekly that she found her ending with the series "harsh" and that she was still unclear as to what happened between her and the network. However, she chose to look fondly back on her experience and on the people that she met while working on set.
Just tell us, Stana: what was the drama between you and Nathan Fillion? Spill the tea!
The Season 8 ending had to appease fans
"Castle" executive producer Alexi Hawley told Entertainment Weekly that they always planned a contingency story just in case the show did not get renewed. While Season 8 of "Castle" was airing, the network had yet to reveal if the show would be getting a Season 9. In fact, the cast and crew were not made aware of the network's decision to pull the plug until closer to the Season 8 finale (via The Washington Post).
Hawley said: "If we hear that we're not coming back, we have shot something that we can put at the end of the episode as a way to put a button on everything." However, this was not something that the crew wanted to do. They were hopeful that "Castle" would be renewed, which would allow them to take the series in their new direction of vengeance over Beckett's death. According to Hawley, they shot a final time jump scene to appease fans, as they didn't want to leave them with questions, but co-showrunner Terence Paul Winter shared that his "hope [was] that it [would never see] the light of day" (via Entertainment Weekly).
Well, we're sorry to say that it did. The clip jumps seven years in the future and features voiceovers from Castle and Beckett. Audiences see that the two are very much alive, thriving, and still in love. The couple even has a house full of kids, proving that they still make a great team.
Season 7 saw the departure of showrunner Andrew Marlowe
A big change that "Castle" experienced came in Season 7, when the original showrunner, Andrew Marlowe, stepped down. His last season saw him go out with a bang, as the Season 6 finale showed Castle being kidnapped on his wedding day. This plot development was a punch to the gut; before it happened, audiences thought they were finally going to get a happy ending between Beckett and Castle, but that dream was snatched away. Season 7 was the beginning of the end for Beckett and Castle's relationship, as they were constantly tested and pulled apart, almost as though the writers were no longer planning to have them end up together in the end. Which…well, they weren't, as the writers had planned to kill Beckett off.
Before leaving "Castle," Marlowe described the series as being "a love story wrapped in a procedural." However, Seasons 7 and 8 drastically moved away from that concept. Instead, it focused more on the character of Castle and how he flourished without Beckett (via TVMO).
Beckett's sudden death at the end of Season 8 was likely a long-term plan once Marlowe left the show. This also explains why Castle and Beckett's relationship went through so much turmoil after Season 6. It's enough to make audiences wish that the two never became a couple in the first place.
The show suffered from pairing Beckett and Castle
Will-they-won't-they relationships are staples in television; think "The Vampire Diaries," "Scandal," or even "Friends." Audiences just want these couples to get it together and pick each other. From the moment "Castle" was introduced, it was clear that Richard Castle was interested in Detective Kate Beckett. Whether she was interested in him remained to be seen. It was obvious that the two would be the end game, their romance wasn't necessary. Not all crime dramas need to have their two main characters end up together. While Castle and Beckett were the glue holding the series together, their relationship didn't need to turn into Bones and Booth from another, similar cop drama, "Bones." They could have followed the Mulder and Scully model instead. At least, that is according to some people.
The Hollywood Reporter discusses how the two never really needed to become a couple for the show to work, especially since audiences don't get to see much time with the two actually together. They're separated by other romantic partners, by the fear of admitting their feelings, or by jobs in different cities. They hardly ever share scenes in Season 8, as Beckett's off taking part in a secret mission. And don't even get us started on that time Castle straight-up disappeared on their wedding day.
Because of all this drama, the final shot that gives the couple a happy ending felt so rushed. Audiences barely ever got to see them happy as a couple over the past eight seasons, so it's hard to believe that, seven years later, things are perfect. Perhaps this is what the writers were trying to suggest when killing off Beckett and leaving Castle to find a partner he actually spends time in a relationship with.
The finale future jump answered a few questions
The seven-year time jump tacked on at the end of Season 8 was placed there to make fans happy. After everything Beckett and Castle go through, the show does a 180 and lets them live out their lives together happily ever after. While this might not have been the idea that showrunners wanted, it definitely was the original concept for "Castle's" first showrunner Andrew Marlowe. Marlowe stepped down after working on Seasons 1-6 on the show. He had some standout episodes during his time, but it's Season 6 Episode 5 that shines when considering the ending of "Castle."
The episode is titled "Time Will Tell" and plays into one of Castle's fantastical ideas surrounding a case. He and Beckett encounter Simon Doyle, also known as Chuck (Joshua Gomez). Doyle tells the homicide team that he is a time traveler who's been sent back to stop a terrible event from unfolding. Naturally, Castle is all in on this idea, while Beckett has no time to engage with his apparent delusions.
By the end of the episode, Doyle shares with Castle that he and Beckett are married in the future with three kids. Beckett is a Senator and Castle is now an author of "serious literature." While this is a fun way to end the episode, the time jump in the series finale seemingly confirms Doyle's prediction. At least, on the kid front, as Beckett is seen chasing around three kids in her home with Castle.
Ratings took a huge dive in Season 8
Poor ratings are usually the biggest cause for giving a show the axe. If a show isn't bringing in enough viewers, it's not doing its job, and networks use that as an excuse to cut ties with a series. While this can sometimes happen too soon (RIP "Firefly"), "Castle" is lucky enough to have enjoyed eight successful seasons, even if some were given more praise than others.
According to CBR, the lower ratings from "Castle's" Season 8 heavily contributed to the series being canceled. In fact, the viewership rate had been declining over the past few seasons. It seems as though Season 8 was the final straw for the network, as they no longer had faith that the show would bring in those big numbers that it used to.
Season 8 of "Castle" was averaging under 10 million viewers per episode. And if that sounds like a lot, the highest viewership for the network at the same time was over 13 million ((via Deadline). Season 8's viewership marks the lowest numbers for the series, which had dropped significantly since the new showrunners took over (via CBR). This could be a direct result of the show moving away from the Castle/Beckett romance and more into a Castle-centric story.
Budget cuts were a big factor
Due to the decline in viewership, "Castle" was slated to experience major budget cuts if Season 9 moved forward. According to CBR, the only way that Castle would likely have gotten another season was if the show was able to severely reduce the amount of money it was spending on production.
This idea could also have contributed to Stana Katic's dismissal from the show, as both Katic and co-star Tamala Jones (who portrays Dr. Lanie Parish) were asked not to return for Season 9. According to CinemaBlend, in 2016 Katic was revealed to be one of the highest-paid actresses on television. This would have been right around the time Season 8 of "Castle" was filming. CinemaBlend details that actresses tend to make more money the longer they're on a series, as their contracts increase to potentially match that of their male co-stars, who likely start at a much higher salary. Katic's negotiated salary landed her at approximately $12 million. And this was just based on the one-year contract that was signed after filming wrapped on Season 7. Therefore, had she signed on again for Season 9, her salary would have likely increased after another negotiation (via CinemaBlend).
This likely played into removing Katic from further seasons of "Castle." With budget cuts being a concern, and plans on moving the story away from Castle and Beckett's romance, cutting out a $12 million+ salary is one sure way to do it.
Unfortunately for the crew, this wasn't enough, and "Castle" was still canceled. Luckily, Beckett and Castle got the ending they deserved — which happens to be the one that original showrunner Andrew Marlowe always envisioned.