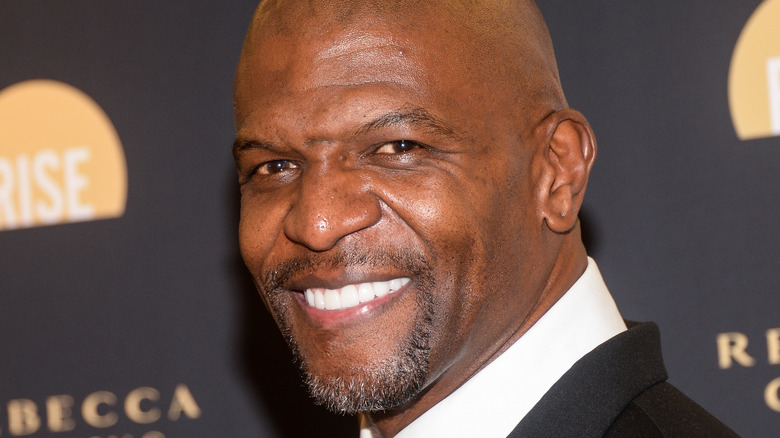 For more than two decades, Terry Crews has kept viewers laughing on screens big and small. Best known for his comedy chops, he lent his talent to hit shows like "Brooklyn Nine-Nine" and "Everybody Hates Chris," and movies like "White Chicks" and "Idiocracy." His exuberance as the host of "America's Got Talent" impressed critics, including Laura Hurley from CinemaBlend, who wrote, "He comes across as so genuinely filled with joy that he's a delight to watch."
His long-running gig as a shirtless, pec-popping, pitch man for Old Spice deodorant turned him into a viral sensation. Crews is a very entertaining guy, but he didn't have an easy path making it to Hollywood, or staying there. On the surface, the actor, who started out as a professional football player, seems to have it all together. But underneath that buff physique and megawatt smile, Crews was masking his darkest secrets.
His over-thirty-year marriage to Rebecca King-Crews (of course an eternity in the entertainment world) may seem like a bed of roses. But as you will see, numbers don't always don't tell the whole story. There are plenty of skeletons in Terry Crews' closet, and we're about to reveal everything you want to know.
He had a tough childhood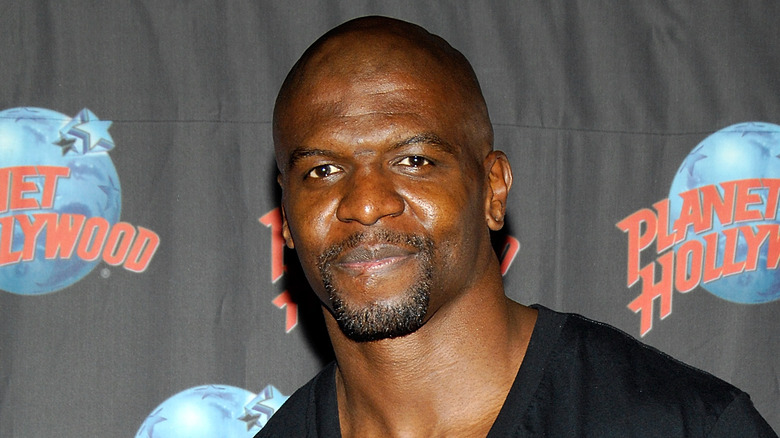 Terry Crews comes from a strict religious family in Flint, Michigan. As a child, he wasn't allowed to play sports, listen to popular music, or go to a movie theater, as he explained on ABC's "Popcorn With Peter Travers." Crews said that, at age nine, he begged his mom to let him see "Star Wars" at a drive-in theater. That's when he realized what he was missing. "I didn't know I was going to be an actor, but I was like, 'Somehow, someway, this changed my life. But it came out of a very sad time."
The bigger problem for the "Brooklyn Nine-Nine" star was his hot-tempered dad. "My father was addicted to alcohol and my mother was addicted to religion," the actor told Wendy Williams. On an episode of "Running Wild with Bear Grylls," Crews said that he bulked up to defend himself and his mother. "My father was very abusive, you know, he used to beat my mother," he said. "It was one of those things where I knew I would have to get stronger because one day I thought I'd have to fight him."
On Christmas Day 2000, Crews' father smacked his wife and "knocked her tooth sideways," according to the actor, who added, "I beat this man." Thinking he might feel some sense of relief or retribution for his mom, Crews said, "I didn't feel one bit better. It left me with nothing" (via USA Today).
If you or anyone you know is struggling with addiction issues, help is available. Visit the Substance Abuse and Mental Health Services Administration website or contact SAMHSA's National Helpline at 1-800-662-HELP (4357).
The former pro baller called the NFL 'a cult'
Terry Crews had a less-than-stellar five-year career in the NFL. He played for the Los Angeles Rams, the Green Bay Packers, and others before he retired in 1996. He may have burned a few bridges with some of his teammates after his departure. During a 2017 appearance on "First We Feast," he opened up about why he ditched the NFL for good. "I got a tryout with the 49ers [in 1997]. And they treated me so bad. I mean, they treated me like I was dirt." That, he explained, was the last straw. "I remember coming home to my wife, and I said, 'Never again. Never again. I was so done."
In 2014, there was another dustup with the league. Per Sports Illustrated, former players were suing the NFL for giving pain medications and other drugs to its athletes so they could keep playing, despite the long term risks. On SI Now, Crews was asked if he would decline drugs or surgery if a team doctor recommended it. "There is this thing where the team kind of looks at [itself] as your father," he said.
"It's like 'You'd do this for the team, right?" The former linebacker continued, suggesting the league may not be watching the players' backs. "It's really like a cult. I'm going to say it. The NFL is a cult … you believe in it and you're like 'They wouldn't do anything to hurt me. They never would.' And, uh oh, maybe they would."
At the start of his acting career, he worked as a janitor
When the former NFL star first showed up in Hollywood, he was in for a rude awakening. "It was a big shock to me," Terry Crews told Inc. "I moved to Los Angeles thinking that because I was a football player, I was going to get a lot of big opportunities. They didn't even have a football team then, nobody cared!" The out-of-work actor needed a paying gig, and he needed it fast.
In a 2014 interview with HuffPost, the "America's Got Talent" host recalled his first job in California. "I picked up a broom and I was sweeping factories … I was like, 'This is horrible, I can't do this.' In an essay for The Wall Street Journal, Crews wrote, "I could not believe how far my life had come down, from the NFL to this." But he swallowed his pride and continued to push that broom, telling CNBC that, after that, "I was never broke again."
Before quitting football, the former linebacker created his own cottage industry. On "Jimmy Kimmel Live," he explained that after being cut from a team, which "happened a lot," he would ask the players if they wanted him to paint their portraits. "It would literally take me about two months to do a painting, and they would give me like five grand," Crews said. "I would survive off that. My whole family survived off that."
Terry Crews suffered from depression
Many pro athletes struggle with their post-retirement transitions, and Terry Crews was no exception. "You're larger than life, and then all of a sudden, they don't know your name," the "Blended" actor told ABC News. "They don't know who you are," he said. He was depressed, and he turned to fast food for comfort. After indulging himself in burgers, fries, and bags of cookies, he packed on 30 pounds. "I learned that a lot of the eating thing and any problem with eating has a lot to do more with your emotions," he shared.
In an interview with The Hollywood Reporter about his memoir, "Tough," Crews revealed that despite his early success, he would often get depressed as soon as a project was done. "It was horrible! … I had determined my worth through the opinions of other people. So, it was like, if everyone loved me then I was great. But if I wasn't working … I was a failure … I was never satisfied." He added that the constant search for validation can be a motivator, and "sometimes it can lead to your downfall."
In his 2014 book, "Manhood," the "White Chicks" actor explained that his mental state was intertwined with his porn addiction. "I soon established a pattern where, anytime I was dealing with anxiety, I acted out with pornography," he wrote. "On the one hand, I felt bad because I knew I shouldn't do so, but at the same time, it was exhilarating, a rush, like taking a drug."
If you or someone you know is struggling with mental health, please contact the Crisis Text Line by texting HOME to 741741, call the National Alliance on Mental Illness helpline at 1-800-950-NAMI (6264), or visit the National Institute of Mental Health website.
He had a serious addiction to porn
Terry Crews was obsessed with porn from a very young age. "I was addicted to pornography since I was 12 years old," he told Wendy Williams in 2015. The following year, he posted a series of videos on Facebook, coming clean about his "Dirty Little Secret." He started by dispelling the myth that nobody can be addicted to porn. "If day turns into night and you are still watching, you probably have got a problem. And that was me," he said.
He explained how it impacted him. "It changes the way you think about people. People become objects. People become body parts; they become things to be used rather than people to be loved," he said. Terry Crews shared how it threatened his marriage. "It affected everything. My wife was literally like, 'I don't know you anymore. I'm out of here' … I had to change," Crews shared. "I literally had to go to rehab for it."
Crews kicked the porn habit, but never spoke to anyone about it, including his wife, for years. His addiction and his silence drove the couple apart. "Every time I watched it, I was walled off. It was like another brick that came between me and my wife." Crews told People that his celebrity status only fueled his addiction. "Success is the warmest place to hide," he said. "Fame made it worse! Hollywood didn't care. It still doesn't care if you lose your family. It happens every day."
If you or anyone you know is struggling with addiction issues, help is available. Visit the Substance Abuse and Mental Health Services Administration website or contact SAMHSA's National Helpline at 1-800-662-HELP (4357).
His marriage nearly fell apart
In 2010, after two decades together, Terry Crews' marriage to singer Rebecca King-Crews had reached its breaking point. In their 2021 audio memoir "Stronger Together," via People, Rebecca recounts what they refer to as their "D-Day." After Terry opened up about his porn addiction and being unfaithful, she said, "It was like death." Rebecca threatened to walk out on him and Terry admitted he "could not stop crying."
She would stay in her bedroom for days, and the children were caught in the middle of it. Terry acknowledged "this thing has become a problem," and eventually patched things up with Rebecca, after he did the work in rehab and therapy. In his Facebook confession, Terry said, "I did not get help so I could get my wife back … I got help because I needed it … She did decide to stay with me because she knew I was repentant."
Terry's control issues also created tension over the years in their marriage. In a recent interview with Newsweek, the "Everybody Hates Chris" actor said he had to learn how to be an equal partner with his wife. "Growing up, I was always told that to be a man you had to take ownership of your house and everyone in it," he said. "I had to realize that you cannot love someone and control them at the same time."
He had anger management issues
After growing up in a violent home, it took Terry Crews a while to admit he had anger management issues of his own. "I've been involved in some of the most competitive, toxic environments you could probably ever be in … but I was also a card-carrying member," he told the 2018 Teen Vogue Summit, per The Hollywood Reporter. The "Expendables 3" actor said that while raising his eldest daughter, "I remember yelling, screaming, anger, domination. It had to be my way or the highway."
Speaking to ET, Crews admitted he had a history of popping off. "I lived life like it was a revenge movie," he said, adding that his attitude was like, "I'm gonna get everybody back who ever did anything wrong to me ever." One time, after a man was disrespectful to his wife, he slammed a guy head-first onto the concrete. "She said, 'At a minimum, you're gonna get sued, okay? And at the maximum, someone is going to kill you," Crews explained.
"She was like, 'Promise me you'll just walk away … And I made that promise," he said. "And little did I know that it would save my life." In "Tough," Crews wrote why he believes controlling your anger is actually a sign of strength. "Anytime you're acting out of anger, you are not in control. You're allowing yourself to be provoked. To be filled with anger and rage is to be powerless and weak."
If you or someone you know is struggling with mental health, please contact the Crisis Text Line by texting HOME to 741741, call the National Alliance on Mental Illness helpline at 1-800-950-NAMI (6264), or visit the National Institute of Mental Health website.
Terry Crews claimed he was sexually assaulted
In 2017, Terry Crews became one of the first men to come forward with his story as part of the #MeToo Movement. With a series of tweets, he started with, "My wife n I were at a Hollywood function last year n a high level Hollywood executive came over 2 me and groped my privates." Then, in an interview on "Good Morning America," the actor identified the executive as Adam Venit, a high-powered talent agent with William Morris Endeavor.
"He comes over to me, I stick my hand out, and he literally takes his hand and squeezes my genitals," Crews shared. "I have never felt more emasculated, more objectified. I was horrified." Crews opened up to Michael Strahan, saying he felt powerless and unfairly judged by the public once the story broke. "When a person of power breaks that boundary and violates that boundary, you're a prisoner of war," he said. He told Newsweek he was victim-shamed.
"I remember a time when people told me 'it's impossible for you to get sexually assaulted. You're too big.' But that's like saying you're too big to get shot," he said, adding that he realizes now that #MeToo "isn't a woman's issue. It's a humanity issue." Crews filed a lawsuit against Venit and WME, per USA Today. The suit was settled in 2018, according to a statement obtained by The Hollywood Reporter, which noted that Venit was "planning to leave WME." After Venit apologized, Crews tweeted, "Accepted WITH HIS RESIGNATION."
If you or anyone you know has been a victim of sexual assault, help is available. Visit the Rape, Abuse & Incest National Network website or contact RAINN's National Helpline at 1-800-656-HOPE (4673).
Terry Crews once referred to Hollywood as 'a plantation'
Following Terry Crews' sexual assault allegations, he was invited to testify before the Senate Judiciary Committee about a bill to support sexual assault survivors, per The Hollywood Reporter. "What happened to me has happened to many, many other men in Hollywood," he said in his speech. "And since I came forward with my story, I have had thousands and thousands of men come to me and say, 'Me too, this is my story. But I did not have the confidence, or I did not feel safe enough, to come out. Because what happens is you get blacklisted, your career is in danger — after that, no one wants to work with you."
After filing his lawsuit, Crews said calls stopped coming in. In 2018, he told BuzzFeed, "People don't understand that Hollywood is a very violent place. The best way to put it is that it's like a plantation." A year later, on "The Clay Cane Show" for Sirius XM, he was asked if he felt freed.
He replied, "I ran away, I'm the slave that ran away … You got to understand, I was being followed, our phones were tapped … you talking a lot of money, a billion dollar industry. The whole point was to find dirt on me that they could use against me." Apparently, it's hard to keep a guy like Terry Crews down, whose career seems to be thriving in spite of it. "They don't want to see me comment, but I'm not going anywhere," he declared to Buzzfeed.
If you or anyone you know has been a victim of sexual assault, help is available. Visit the Rape, Abuse & Incest National Network website or contact RAINN's National Helpline at 1-800-656-HOPE (4673).