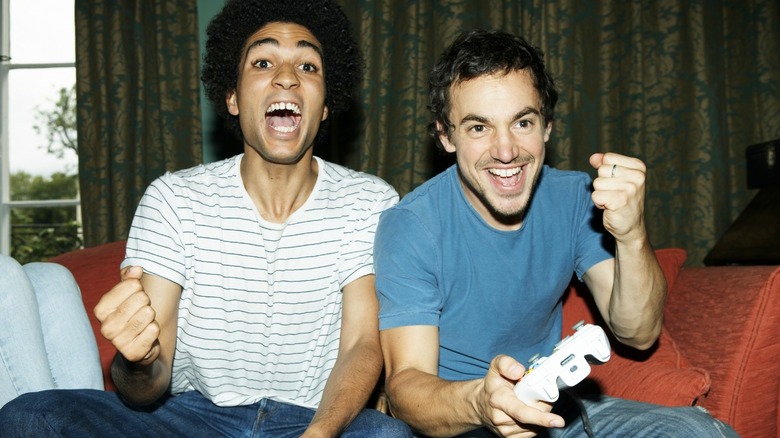 The role-playing genre remains as strong as ever, with 2022 bringing an impressive array of RPGs such as "Xenoblade Chronicles 3" and "Pokémon Legends Arceus." But with 2023 now in full swing, it is time to look ahead at the games that will be hitting store shelves in the next 12 months.
Fortunately for fans of the genre, there are plenty of upcoming games to be excited about. As you'd expect, there's a selection of big-budget AAA titles on the way in addition to indie games. 2023 will even see some of the most hotly anticipated games of the last decade finally launch, meaning that it will be a big year for anyone who loves RPGs. Gamers can look forward to a new game from Bethesda, Square Enix's latest "Final Fantasy" offering, and a "Harry Potter" game that Potterheads have been eagerly awaiting for a long time.
Here are the most exciting RPGs that will wow players in 2023.
Sea of Stars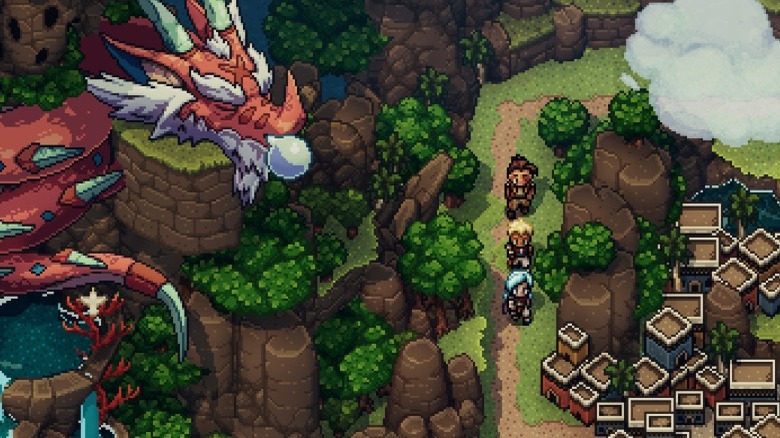 "Sea of Stars" is one of the RPGs on this list that doesn't come from a major studio but is instead being developed by a relatively small team known as Sabotage Studio. Those unfamiliar with the name might recognize the developer's previous title "The Messenger." Inspired by "Ninja Gaiden," the side-scrolling platform game proved a big hit with critics and players alike. The studio's latest project is a prequel to that game, set thousands of years before the events of "The Messenger."
It isn't just the time period that is vastly different, either. "Sea of Stars" switches up almost everything. Swapping platforming for role-playing, it is also played from an isometric viewpoint and will feature turn-based combat. That's an interesting change of pace compared to its predecessor, but the fact that Sabotage Studio has been inspired by games such as "Illusion of Gaia" and "Chrono Trigger" means that it has plenty of promise and it definitely looks interesting. Throw in the fact that it will have music from legendary composer Yasunori Mitsuda, and there's a lot to look forward to about this game when it finally launches in mid-2023 (via Gematsu).
WrestleQuest
Wrestling might not seem like the perfect topic for a role-playing game, but that hasn't stopped Skybound Games and Mega Cat Studios from combining the two in the form of "WrestleQuest.'" With a retro pixel art style, the game will mix traditional turn-based combat with wrestling moves that any fan of the WWE will be familiar with.
Don't be fooled by the rather charming visuals, though, as "WrestleQuest" will see players attempting to rise to the top of the professional wrestling roster. Stepping into the shoes of an aspiring star, you have to explore dungeons and battle enemies to upgrade your skills in addition to duking it out in the ring with other wrestlers in one-on-one fights or tag team battles.
Adding to the fun is the fact that the protagonist is fully customizable so that you can change everything from the look and style of the fighter to their taunts and flashy entrances. Perhaps most exciting of all, though, is that the developer has licensed the likenesses of iconic names from the world of wrestling, including Randy Savage, Jake the Snake Roberts, and André the Giant.
Eiyuden Chronicle: Hundred Heroes
Following a successful crowdfunding campaign on Kickstarter, Rabbit & Bear Studios has been hard at work on "Eiyuden Chronicle: Hundred Heroes" since 2020, and the game is expected to launch near the end of the year. Created by developers Yoshitaka Murayama and Junko Kawano, who were responsible for the "Suikoden" series, this new game acts as something of a spiritual successor to the Konami property that has been largely abandoned since the 2000s.
Drawing inspiration from classic JRPGs, "Eiyuden Chronicle: Hundred Heroes" tells the story of Seign Kesling and Nowa in the land of Allraan as they are dragged into a vicious conflict. As you'd expect from this type of game, it will feature turn-based combat with a team of up to six characters and a large world made up of vastly different regions that can be explored to learn more about the land and its residents.
A mixture of 2D sprites and 3D backgrounds gives "Eiyuden Chronicle: Hundred Heroes" a vivid and stylish appearance, while the developers promise a rich story that features more than 100 characters that are all connected in various ways. Combine that with the pedigree of the developers, and this is perhaps a lesser-known RPG to keep an eye on in 2023.
Cassette Beasts
"Cassette Beasts" might look strikingly familiar to fans of the "Pokémon" games and there's a good reason for that. Developer Bytten Studio has taken inspiration from the popular Nintendo franchise for its indie RPG in both looks and gameplay. Yet, this is not a straight-up clone but rather an evolution of the concept that tries to do some very different things.
Where that is most clear is in the battles themselves, which use a Fusion System to allow players to combine different monsters together to create brand new forms. After recording the essences of these beasts using a cassette player, they can then be played in battle and morphed into even more spectacular creatures, with more than 14,000 possibilities available.
It is not just the gameplay that sounds appealing in "Cassette Beasts," either. The mysterious story involves an island known as New Wirral where strangers are constantly washing up on the shore without any idea of how they got there or where they are from. You play as one of these new residents and must uncover exactly what is going on in a narrative that promises twists and turns as you go.
Wo Long: Fallen Dynasty
Team Ninja is not exactly known for RPGs. The Japanese studio is probably most famous for its work on the action-adventure series "Ninja Gaiden" and the "Dead or Alive" fighting games. But in recent years, the team has worked on a number of action role-playing games, including the likes of "Nioh" and "Stranger of Paradise: Final Fantasy Origin." Its latest game, "Wo Long: Fallen Dynasty," follows in the footsteps of those titles and is due to launch on PC, PlayStation, and Xbox in March.
Taking place in a fantasy world, "Wo Long: Fallen Dynasty" follows a nameless soldier from Ancient China who is tasked with hunting down demonic monsters that threaten the Three Kingdoms. Like Team Ninja's other RPGs, this game will be more linear than many other examples of the genre, but that should allow for a tighter plot and better character development.
Most excitingly, "Wo Long: Fallen Dynasty" appears to have a rather unique combat system that puts the emphasis on deflecting enemy attacks and then countering with deadly blows. Doing so adds to a spirit gauge that can then be used to unleash special moves or a divine beast that will aid the player in their fight. Of course, it's impossible to tell just how engaging this new system will be until we get to see it in action, but early glimpses do look very promising.
Forspoken
"Forspoken" is a rarity when it comes to new Square Enix properties, as it is being handled by the same team that works on the "Final Fantasy" games rather than a separate development studio. That alone would have many gamers looking forward to trying it out, but a spate of recent trailers and gameplay demos have demonstrated even more potential about what this action RPG could achieve.
The story will see a woman from the contemporary world magically transported to the fantasy world of Athia, where she is forced to go out and attempt to discover a way to get home — no easy task given that Athia is ruled by an oppressive regime known as the Tantas. Unlike "Final Fantasy," which has a reputation for its extensive storylines and slower-paced gameplay, "Forspoken" will focus on exploring the world.
To that end, the player will be able to traverse the environment at high speed, able to quickly climb up walls and leap across the land in a manner that resembles hardcore parkour. The open-world setting and flexible approach to combat should mean that players have plenty of opportunities to experiment and find an approach that works best for them.
Dragon Age: Dreadwolf
The "Dragon Age" series is BioWare's other big RPG franchise alongside "Mass Effect." However, it has remained largely dormant for almost a decade, with the last main entry coming in 2014 with "Dragon Age: Inquisition." Acting as a direct sequel to that game, "Dragon Age: Dreadwolf" has been in development since 2015 but faced repeated interruptions as staff was pulled to work on the likes of "Mass Effect: Andromeda" and "Anthem."
Despite early intentions for the release to have an online multiplayer component, the success of "Star Wars Jedi: Fallen Order" persuaded EA and BioWare to focus fully on the single-player campaign (via Bloomberg). Although very little has been revealed about "Dragon Age: Dreadwolf," and even less shown in a single teaser trailer, fans are understandably excited to get their hands on the next installment in this highly regarded series. Let's just hope that the studio unveils more information soon or provides some concrete details so players know what to expect.
Similarly, there's no confirmation that "Dragon Age: Dreadwolf" will arrive in 2023, although a report from VentureBeat suggested that the game would arrive on PC, PlayStation 5, and Xbox Series X|S this year, so there is cause for optimism that it will be available sooner rather than later.
She Dreams Elsewhere
Studio Zevere's "She Dreams Elsewhere" has been one of the most hotly anticipated indie games of the last few years, although several delays mean that it isn't expected to launch until the end of 2023. Described as a surreal adventure RPG, the game has a unique story and aesthetic that instantly helps it to stand out from the vast array of indie titles that are also coming out in the next 12 months.
What makes "She Dreams Elsewhere" such an interesting release is that it has such a personal story, dealing with the inner anxiety and nightmares of a comatose woman known as Thalia. That means it will address themes such as mental health and self-identity as well as the emotional toll of your actions in this strange world.
In addition to that striking narrative, this game also promises an intricate turn-based combat system that utilizes a Charm system so that players can choose between various playstyles and develop a wide range of strategies. If the gameplay can reach the heights of thoughtful writing, then "She Dreams Elsewhere" could be one of the most engaging games of 2023.
Octopath Traveler II
"Octopath Traveler" was one of the surprise hits of 2018, with the Square Enix game receiving plenty of praise for its varied characters, compelling stories, and inventive battle system that added extra depth to the traditional turn-based combat that is common in RPGs. As is suggested by its title, the game gave players the chance to play through eight different narratives from the point of view of a collection of characters, all with very different personalities and perspectives.
Considering the success of the first game, it shouldn't come as much of a surprise that "Octopath Traveler II" is being eagerly anticipated by many gamers. According to what Square Enix has released so far, this sequel will share many features with its predecessor but it's adding extra content in the form of a day and night cycle that opens up the possibility of giving characters specific tasks to accomplish at different times of the day.
New to the combat system are Latent Powers, special abilities that work in a similar way to limit breaks in "Final Fantasy" and can cause massive amounts of damage. This time around, the story will focus on a fresh cast of eight characters whose stories will all connect together in ways that were not possible in the original title.
Lies of P
The fictional puppet Pinocchio has seen something of a resurgence in recent times, with new adaptations of the classic children's tale arriving in 2022. This included a live-action remake on Disney+ and a stop-motion animation on Netflix from director Guillermo del Toro. "Lies of P" will join those in 2023, although this is a very different take on the world of "Pinocchio" than many might be expecting.
Developed by NEOWIZ, "Lies of P" reimagines the struggle of Pinocchio to become a real boy as a savage and cruel adventure game with a gothic fantasy setting. The action takes place in a brutal Victorian town and will see Pinocchio attempting to find his creator while also struggling to come to terms with what it means to be human in a world where no one can be trusted.
If that doesn't sound interesting enough, "Lies of P" will also feature combat that takes inspiration from "Dark Souls." That means Pinocchio will be armed with weapons such as swords and will be able to use magical abilities during combat. One major difference, though, is that players will be able to craft their own weapons to suit their playstyle and the situation they find themselves in.
Hogwarts Legacy
Despite the controversial comments made by J.K. Rowling in recent years about transgender rights that have led to calls for a boycott of "Harry Potter" projects, "Hogwarts Legacy" remains one of the most highly anticipated games of the year. The game, developed by "Disney Infinity" creator Avalanche Software, is the first original console title based on the series that isn't a direct adaptation of a film.
Despite the fact that the world of "Harry Potter" contains some of the most successful movies and novels of all time, it has seen little success in the gaming industry outside of the "Lego Harry Potter" series. "Hogwarts Legacy" is looking to change that with a story that takes place a hundred years before the events that fans are familiar with. The narrative will follow a student at the wizarding school who enters their fifth year and finds themselves able to manipulate an ancient type of magic.
Being set so far in the past means that the game can showcase events and characters that were previously mentioned in the main series, including the Goblin Rebellion, and will feature a wide array of explorable locations that include the Forbidden Forest and Hogsmeade. Gameplay trailers indicate that players will be able to use a large selection of spells and develop their own unique combat styles as they earn experience and level up, making it appealing to those who enjoyed the books and want to create their own character in the fictional world.
Final Fantasy 16
The "Final Fantasy" franchise is one of the few long-running RPG series that has been around since the early days of gaming. The latest entry from Square Enix looks set to go back to its roots, incorporating fantasy elements once again rather than focusing on sci-fi settings like many of the most recent titles. According to Kotaku, it will also have an emphasis on mature gameplay and themes, with a dark fantasy atmosphere and story that should give the series a helpful push in the right direction.
From what we've seen of "Final Fantasy 16" so far, it appears as if the combat has evolved into a faster-paced affair that will introduce a variety of new elements as the developer continues to try and get the most out of encounters. Fans will also be excited to discover whether the studio has taken criticism about the lack of depth in the gameplay to heart and made changes but the signs are certainly promising. Two things that will be welcomed are the addition of a story mode for those who just want to experience the narrative and the inclusion of a New Game+ mode after its success in "Final Fantasy 15."
Starfield
Few developers have the impact and reach of Bethesda, the company behind the "Fallout" and "The Elder Scrolls" series. The last full game the studio created was "Fallout 76," while the last proper RPG was "Fallout 4." With no release date in sight for "The Elder Scrolls 6," the focus has remained firmly fixed on "Starfield," a brand new IP that will be set in deep space rather than a post-apocalyptic future or fantasy past.
That doesn't mean, though, that gamers should expect too many changes to the tried and tested Bethesda formula because of the switch in setting. Players will take control of an explorer who is part of the group known as Constellation as they set out to journey across more than 100 star systems following a huge galactic war.
The idea of playing a game with similar mechanics to "Skyrim" on this scale has many players salivating. With so many worlds to investigate, each with its own unique environments and challenges, "Starfield" will likely allow you to sink weeks into it without seeing everything it has to offer. Unfortunately, there's no firm release date yet but it is expected to launch sometime in 2023.