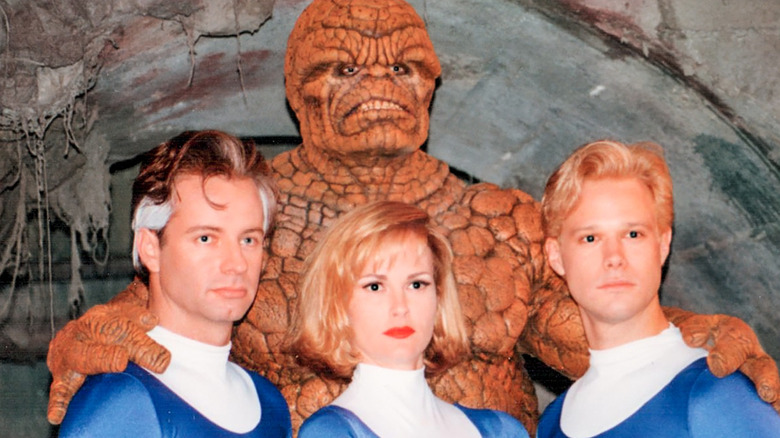 Film fans love to speculate on what canceled movie productions would have become. What would it have been like to see Steven Spielberg's science fiction epic "Robopocalypse," Quentin Tarantino's Vega Brothers movie, Stanley Kubrick's ambitious "Napoleon" biopic, or Alejandro Jodorowsky's "Dune" adaptation? Would they be everything fans imagined them to be? Or crushing disappointments? While it's fun to speculate, we can't put our faith into something that doesn't exist. Likely, these films wouldn't have lived up to fans' massive expectations.
Intriguing projects often never see the light of day in today's world of blockbuster-focused cinema. If a project becomes stuck in "development hell" for too long, its participants (actors, producers, financiers) may lose interest. Major franchises like "Star Wars" and "Star Trek" and the ever-expanding Marvel Cinematic Universe and DC Universe have so many upcoming projects it can be hard to keep track of releases and cancellations. (We're thankful that arduous film productions like "Mad Max: Fury Road" and "The Man Who Killed Don Quixote" debuted!)
There are many reasons why a film gets canceled. Sometimes interest in the project fades, the creators get too busy, or the studio changes its mind. However, some projects become oddly abandoned. Here, we explore movie productions canceled for absolutely ridiculous reasons.
1994's Fantastic Four was never meant to be released
The "Fantastic Four" franchise seems to be cursed. Tim Story's "Fantastic Four" and "Fantastic Four: Rise of the Silver Surfer" were not well received by fans or critics. Josh Trank's "Fantastic Four" fared even worse. While there is some hope for MCU's upcoming "Fantastic Four" reboot, the film's release has been pushed back in Disney's calendar shuffle. But it's not the first time a "Fantastic Four" movie has had a storied production.
To retain the rights to Marvel's characters, Constantin Film rushed a low-budget iteration of "The Fantastic Four" into production. The German production company hired notorious B-movie producer Roger Corman to oversee the production with a $1.4 million budget. The cast included Alex Hyde-White as Reed Richards, Rebecca Staab as Sue Storm, Jay Underwood as Johnny Storm, Michael Bailey Smith as Ben Grimm (with Carl Ciarfalio in the Thing costume), and Joseph Culp as Victor Von Doom. Although the stars believed that they were cast in a legitimate production, the studio had no intention of releasing the film.
While some initial marketing materials were released, and a trailer debuted at L.A.'s annual San Diego Comic-Con International, the studio canceled its premiere. In recent years, pirated copies have emerged on YouTube — making it a fascinating anomaly in film history.
Ascendant's TV movie plans
How ironic is it that a series once thought to be the next "The Hunger Games" couldn't get its lead star to reprise her role in a television movie? Based on the book series written by Veronica Roth, "Divergent" and its sequel "Insurgent" were relatively successful. However, the third film, "Allegiant," was the worst-reviewed and lowest-grossing installment in the franchise. Lionsgate split the book's ending into a two-part conclusion — to mirror the success of "Harry Potter" films who did this — and "Allegiant" was its first half.
So, Lionsgate remained "Ascendant" as a television movie with a subsequent spinoff series for Starz — a network they recently acquired. Shailene Woodley had no interest in reprising her role if "Ascendant" wasn't headed to theaters. Generally, when a franchise releases a direct-to-television or VOD sequel, it's never successful. (Does anyone remember the television prequel "Psycho IV: The Beginning?") Ultimately, Lionsgate scrapped the project due to a lack of interest. The result was a saga that ended with a cliffhanger and no proper conclusion.
Josh Trank's bad behavior on set cost him a Star Wars film
Josh Trank's directorial debut, "Chronicle," had been a surprise hit and exceeded expectations. In 2014, Trank announced he was helming a "Star Wars" spinoff film. However, Trank never got to make the film due to his bad behavior on the set of "Fantastic Four."
By 2015, sources who worked with him on the "Fantastic Four" production revealed to The Hollywood Reporter that Trank was "erratic" and "very isolated" on set. His dogs caused $100,000 worth of damage to a New Orleans property. Another source close to Trank told the outlet that Trank is "like one of these kids who comes to the NBA with all the talent and none of the character-based skills to handle it." Producers Simon Kinberg and Hutch Parker stepped in to complete "Fantastic Four" due to Trank's inability to make decisions. When the film finally hit theaters in August of 2015, it was a disaster that shattered all hopes of a recurring franchise for Marvel's first family — particularly after Trank essentially disinherited the film on Twitter on the day of release (via Polygon).
Lucasfilm got cold feet about working with Trank. He mysteriously didn't attend 2015's "Star Wars" Celebration in Anaheim. While Trank cited illness for his absence, sources said Lucasfilm asked him not to attend the event.
Justice League: Mortal wasn't Australian enough?
Warner Brothers once planned an ambitious project titled "Justice League: Mortal." The studio hired George Miller to direct the film, which could have jumpstarted a cinematic universe to rival the MCU. Unfortunately, Hollywood's writers' strike in 2007-2008 caused the film to push back its production date — as its script needed a rewrite. Miller was anxious to begin filming but couldn't do so in his home country. Even though the production crew and cast were primarily Australian, the Australian Film Commission denied a 40% tax rebate – citing that the film was too American.
Initially, Warner Brothers fast-tracked the production because they loved Miller's script. Filming plans moved to Canada, but the studio shelved the movie before filming began. The success of "The Dark Knight" inspired Warner Brothers to focus on individual characters rather than a team-up movie. Senior VP of Creative Affairs at DC Comics, Jeff Robinov, stated, "There's a massive interest and knowledge in the comic book industry, and it takes time to catch up and understand the characters and the history." Little did they know that in 2012 "The Avengers" would become a smashing success! We know now that audiences can handle complex universes and team-up movies.
Disney wanted to stop making fairy tale stories
Did you ever imagine "Jack and the Beanstalk" as a musical fantasy film? Disney thought this idea had potential and hired "Tangled" co-director Nathan Greno to work on a movie called "Gigantic." After Disney Animation teased the project at the 2015 D23 Convention, they announced that the award-winning "Frozen" songwriters Kristen Anderson-Lopez and Robert Lopez would compose the songs. The story of "Gigantic" would have followed Jack as he befriends a young giant girl and battles nefarious giants.
Teaser footage showed from the film showed a "Zootopia"-inspired easter egg with Duke Weaselton (Alan Tudyk) proclaiming he's selling "unreleased" movies on DVD: You can briefly spot covers for "Gigantic," "Frozen II," and "Moana." However, "Gigantic" faced numerous production delays. In 2016 "Inside Out" co-writer Meg LeFauve came onto the project as a co-director. The film's 2018 release date was pushed to 2020.
Ultimately, Disney chose to abandon the project, as their successes with films like "Frozen" and "Moana" showed they could rely on original tales — not just revisit old fairy tales. Considering Disney rose to prominence thanks to their game-changing animated adaptations of classic stories, this move feels strange. While Walt Disney Animation Group president Ed Catmull cited creative differences as the reason "Gigantic" never worked out, insiders reported that the studio wanted to instead focus on its original fairy tale adventure "Raya and the Last Dragon."
Gladiator 2 was just too weird for Crowe
"Gladiator" was a smash hit, but it presented a conundrum for a sequel: Maximus Decimus Meridius (Russell Crowe) dies after his final battle with Emperor Commundus (Joaquin Phoenix). However, Crowe hired the singer Nick Cave to draft the script. (When you think about the Roman Empire, who thinks of Nick Cave?!) When Cave mentioned to Crowe, "You die in 'Gladiator 1,'" Crowe reportedly replied, "You sort that out."
Cave's bizarre idea revolved around Maximus returning from the dead to become an eternal warrior. He'd fight in every major battle in world history. (Essentially, it's as if the opening montage of "X-Men Origins: Wolverine" was a feature-length movie.) The script, which Cave said would be called "Christ Killer," was set to include flashbacks to the Crusades, World War II, and the Vietnam War. Cave and Crowe extensively researched Roman mythology and their afterlife concepts. Ridley Scott planned to return as the director and saw some promise in Cave's script, stating that its elements "work[ed] very well."
The songwriter stated the film would be a "stone-cold masterpiece." But he also stated, "I enjoyed writing it very much because I knew on every level that it was never going to get made." So it seems he was aware of its ridiculousness.
Verhoeven's outrage over a $100 million budget
"Eclectic" is one word you could use to describe director Paul Verhoeven's filmography. Between science fiction classics like "Robocop" and "Starship Troopers," erotic thrillers like "Basic Instinct" and "Showgirls," and acclaimed international titles like "Turkish Delight" and "Elle," Verhoeven can take on any genre. Following his successful collaboration with Arnold Schwarzenegger on "Total Recall," Verhoeven developed an ambitious plan to cast him in a historical epic called "Crusade."
The unmade "Crusade" was called a mix between "Spartacus" and "Conan the Barbarian." "The Wild Bunch" screenwriter Walon Green penned a version of the script, which was revised by "Total Recall" writer Gary Goldman. Pre-production began in 1993, and the film's producers asked Verhoeven to confirm that the budget wouldn't exceed $100 million. According to Schwarzenegger, Verhoeven went "ballistic" and screamed: "Guarantees don't happen, and if anyone promises you guarantees, they're lying!"
Verhoeven's outrage caused the film's cancellation. "Crusade" would have changed Verhoeven and Schwarzeneggers' careers. Schwarzenegger has not returned to the historical epic genre since his breakout role in "Conan the Barbarian," so it would have been fascinating to see him star here — especially after starring in so many sci-fi films and family comedies. While Verhoeven continues to work, maybe "Crusade" would have been his all-time classic film. Ironically, the studio chose to fund the pirate movie "Cutthroat Island" instead, which became one of the most notorious box office bombs in history.
Warner Bros. wanted the tax break
If you need proof that massive corporations do not care about artistic integrity, look at what happened recently at Warner Bros. with "Batgirl." Following the merger between Warner Bros. and Discovery, the new CEO David Zazlav started making radical changes to the projects in development. Directors Adil El Arbi and Bilall Fallah helmed the live-action "Batgirl" feature film, starring Leslie Grace as Barbara Gordon. The original plan was for the finished superhero movie to debut on HBO Max.
In addition to the first appearance of Brendan Fraser as the villain Firefly, the film featured the appearances of J.K. Simmons as Commissioner Gordon and Michael Keaton as Bruce Wayne. However, Zazlav believed that the film did not meet quality standards. He felt that releasing DC content on HBO Max would dilute the brand. In his opinion, "Batgirl" couldn't be salvaged and recut for a future theatrical (or streaming) release. Later, fans learned that Warner Bros. Discovery would be able to write off the film's production costs as a tax break. They would not have to invest in reshoots. In addition to a series of other cancellations, Warner Brothers canned the release of the animated film "Scoob! Holiday Haunt," which had reportedly been near completion.
Regardless of whether or not "Batgirl" was good, it's insulting that filmmakers who work hard on a film will never see a finished product. More importantly, this sets a dangerous precedent for the industry if a studio sees films as commerce.