Traveling solo is a growing trend that won't slow down any time soon. Nowadays, it's not just business people, government officials, celebrities, or Instagram influencers who travel alone, anyone can now do it for leisure. Google searches for the keyword "solo travel" have increased by a whopping 131% since 2016, with women being the majority of solo travelers. Some of the main reasons tourists travel alone are to enjoy maximum freedom, meet new people, spend time alone, or have uncompromised fun. Panameboss on Reddit noted, "I love traveling alone … it's super easy to meet people. And you have complete freedom if you also just want to relax by yourself."
The downside of solo travel is that it can be expensive because you'll not always have someone to share costs with when you want to book a room, buy food, rent a car, or pay entrance fees to various attraction sites. If you're wondering where to get started, here are effective strategies you can employ to spend your money wisely while traveling alone next time.
Visit places with many free museums and monuments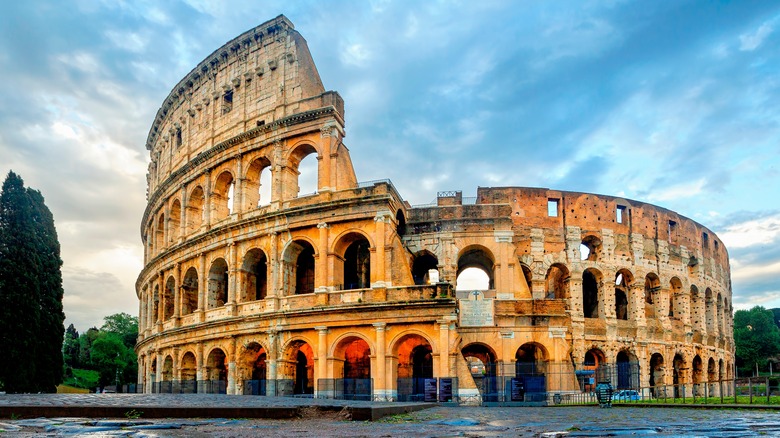 Some cities, especially in Europe, have a wide range of iconic museums you can visit without paying the admission fee. Examples of European cities you can visit are Paris, Rome, and Amsterdam. But before you visit, it's important to do some research to find out when it's free to visit those museums. For instance, you can enjoy all year-round free entry to Paris' museums such as Petit Palais, Musée Cernuschi, Musée de la Vie Romantique, Bourdelle Museum, and the Permanent Collections, which is part of Musée d'Art Moderne de la Ville de Paris (via Sortira Paris). You can also plan your trip to Paris on the first Sunday of any month to have free access to Musée d'Orsay and Centre Pompidou. If you are below 26 years old and you live in one of the countries under the European Economic Area, you can always visit the Louvre Museum for free any time of the year. Age limits also apply to other museums such as the Sainte Chapelle and Conciergerie (per Paris Infor).
Rome features awe-inspiring museums such as the Colosseum and Sistine Chapel, which you can get access to without paying entrance fees. Van Gogh Museum and Rijksmuseum in Amsterdam are other amazing spots for solo travelers on a tight budget (via Arna Bontemps Museum). Other cities worth exploring if you're a history buff include Copenhagen, London, New York City, Los Angeles, and Tokyo.
Join other solo travelers
If you randomly join another traveler, you'll not feel obliged to fit into their budget, unlike a tourist with a travel companion. You'll still enjoy your freedom to visit where you want, sample any type of food, or visit an attraction without the need to adhere to the other person's preferences. Since there are no strict rules, you can always do what others in your group are doing as long as it fits into your budget. Wendy Altschuler on Forbes says that it's a great idea to talk to strangers while traveling because it can help you discover affordable accommodation options, places to eat, and where to visit. In addition to the social aspect of interacting with other travelers, you might be lucky to get a free invitation or other handy recommendations. Altschuler also suggests that joining other adventurers on a trip helps take care of logistics, and that could mean sharing costs and visiting places
According to Imaginative Traveller, the advantage of a group tour is that costs are shared, so you pay less for accommodation, access to attraction sites, and transportation. Tour leaders who are experienced can help solo travelers choose the best spots to visit on a budget. Avoiding those single supplement charges (fees for a solo person using a space meant for two) goes a long way in ensuring you don't spend money on unnecessary things that could make a dent in your budget.
Stay in a single room or hostel
You can easily cut short a vacation due to high accommodation costs, especially if you're traveling alone. Fret not, you can save a lot if you stay in a hostel and use that money on other fun things such as buying tickets to events, sampling local delicacies, or paying for guided tours. You might be wondering if sharing bathrooms, rooms, kitchens, and other amenities is a great idea. Well, you may not enjoy the luxury of spending time in a private room, but hostels are rich in experiences. For instance, you can meet other travelers who can share their experiences with you or offer tips on budget-friendly excursions and tours, so you may get a companion who you can split some costs with if you share the same interests (via Travel Made Simple). In addition, some hostels offer complimentary group events, such as movie nights and karaoke, where you can interact with other travelers and have fun on a budget (per Forbes).
Choosing a hostel can be daunting, but you can start by checking those listed on Hostelworld since they have awesome options in about 178 countries, plus you can check out the reviews on the site. Booking.com and Youtube are other platforms you need to check out (via Solo Traveler World). If you want to enjoy more privacy but still pay less, a single room is an excellent pick, although it might be small.
Be flexible when choosing new destinations
Being open-minded will help you become more comfortable with changing your plans and enjoying things you didn't expect. Sticking to a specific schedule or plan can limit your options or lead to high expenses. According to Nerd Wallet, searching for destinations without having a specific place or date to stick to might help you find affordable options. For instance, if you plan a trip to Europe and you find that airfare to Copenhagen is quite high, you can still choose Paris if it's cheaper. The other option is changing your travel dates based on airfare costs. For example, if you had planned to travel on December 31, but the costs are high, you can choose a later date as long as you'll save on expenses.
To make your search easier, you can check out sites such as Dollar Flight Club or Scott's Cheap Flights to see available options. The only downside here is that these deals are available on specific dates, meaning you need to be flexible with destinations and timeframes. Google Flights is another reliable tool you can use to choose a wide range of flights based on your budget (per Nerd Wallet).
Check out calendars for free events and festivals
Some cities host exciting annual events and festivals that are usually cheap or free to enter. This is a budget-friendly way of enjoying the local culture, sampling foods, buying souvenirs, dancing to live music, or checking out exhibitions. Eventbrite is an example of an app to discover festivals, concerts, and holiday events, among other celebrations. The app shows important information such as cost, location, and dates.
Visiting the official websites of attraction sites to check out their calendar of events also helps to get accurate information. For example, according to Central Park, some free events you can attend are Global Citizen Festival, Harlem Meer Performance Festival, and SummerStage Festival. The site also highlights some spots you can visit for free activities, including Lincoln Center, The Met's Roof Garden Bar, and Rumsey Playfield. The Music Center is another awesome place to visit since you can enjoy some free performances during the Very Special Arts Festival Community Day in April.
Take advantage of deal packages
While searching for deals, don't be surprised to open more than 20 tabs since there are many options out there. It will take you hours if you are comparing different sites to learn more about the car rentals being offered, flight costs, accommodation deals, how long the offer runs, and where to book. However, booking several items from a single platform helps save costs and time because the research has already been conducted by a professional to ensure you get access to the best deals. Although most deal packages entail accommodation and flight, some offer other options such as transfers, car rentals, attraction sites to visit, and travel insurance (per Turkish Airlines Holidays).
A traveler on Reddit said, "You could always try Cathay! They have package deals with hotel and flights all over the world!" Another Redditor stated, "Most packages are just some company finding a hotel, flights, and activities and bundling them all together. Often times, there are discounts that you get by booking these 'packages' due to contracts on the backend."
Book in advance
If you're planning to visit a specific spot to attend a popular festival or for other activities that the place is well known for, there are high chances that the most affordable accommodation options will not be available if you wait for too long. For example, tourists flock to New Orleans to attend the Mardi Gras festival, so during that period, it'll be quite challenging to find budget-friendly rooms. Caribbean islands are also crowded during the Christmas holiday, so some hotels could be pricier than usual. Most tourists prefer to travel to Paris in July, and that leads to high demand for accommodations. The best thing to do is to book early, when the travel demand is relatively low because you're likely to find some good deals or discounts (via Adventurous Kate).
Listenup78 on Reddit notes, "In my experience booking as far in advance as possible is the cheapest." Another Reddit user stated, "Far in advance, I recently lost out on a good deal waiting just a few days. Thankfully found a deal at another hotel that has now also ended." Another Redditor suggests that booking a hotel that allows you to cancel your reservation within 24 hours is a wise thing to do because you can pick another cheaper deal if needed.
Eat street foods
While traveling to a new place, food can be quite expensive, especially if you only consume what well-established restaurants offer. Street food, on the other hand, isn't just cheap, it's a fun way of interacting with locals, learning a new culture, and sampling new types of food. You can still enjoy a nutritionally balanced meal in the streets as long as you know how to select the right proportions of proteins, carbohydrates, fruits, and vegetables. Better yet, you can easily access everything, so you don't have to waste time searching for reviews online (per Science Direct).
However, street foods can pose a health risk because they aren't handled by professionals or individuals who are always well-trained in food hygiene. As such, you need to know how you can consume such foods safely. For example, you can ask locals for recommendations on where to eat safe and delicious food on a tight budget. Another tip is eating in crowded places because that's a sign that they offer good food, plus you consume fresh delicacies due to the high turnover rate (via Lifehacker). To avoid stomach upsets, don't eat raw or cold food because they may contain disease-causing bacteria. In case something goes wrong after eating street foods, you could be suffering from traveler's diarrhea. You can manage it by drinking plenty of water or coconut water. To prepare yourself before you start your trip, pack some activated charcoal tablets since they are effective in body detoxification (via Food and Road).
Plan ahead
Planning can't be overemphasized, but this doesn't necessarily mean accounting for each dollar you spend, so be a bit flexible. If you don't have an idea about how much you want to pay for meals, transport, accommodation, and fun, you'll end up overspending and feeling stressed. The Balance has created a Travel Budget Worksheet that can make your work easier if you want to plan your expenses. According to Budget Bakers, you can research the cost of vacationing in an area using Trip Savvy, Lonely Planet guidebooks, Zomato, and Trip Advisor.
The unexpected happens, but most travelers forget to plan for emergencies. You need to set aside extra money for handling unforeseen circumstances such as illnesses and accidents. You may also decide to change your plans along the way by attending an impromptu event, so having a budget for such things won't stress you financially. To start off, put aside the amount you spend in two days for emergencies (via Budget Bakers). A Reddit user noted that you should plan to have room in your schedule, "Plan major things with room for daily spontaneity and adventure." Another Redditor added, "Spontaneous activities inside a carefully planned travel always hits the sweet spot."
Share rides
Instead of bearing all the transportation costs alone, you can share them with another traveler if you want to reach the same destination. Some reliable companies that offer ride-sharing services are Lyft and Uber, which are available in many countries. According to Mappr, Uber operates in approximately 80 countries and over 10,000 cities worldwide. This means that you can enjoy their services conveniently and save a lot by connecting with other travelers if you share rides. With UberX Share, you can save about 20% of the amount you would have spent if you traveled alone. And the same applies to Lyft if you choose the ride-sharing option. Both apps are relatively safe because you can rate the service they offer, report the driver, check the driver's rating, or read online reviews from other travelers.
One Standard Deviant, a Reddit user, said, "Uber is pretty consistently safe here, because the market for rideshare drivers is reasonably competitive. If a driver's score drops below a certain percent, they risk getting kicked off the platform." Redditor Goodandevy added, "I have taken my fair share of Ubers and Uber share in the bay as a single woman and haven't had any particularly bad experiences."