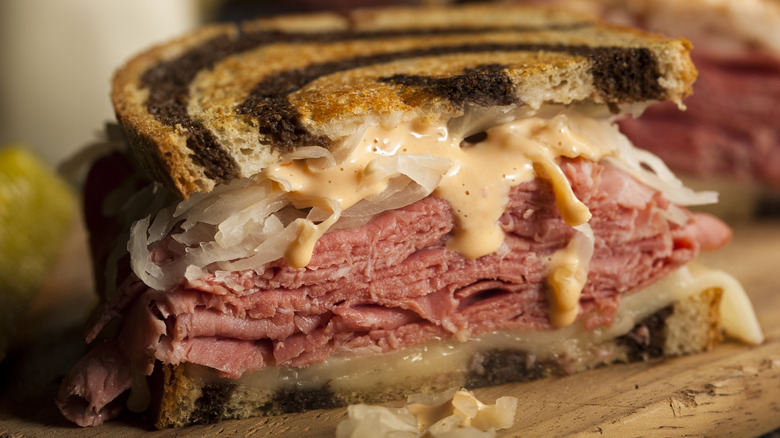 Like many foods, pastrami has a long and storied history that has played out across centuries and continents. Though its origins are sometimes debated, per Serious Eats, some historians claim pastrami is a descendant of Turkish pastirma, a meat product that "more closely resembled what we know today as beef jerkey."
In the early 1900s, Jewish immigrants began arriving in the United States in large numbers. Many opened their own delis and offered a new Americanized version of the delicacy. This iteration was smokier and more tender than its predecessor. Before long, pastrami was not only a popular dish — it was synonymous with Jewish-American cuisine. Nowadays, you'll find a pastrami sandwich on the menu at any self-respecting Jewish deli.
As the delicacy's birthplace in the United States, New York City is home to many of the best pastrami purveyors in the country. Los Angeles has several iconic pastrami shops as well, and you can discover more than a few scattered in between. From the Big Apple and the City of Angeles to the Midwest and the heart of Texas, here is where you'll find the absolute best pastrami in the U.S.
Langer's Delicatessen — Los Angeles, California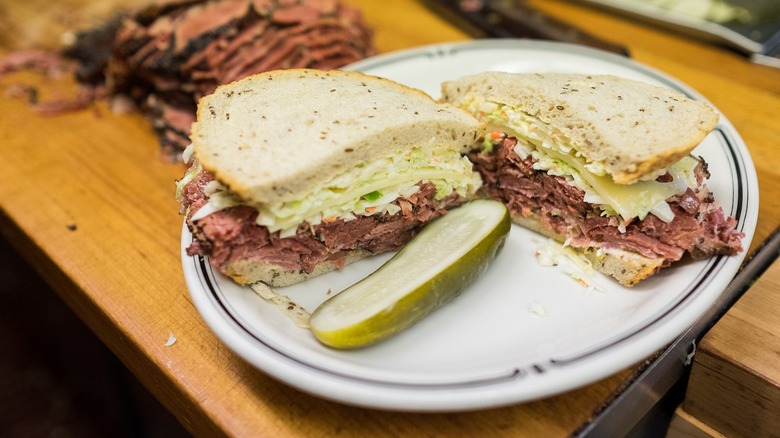 "It's soft but crispy, tender but chewy, peppery but sour, smoky but tangy. It's a symphony orchestra, different instruments brought together to play one perfect chord. It costs eight-fifty and is, in short, a work of art." This is how Nora Ephron concluded her ode to the hot pastrami sandwich served at Langer's Delicatessen, a sandwich she confidently claims is the best in the world (via The New Yorker).
Putting the California deli's offering at the top of the list is a bold move from anyone but holds extra weight coming from Ephron. Not only was the acclaimed writer a native New Yorker, but she also penned the screenplay for "When Harry Met Sally," which has a particularly memorable scene at another deli famed for its pastrami sandwich (more on that one next). Ephron isn't alone in her praise, however. Famed food critic Jonathan Gold confirmed that "Langer's probably serves the best pastrami sandwich in America" (via the Los Angeles Times).
So, how does Langer's do it? According to owner Norm Langer, it's all in the preparation. The deli steams its pastrami longer than other restaurants (nearly three hours) to the point that it's tender enough to be hand-cut. Another distinguishing factor is the bread. Langer's outsources its rye bread but finishes baking it in-house for a perfectly hot, fresh product. The end result is a delectable sandwich that many discerning palates will tell you is as good as it gets.
Katz's — New York, New York
Katz's Delicatessen is arguably the most well-known deli in the United States. The establishment dates back to the 19th century when it was a small deli known as Iceland Brothers. In 1910, Willy Katz and his cousin Benny bought out the owners and renamed the eatery. It has been family owned ever since. Despite its storied history, Katz's has built its fame largely on the back of two facts: The restaurant made an iconic appearance in "When Harry Met Sally" and it serves what many people argue is the absolute best pastrami in the country.
Let's dig into the latter fact. At Katz's, pastrami is a labor of love, proven by the time-consuming lengths the deli goes to get it right. The eatery's pastrami comes from the navel, an especially fatty cut of meat (via Serious Eats). It uses a sodium nitrite-enriched pink curing salt that provides flavor and gives the meat its trademark pinkish color. After a two to four-week curing process, the pastrami is seasoned with a spice rub that includes onion, garlic, pepper, and coriander. It is then smoked at a low temperature for two to three days. Finally, the meat is boiled and steamed until it's tender enough to be hand sliced. All that's left is for the pastrami to be layered a mile high and for you to work up an appetite.
Zingerman's — Ann Arbor, Michigan
In the late 1970s, friends Ari Weinzweig and Paul Saginaw, who worked together at a Michigan restaurant, began kicking around ideas of opening their own eatery (via Zingerman's). They debated a long list of potential cuisines. Ultimately, the pair kept coming back to something both of them enjoyed as kids: Jewish food.
Fast forward to March 15, 1982, when Zingerman's Delicatessen opened the doors to its Ann Arbor location, where it still stands today and where you'll often see college students and locals lined up around the block. The restaurant has an extensive menu, but nothing beats its pastrami, which has caught the attention of The New York Times and USA Today. Zingerman's offers three pastrami sandwiches: Don's Rhythm & Blues, featuring pastrami and mustard on rye; Jenny's Fix, with pastrami, Swiss Emmental cheese, coleslaw, and homemade Russian dressing; and Binny's Brooklyn Reuben, consisting of pastrami, Swiss Emmental cheese, sauerkraut homemade Russian dressing all on grilled pumpernickel bread. The Brooklyn Reuben was voted the deli's best sandwich by its customers.
If you can't make it all the way up to Ann Arbor, Zingerman's has you covered. The deli ships pre-sliced pounds of its pastrami across the country. Faraway diners can also order pastrami Reuben Sandwich Kits, which come complete with pumpernickel bread, sliced pastrami, sliced Emmentaler Swiss cheese, potato chips, coleslaw, sauerkraut, Russian dressing, and garlicky pickles.
Manny's Cafeteria & Delicatessen — Chicago, Illinois
In 2022, Manny's Cafeteria & Delicatessen celebrated its 80th year of business (via Eater Chicago). To honor its octogenarian status, the eatery did something other traditional Jewish delis might find blasphemous: It developed a new pastrami sandwich recipe.
Dubbed "The 80," the dish is made of meat from the brisket cut rather than the navel. It's cured and flavored in the same manner as Manny's traditional pastrami but, most notably, is hickory smoked instead of oven roasted. The new smoky cooking preparation, according to two Eater reviewers, creates a sandwich that infuses the pastrami with some barbecue flavor. "The smoke really does add a new dimension to the pastrami," one said. "Some folks, presumably those who love barbecue and are more attuned to the difference, will love the nuanced taste." The second agreed, adding "The smoke was pleasant without overwhelming the pastrami flavor and with a slight nod to Southern barbecue."
Traditionalists, fear not: The original pastrami is still on Manny's menu, and diners can order it in a variety of ways, including in a classic Reuben or beef pastrami sandwich. For those looking for something new, Manny's also offers the Chazzer, with corned beef, pastrami, cole slaw, and muenster cheese on rye, and the My Four Kinder, a corned beef, pastrami, brisket, and turkey pastrami sandwich.
Wexler's — Los Angeles, California
The city of Los Angeles has a storied pastrami tradition that dates back decades. It's not an easy place for a newcomer to rise to the top. Yet when Wexler's Deli opened its doors in 2014, people were quick to ask themselves, "Is this the best pastrami in town?" (via LA Weekly).
Few restaurants put as much time and effort into the preparation of pastrami as Wexler's. Chef and owner Micah Wexler, who previously worked at Tom Colicchio's flagship eatery Craft, completes each step (curing, smoking, and steaming) in-house. The result is a one-of-a-kind product that renowned food critic Jonathan Gold described as "succulent and almost impossibly rich; natural contours of the meat curling into the soft bread; the subtle tang of mustard; hints of smoke, garlic, and clove." For sandwiches, the rye bread is sourced from a local bakery and made precisely to the deli's specifications. This includes a high ratio of rye flour, which provides the bread with a mildly sweet flavor.
You can buy Wexler's pastrami by the ½-pound or enjoy it in one of three sandwich options: The O.G. (pastrami and mustard), The Newman (pastrami, corned beef, and mustard), and The MacArthur Park (pastrami, coleslaw, Swiss cheese, and Russian dressing). Can't make it to Southern California? Wexler's ships whole pastrami and sandwich kits nationwide.
Canter's Deli — Los Angeles, California
In the eternal pastrami battle between the East Coast and West Coast, Canter's Deli has its foot in both camps. Maybe that's its secret recipe? The deli was originally opened by Ben Canter and his brothers in New Jersey in the 1920s. After losing their restaurant during the stock market crash, the family headed to Los Angeles, opened a new deli, and have been slinging pastrami and other Jewish delicacies ever since.
Speaking of pastrami, for many years Canter's cured and smoked its own meats. High demand, however, has forced the restaurant to outsource the process to a third-party purveyor that sticks to the same family recipe Canter's has been using for decades (via Los Angeles Times). Once back in-house, the pastrami is piled high on a variety of sandwich options, arguably the most famous of which is the Canter's Fairfax (via Jewish Journal). This culinary creation consists of a healthy portion of pastrami and hot corned beef on rye bread.
As good as the food is at Canter's, which has since opened a second location in Las Vegas, the experience may be even better. The landmark Los Angeles deli is open 24 hours a day and is known for getting celebrity visitors. Even the President of the United States has stopped by (via CBS News).
Beantown Pastrami Co. — Boston, Massachusetts
New York and Boston are typically rival Northeast cities, but if there's one category in which the latter would welcome a favorable comparison to the former, it's pastrami. And that is precisely what Beantown Pastrami Co. strives for. "Our goal was to have people say 'You're almost as good as Katz's, or as good,'" co-owner (and former Food Network executive) Joe Langhan told Visiting New England.
Unlike most of the establishments on this list, Beantown Pastrami is a fairly new operation. But since opening in 2015, it's carved out quite a reputation for itself. Its pastrami has received praise from the likes of the Boston Globe and GBH. The restaurant sources its eponymous meat from local farms. "We went through virtually every processor in New England and did blind taste testing until we found the best one," Langhan says. Once in-house, the meat is seasoned (with coriander, mustard seed, garlic, and onion), prepped, and steamed for several hours. It's then ready to be served in a traditional pastrami sandwich or in the Grilled Pastrami Rachel, featuring pastrami, coleslaw, baby Swiss, and Russian dressing. All sandwiches are served on bread sourced from local Boston bakeries.
How confident is Beantown Pastrami in its product? It will give you your money back if you're unsatisfied. That's right — the restaurant offers a money-back guarantee on all of its food if you find it doesn't meet your standards.
Sam La Grassa's — Boston, Massachusetts
If Beantown Pastrami Co. is the new kid on the Boston pastrami block, Sam LaGrassa's is its elder statesman. Since opening its doors in 1968, the restaurant has earned a glowing reputation on its way to becoming a local culinary institution. It's even been featured on Food Network's "Diners, Drive-Ins, and Dives." Why the fuss? Many locals will tell you LaGrassa's has the best sandwiches in town, a title bestowed on the deli by Boston.com readers in a landslide vote.
LaGrassa's offers a number of pastrami sandwiches, including a po' boy smothered with honey mustard, a caprese version with buffalo mozzarella, and the Diablo, made with chipotle mayo, barbecue sauce, and hot cherry peppers (You can also order the pastrami a la carte). But the most famous, and most popular, sandwich at the iconic lunch destination in the chipotle pastrami. This delectable delight, which was a favorite of Guy Fieri when he visited town, features sweet-and-tangy Rumanian pastrami, chipotle honey mustard, coleslaw, and Swiss cheese. It's all held together by a grilled Italian sesame roll, which helps put the sandwich over the edge. "The distinctive part of the bread is you really can't get it anywhere else," co-owner Ronnie LaGrassa said. "It's a very light crust and soft on the inside, but the flavor profile of the actual dough is where it becomes special."
Shapiro's Delicatessen — Indianapolis, Indiana
If you think the Midwest might not be the best place to find a great Jewish deli, one stop at Indianapolis' Shapiro's Delicatessen will have you changing your tune. The eatery, which currently has two locations, has been family owned and operated for more than 115 years. The Indiana institution has been lauded by the likes of USA Today and Food & Wine Magazine.
No Jewish deli is complete without proper pastrami, and on that front, Shapiro's delivers. All the food served at the deli is prepared based on old family recipes, according to the Courier & Press. "They keep everything here strictly the same as time goes by," a general manager said. "We have consistency."
For the pastrami, this recipe includes using the fatty meat from the belly of the cow, flavoring it with spices, and lightly smoking it. Once the meat is cooked, it's ready to be piled high in between two slices of bread. Diners have several pastrami menu options to choose from at Shapiro's. There's the traditional pastrami sandwich, the Reuben and New York Reuben, both of which can be made with pastrami, and last but not least, the P.L.T. This last creation is a take on the B.L.T. in which the bacon has been swapped out with crispy pastrami.
Kenny & Ziggy's Deli — Houston, Texas
The Houston eatery known as Kenny & Ziggy's Deli is co-owned by third-generation deli proprietor Ziggy Gruber, whose Hungarian grandfather immigrated to New York City in the early 1920s and soon opened the city's first Jewish-style deli. "Me and my grandfather were very, very close," Ziggy told ABC. "He was my best friend and he taught me everything." That influence led the younger Gruber to open his own delicatessens, first in New York, then in Los Angles, and finally, Texas.
Gruber isn't your typical deli owner. Prior to going into business, he attended culinary school at London's Le Cordon Bleu before working at the three-Michelin-starred restaurant Le Gavroche. His skill is evident, especially when it comes to the deli's pastrami. According to the Houston Press, the meat is cured in a salt and sugar brine for 45 days and seasoned with pepper and juniper berries, before being smoked in-house three times. "With the smokiness, the sugar and the salt cure, it balances everything out," Gruber says. "It gets that 'more' factor. You want to eat more and more of it." The end result is a pastrami sandwich that the Press once included in a list of the best dishes served in Houston. Texas Monthly is equally enthralled, claiming the pastrami on rye at Kenny & Ziggy's Deli is the "closest you'll get to NYC in Texas."
Larder Delicatessen and Bakery — Cleveland, Ohio
Koji may not be a well-known ingredient to most of the country, but it's all the rage at Larder Delicatessen and Bakery. The Cleveland restaurant's chef and owner Jeremy Umansky began using koji, which is traditionally used in Japan to make miso, soy, and sake, when he was working at an Italian restaurant (via Food & Wine Magazine). When he ventured off to start his own business, Umanksy applied the technique to the Jewish food he grew up with, including pastrami.
Thanks to the koji microbes, it takes just three days (as opposed to several weeks) for Larder to prepare its pastrami. It's flavored with a spice combination that includes black pepper, coriander, and earthy reishi mushroom powder. When it comes time to make the sandwich, the pastrami is layered in between two slices of tasty rye bread.
The preparation is decidedly new school. So much so that it earned Umansky a culinary innovation award from the Certified Angus Beef brand. The end result, however, is a pastrami that traditionalists will still recognize. "We're doing some newer spins, but we're preparing food that replicates that nostalgic product," the chef told Eater. "If someone were to come in here and eat, most of the food would look, feel, and taste the same as what they're used to seeing at a deli. What's really modern about it are the ingredients and techniques we'll be using to produce the food."