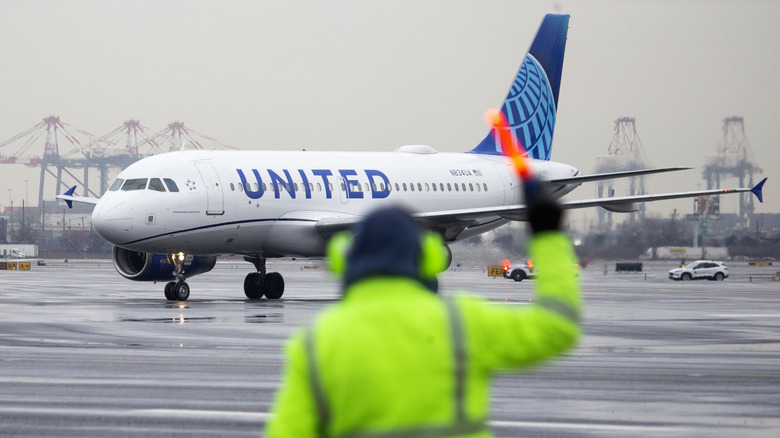 United Airlines is one of the biggest airline companies in the United States and is known for its motto "welcome to the friendly skies" and its devotion to eco-friendly practices. Not only has the airline committed to being 100% green by 2050, but they're also leading the charge in making more ecologically friendly choices in the airline industry, per United. In 2021, United was even named Air Transport World's Eco-Airline of the Year for its leadership in sustainable solutions.
While the technology is far from being finished, Lauren Riley, managing director for global environmental affairs and sustainability at United, told The Guardian that the goal is to completely get rid of the emissions involved with flying because sustainability is such a huge priority for the airline.
As an airline, United services over 330 locations across 74 countries with an 80% on-time rating, according to Zippia. Given that United Airlines is one of the major players, particularly in the domestic market, there's a good chance you may fly with them someday if you don't already. So here are some of the top questions about United Airlines answered to help make your next trip smooth sailing.
Does United Airlines offer free checked bags?
Like many airlines, United Airlines generally provides free checked bags for loyalty members of a specific tier as well as credit card holders. However, there are times when gate agents may offer free checked bags at the departure gate due to flight capacities. For business or first-class customers at United, the airline always offers free checked bags no matter where they are flying to, per Finance Buzz. Meanwhile, economy passengers on long-haul flights are also eligible for a free checked bag, but economy basic fare passengers are not.
No matter the fare purchased, United MileagePlus credit card holders are also entitled to free checked bags. According to United, the bag allowances scale up starting with the United Explorer Card with one free checked bag and ending with the United Club Business Card which allows two checked bags. The airline adds that cardholders must purchase the flight with their United card in order to be eligible for the free checked bag perk.
Does United Airlines offer a free carry-on?
With a few exceptions, customers are generally able to take a free carry-on to their destination on United Airlines flights. Exceptions happen to depend on the kind of ticket a guest has purchased. Travelers who have not purchased the basic economy ticket are allowed one full-size carry-on bag and one personal item free of charge, according to United. However, the airline adds that it's important to check with your airline if you are flying with one of United's partners as every airline has a different carry-on policy.
Basic economy passengers will be charged extra for bringing a full-sized carry-on onboard with a few exceptions to the rule, according to The Points Guy. Passengers who are flying transatlantic flights, transpacific flights, United MileagePlus credit card holders, or any MileagePlus Premiere or Star Alliance Gold members are not charged extra (per The Points Guy).
It is also worth noting that with United, cabin-approved pet carriers are considered personal items, so keep that in mind while you're packing (via The Points Guy.) Also, be sure you aren't over-stuffing those carry-on bags! They still have to be able to fit in the overhead bins.
What is United Airlines' Polaris?
You may have seen signs for Polaris lounges or ads to upgrade your ticket to a Polaris seat when flying with United Airlines. What exactly is United Airlines' Polaris? It's their flagship, international business class cabin with club options to match at certain airports. According to NerdWallet, the Polaris experience is a luxurious way to fly with United, from full-catered lounge access to lie-flat seats and brand-name amenity kits upon taking your seat. The outlet adds that the best way to get good value for your Polaris experience is to book with MileagePlus points rather than with cash.
If a Polaris lounge isn't available at your airport, you will still have access to the available United Club or partner lounge locations, per United. Plus if you're traveling Polaris for 12 hours or more, you can request pajamas to get extra cozy in your pod area for the long-haul flight, the airline adds. Those PJs will be perfect with the airline's signature Saks Fifth Avenue bedding available to Polaris customers. Talk about sleeping soundly in the clouds!
Does United Airlines serve meals?
Whether you get fed on a flight or not generally depends upon how long your flight is and United Airlines is no exception. For flights over 500 miles, you'll get a snack, but for those flights less than two hours, you will not. As for flights of 800 miles or more, you will get a full meal, per United. Additionally, non-alcoholic beverages are available on all flights free of charge while alcoholic beverages are also available to purchase. However, wine and beer are available for free to economy customers on long-haul international flights (via United).
Cheap Flight Info states that international economy customers will receive two hot meal courses while Polaris customers will get three courses. There are dietary restriction options available such as vegan, vegetarian or kosher meals upon request. You're also able to request other kinds of dietary restricted meals ahead of time, should you need them. If you have questions about the in-flight dining options on your flight, you can always check in with United's customer service folks before takeoff.
Does United Airlines seat families together?
Buying seats on any airline includes ensuring whether or not you're able to pick your seat ahead of time or not. It is up to customers rather than the airlines to ensure that your family is seated together. If for whatever reason, your seats are not together, you can talk with a United Airlines agent at the airport and they will try to seat your family together, per United. The airline also suggests booking your flight as early as you can and selecting your seats at the time of booking so your family can be together during the flight.
The Points Guy suggests avoiding the basic economy fare if you want your family to sit together on the plane because you will have to purchase seat assignments. More than that, the site suggests letting the United system choose seats for you if the available seats are all over the place because the system will attempt to seat groups together. Should you not be able to book seats together right away, keep checking the seat availability in the weeks and days leading up to your flight as space may open up (via The Points Guy). Your last option is to ask a fellow flier to switch with you once you're on the plane, but you should always do your best to get seats together if that's what you want ahead of time to avoid that uncomfortable conversation.
Does United Airlines offer bereavement fare?
There was a time when airlines offered discounted or cheap fares for customers suffering a loss who need to travel for a funeral or other events around that loss. Unfortunately, the majority of airlines have done away with the notion of bereavement fares, leaving customers to fend for themselves. United Airlines is no exception. According to Cheap O Air, the only airlines that still offer bereavement fares are Delta, Westjet, Air Canada, and Lufthansa.
United Airlines got rid of its bereavement program in 2014, per Sky Scanner. At the time, United released a statement on the decision saying that last-minute fares have decreased overall, which makes bereavement discounts less valuable (via Sky Scanner).
Although the bereavement fare is no longer available, Sky Scanner reports that United Airlines' customer support specialists are at-the-ready to help during that difficult time. Don't hesitate to call for booking assistance if you need it.
Are United Airlines tickets refundable?
Regardless of your ticket fare level, all tickets purchased at United Airlines are fully refundable up to 24 hours after purchase, via United. After that 24-hour period, however, the eligibility for refunds depends on what kind of ticket you purchased and how you purchased it. If you need to cancel your reservation, you can then request a refund from United via their refund form which can take up to seven business days to process, per the airline.
Tickets that qualify as refundable are generally more expensive than the non-refundable ones but do not include a penalty for canceling your flight, according to USA Today. Change fees can be anywhere from $50 to $150 for non-refundable tickets, though there are a few exceptions. United will allow refunds in the case of the death of a traveling companion, the death of an immediate family member, or jury duty (via USA Today.) Further, travel insurance can also help ensure that you will be refunded in any covered event that leads to your flight cancelation.
Is there a premium economy section on United Airlines?
Not quite First Class, but not quite Economy is the Premium Economy option. At United Airlines, Premium Economy is known as Premium Plus and involves some of the same services as a regular economy fare with a few perks, per United. Those perks include more room to stretch out and more food/beverage options depending on how long your flight is, according to the airline.
According to Gourmet Flyer, Premium Plus seats are usually configured in the 2-3-2 or 2-4-2 layout on United Airlines aircrafts, so if you book early enough you might score a pair of seats along the window, which allows for a little more privacy. You'll still get an amenity kit in Premium Economy, though they are smaller compared to the business class offers. The big perks of Premium Economy are largely the leg or footrests, the additional layback space, the room between seats, better food options, and the complimentary alcohol (via Gourmet Flyer). Even if you don't get lounge access or as much fancy swag to walk away with, the middle price point of Premium Plus makes it a viable flight candidate between economy and business class experiences at United.
Does United Airlines offer discounts?
Although United no longer offers bereavement discounts, the airline does offer several other kinds of discounts that flyers should take advantage of. Military personnel, veterans, and young folks between 18-23 years old are eligible for 5% flight discounts, according to United. The young traveler discount is available directly through the United app while the veterans' program needs travelers to sign up for Veterans Advantage in order to use the discount, per the airline.
While United says the discounts for young folks are 5%, The Points Guy reports that some discounts have been over 60%. Discounts tend to be higher when booked for a last-minute travel date, per the outlet. For example, TPG explained that a San Francisco to Seattle flight which should have cost $244.60 became $92.51 through the young traveler program. You do have to be 18-23 to use the program since your birthday is required for booking, so being young-at-heart isn't quite enough to score this discount.
On the other hand, seniors aged 65+ are eligible for certain travel discounts which can be accessed at booking on your own or through a United representative (via United). The airline notes that seniors are also eligible to get extra time to board, additional assistance throughout the airport, and more personalization including communication with loved ones via United Signature Service.
What does the United Airlines app have to offer?
From chatting with agents to digital boarding passes or watching a movie at 10,000 feet, the United app can be a crucial part of a traveler's packing checklist. The United Airlines app offers easy access to manage your trip, book future travel, and even change seats or pre-order food for an upcoming flight, according to United.
The Points Guy reports that the United Airlines app is a handy tool for travel, particularly on the day of traveling since gate changes and other important information can be found in the app. Most importantly, TPG explains, the app includes significant accessibility improvements from previous versions. The current United app has significantly different color contrasts as well as more white space between graphics, which helps screen readers interpret the text into audio. Remember to update or download the app prior to boarding as you may be unable to do so once you're on the plane. Keeping the app updated also ensures you're getting the best experience out of it.
Do United Airlines planes have televisions?
Customers who utilize the United Airlines app on their personal devices have all their in-flight entertainment in the palm of their hands. That said, United has further prioritized customer entertainment by offering more ways for folks to fight off in-flight boredom. Far be it from the overhead screens every few rows from decades past, United Airlines still utilizes screens in their seatback TV sets. Over 100 live TV channels are available on seatback TVs aboard United Airlines planes in addition to the collection of other films or series available on the TV or via the app, per Nerd Wallet. Seatback TVs also include music channels as well as music video playlists, the outlet added.
According to Frommers, United has pledged to have a seatback TV screen on every plane in their fleet by 2025. Frommers added that JetBlue is the only U.S.-based airline that has screens at every seat until United Airlines retrofits all of their existing planes. Additionally, every seat will have a USB port and power outlet to make watching media on your phone or another device easier during flight (via Frommers).
Does United Airlines offer Wifi?
The days of being overwhelmed by an onslaught of text messages upon landing are nearly behind us. United Airlines is one of the many airlines that offer Wi-Fi to keep customers connected even while soaring through the clouds. All United aircraft have Wi-Fi services, according to the airline. United adds that the Wi-Fi usage pricing varies but frequent travelers can also purchase a month or year of Wi-Fi use via a subscription as well. Also, premium transcontinental flights actually offer a few different internet service providers to choose from (via United).
T-Mobile customers are also in luck because United Airlines has a partnership with the company to offer free in-flight Wi-Fi for their customers on certain domestic and international flights (via Simple Flying). Internet service in the sky with T-Mobile means that United Airlines customers can browse, stream, and access email or text while flying to their destination. So, if you're a T-Mobile customer, check to see if you have free access on your flight before shelling out the cash for Wi-Fi.