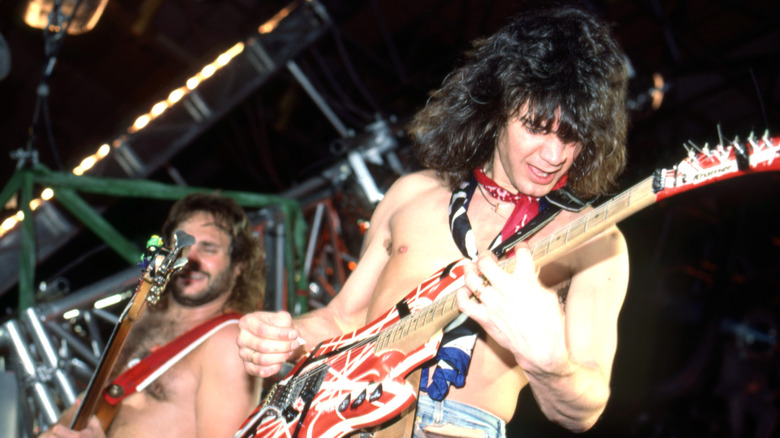 Edward Lodewijk Van Halen was a maestro who undoubtedly sits high on most people's list of greatest guitar players in rock n' roll history. His distinct aural assault was imparted by the way he fingered the frets on his iconic, hand-built guitar known as Frankenstrat. And while the band changed lead singers over the years, its sound never did. When you heard a lick or solo from Eddie, you knew it was a Van Halen song.
His admitted passion to "tear things apart" (via Backstage Pass Rock-News) carried into his love for cars. As has been reported by a myriad of sources, he probably had more of them drive in and out of his collection than both versions of the band (Van Halen and Van Hagar) had hit songs on the all-genre Billboard 100 (23, if you're curious).
Classic Chevrolets appear to have been his favorite American-made muscle, owning a factory 1956 Nomad Station Wagon and a slew of custom-built classics like a 1970 Nova, 1955 210, and 1993 Chevy 1500 half-ton short bed pickup. For good measure, he even owned a tricked-out 1947 Dodge COE "Stake-Bed" truck, which he drove to his local home improvement store on the weekends.
All of these were sold at auction before his death in October of 2020. But the Guitar God also liked high-end sports cars like Lamborghini, Porsche, and Ferrari, which sit atop Van Halen's list of most expensive rides.
The Lambo Van Halen called an adult go-kart
Up first is Van Halen's most expensive and interesting set of wheels. The 1970 Lamborghini Miura S was purchased by his first wife — actress Valerie Bertinelli — as a wedding present. The license plate read "APR 11," honoring the day they got married (April 11, 1980). Eddie used it as a daily driver for many years, and it's also the car you can hear revving in the background on the band's song, "Panama."
A factory '70 Miura S came with a 3.9-liter, 239-cubic inch V12 producing 370 horsepower at 7700 rpm, and 286 foot-pounds of torque. It goes 0-60 in 5.5 seconds, and does the quarter mile in 13.9 seconds, with a top speed of 177 mph (via conceptcarz.com). But Van Halen's Miura, which he once described as "an adult go-kart," was anything but ordinary.
Like most other Van Halen cars, it was put up for sale in late 2018/early 2019 and purchased by John Temerian from Curated, the vintage exotic car dealership in Miami. Through research, Temerian discovered that the car is, in fact, a "Lavorazioni Speciale" — hand-built straight from the factory, complete with the broader body, vented fenders, and tires, not after-market mods as previously believed. Moreover, it's only five or six production numbers removed from the first Miura SV prototype.
They sent it back to the Lamborghini factory in Italy to restore it to its former glory, which included returning it to the actual "Verde" color — not the Van Halen red. In a February 2021 article, MotorBiscuit placed an estimated value at $1.5 million. Oddly, no updates have been posted about its current state or whereabouts, so the actual value might be very different now.
Even Eddie couldn't spin this Porsche
Next on the list is a 2016 Porsche 911 GT3 RS (like the one seen in the picture above, minus the black GT3 RS graphic along the bottom), which Van Halen ordered new directly from Porsche (via Stephen Becker Automotive Group). Vented louvers adorned the front fenders, while the back had "Turbo-like intakes." Van Halen's RS came with a magnesium roof, carbon fiber bucket seats with six-point safety harnesses, and the complete Club Sport Package that included a roll cage.
A 4.0-liter, flat-six sits under the hood kicking out 490 horsepower and 346 foot-pounds of torque. It's capable of screaming from a standstill to 60 mph in a mere 3.3 seconds, with a top speed of 193mph. It was mated to a 7-speed dual-clutch automatic with manual shifting mode (via Stephen Becker Automotive Group).
The 911 GT3 RS is a sports car that Car and Driver said was for "hard-core purists." In a 2016 interview with the car magazine, Van Halen lavished heaps of praise on the German sports car, saying that it was extremely light, handled well, and was the first 911 he was ever "able to four-wheel-drift" without spinning. His GT3 sold at auction for $200,000 with only 15,188 miles on the odometer.