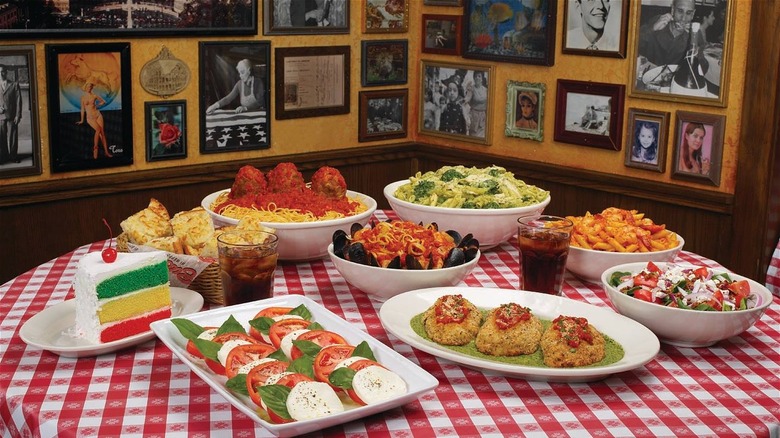 For many Americans eating out in the nineties, Buca di Beppo was at the height of fashion for red sauce decadence. Although mined out of the Twin Cities in 1993, the vibrant chain has transported diners to the era of Little Italy without fail, thanks to classic, treasured recipes like stuffed shells and spaghetti with meatballs served in heaping, nonna-approved portions. And to this day, part of the Buca di Beppo experience lies in the excessive decor that's become its signature, such as checkered tablecloths and kitschy knick-knacks collaged across the walls.
Call it over the top or tacky, but Buca di Beppo's made a business out of dishing up family-style fun for all generations. It might not be the swankiest trattoria in town, but that's alright. Impressing purists is not one of the restaurant's goals. What will impress, however, are the staggering amounts of food Buca di Beppo serves at such a low price. We're talking pounds of penne in cheesy Alfredo sauce and humongous mounds of meatballs for around $30 apiece or less (per Fast Food Menu Prices).
The a la carte format no doubt contributes to the fairly budget-friendly fare found on the menu, and it's a certainty that's remained constant across the nearly 70 locations currently open around the U.S. But is it the only explanation? If you've worn out your noodle trying to understand how Buca di Beppo stays so cheap, grab a bowl and fill up on the facts laid out below.
New restaurants strategically open around the holidays
Food is at the heart of the holidays. To bond with loved ones over a yummy meal — it kind of sounds like a typical visit to Buca di Beppo, doesn't it? The chain anticipates high foot traffic during the festive months, unsurprisingly, which is why it plans accordingly to maximize the most revenue possible. How so? By opening new locations in time for the annual winter holiday season.
Essentially, Funding Universe explains that the strategy involves scheduling restaurant openings in November, with the idea that the chain can prepare for the swell of large gatherings across major holidays — Christmas of course, but also Hanukkah and New Year's. And the numbers back up this highly profitable endeavor. A study by the National Restaurant Association finds more than 75% of the U.S. population eats restaurant food during the season, whether they're dining in or ordering takeout. Additionally, regional trends are taken into account to schedule where locations will reap the most financial rewards.
Hopping on the holiday bandwagon alone isn't a guarantee of booming business. But between generous seating and comforting hot plates, Buca di Beppo can comfortably draw large groups that make those big portions as budget-friendly as they are. If a location can potentially pocket roughly $100,000 within a single week due to good timing (per Funding Universe), that grand sum can easily subsidize large amounts of food on the cheap.
Menu items aren't always made from scratch
Buca di Beppo's red sauce and breads have garnered a lot of accolades, being homemade and all (per Bon Appetit). But believing a Sicilian grandmother is responsible for all of the food on your table? Sadly, that's wishful thinking. "A large portion of the menu is frozen product from Sysco," said a former chef on Indeed, a revelation that's also confirmed by another alleged employee who provides a firsthand account into working for the chain. As it turns out, Buca di Beppo is not above relying on kitchen appliances to heat up its entrees. "The stuffed mushrooms and the stuffed shells and cannellonis are microwaved then put in the oven to finish off the cooking," they said (via GameFAQs).
Now, nuking eggplant Parmigiana in the microwave is probably considered an irredeemable offense to most highbrow restaurateurs. Just look to Gordon Ramsay to see how chefs really feel about the cooking gadget. So where does this leave Buca di Beppo? Using the microwave or frozen foods may be a shortcut, but it's a necessary one to ensure those massive bowls of pasta — sold to equally massive crowds — can remain inexpensive. And surprisingly, the chain's famous pasta sauce wasn't always so kosher. When the business got handed over to Joseph Micatrotto in 1996, the then-CEO reportedly shifted to utilizing pre-packaged marinara mixes over making it from scratch (per Bon Appetit). Not so amore, if you ask us.
Oversized portions are intended to be shared
Buca di Beppo's family-style format allows for plenty of taste testing. Depending on the group's size, it's normal to spend $40 on ravioli or a couple of side salads to split with the table (via Fast Food Menu Prices). That's because at Buca di Beppo, the entrees are intended to be shared. Just the small size alone is meant to feed three people, meaning that a handful of plates will go a long way in satisfying empty bellies. Take the Chicken Parmigiana, for example. At Olive Garden, the menu price is much lower on the surface at $15.49, according to Fast Food Menu Prices, but the same dish at Buca di Beppo provides multiple helpings for a slightly higher amount of $27.
Perhaps Buca di Beppo would be a pricier affair for small groups — like a couple on date night — but with enough people, the check comes out to a surprisingly frugal total. In a restaurant review from the Troy, New York-based publication The Record, a group of six spent around $65 on a communal dinner, signifying that each person, figuratively speaking, spent around $10 and some change on a well-rounded meal. You can't beat that. Were this scenario to take place at a legit trattoria in one of the nation's Little Italys — say Boston or the Bronx — there's no doubt the bill would be double, even triple that amount.
And smaller dishes make for lower priced options
Mountains of food might be a steal at Buca di Beppo, but it hasn't always been what customers craved. In fact, the gargantuan portions have often been a complaint among smaller groups, or customers simply wanting a lighter helping of Fettuccini for dinner. Too much of a good thing was in fact not so good, and sales slumped in response.
That explains why, in 2008, the chain made the call to launch a lineup of individually sized dishes to counteract the rest of the menu's girth (via Nation's Restaurant News). Under the "Best of Buca" header, the selection more or less resembles the standard offerings except shrunken down to manageable, single-portion levels that come at a lower price point. The range covers salads like chicken caesar and apple gorgonzola and pasta dishes shrimp fra diavolo, spaghetti with meatball, spicy chicken rigatoni, and others.
In terms of volume, perhaps the regular offerings come out to be cheaper overall than the smaller sized versions. However, it's not always about getting the most bang for your buck. Not every diner wishes to haul a gallon of baked ziti home for leftovers, let alone pay the higher price tag that comes with it on the surface, so scaling back on portion sizes is able to satisfy customer needs on both counts.
Virtual brands are a money saver for Buca di Beppo
Ghost kitchens have really taken off in recent years, becoming a $57 billion enterprise worldwide (per Statista). Robert Earl, the industry mogul behind Buca di Beppo's parent company, Planet Hollywood, has been on a tear with digital brands recently, and Wing Squad is one of many under his belt. As Restaurant Business reports, the concept specializes in chicken wings and sides, and is prepared off-site and exclusively sold through delivery apps. In some cases, orders are carried out in Buca di Beppo kitchens (via Restaurant Hospitality).
Virtual brands are a smart move for Buca di Beppo. Chron explains that even successful eateries have to stay on budget with rent and maintenance expenses. When up to 10% of a restaurant's earnings can go just to keeping the lights on, that leaves little room for discretionary spending. But chains like Buca di Beppo already have the necessities — equipment, space, a labor force — to roll out new products without added fuss.
When Wing Squad launched in 2020, Earl said that opting for virtual brands over brick-and-mortars would expose higher volumes of consumers to the product (via Restaurant Hospitality). Since many people opt for takeout and delivery, and less infrastructure is needed as an off-site operation, Wing Squad can remain cheap and easy to purchase. And it stands to reason that the added revenue, sans the extra costs, helps family brands like Buca di Beppo keep their prices down as well.
Employees receive few benefits
When it comes to the sheer number of employees, Buca di Beppo is a force to be reckoned with. Roughly 7,500 workers operate the chain at the time of this writing (via Zippia). But according to feedback given by many employees, the family-oriented restaurant treats its labor pool less like a family and more like automatons on an assembly line. Countless complaints regarding long hours, messy scheduling, and rare breaks can be found on the company's Indeed profile, and all from a variety of job titles. Ask a worker if they earn decent wages? "They don't pay enough to begin with," a former pizza cook said (per Indeed).
The reason chains like Buca di Beppo can hawk cheap prices, or keep them consistently low, is often because of the underpaid labor force who make this affordability possible. The federal minimum wage currently listed on the U.S. Department of Labor's website is $7.25 per hour. Even with tips, a server at Buca di Beppo doesn't make much more than that at just over $12 an hour (per Indeed). Add in the fact that employees juggle multiple responsibilities on shift, and you're looking at a lot of work that goes unnoticed, and by extension, unrewarded by a company rolling in plenty of dough ($310 million as of 2021, via Zippia).
Buca di Beppo restaurants run frequent promotions
Almost a quarter of diners would venture to a new eatery under the assumption that they could snag a good deal, according to Talk Business & Politics. This is just solid customer service, and it's a tactic Buca di Beppo employs frequently. Every week you'll find a new promotion going on at the restaurant, and on certain days to keep anticipation high. At the time of this writing, a look on its website shows you can score half off your spaghetti dinner with Meatball Mondays or a $5 glass of your favorite vino on Wine Wednesdays. Specials do periodically return, such as the Two For Tuesday deal that adds a free pasta meal to qualifying purchases (via Milled).
It goes without saying that Buca di Beppo is a value-oriented chain, and regulars are already well-aware of its affordability. Regardless, there's a special psychology behind the promo code subtracting from your total. Point-of-sales company Toast writes that over 80% of people plan dining out around promotions, which is too large a number for corporate chains to simply ignore when figuring out how to lure customers to their establishments.
Buca di Beppo is already affordable on its own accord, but it's undeniable that constant deals make it surprisingly easy to never pay full price at all. Not to mention, customers may enjoy spending more when the prices are good, thereby helping the restaurant conserve its thrifty finesse.
Many menu items are cheap to prepare
Another reason Buca di Beppo can get away with such low prices is because a lot of the entrees are inexpensive to make. Pasta is one of the cheapest ingredients sold at supermarkets, and its economical nature has endured even during periods of financial uncertainty. On average, a box of spaghetti will cost $1.09 (per Statista) and consumers will pay a little more than that by the pound according to the National Pasta Association. With a box of elbow macaroni or penne, it doesn't take much to whip up a filling meal for a lot of people.
Of course, as a Quora user points out, commercial restaurants will inflate the price on dishes that can easily be made at home, and noodle dishes are not immune to this phenomenon. But compared to the money dining establishments sink into sourcing and prepping ground beef for a meat sauce, it's undoubtedly more expensive than the dry rotini that's already packaged and ready in minutes by simply boiling in water. Not to mention, the power of bulk pasta lies in its ability to feed many people at a time. Even noting the large portion sizes doesn't alter the facts: Buca di Beppo subsidizes the pricier items — think meat cutlets or prosciutto — by using frugal fixings with a long shelf life. It's just common sense, really — low-cost ingredients translate to a low-cost menu.
The membership program encourages diners to visit often
Judging by the $310 million revenue Buca di Beppo brings in (via Zippia), it's clear that plenty of people adore eating there. But getting customers through the doors requires a bit more than meatball puns and Rat Pack relics. Loyalty programs are an effective tool, and quite popular among eateries. TouchBistro, a Canadian software business, reports that 70% of restaurants maintain a rewards system for patrons, and Buca di Beppo is among those who reward customers' devotion with tasty incentives.
Joining the Buca E-Club grants guests a host of exclusive perks, including discounts or outright freebies, such as an enormous brownie sundae on your birthday (per Twitter). First-time participants are guaranteed a $10 credit from the minute they sign up, and the birthday deals don't end with dessert — Favorite Candle shows a handful of common money-saving offers, such as free pasta and combo deals that slash $20 off your order.
It seems obvious why a family-oriented establishment like Buca di Beppo would proffer a loyalty program. Not only are they able to increase foot traffic, but they also widen the net of potential customers intrigued by family-sized eats on a budget. Since the program promises cheaper, if not free items, then it's easier to justify repeat trips. Take it from this impressed customer who celebrated a friend's birthday at the restaurant: "You will get coupons throughout the year that make it affordable to return" (per Trip Advisor).
Buca di Beppo maintains large restaurants
Visiting Buca di Beppo stimulates the senses, and we're not solely talking about the food. Immediately when you walk inside you'll be struck by two things: the chintzy decor and the immense dining rooms. Having marketed itself as a celebration venue means Buca di Beppo maintains appropriately grandiose eating spaces tailored to the crowds it welcomes as family. With five areas total, many locations are capable of hosting anywhere from a dozen people to the restaurant's peak capacity of 300 guests, as a location in Davie, Florida reveals (per Visit Lauderdale).
The industry average for a restaurant's size ranges anywhere between 1,300 to 4,250 square feet total, according to AZ Central. That's peanuts compared to the staggering stature of the typical facilities for hosting Buca di Beppo restaurants. When expansion started taking place across the southern U.S. in 2012, new eateries were reportedly being constructed at up to 7,000 square feet (per RestaurantNews.com).
Due to abundant seating for larger parties, the establishment is able to generate more income that trickles down to the rest of the operation, which means menu items can stay routinely affordable. If hundreds of people show up on a given night and purchase entrees, plus drinks and desserts, at a consistent rate, you're looking at much higher revenue in the long run. This is all but guaranteed knowing that catering service is permanently baked into the business.
Buca di Beppo can be ordered through delivery apps
Groups sitting shoulder-to-shoulder is the kind of dining experience Buca di Beppo prides itself on, but rising numbers of people are opting for off-site service. For that reason, you can find the Italian restaurant's family-sized eats on takeout and delivery platforms. It hopped onto the GrubHub app in March 2016 (via PR Newswire), and it's since appeared on competitor sites including Uber Eats, Postmates, and the pizza-centric app Slice.
Onboarding platform service Workstream pits the upsides and downsides to restaurants utilizing delivery apps, and while both sides offer intriguing perspectives, it's important to remember that delivery apps essentially act as workarounds to hiring long term employees. Restaurants do not have to invest in retaining a pool of drivers — as in, training and paying them a salary — if they can accrue the same labor from third-party contractors. Even considering the additional costs businesses have to pay the apps in question, such as commission fees, probably ends up being less expensive in the grand scheme of things than maintaining full-time workers. Chron reports that eateries might set aside 40% of their budget to wages, while the price of implementing, say, Uber Eats, would require a 15-30% sum overall (per Workstream).
By embracing digital ordering apps, Buca di Beppo subsidizes its budget-friendly menu and prevents costs from creeping up. It's a profitable decision that pays off in revenue — and for the customer, boatloads of Fettuccini Alfredo at a bargain.