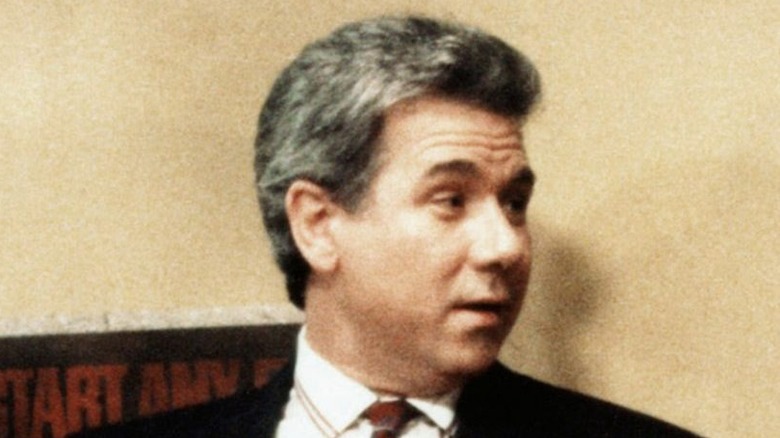 The outgoing New York City mayor makes a large number of municipal judge appointments on his final day in office, but almost none of his prospective appointees are home to take the call. So, even though he's far enough down on the list that no one ever thought his name would come up, the unorthodox Judge Harry T. Stone (Harry Anderson) finds himself presiding over a Manhattan court.
And so begins NBC's award-winning sitcom "Night Court." Over the course of the next eight years Judge Stone would fill the legal proceedings with more quips, magic tricks, and digs against Barry Manilow than you would reasonably expect from a sitting judge. But Stone isn't the only weirdo in the room. He's joined by a wonderfully strange and diverse group of attorneys, bailiffs, and clerks who keep the laughs rolling.
Many of the show's cast members aren't nearly as prominent in the public eye as they were back in the '80s, so you might understandably be curious to learn exactly what happened to them all. Some are still working regularly in the entertainment business, some have found new vocations, and sadly a few are no longer with us. From series regulars to some of the more memorable recurring actors, here's what happened to the hilarious cast of "Night Court."
We said goodbye to Harry Anderson in 2018
In a 1989 interview on NPR, Anderson was blunt about starting his career as a con man magician — running confidence street tricks to fool marks out of their cash. After getting his jaw broken by an angry mark, Anderson transformed his street act into a legitimate stage show which "made less money initially" but gave him "a better chance at survival." He was discovered by Kenny Rogers' manager who booked him as Rogers' opening act, which led to early roles on "Saturday Night Live" and "Cheers" among others, and eventually his signature role as Judge Harry Stone on "Night Court."
While he was still doling out mostly snack-sized doses of justice on "Night Court," Anderson was making sure he would be no one-hit wonder. Decades before Bill Hader took on the character in "It: Chapter Two," Anderson starred as Richie Tozier on the ABC miniseries "It." He followed up "Night Court" with a successful four-year stint as humor columnist Dave Barry on CBS' "Dave's World." Along with numerous other gigs over the years, in 2002 he opened his own magic shop in New Orleans — Spade & Archer Curiosities by Appointment. Three years later he cut the ribbon on his nightclub Oswald's Speakeasy in New Orleans' French quarter.
Unfortunately, Harry Anderson left us far too early. In 2018, Anderson passed in his sleep. The beloved actor and magician died of a stroke at 65, complicated by influenza and heart disease.
John Larroquette is still fighting the Good Fight
John Larroquette memorably filled in the role of prosecutor on "Night Court" as Dan Fielding — a narcissist who loves trashing everyone else in the court, including the defendants, and is constantly desperate to get in the pants of nearly every female character on the show. We eventually learn that his full name is Reinhold Daniel Fielding Elmore, and that he shortened it to distance himself from his impoverished beginnings. In spite of often being cruel, Dan occasionally reveals surprising depth, such as in Season 3's "Wheels of Justice: Part 2," when he makes an impassioned argument to Judge Stone to not quit his job.
Professionally, Larroquette hasn't slowed down for a second since "Night Court." After that show banged its final gavel, Larroquette followed it up with the acclaimed "The John Larroquette Show," which lasted three seasons. While it was only a recurring role, Larroquette was nominated for a total of three Emmy Awards — winning two of them — for his portrayal of the brilliant murderer Joey Heric on "The Practice." Along with his film work, he's landed far too many regular, recurring, and one-off roles to list here including Carl Sack on the dramedy "Boston Legal," Jenkins on the fantasy adventure series "The Librarians," and Gavin Firth on the CBS' "The Good Fight."
Larroquette isn't done with Dan Fielding, by the way. In late 2020, Variety reported the actor would return to the role for a "Night Court" revival — news that came to fruition when the sequel series premiered in early 2023.
If you haven't seen Richard Moll recently, you may have heard him
If you want to make sure everyone in your courtroom behaves, Aristotle Nostradamus Shannon — better known by his nickname "Bull" — is a pretty good guy to have around. Richard Moll plays the bailiff who — at 6 feet, 8 inches — towers over just about everyone else in the courtroom and whose shaved head helps to cut an intimidating figure. His ability to easily lift none other than Lou Ferrigno off the ground in season 2's "Battling Bailiff" to protect him from an elderly woman impresses a wrestling promoter enough to offer him a job, but in spite of how he looks, Bull's just a big softie.
Since leaving "Night Court" behind, Moll's distinctly deep voice helped him become a hotly sought after voice actor. If you're a fan of superhero cartoons, there's a decent chance you've heard his work. He voiced the Batman villain Two-Face for multiple animated series, the Abomination on "The Incredible Hulk," and Scorpion on "Spider-Man: The Animated Series." He's also lent his voice to video games like "Fallout," "Dante's Inferno," and "Incredible Hulk: Ultimate Destruction."
Moll's also made some memorable appearances in live-action films and television over the years. He plays a ghost in the horror parody "Scary Movie 2," the mystical drifter in the Nickelodeon series "100 Deeds for Eddie McDowd," and the TV supervillain Dementor in the 1996 Christmas comedy "Jingle All the Way."
We lost Charles Robinson in 2021
Of all of "Night Court's" characters, perhaps the most consistently level-headed is the court clerk Mac, played by Charles Robinson. Mac can often be found behind the bench, caring for a tall stack of file folders, ready to hand off the next case to Judge Stone. By the end of the series Mac is married, has a daughter, and is on his way to making his dream of becoming a film director come true.
Once "Night Court" was over, Robinson hit the ground running. While he gathered plenty of film credits, most of his work comes from television. After "Love & War" star John Hancock passed away in 1992, Robinson stepped in as a new regular on the sitcom and was there until the series' penultimate episode in 1995. In 1998 he starred on the short lived crime drama "Buddy Faro" with Dennis Farina playing the titular private investigator. He was the weathered police reporter Ernie Trainor in the sitcom "Ink," Bud Harper on the show that made Tim Allen's career, "Home Improvement," and the ill-tempered Sergeant Jeffries on CW's dramedy "Hart of Dixie."
Robinson never slowed down — one of his later credits is for the timely 2020 Freeform mini-series "Love in the Time of Corona," about different people trying to make new connections and keep current ones alive in an age of social distancing — which made his death in July of 2021 feel all the more sudden. The actor, who was 75 at the time of his passing, reportedly succumbed to cardiac arrest as well as cancer.
Markie Post passed not long after Charlie Robinson
Markie Post was something of a latecomer to "Night Court," but it's tough to imagine it without her. While she makes a guest appearance in the show's second season as public defender Christine Sullivan, she didn't become a regular until the third season premiere. The naïve and pure-hearted Sullivan is there for the rest of the series, circling Judge Stone as a love interest and dodging Dan Fielding's advances.
After "Night Court," Post landed the role of liberal news reporter Georgie Ann Lahti on the sitcom "Hearts Afire," starring opposite John Ritter as the conservative John Hartman. In a 2011 interview, Post called "Hearts Afire" "the best thing I had ever done, the best scripts I had ever gotten to do, the best star. I loved John Ritter." In the years that followed, she'd work regularly on the big and small screens, including appearing as Cameron Diaz's mom in one of the more painfully memorable scenes of the 1998 comedy "There's Something About Mary." She voiced nurse June Darby on the animated series "Transformers: Prime" and played the deeply flawed mother "Bunny" Fletcher on the NBC police procedural "Chicago P.D." Post was diagnosed with cancer in October of 2017 and remained professionally active while undergoing treatment; sadly, she died from the disease in August of 2021, the month after cancer claimed the life of her "Night Court" co-star Charles Robinson. Post was 70 at the time of her passing.
We lost two of Night Court's stars during the series' run
When "Night Court" begins, Richard Moll's Bull Shannon isn't the only bailiff keepings things in order. He's joined by the chain-smoking and wisecracking Selma Hacker, played by Selma Diamond. With their physical presences providing a wonderful contrast, Selma and Bull have great comedic chemistry, and Selma acts as a mother figure to the younger Bull. Sadly, Diamond died of lung cancer at the age of 64 — two seasons into "Night Court's" run. The creators chose to have her character die as well, showing her colleagues mourning her passing in the season 3 premiere, "Hello, Goodbye." Bull takes her loss particularly hard, getting drunk with a bunch of circus performers and showing up for work still hammered.
Diamond was succeeded by Florence Halop as bailiff Florence Kleiner. Like Selma, Florence provides the mother figure that Bull so desperately needs. Unlike Selma, the elderly Florence shares some surprising interests with Bull like heavy metal and motorcycles. In a devastatingly tragic coincidence, Halop, like Diamond, died of lung cancer before the end of "Night Court's" third season. She was 63 years old.
Marsha Warfield is out and proud
Some fans were concerned about Marsha Warfield when she signed on to play the tough bailiff Roz Russell for "Night Court." The tragically similar deaths of her predecessors had some wondering if the show was cursed. Warfield told People in 1988 that she was concerned, but not for her physical safety. "When I first went on the show I was a bundle of nerves, and I'm still a bundle of nerves," Warfield said. She explained, "I'm scared they're going to find out I don't know what I'm doing." Considering her humorous performance as the no-nonsense Roz, she clearly knew more than she thought she did.
After the end of "Night Court," Warfield did a lot of one-off appearances in series like "The John Larroquette Show," "Mad About You," and "Moesha." Her longest running post-"Night Court" role was on the NBC sitcom "Empty Nest" as physician Maxine Douglas.
Warfield's acting credits end in 1999, but she hasn't been sitting on her hands. Warfield has continued to make audiences laugh, but on the stage as a stand-up comic rather than on the screen. She also made news in late 2017 when she came out as gay in a Facebook post (via Madame Noire). She wrote, "When I told my mother I was gay, she said she knew, and had known all my life." She went on to say that her mother asked her to wait until after her death to come out publicly.
Joleen Lutz teaches people about an interesting part of the animal world
For most of "Night Court," the court stenographers don't have much time in the spotlight. That changes in the final two seasons with the introduction of the ditzy stenographer Lisette Hocheiser. Played by Joleen Lutz, the naïve and clueless Lisette is a friend of Bull Shannon and is also the source of the such classic lines as "I've worked for Dan Fielding for over a year and although he may have his flaws, deep down inside his flaws aren't as noticeable."
Lutz has continued to act over the years, though her credits are a little sporadic. She had a recurring role on the "General Hospital" spinoff "Port Charles," played the eponymous serial killer's wife in the 2003 crime horror flick "Gacy," and enjoyed memorable one-offs on series like "Lois & Clark" and "Pushing Daisies."
At the same time, Lutz has been pursuing another passion — zoology. In a 2013 radio interview Lutz described how she came to volunteer for the Los Angeles Zoo and eventually created its "Sex and the City Zoo" fundraisers in which she educates the public about the mating habits of animals. You can also find her "Sexy Beast" video on YouTube in which she shares some very interesting and funny tidbits about the love lives of beasts.
William Utay is a regular on Days of Our Lives
Every good schemer needs a loyal lackey and for the mischievous prosecutor Dan Fielding, that lackey is the unhoused Phil Sanders, played by William Utay. Phil eventually dies, but Fielding isn't left without a henchman. Phil's wealthy identical twin brother Will — also played by Utay — shows up to pick up his dead brother's slack in "Night Court's" final season. Utay also had a one-off on the show before ever playing Phil, as a man brought before Judge Stone in season 2's "Pick a Number" for beating up a mime.
Both before and after his time with "Night Court," Utay had mainly one-shot and recurring appearances on different TV shows, with one major exception. While sitcom fans may know Utay best as the twin brothers doing Fielding's dirty work, followers of daytime drama are much more familiar with the actor in another, longer-running role. Since 1985 — except for some notably long breaks from the show — Utay has played Dr. Wilhelm Rolf in numerous episodes of NBC's popular soap opera "Days of Our Lives."
Brent Spiner keeps making his mark
While you may know him as the android Data from "Star Trek: The Next Generation," before he was serving aboard the "Enterprise," Brent Spiner played one of the most hilarious recurring characters on "Night Court." Starting with the season 3's two-parter "Wheels of Justice," Spiner played Bob Wheeler — a slow-talking yokel whose family keeps being dragged in front of Judge Stone with incredible tales of disaster including tornadoes, grandmothers strapped to speeding Barcaloungers, and stampeding earthworm farms. His tale in his first appearance is so dark and unbelievable it stuns Judge Stone into uncharacteristic silence and he calls a recess.
In a 2019 Q&A hosted by Nerd News Today, Spiner said he conceived the character — who he named Elmo — when he was growing up in Texas, using the voice to entertain his friends. While the "Night Court" creative team renamed him Bob Wheeler, Spiner said Elmo was the character he played while auditioning for the show.
Without any more outlandish tales to tell on "Night Court," Spiner found his career-defining role of Data on "TNG." He continued to reprise the role of Data and other "Trek" characters in subsequent films as well as series like "Star Trek: Enterprise" and "Star Trek: Picard." He'd also land memorable roles like the eccentric Area 51 Dr. Brackish Okun in the "Independence Day" films, the mysterious preacher Sidney in "Outcast," and LAPD Captain Ned Vanderhoff in the series "Penny Dreadful: City of Angels."
Ellen Foley is still rockin'
Before Markie Post was added as the regular public defender Christine Sullivan in Season 3 of "Night Court," Billie Young — played by Ellen Foley — was the attorney clashing with Dan Fielding in the show's second season. Passionate about defending her clients and having a good sense of humor that made great chemistry with Judge Stone's, Billie was the judge's good friend and love interest. That is, until Foley left the show behind to pursue other opportunities in the worlds of acting and music.
Foley's biggest claim to fame has nothing to do with "Night Court" or any other acting role. Foley is the female half of the duet for Meat Loaf's 1977 hit single "Paradise by the Dashboard Light," and her vocals have also appeared on albums by acts like Blue Öyster Cult and punk rock legends The Clash. Foley has released solo albums as well, including 2013's "About Time."
Foley doesn't seem to want to be tied down to any one thing, giving equal time to music and acting. As such her acting credits are more sporadic. Since leaving "Night Court," she's landed roles in major motion pictures like the 1987 thriller "Fatal Attraction," 1988's "Cocktail," and that year's comedy "Married to the Mob." She's also appeared in recurring roles for the daytime drama "All My Children" and the children's mystery show "Ghostwriter."
Denice Kumagai is serving cold tofu improv comedy
In the second season "Night Court" episode "Take My Wife, Please," Mac is reunited with Quon Le Duc. Played by Denice Kumagai, Quon Le is a Vietnamese woman whose family nursed Mac back to health when he was injured during the Vietnam War. Mac agrees to marry Quon Le — who is in America on a temporary Visa — so she won't be sent back to Vietnam. While their union is initially a green card marriage, Quon Le has harbored feelings of love for Max for years, and eventually Mac realizes he shares those feelings. Before the end of the series, Quon Le gives birth to their daughter Renee.
Kumagai's acting credits end in 2006 with her recurring role of Aunt Jun on the popular dramedy "Gilmore Girls." Before that she had brief one-shot appearances in numerous shows, including a good amount of voice work in series like "The Simpsons" and video games like 2001's "Star Trek: Armada II."
Since then, Kumagai has continued to work on something she helped to create even before she appeared on "Night Court." In 1981, Kumagai co-founded the Cold Tofu Improv group, a Los Angeles-based improv and comedy group whose stated mission is to promote "diverse images of Asian Americans through comedy and to developing multi-ethnic talent through education and performance."