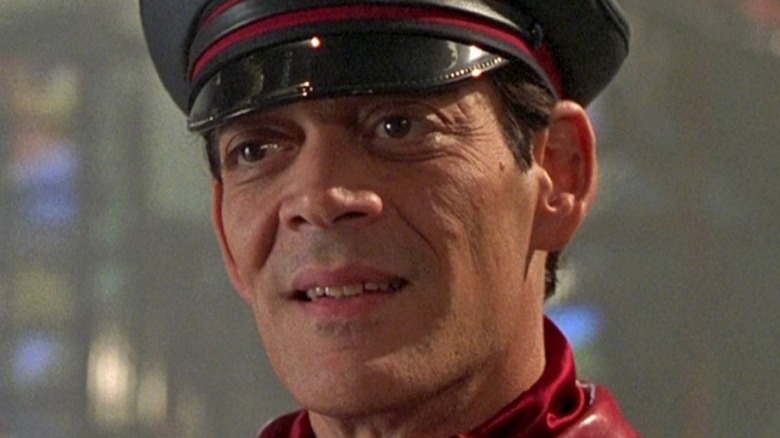 Everyone wants to go out on top, and be remembered for their greatness. This is doubly true of actors who make a living in the public eye, where perception and legacy are everything. Few can blame an actor for starting their careers in humble movies, indie flops, or B-movies — when starting out, and actor will take what they can to get a foot in the door. But once an actor reaches a level of fame and renown, they usually become more discerning about the roles they take and projects they join, always with an eye on how it could affect their career and how they're remembered.
Even the best actors at their most selective can wind up making a bad movie. It's not always easy to tell from a script how good or bad it might be once it goes from the page to the screen. That's not even to mention the troubles along the way, as studio meddling, a slashed budget, or a sloppy director can ruin something great. When an actor's in a flop, the best strategy is always to recover by starring in another, better movie next. But while every actor wants to go out on a high note, it's often easier said than done. Plenty of Hollywood's best and brightest have retired — or worse, died — and left behind a terrible final entry to close out their career.
Sean Connery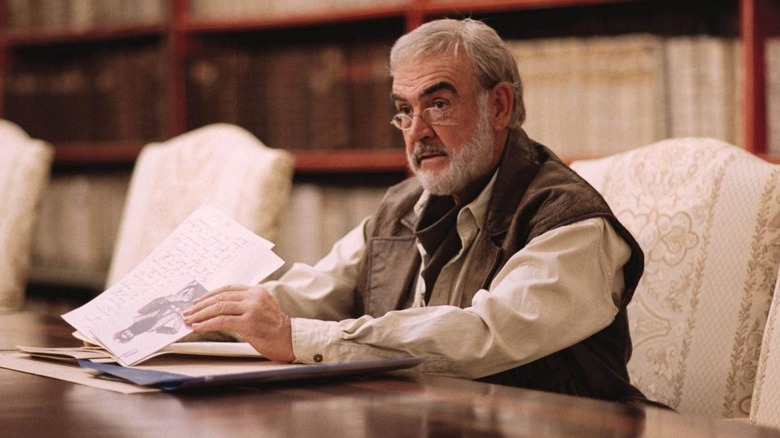 There are few more legendary British actors than Sean Connery. The man who originated the screen legacy of iconic super-spy James Bond, Connery's filmography includes "A Bridge Too Far," "The Untouchables," and "The Hunt for Red October." He was no stranger to genre movies either, having played the father of the whip-wielding relic hunter in "Indiana Jones" and an immortal swordsman in the fantasy action movie "Highlander" in the 1980s.
But as his career wound down after the turn of the millennium, Connery had a number of missteps and box office bombs. According to /Film, he also tragically passed on coveted roles in both "The Matrix" and "Lord of the Rings," two movies that became smash hits, after apparently finding their screenplays convoluted and confusing. But after realizing he'd made a mistake both times, Connery was offered a role in another movie that made no sense, and this time decided to take a chance, hoping he could have his next major blockbuster. That movie of course, was the legendarily awful "The League of Extraordinary Gentleman."
Centered on a team of literary heroes that included Dorian Grey, Tom Sawyer, and Connery as Allan Quatermain, "League of Extraordinary Gentleman" was a total disaster from top to bottom. Unlike "The Matrix," it made even less sense on screen than on the page, and it was savaged by critics. In fact, it was so bad it prompted Connery's retirement, making it the final on-screen role in his otherwise extraordinary career.
Walter Matthau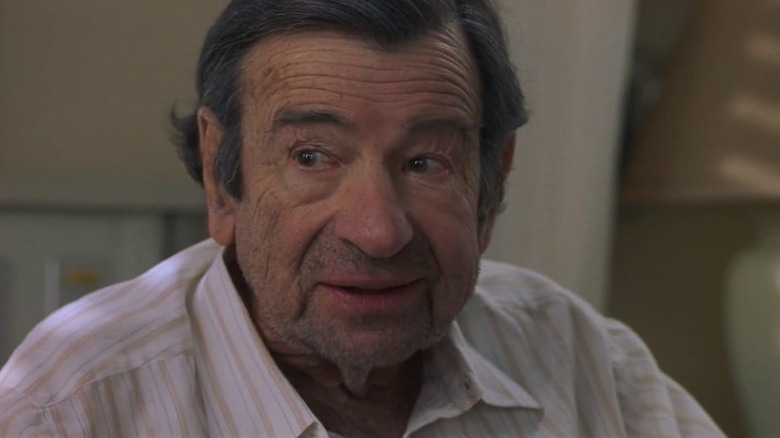 Famous for his many on-screen collaborations with the brilliant Jack Lemmon — which included "The Odd Couple" and "Buddy Buddy" — Walter Matthau was in his prime in the 1960s and '70s, appearing in classics like "The Taking of Pelham One Two Three," "Hello Dolly!" and "The Bad News Bears." He had a resurgence in the 1990s thanks to "Grumpy Old Men" which re-teamed him with Lemmon, leading to a long-awaited sequel to "The Odd Couple." But the last film before his death in 2000 landed with a thud.
Just two years after the sequel "Grumpier Old Men" in 1998, Matthau starred in "Hanging Up," a comedy led by the trio of Diane Keaton, Meg Ryan, and Lisa Kudrow. The film was about three sisters, Georgia, Eve, and Maddy Mozell, who have a strained relationship with their hard-drinking father Lou (Matthau), now on his deathbed. A wild and crazy character, he's cleverly played in flashbacks by Walter's real-life son Charles, but other than that nice nod, the movie is a failure in every way.
From its take at the ticket counter to its rotten reviews, "Hanging Up" was harangued for being overly sentimental, and just flat-out dull. The best thing that can be said is summed up by Roger Ebert in his review, calling Matthau "an invaluable actor … who doesn't embarrass himself."
Whitney Houston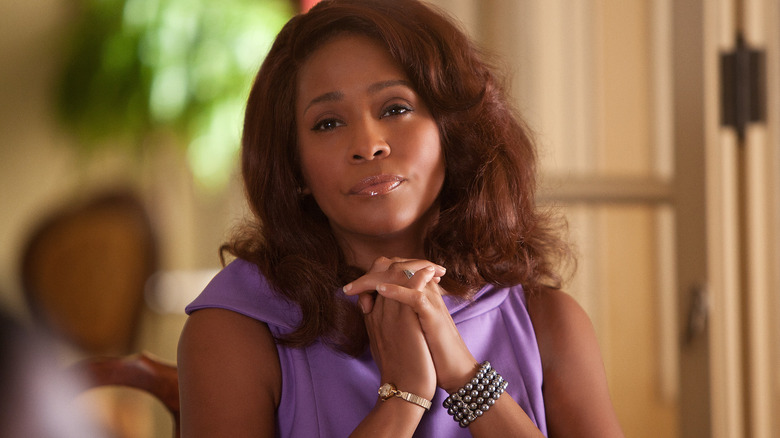 Though she was a Grammy Award-winning global superstar before she ever hit the big screen, Whitney Houston eventually became a Hollywood heavyweight thanks to the blockbuster success of her film debut, "The Bodyguard." From there, Houston would star in a pair of hits, "Waiting to Exhale" and "The Preacher's Wife," before refocusing on her music career. But she was all set to make her triumphant return to the silver screen in "Sparkle," a remake of a 1976 film inspired by the career of Motown group The Supremes, when her life was tragically cut short.
Released posthumously some six months after her death, "Sparkle" was anything but a triumph. Dedicated to her memory, the movie was a major flop, and while fans and critics may have been eager to celebrate her life and career with glowing reviews, but they simply couldn't oblige. Though the film does have its highlights — Houston and the rest of the cast all give good performances — it's just not enough to save the film from being labeled stale, campy, and cliched.
In the end, Houston wound up starring in just four feature films in her acting career. Though "Sparkle" isn't as bad as many other entries on this list, it was a big drop from her earlier efforts and capped off her career on a sour note.
Gene Hackman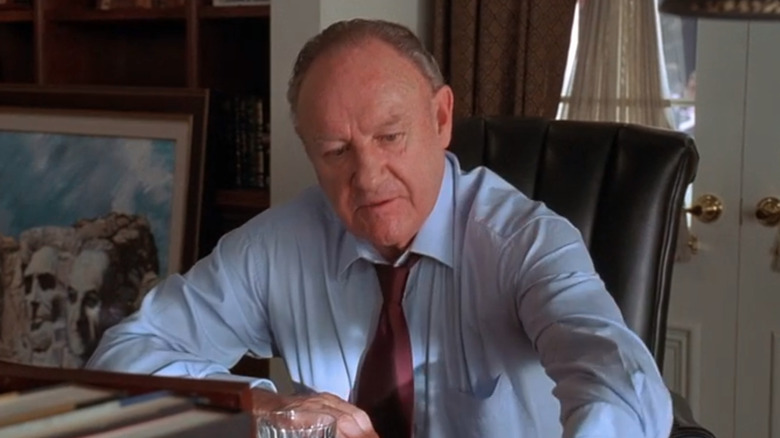 Gene Hackman will no doubt be best known to pop culture movie fans for his role as Lex Luthor in the Christopher Reeve "Superman" films, but his career is full of acclaimed hits. This includes the iconic '70s thriller "The French Connection," the Clint Eastwood Western "Unforgiven," and the legal classic "The Firm." Late in his career he was still churning out popular movies too, with WWII favorite "Behind Enemy Lines" and Wes Anderson's "The Royal Tenenbaums" both in 2001. But just three years later he'd finish off his career with "Welcome to Mooseport," which wound up being one of the worst movies he ever made.
In the film, Hackman plays Monroe "Eagle" Cole, the ex-President of the United States. Having served two terms, Eagle decides to retire to his old hometown of Mooseport, Maine, after a bitter divorce, but becomes entrenched in the local politics there. Soon, he's convinced to run for mayor, and goes up against hardware store owner Harold "Handy" Harrison (Romano).
A failure at political satire, "Welcome to Mooseport" was ripped for a plodding story, unlikable characters, and generally feeling more like a TV sitcom than a movie. Not long after it was released, Hackman called it quits and sailed into retirement on his own terms. Despite not having made a movie in nearly 20 years, he seems content to have ended his career with a bad movie.
Joan Crawford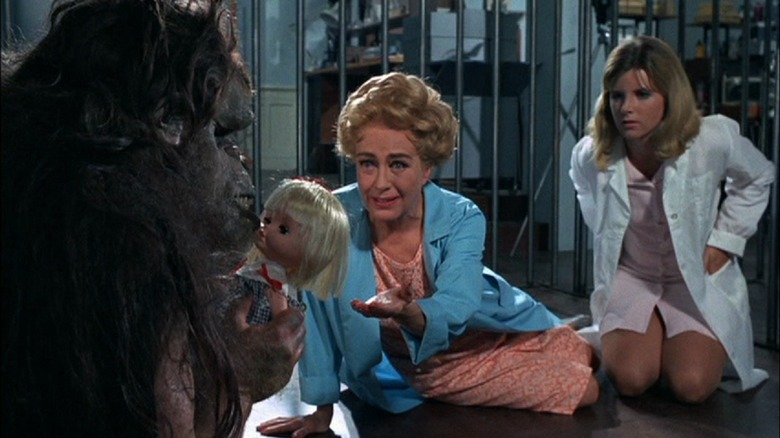 Joan Crawford could rightfully be considered one of the queens of early Hollywood, with a career that spanned silent films through to the late 1960s. She starred alongside some of the biggest actors in every decade, from Lon Chaney in the 1927 film "The Unknown" to Clark Gable in "Dancing Lady," but more often than not was the headliner herself. She was nominated for three Academy Awards, winning Best Actress in 1945 for "Mildred Pierce," and was a true superstar, which makes it all the more lamentable that her last movie was "Trog," a low-budget monster movie of the lowest caliber.
To make matters worse, Crawford is no mere cameo used to add a little name recognition, but the star of the film. She plays Dr. Brockton, a famed anthropologist who discovers that an ancient troglodyte — the supposed "missing link" — is living in a cave in Britain. She brings the creature — dubbed "Trog" — to her lab for study, and through a series of experiments gives him the ability to speak and performs a kind of hypnosis to recover ancient memories of his time in the prehistoric age.
The movie is ridiculous to the extreme, an absolutely incomprehensible mess shunned by critics and audiences. It's become famous for its awfulness, loved only by the most passionate of B-movie followers. In short, "Trog" is a massive stain on Crawford's sterling filmography.
Raul Julia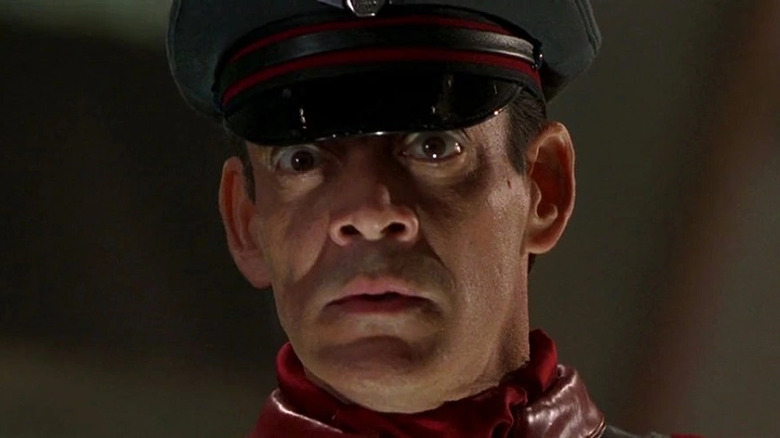 Raul Julia made his debut in "The Panic in Needle Park," the same film in which Al Pacino first played a leading role. From there, Julia would work with some of the most acclaimed filmmakers of the era, including Francis Ford Coppola, Sidney Poitier, and Sidney Lumet. In the 1990s he played the friendly but fiendish Gomez Addams in a pair of "Addams Family" films. But a year after the second, Julia was cast to play the lead villain in "Street Fighter," which would unfortunately be his final film role.
Released after his death in 1994, the adaptation of the tournament fighting game series was an outright big screen atrocity. Led by Jean-Claude Van Damme at the height of his action hero stardom as Colonel William F. Guile, the film sees Julia in the role of ruthless South Asian dictator General M. Bison. Guile assembles a crack team comprised of Ken (Damian Chapa), Sgt. Cammy White (Kylie Minogue), Ryu (Byron Mann), and reporter Chun-Li (Ming-Na Wen) to take him down.
The overly ambitious film makes it clear that Hollywood was still in the early days of figuring out how to adapt a video game to the screen. Like a live action children's cartoon, "Street Fighter" is full of ham-fisted action, goofy dialogue, and even worse performances from its surprisingly star-studded cast. While it may have seemed like a fun gig for Julia when he took the part, it sadly wound up being a massive bomb to end his career.
Anton Yelchin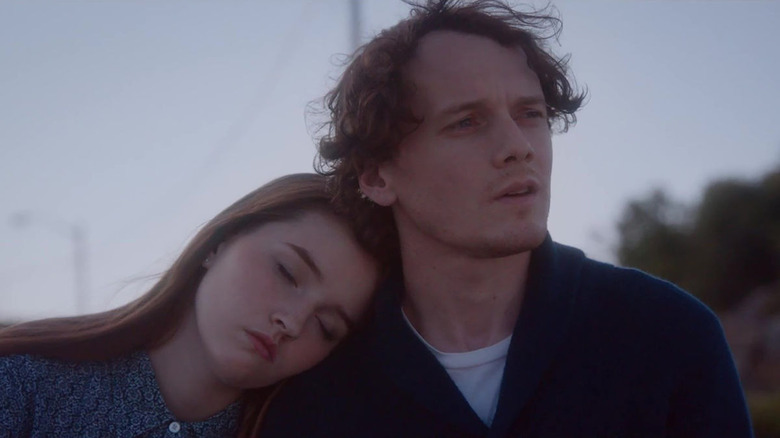 A hot up-and-coming actor in the 2000s, Anton Yelchin had his breakout role in the 2006's "Alpha Dog," based on the true story of a kidnapping gone wrong. A year later he'd headline the comedy-drama "Charlie Bartlett" alongside Kat Dennings and Robert Downey Jr., before securing the coveted role of Enterprise helmsman Pavel Chekov in J.J. Abrams' big budget "Star Trek" reboot. A string of successes followed, including playing a young Kyle Reese in "Terminator: Salvation," but his final role, released after his heartbreaking death in 2016, was in the indie flop "We Don't Belong Here."
Despite a strong cast that also includes Catherine Keener, Kaitlyn Dever, Justin Chatwin, and Michelle Hurd, the film struggles along for most of its brisk 90-some-minute runtime. A trite story about a dysfunctional family, Yelchin stars as Maxwell Green, whose sudden disappearance forces his family to confront various dark secrets from their past.
What makes this one all the more disappointing is that it was filmed years before Yelchin's death, and sat on a shelf until the star's passing, ultimately becoming his final film (and dedicated to his memory). The last movie he actually filmed was "Thoroughbreds." A well-received thriller starring he and Anya Taylor-Joy, it wrapped production just two weeks before his death (per The Boston Globe), and would have been a much better movie to serve as a career send-off.
Bernie Mac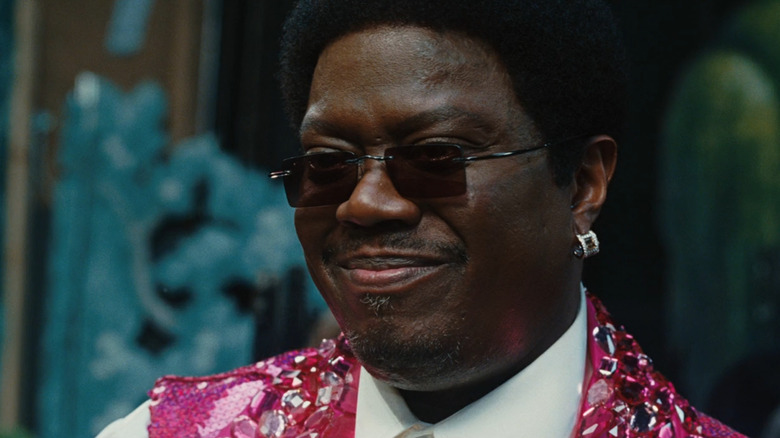 Some of the best comic actors have come from the stage, turning a successful stand-up career into leading man status in big screen comedies. One of them was Bernard McCullough — better known by his stage name, Bernie Mac. After becoming one of the biggest stand-up comics in the '80s and '90s, he went on to be a movie star, ultimately leading to hits like the "Ocean's" trilogy and "Mr. 3000."
But prior to his passing in 2008 — at the all-too-young age of 50 — Mac finished off his career with a major misfire, "Old Dogs." He starred alongside John Travolta, Robin Williams, and Kelly Preston in this story of two single, fatherless older men (Travolta and Williams) who become unexpected guardians of a pair of twins. They struggle to balance work and parenting, and get help from their old friend Jimmy Lunchbox (Mac), who hosts a popular children's TV show.
Absolutely roasted on its release, "Old Dogs" is a paint-by-numbers story with an insipidly stupid script and actors not doing a great job at making something out of it. It was nominated for four Razzies — a satirical award given annually to the worst movies each year — including for Worst Picture, Worst Actor, and Worst Director. If you're considering a Bernie Mac marathon, we'd recommend stopping at "Soul Men," released the year before.
Harold Ramis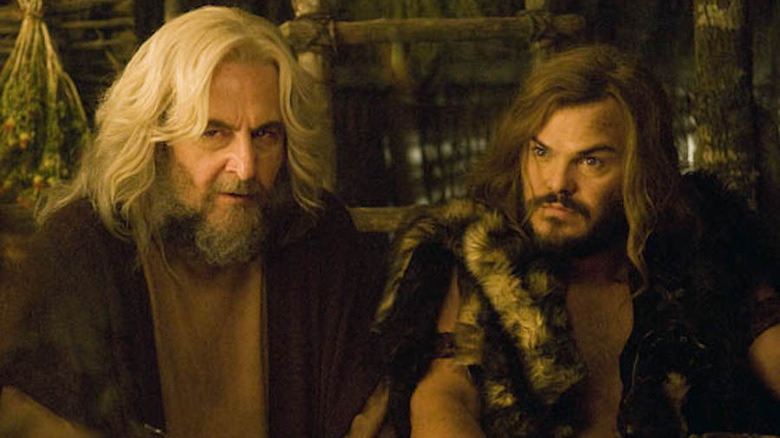 '80s comedy legend Harold Ramis will forever be Egon Spengler, the geeky, awkward scientist in "Ghostbusters" and its 1989 sequel. But he's also been featured in a number of other great comedies, including "Stripes" with fellow ghost busting pal Bill Murray, and small supporting roles in "Airheads," "Groundhog Day," and "High Fidelity." He was a director too, but only made on-screen appearances in two of his own movies, and unfortunately chose to show up in a small role in his final film, "Year One."
Produced, written, and directed by Ramis, "Year One" is a farcical comedy led by Jack Black and Michael Cera as a pair of dopey, primitive hut-dwellers who are exiled from their tribe in the titular year one. They encounter a number of famous faces from the Bible along their travels, including brothers Cain and Abel and Abraham and Isaac. Ramis pops up as none other than the first man, Adam.
Deeply unfunny, "Year One" comes across as a haphazardly assembled production that's praying its celebrity cast and crew can salvage it. With cringe-inducing childish humor and overly slapstick gags that don't work, the movie was roundly roasted by everyone, and bombed at the box office. Ramis would not make an appearance in front of the camera again outside of a CGI recreation in "Ghostbusters: Afterlife" years after his death.
Bela Lugosi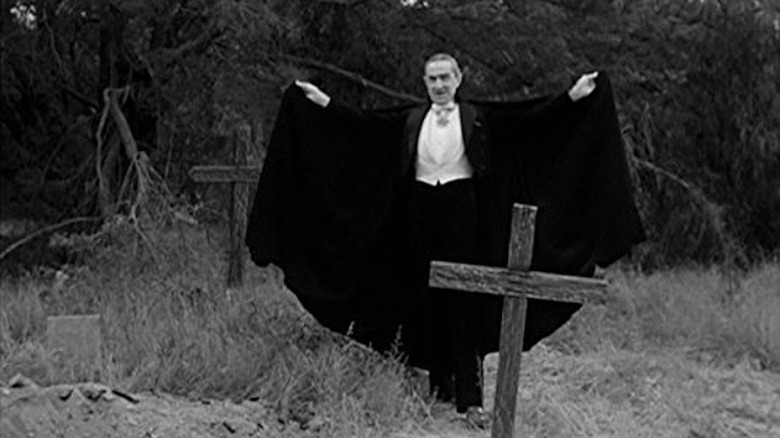 Arguably one of the most famous career-ending clunkers, "Plan 9 from Outer Space" is also widely regarded as one of the worst films ever made. Produced, written, and directed by schlock B-movie auteur Ed Wood, screen legend Bela Lugosi got top billing. The star of the 1931 classic "Dracula" was one of the genre's biggest names, but by the 1950s, Lugosi was no longer in demand, and fell into starring in D-grade indie films.
Struggling director Ed Wood, who had resorted to X-rated films at one point in his career, recruited Lugosi for several movies, including "Glen or Glenda" and "Bride of the Monster." Their final film together would be "Plan 9 from Outer Space," a sci-fi story about alien invaders' attempts to resurrect the dead, with Lugosi getting top-billing as 'The Ghoul Man.' Despite the actor's death, Wood got Lugosi in the movie by cobbling together scraps of random footage filmed by Wood for other, unfinished projects (via TCM), and supplemented them with new scenes shot with a stand-in that are readily apparent.
An embarrassing cult classic for its sheer audacity, the film is a predictable mess of a story, with the typical sloppy editing, bad acting, and homemade effects that Wood had become infamous for, and a sorry final film for a Hollywood icon. In the end, the movie wound up becoming more famous thanks to Tim Burton's 1994 biopic "Ed Wood," which largely centered on the making of the film and relationship between the director and Lugosi.
Brittany Murphy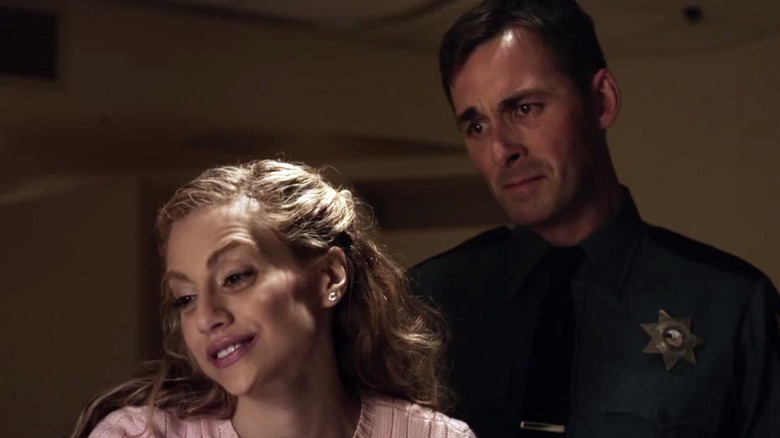 Alongside Anton Yelchin, actress Brittany Murphy is among one of the most tragic Hollywood losses of young actors in recent memory. Her breakout role as Tai Fraiser in 1995's "Clueless" made her a star, and later classics like "Girl, Interrupted," "8 Mile," and "Riding in Cars with Boys" cemented her as a shining talent. Unfortunately, her final film role, released after her sudden passing in 2014, was not among her most memorable.
"Something Wicked" is a indie horror movie starring Shantell VanSanten and John Robinson as Christine and James, a pair of young newlyweds. But when Christine's parents are killed in a car wreck, her life is thrown into chaos, made worse by fears that she is being stalked by an unknown person. While most people think she's hallucinating, the experience threatens to expose some trope-filled dark secrets.
Full of well-telegraphed twists and turns that aren't surprising, and disappointing scares that didn't entertain anyone, "Something Wicked" wound up a disappointing entry in Murphy's filmography. That it was her final film — even if she did only have a supporting role — made it all the more disappointing.
John Candy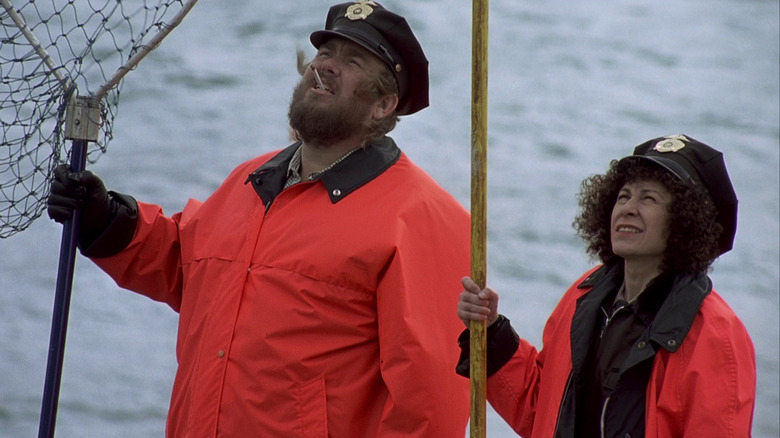 Alongside Harold Ramis, John Candy was one of the biggest comedy actors of the '80s, and for a stretch of time it seemed like he could do no wrong. Late that decade he starred in a string of hits including "Spaceballs," "Planes, Trains, and Automobiles," "Uncle Buck," and more. The early 1990s weren't as much of a boom, but sadly his unexpected death in 1994 left him with a real stinker as his final film: 1995's posthumously released "Canadian Bacon."
Part political satire, the film — from Michael Moore, who'd later go on to produce award-winning documentaries — centers on the complicated relationship between the United States and Candy's native Canada. Its ensemble cast also features "MASH" star Alan Alda and "Cheers" favorite Rhea Perlman, and revolves around the slumping U.S. President's plan to wage a propaganda war against America's neighbors to the north. Caught in the middle is the town of Niagra, New York, which sits on the border, and whose Sheriff Bud Boomer (Candy) sees the media frenzy as a rallying cry to prepare for a real war.
A look at how politicians can weaponize the press, "Canadian Bacon" was an ill-conceived story about fear and paranoia that doesn't provide the stinging critique it aims for. It's also not as funny or clever as it thinks it is, and as Candy's last role, it's a huge letdown. Perhaps agreeing that he wasn't cut out for fiction, Moore stuck to documentaries from this point on.
Patrick Swayze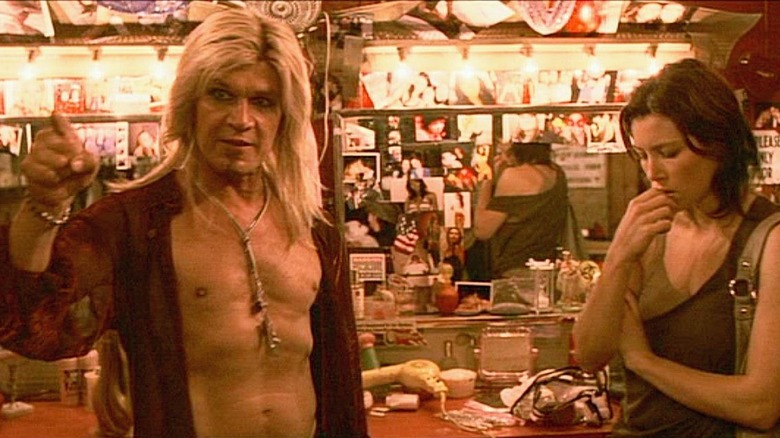 Another one of the hottest actors of the '80s was Patrick Swayze, who started out in the early part of the decade with "The Outsiders," "Uncommon Valor," and "Red Dawn." He had his true breakout role in 1987 opposite Jennifer Grey in the steamy romantic drama "Dirty Dancing," which made him one of Hollywood's biggest names. "Road House," "Ghost," and "Point Break" followed, continuing his hot streak into the '90s. Unfortunately his career leveled out in the 2000s, and before his death in 2009 he filmed an atrocious drama titled "Powder Blue" that was released after his death and proved to be his last big screen appearance.
Swayze stars as a glammed up criminal kingpin called Velvet Larry, the owner of a dingy night club where a gaggle of eccentric characters come in and out of the story. They all have their own troubles, from the single mother Rose-Johnny, a troubled priest, and a former hitman looking for his daughter after a stretch in the clink. Their stories all connect together in a strange "Pulp Fiction" kind of way, but without any of the clever, frenzied fun or snappy dialogue.
Perhaps a bit too ambitious, the film is ultimately limp and ineffective, and just plain confusing. Sappy attempts at emotion fall flat, and critics slammed it for being downright ugly and hard to watch. Though the final decade in Swayze's career was uneven, it was sad to see it end it on such a low point.