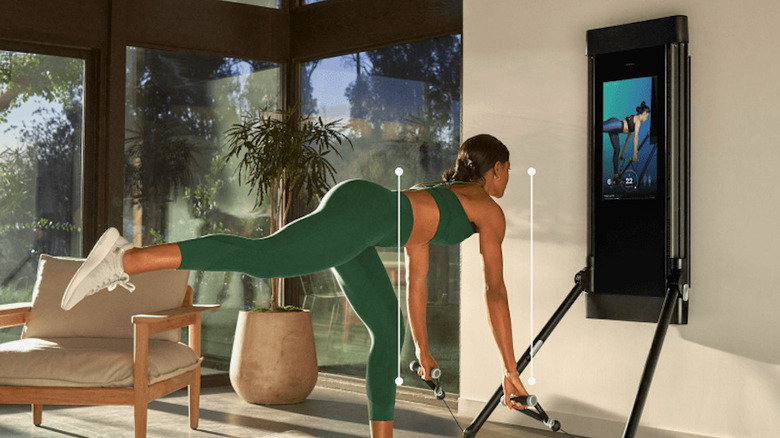 Home fitness snatched more than 45% of the fitness market even as gyms reopened after the pandemic, and it's expected to grow steadily until 2030 (via Globe Newswire). Tonal came onto the at-home fitness market in 2018, joining companies such as Peloton and Mirror (via TechCrunch). When you land on Tonal's home page, you see its key partner — LeBron James — giving his muscles a serious burn.
At 150 pounds, Tonal mounts onto your wall and has two arms that adjust vertically and horizontally to allow you to work your muscles at different angles. There's also a 24-inch touchscreen display and speaker. Tonal claims you can do more than 245 moves with one piece of equipment. It's very similar to a cable machine you'd typically see at the gym (via Healthline). Therefore, Tonal is good if you're looking for a home gym without needing a lot of space. Tonal recommends a 7 feet by 7 feet area around the device so you have enough space to work out.
Workout features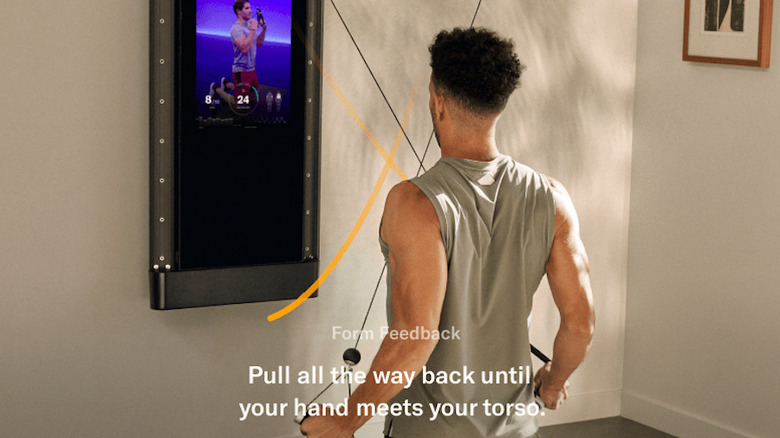 Once you get Tonal installed, you'll get a five-minute session to assess your current level of strength. Then, Tonal determines which amount of weight is best for you, given your goals. It also suggests certain programs to meet them. Tonal can adjust weights in as little increments as one pound to ensure you're getting the optimum gain in strength with each workout. It also gives you cues on how to perform each exercise with good form and range of motion.
Tonal has 17 sensors to give you feedback on your form (per Healthline). There's a Chains Mode that increases your resistance as you move through the range of motion of a lift, similar to working with chains at the gym. The Eccentric mode offers resistance on the lowering–or eccentric–part of a movement so that your muscles see more time under tension. There's also a Spotter Mode that lightens the load so that you can complete the rep or set. The Smart Flex setting combines the Chains and Eccentric modes so you get the most out of each workout.
If you like crunching the numbers, Tonal gives you performance data while you're working out, such as heart rate, range of motion, and the total time your muscles are under tension. It gives a recap of each workout and insights about how you're progressing. Tonal will also track your strength score over time and celebrate when you've hit certain workout milestones.
Workout library and coaches
Tonal offers a full library of specific movements you can perform and gives a tutorial on each. Depending upon what accessory you choose, you can do moves such as barbell skull crushers, barbell glute bridges, goblet squats, lateral bridges with a row, and reverse-grip bicep curls. Each arm allows 100 pounds, so you can lift as much as 200 pounds using Tonal.
Although Tonal is a strength-building machine, it hosts programs and classes to suit various needs. There are programs for mobility, high-intensity, meditation, and sports performance. Tonal has more than 20 coaches to guide you in its classes. Professional Golfer Michelle Wie West has a Tonal Golf performance series, and Tony Horton, who created P90X, is also a coach on Tonal. Classes on Tonal range between 25 and 45 minutes, but you can choose to work out on your own if you prefer (via The Verge). You can pair your smartphone's music apps to listen to your favorite playlist on Tonal (via BarBend).
Tech specs and requirements
If you're looking for space in your home for Tonal, there are a few specs to consider. Tonal suggests at least 3.5 feet of wall space from the center of the device. For the arms to fully extend, it's recommended to have a ceiling height of 7 feet and 10 inches. You will also need reliable WiFi with a minimum speed of 15 Mbps. Because Tonal cannot operate without power, you'll need a three-prong outlet within 6 feet of the device. Extension cords don't count.
Tonal's 150-pound weight means that you'll need a sturdy wall for mounting. Wall studs must meet a minimum dimension of 2 by 4 inches so the Tonal hardware doesn't stick out from the back of the stud. Wood and sheet steel studs will support the Tonal device, but aluminum studs will not. If your wall is made of concrete, tile, plaster, or brick, Tonal can't be installed on that wall. Tonal also can't be installed outdoors.
If you have neighbors or roommates, Tonal makes noise about the same level as a dishwasher.
The cost of Tonal and its installation
Tonal currently costs $3,495, but it will increase to $3,995 by January 31. That doesn't include membership, shipping, and installation. The required one-year membership costs $49 a month, but it hikes to $59.95 a month on February 21. Military, first responders, educators, and medical professionals get a $200 discount on the Tonal device.
Tonal's Smart Accessories are suggested, but not required. The accessories cost $495 and include smart handles that work on variable axes for different lifts, a smart bar for other types of lifts, a rope for pulling exercises, a bench, a roller for active recovery, and a workout mat. You can use your own handles and accessories, but you need a T-lock adapter so they'll fit with Tonal.
If you order a Tonal device, it will take one to three weeks for Tonal to deliver and install. Tonal doesn't recommend installing it yourself for safety reasons. If you install it on your own, you must sign a liability release, and any damage to the Tonal equipment or your home won't be covered by your three-year warranty.
Tonal charges $300 plus tax for installation, and it will cost you another $300 if you want to move it to another wall. If you choose to move within 50 miles, Tonal can uninstall it and transport and install it at your new place for $500.
Reviews about Tonal
BarBend believes Tonal is great for a compact home gym; but it's expensive, considering you can fully equip a home gym for the price. Still, Tonal might save you money if you already pay $50 a month for a gym membership and have a separate personal trainer. If you're into traditional strength movements like squats or bench presses, you might find Tonal to be a little difficult at first. People who want to lift heavy might feel limited with Tonal's 200-pound maximum lift. BarBend likes the motion-sensing feature that checks your form and believes Tonal is good for beginners.
Healthline also found Tonal to be costly, but the reviewer liked that it wasn't just for weight training. If you're out of town and can't be with your Tonal, you can still get a good workout with the classes available on the app. Tonal gives you how much total weight you lifted each session too, which they found to be motivating.
The Verge found Tonal's classes to be too scripted and rehearsed. The reviewer noted that if you're enrolled in a four-week program that runs three days a week, those same classes can get boring week after week.