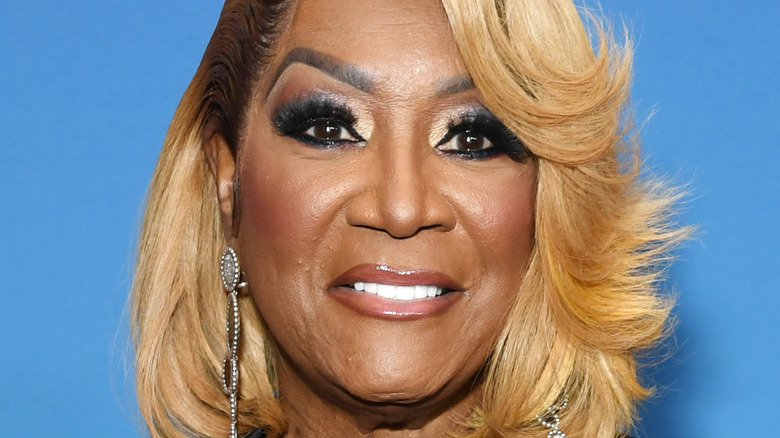 We may receive a commission on purchases made from links.
Take a quick look at Patti LaBelle's legendary career, and you may not expect the singer to have a serious chronic health condition. According to Biography, LaBelle first shot to fame in the 1960s with the group The Bluebelles (which would later change its name to LaBelle) before launching a successful solo career in the late '70s. With major hits like "Lady Marmalade" and "On My Own" under her sparkly belt, plus two Grammy wins, LaBelle soon earned the nickname "the Godmother of Soul."
The music legend is still busy touring today, decades after she first started singing and performing professionally. LaBelle maintains her active lifestyle, despite having diabetes, one of the deadliest health conditions in the U.S. (per Healthline). The Centers for Disease Control and Prevention (CDC) states that diabetes is a condition where the body can't use or produce insulin efficiently, sometimes leading to serious complications such as heart disease and kidney disease, among others.
LaBelle has type 2 diabetes (per Diabetes.co.uk), the most common form. Like most others with the condition, the singer was diagnosed in adulthood. Here's a look at her history with diabetes and what she does to stay healthy now.
Patti LaBelle's collapse onstage led to her diagnosis
Patti LaBelle had no symptoms of diabetes until she collapsed while performing one night in 1994, according to Yahoo! Life. "We toured a lot and I figured I was exhausted when I fell onstage. We were singing and I passed out," she told the website.
At the time, the 50-something R&B queen was taken to a hospital, where she learned she had type 2 diabetes. "I wasn't that girl who goes to the doctor. It saved my life, falling out on stage that night," she said.
Though LaBelle didn't share the details of her collapse, she may have suffered from diabetic shock, a state where blood sugar in the body dips to a dangerously low level (per Medical News Today). One sign of diabetic shock is a loss of consciousness, along with blurred vision and slurred speech. If left untreated, severely low blood sugar can lead to seizures and even death.
The disease runs in her family
Being diagnosed with type 2 diabetes may have come as a surprise to Patti LaBelle, but it wasn't the first time she'd been exposed to the condition. She wrote in an article for USA Today that the disease runs in her family and she's therefore witnessed the resulting complications that can occur, from her aunt and uncle losing their vision to her mother losing both of her legs. According to Diabetes UK, diabetes can cause blood circulation issues in the legs and feet along with damage to the nerves which can potentially lead to amputation if left untreated. The unchecked blood sugar levels in your body can also lead to damaged blood vessels in the eyes, creating vision problems or even vision loss (via the CDC).
When LaBelle was told she had diabetes, she at first resisted, having seen how it affected her loved ones before her. I was like, 'No, no, no,'" she recalled to People. "I cried."
She uses her passion for food to manage diabetes
Patti LaBelle's love of comfort foods is no secret. According to People, the singer was "hooked on" dishes like fried chicken, pasta, potato salad, and seven-cheese macaroni. Foods containing processed meats, saturated and trans fats, and refined carbohydrates may increase diabetes risk, per Healthline. However, LaBelle has found a way to continue enjoying savory foods without sacrificing her health.
"It's easy with diabetes," she remarked to Yahoo! Life. "You just have to get out of your mind about that cheesecake and butter." When possible, the Godmother of Soul cooks for herself to ensure meals are balanced and diabetes-friendly. Some of her go-tos, she told Essence, are sautéed or baked chicken, fish, salads, and dishes loaded up with spicy pepper and fresh garlic.
LaBelle is so passionate about healthy cooking that she's released several cookbooks over the years, filled with rich and flavorful recipes.
To LaBelle, diabetes 'isn't a death sentence'
Patti LaBelle once feared becoming ill and meeting a fate similar to her family members. These days, however, she's found a way to embrace life with diabetes, telling Yahoo! Life that diabetes "isn't a death sentence." "Even if you have diabetes, you can be fierce, cute and eat well," she explained. "I have diabetes; Diabetes does not have me."
Her optimistic attitude about diabetes has even led her to take on the moniker "divabetic," combining the words "diva" and "diabetic" (per USA Today). Approaching the disease with confidence has helped LaBelle to make healthy, empowered lifestyle choices to manage symptoms. Besides watching what she eats, she told ABC News she incorporates low-impact exercise into her daily routine by walking her dog, swimming, and dancing.
The Grammy winner also takes diabetes medication and monitors her blood sugar levels multiple times each day, per Yahoo! Life. These precautions, along with lowering stress, are effective ways to manage diabetes, according to Mayo Clinic.
The music legend now advocates for diabetes care
In the years since Patti LaBelle's diabetes diagnosis, she's learned how to take charge of her health and see the silver lining of the disease. But she's not keeping those lessons to herself — she uses them to help others, especially those in marginalized communities who also live with diabetes.
In her USA Today article, LaBelle explained that while Black Americans are more likely to develop diabetes than white Americans, they often lack access to insulin pumps and other life-saving technology. In 2021, the singer even testified before Congress to advocate for improved diabetes care, particularly for people of color (via Black Enterprise).
LaBelle also knows that receiving a proper diagnosis is a crucial step and urges others to seek medical care sooner rather than later. She revealed to Essence, "I tell all of my friends, please check yourself before you wreck yourself — go to a doctor."