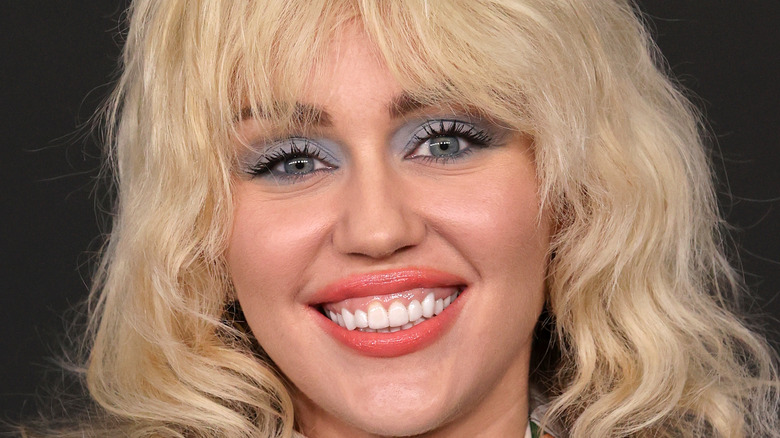 There's no doubt being a celebrity has many perks — and by all accounts, being rich and famous gives these people the chance to make all their dreams come true. That being said, famous people are just that — people. We all have different thoughts, desires, and plans … and sometimes those plans don't include having children. Sure, you've got those who balance fame with parenting, even sharing their journey with the world like Tori Spelling and Dean McDermott and their five kids. Or there's Eddie Murphy, who is a dad to a whopping 10 children and seems to love every minute of it. In 2021, he told The Mirror, "I am going to be 60 in April and I have all these babies, I love fatherhood. That is the center of everything."
While some might believe having kids is easier for stars because they can surround themselves with nannies and assistants, there are also other things to consider. And some folks in the entertainment industry have been very open about their thoughts on not just having and raising children but the whole philosophy behind it. Even decades ago when marriage and family were more traditionally sought, Katharine Hepburn remained child-free. For the book, "Kate Remembered," she even told writer, A. Scott Berg, "I would have been a terrible mother because I'm basically a very selfish human being."
But then, all of these celebs who have chosen not to rear kids have their own reasoning behind their choice.
Ellen DeGeneres is living in the moment
Ellen DeGeneres has long been called the queen of nice (all controversies to the contrary aside). The comedian was always seen as being generous on her talk show, giving away gifts and money to countless fans. Even after some career setbacks, she's a celebrity who seemingly has it all. So one might ponder why she doesn't have children. Especially given she's been in a long-term relationship with Portia de Rossi since 2004 — the pair got married four years later and as of this writing, are still together.
In 2015, DeGeneres told Matt Lauer on "Today" that the desire for a child is not enough of a reason to actually have one, quipping, "It seems long-term." Two years later her views on the matter hadn't changed. As she explained to Sunday Style (via Daily Mail), "We talked about it … but we just decided we like our conversations not being interrupted and our furniture without sticky grape juice on it."
Speaking to Good Housekeeping in 2007, DeGeneres revealed that she and de Rossi have dinner together each night no matter how busy they are — nary a sticky grape juice stain in sight. "Portia understands me completely," she shared. "… She supports me and makes me happy." More than just supporting her partner, de Rossi also echoes her partner's sentiments about children. "You have to really want to have kids, and neither of us did," she told Out. "So it's just going to be me and Ellen and no babies."
Seth Rogen is getting it done and having fun
Seth Rogan is one of the hardest-working people in Hollywood, becoming known as an actor, writer, filmmaker, producer, and award nominee since his breakout role in the 1999 teen show, "Freaks and Geeks." Six years later, he proved he was leading man material in "Knocked Up," opposite Katherine Heigl, and in 2011, he married his very own real-life leading lady — Lauren Miller. So it makes sense fans would wonder if a family came next for the couple. However, they've been honest that it's not something they want. Naturally, Rogan is just as open on the topic as he has been about social and cultural issues — as well as his proclivity for marijuana.
When the topic of whether he and Miller ever wanted kids cropped up during an interview on "The Howard Stern Show" in 2021, the actor was quick with his answer of "no." Not only that but he adamantly agreed with Stern, who felt Rogen was too busy to be a good parent. The "Superbad" star also made it clear the feeling was mutual between him and his wife. "I would say she wants kids less than I do," he said. Rogan went on to gush about his marriage and how much fun the couple has together, just the two of them. "We're laying in bed on a Saturday morning, smoking weed, like, watching movies naked," he said, reiterating that the freedom from children makes that possible.
Miley Cyrus doesn't want to populate the Earth
Singer, songwriter, and actor, Miley Cyrus has been in the spotlight since she was a young girl. And though she comes from a family of five siblings, she doesn't want children herself. But before you jump to any conclusions, the reason she shared is not one of the more common things people say when asked about starting a family.
Over the years, Cyrus has grown from a rebellious young girl to a thoughtful humanitarian. As she shared during a 2019 interview with Elle magazine, she has concerns about bringing children into the world — and the pressure placed on people to procreate. "We're expected to keep the planet populated," she lamented. "And when that isn't a part of our plan or our purpose, there is so much judgment and anger … If you don't want children, people feel sorry for you, like you're a cold, heartless b***h who's not capable of love."
For Cyrus, her perspective also comes from comparing the planet to women. "We just take and take and expect it to keep producing," she said. Having been repeatedly vocal about global warming, she also affirmed to the outlet that she wouldn't want to bring any children into the world given the current climate crisis — it's not exactly a great inheritance. "Until I feel like my kid would live on an earth with fish in the water, I'm not bringing in another person to deal with that," she said.
Dolly Parton is still a great grandma
Miley Cyrus' godmother, Dolly Parton, is another singer-songwriter with solid views on motherhood. She also happened to come from a big family — actually, that would be a huge family since she grew up with eleven siblings. As Parton told Entertainment Tonight, she and her husband, Carl Thomas Dean, had thought about having children early on but as time went on and her career took off, it just didn't happen. "But I really honestly believe that some things like that are meant to be." Parton added that she feels like a mother, and a grandmother, regardless.
In 2014, she told People that because she was the third eldest kid in her family, she helped raise her siblings and some even lived with her. Now many of their kids, Parton's nieces, and nephews think of her as a grandmother. "They call me 'Aunt Granny,'" she gushed.
Parton has also done so much for the children of the world through her philanthropy. In 1995, the singer started Imagination Library which has donated more than 100 million books to children. As the country legend explained during an episode of "The Oprah Conversation" (via Today), she sees not having her own children as being a worthy personal sacrifice. "Because if I hadn't had the freedom to work, I wouldn't have done all the things I've done, and I wouldn't be in a position to do all the things I'm doing now," she said.
Oprah Winfrey fulfilled through philanthropy
Since the '80s, Oprah Winfrey has remained a familiar face on-screen, most notably from her long-time run as a talk show host and then as the media mogul we know today. During that time, she has also been in a relationship with her partner, Steadman Graham, with the couple sharing no children together.
In 2013, Winfrey told The Hollywood Reporter that her hectic work schedule and busy lifestyle would have been incompatible with raising kids. "If I had kids, my kids would hate me," she asserted. Still, she has no regrets about the decision to remain child-free. However, while speaking to People in 2019, she acknowledged that women who choose to stay home with their children are working incredibly hard too, saying, "Nobody gives women the credit they deserve."
Furthermore, Winfrey has been able to direct her maternal energies to an exceptional place — the Oprah Winfrey Leadership Academy for Girls in South Africa. This organization fosters the growth of leaders through social and academic activities at a boarding school for girls in South Africa. Winfrey, who didn't just lend her philanthropic funds but was hands-on in making this happen from the ground up, shared with People, "Those girls fill that maternal fold that I perhaps would have had. In fact, they overfill — I'm overflowed with maternal."
Ashley Judd doesn't feel the need to breed
Actor and humanitarian, Ashely Judd has been in the public eye most of her life. First, because of her country-singing mother and sister, Naomi and Ashley Judd, and then from her own successful career as an actor. But Judd wasn't content to just appear on screen in movies and TV — she wanted to use her voice to help others, especially those who couldn't help themselves.
But it wasn't simply an issue of time for the Golden Globe nominee when it came to being a parent. Though Judd was married to race car driver Dario Franchitti from 2001 to 2013, the couple never had children. However, as the actor told the Daily Record, when Franchitti went on to remarry, Judd became the godmother to one of his children, Sofia. "We're given our family of chance that we were born into but also have this unique opportunity to create a chosen family," she told the outlet.
The star has always been open about her views on reproduction. In her memoir, "All This Is Bitter and Sweet," she wrote, "I do not need to go making 'my own' babies when there are so many orphaned or abandoned children who need love, attention, time, and care." Instead, Judd makes time for other children, traveling the world as she brings light to the issues that plague them. Not only that but she's also involved with organizations like UNFPA, which strives to improve reproductive and maternal health worldwide.
Keanu Reeves is not out of time yet
Since the beginning of his career in the mid-'80s, Keanu Reeves has consistently entertained audiences with his versatility, talent, and looks. Not to mention, he's also attracted a great deal of acclaim and attention for being one of the more down-to-earth and humble celebrities in Hollywood. But his life has also been marred with more tragedy than one should have in a lifetime, including his child being stillborn in 2000. Not long after, the mother of the child, Jennifer Syme, then died in a car accident, per People. There's been some speculation over the years that these tragedies are why Reeves doesn't have children, and why his relationships since then haven't been noteworthy in the press.
In a 2017 interview with Esquire, the actor touched on the subject of fatherhood, saying, "I'm 52. I'm not going to have any kids." Yet, later in the article, he mused about aging and time passing by. "Where did the time go? How come things are changing? How much time do I have left? What didn't I do?" Two years later reports flooded in that Reeves was seen holding hands with visual artist, Alexandra Grant, and fans couldn't have been happier for them. As of this writing, the couple appears to still be together. And of course, Reeves can always change his mind about having children. At this point, he wouldn't be the oldest dad in Hollywood.
Sandra Oh is the best aunt
From "Grey's Anatomy" to "Killing Eve," Emmy-nominated actor Sandra Oh has been killing it on the small and big screen for several decades. When she fell in love with acting, she chose against going to college so she could pursue a career in the theatrical arts. While her parents were initially against the decision, Oh has regardless been vocal about the mutual love and respect she shares with them. Still, that's not to say that she's interested in becoming a parent herself.
In a 2019 interview with Marie Claire, Oh, who was 47 at the time, shared that she had once considered making additions to her family. While she realized that she'd made it to a point in her life and career where she could raise children if she wanted to, she ultimately chose against the idea. "I have an extremely fulfilling life as an aunt, not only to my nieces and nephews but also to a lot of my friends' children," she told the publication.
At least for now, she'll continue to be the coolest aunt possible. During a 2022 appearance on "Jimmy Kimmel Live," Oh proudly did the interview with her nieces in the audience. Not only that, but she also planned to bring them along to the premiere of, "Turning Red," an animated Pixar film in which she played a mother. Oh pointed out that taking her nieces was something new for her because she usually brought her parents to premieres.
Rachel Ray is excelling at marriage
The world has been watching the television personality and cook, Rachael Ray, since the early 2000s, including the long-running "Rachael Ray Show." In 2005, she married the multi-talented John Cusimano. The couple has since focused on marriage, their beloved pets, and their careers —which apparently had them maxed out. Just two years after their wedding, Ray told People, "I work too much to be an appropriate parent. I feel like a bad mom to my dog [Isaboo, a pit bull who sadly died in 2020] some days because I'm just not here enough."
Ray might not have children of her own, but she does make time to help kids eat healthily. One venue she does this is via her charity, Yum-O! Launched in 2006, the non-profit aims to provide education regarding affordable and healthy food and cooking. It also partners with other organizations to help feed hungry children and support young people in pursuing food-related careers.
There's no doubt that having children is a huge commitment and time constraint — the absence of kids is something that Ray's marriage may have benefitted from. Speaking with Extra TV, she shared one of the secrets to her great marriage. "We don't really have rules," she said. "There's never a set time we eat or set expectations of what the next day is going to be." But they do have one other constant in their lives — a blue-eyed pup called Bella Blue, who Ray proudly shared on her Instagram in 2020.
Alison Brie and Dave Franco love their fur babies
Actors Dave Franco and Alison Brie are one of the newer Hollywood power couples and one of the most adorable, appearing to be happy and inseparable since their 2017 wedding. In fact, they've even collaborated professionally on films like "The Disaster Artist," "The Little Hours," and "Somebody I Used to Know." The latter of which was co-written by the couple, with Franco directing the movie, and Brie taking the lead role.
The other passion the two share is a love of cats. Take a quick scan of Brie's Instagram, and you're bound to see a few snaps of Otis and Max. During a 2017 appearance on "The Ellen DeGeneres Show," Franco joked that their shared affinity for the feline kind was a big part of what made their relationship work. "She was the only person I could find who was willing to sleep with my two sixteen-pound cats on top of her every night." He went on to say the cats have taken over their lives.
Brie mentioned their fur babies in a 2018 interview with The Times, saying they were the couple's only children. "I don't really want to have kids," she said. "It's great because I don't worry about when should I get pregnant." It also makes sense given how busy both stars are. "I think about how much we're involved in our cats' lives," she mused. "Oh my God, if it was a child!"
Renée Zellweger needed 'me' time
As she entered her fifties, the two-time Oscar winner, Renée Zellweger, had everyone buzzing for how fabulous she continued to look as well as her relationship with car designer-slash-builder, Ant Anstead. But since her marriage to, and subsequent divorce from, Kenny Chesney in 2005, she's remained unmarried and kid-free. At the time of her divorce, some publications reported it was because Zellweger wanted kids and Chesney didn't. However, Today stated that Zellweger's court papers listed "fraud" as the reason, which could be any number of reasons.
In 2016, the actor starred in "Bridget Jones's Baby," so the topic of children came up during her interviews to promote the movie. At the time, the then-47-year-old was dating the musician, Doyle Bramhall, and had taken a few years away from acting. Speaking with Extra TV about the possibility of having a baby, Zellweger said, "I've never really thought like that about anything in my life, really."
Fast forward a little, and the star opened up about why she took six years out of acting. Reflecting on the fast pace of making movie after movie, Zellweger suggested she felt like she had no real reason to turn down job offers — and her personal life suffered because of it. "I wasn't married, I didn't have a family, so it didn't seem necessary to go home, and say, 'I can't because the kids have to start school,'" she said on Sirius XM.
Tracee Ellis Ross is her own woman
Actor Tracee Ellis Ross, famous in her own right for shows like "Girlfriends" and "Black-ish," is also the daughter of legendary singer, Diana Ross. And while Tracee herself hasn't been married or had children, she's part of a great big family. And it's that station in life that Tracee admitted she's surprised about. Reflecting on what her younger self would think of who she is now, she told "Good Morning America" in 2017, "I don't know if I would have believed … that I would be single, forty-four, and loving myself more than I ever thought possible."
For the most part, Tracee has been able to keep her private life private, but it doesn't stop the questions or the speculation. As she told "GMA," "I'll tell you what I want to tell and won't tell you what I don't want to tell." Still, she was candid about the fact that she's not trying to hide things but more protecting what is important to her. When asked by Marie Claire whether she ever wanted children, she responded, "Well, how could you not? Our society spoon-feeds it to you." Not that she believes that a woman needs a child to feel worthy — nor does enjoy it when strangers ask her about the delicate topic. In fact, she had just one response for such people. "Why are you in my womb? Could you get out of my womb?" she joked in 2021 on "A Little Late with Lilly Singh."