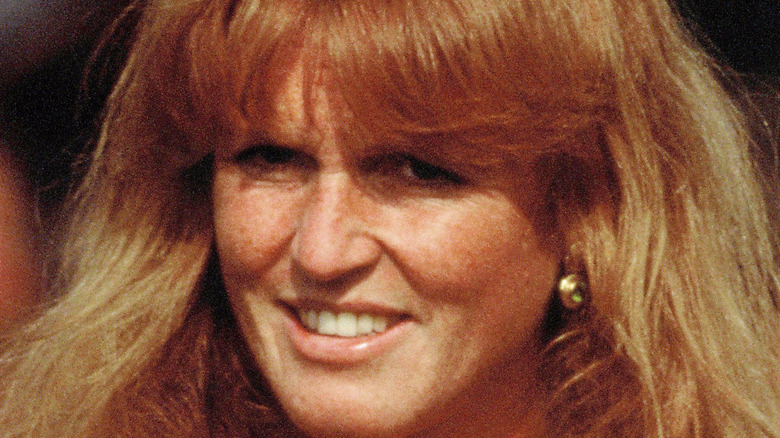 She may have married a prince, but Sarah Ferguson's story is far from a fairy tale. She first sprung onto the scene in the '80s as the young, red-headed friend of Princess Diana and girlfriend of Prince Andrew — naturally, the tabloids were interested. Soon, she acquired the nickname "Bad Fergie" and the reputation of being a little too wild and unpredictable for the royal family. Nevertheless, she married Andrew and took on a new name: Duchess of York. Soon enough, however, she once again fell out of favor with the British press when she separated from Andrew and, shortly after, was pictured allegedly having an affair with her financial advisor (via Mirror).
For years, she was seemingly shunned from the royal family's good books. However, in recent years, Fergie has come back into prominence. First, she made headlines for controversially standing beside her ex-husband when he faced accusations of sexual abuse and assault. And now, she seems to be forging another new persona as an author of historical fiction — her first novel, "My Heart is a Compass," was released in 2021.
Fergie has certainly been on quite the journey. Here is an in-depth look at her ups and downs over the years.
Sarah Ferguson had high-class upbringing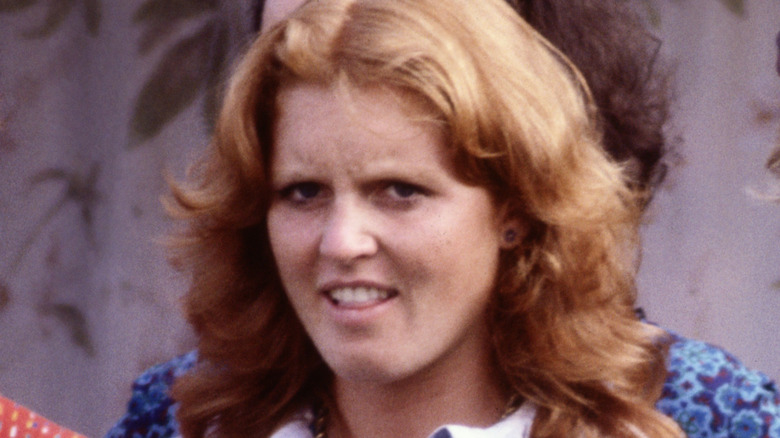 Sarah Ferguson may have married into the royal family, but hers isn't exactly a "Cinderella" story. From the beginning, she was part of Britain's upper class. Her father was Major Ronald Ivor Ferguson, who managed the Prince of Wales' polo team (via Biography).
As a child, she attended two elite private schools — Daneshill School in Hampshire, followed by Hurst Lodge School (via The Famous People). According to Express, she lived in a rural estate named Drummer Down Farm as a child. Apparently, the large home sits in the middle of "Jane Austen country" and has a staggering 800 acres. Before this, Fergie lived at Lowood House, which she once called "a big white Edwardian house." In other words, Fergie had a pretty luxurious upbringing — even if it wasn't exactly up to royal standards. Nevertheless, her father always tried to remind her of her privilege. "I remember my father's saying: remember that the kitchen's more important than the dining room table," she recalled to Financial Times.
While her childhood certainly wasn't perfect, it was very comfortable and quiet, making what happened next more tragic.
Sarah Ferguson had her fair share of difficulties as a child
Despite her privileged upbringing, Sarah Ferguson's early life wasn't always easy. When she was 13, her parents separated, and her mother swiftly eloped with a polo player from Argentina, leaving Fergie behind in England. Suddenly, her family seemed to split apart. "I became head of the house at 13, with my sister going to live in Australia," she told Financial Times. "Dad was morose and lived on the horse and the polo ground, so it was just me."
In an interview for the 2011 documentary "Finding Sarah," Fergie revealed that her mother abused her. "When she used to hit me because I didn't sit on my potty or wouldn't eat, a little vein would come up on the centre of my head near my red hair," she said, explaining that her mother thought it was a "sign of the devil." Then, when her mother set off for a life in Argentina, she was left feeling "pointless," "emotionally bankrupt," "unlovable," and "worthless." And her strict father was no help. According to Fergie, this childhood trauma led to a lifetime of self-doubt and low self-esteem (via the Daily Mail).
Sarah Ferguson became a permanent fixture of British tabloids
After a difficult childhood, Sarah Ferguson began to forge her own path. She landed a job in publishing and, for a few years, lived a pretty normal life. Then, she suddenly found herself thrust into the public eye at the age of 26 when the tabloids discovered that she was Prince Andrew's latest girlfriend.
Because of her looks and personality, she was quickly branded as a wild party girl. "When you have a sense of humor and you're a redhead, everyone takes you for a big hurricane," she told People. "But sometimes, you don't always want to be the storm."
Life as a tabloid leading lady wasn't easy. Over the years, she was ridiculed as the "Duchess of Pork" and was often made the villain of the royal family. For someone who already had self-image issues from childhood, it wasn't easy. "I had major mental health problems because of the trauma," she said to People.
Sarah Ferguson married prince Andrew in 1986
Sarah Ferguson officially joined the ranks of the royal family in 1986 when she tied the knot with Prince Andrew. The wedding itself was a suitably extravagant affair. Held in Westminster Abbey, the royal wedding was televised to an estimated 500 million around the world. After the famous kiss on the balcony of Buckingham Palace, she and Andrew set off for a romantic honeymoon in the Azores Islands (via Town & Country).
However, this idyllic happily ever after didn't last long. Soon after the ceremony, Fergie began to realize that the reality of being a princess in the royal family wasn't exactly a fairytale. With the pressures of the vicious press on one side and the demanding family on the other, she claimed to have felt quite suffocated and trapped. She even felt herself becoming, as she wrote, "a stiffly disciplined woman, drowning in duty."
Sarah Ferguson developed a close, but complicated friendship with Diana
During her marriage to Prince Andrew, Sarah Ferguson became incredibly close to Princess Diana. Both were roughly the same age and had married into the royal family. In many ways, the pair were best friends. "She and I were the only two who really understood what it was like back in the '80s — the pressure was ferocious and yet together, the two of us were powerful," she told Metro. "Not powerful in the sense of strength or importance, but in the love we had for each other, and the way we helped each other cope. Nobody else is left who understands those days."
However, the press often pitted the pair against each other and spread rumors of a rivalry between the two royals. "Everybody wanted (to see a feud) because we were so strong together," Fergie told People. "People want to break something so strong." Eventually, it seems that the tabloid rumors did drive a wedge between the friends and result in some real conflict between the pair. In fact, when Diana died in 1997, they weren't even on speaking terms — "though I never knew the reason," said Fergie to Harper's Bazaar.
Sarah Ferguson became a mother
Sarah Ferguson had her first daughter, Beatrice, in 1988 and her second, Eugenie, in 1990. Becoming a mother was one of the happier parts of Fergie's life. "One of the best jobs… is that I'm a really good mum," she told People. She went on to explain that as a mother, she was able to help her daughters learn from her own mistakes and grow into strong, stable women. As she explained on the podcast "The Matt Haycox Show," she became a great-grandmother, too. "I teach my grandchildren the same way as I've taught my two beautiful girls who are the best ambassadors for good mothering because I'm a darn good mum" (via the Daily Mail).
Over the years, it has been sad to see that Beatrice and Eugenie have offered support for their mother when no one else would. As body language expert Judi James told the Express, they have become inseparable."The 'trio' effect of Fergie and her daughters will often look more like three friends sharing life and even partying together," she said.
Sarah Ferguson had a difficult marriage filled with infidelities
Sarah Ferguson's marriage to Prince Andrew was short-lived, lasting only six years. Things became rocky early on. As she explained to Harper's Bazaar, shortly after their wedding, Andrew was sent away by the navy. "When Beatrice was born, Andrew got 10 days of shore leave, and when he left and I cried, they all said: 'Grow up and get a grip,'" she said. The pair drifted apart, and within a few years, rumors of extramarital affairs began to swirl around them. Things came to a head when Fergie was pictured on holiday with her financial advisor, John Bryan. One photo of Bryan apparently sucking on Fergie's toe led to a major scandal (via The Washington Post). Rumors also spread that Fergie was having an affair with an American called Steve Wyatt in the early '90s (via Mirror).
As Fergie later told Rosie Magazine, she was spiraling out of control at the time. "I had out-of-control debts, an out-of-control lifestyle that I couldn't keep up anymore. I'd now ruined my marriage," she said, adding, "Probably, and I had a breakdown too" (via ABC News).
The pair officially split in 1992 and divorced in 1996 (via Hello!).
Sarah Ferguson and Andrew remained close after separating
Even though the marriage between Sarah Ferguson and Prince Andrew failed, she and her ex-husband remained close in the following years. The pair worked together to co-parent their children. "We are co-parents who support each other and believe that family is everything," she told The Telegraph. and in 2011, Fergie revealed to "Good Morning America" that they were actually still living together despite being separated. "We're a wonderful unit. We still live together," she said.
In recent years, some publications and royal experts have suggested that Fergie and Andrew might actually marry again. However, as Fergie told The Telegraph in 2021, their unique set-up was working just fine. "All I can say is that we're happy with the way we are right now," she said. "We always say we are the most contented divorced couple in the world. We're divorced to each other, not from each other." Maybe this is one couple who got closer after their divorce than after their marriage. And while Fergie seems pretty happy with their situation, in some ways, it's sad to see how she never got the chance to move on from her ex.
Sarah Ferguson was at the center of a bribery scandal
Sarah Ferguson found herself embroiled in yet another scandal in 2010 when she was accused of asking a reporter for money in exchange for access to her ex-husband. As The Guardian reported, Fergie was taped speaking with Mazher Mahmood, a reporter from News of the World, who was disguised as a businessman. She allegedly asked for £500,000, promising him, "That opens up everything you would ever wish for. I can open any door you want, and I will for you. Look after me and he'll look after you… you'll get it back tenfold." After the tape was released, Fergie apologized publicly, saying it had been a "serious lapse in judgement."
The incident continued to haunt Fergie for years. As Town & Country explained, despite her attempts at an apology, she became a widely hated public figure. Apparently, her media attorney remarked to her, "I think you probably are the woman in the world who has had more bad front pages than any other." Said Fergie, "I took it as a huge compliment. I'm really proud that I'm still here."
Sarah Ferguson was excluded from royal events
After Sarah Ferguson's bribery scandal and the toe-sucking scandal, she quickly fell out of favor with members of the royal family. Soon, she found herself shunned by her former family.
As one source told the Express, Prince Philip found her behavior so distasteful, he actually refused to let her stay at Sandringham House, even when she came to visit her family at Christmas. "When she comes up for Christmas, she's not allowed to stay in the house," said the source. "To be frank, the Duke of Edinburgh doesn't like her." In 2011, she also wasn't invited to her nephew, William's, wedding to Kate Middleton. Instead of letting herself become too upset about the situation, she tried to focus on herself. "I didn't think I was probably worthy to go to their wedding," she told Town & Country. "I took myself to Thailand, actually, to be far away from it so that I could try and heal."
Over the years, her relationship with the family seems to have improved. By 2018, she was once again receiving royal invitations — she even made an appearance and Harry and Meghan Markle's wedding.
Sarah Ferguson defended her ex-husband
Sarah Ferguson shocked many people when she decided to stand by her ex-husband, Prince Andrew, after he was accused of sexual assault. "Whatever challenges he has, I will stand firm to the co-parenters that we are together," she told People. "I believe that he's a kind, good man, and he's been a fabulous father to the girls." In another interview with Times Radio, she again praised him, calling him "a very good and kind man."
It seems that Fergie's support of Andrew is unshakeable. While some people may have said nothing, she went out of her way to speak up. As royal commentator Penny Junor noted to The Guardian, "She has not just stood silently by his side. She actually speaks out in favour of him."
While this may not be sad for Fergie, for many fans of the duchess, it's been hard to see her seem to stand beside a man who faces such heinous accusations.
Sarah Ferguson is getting over self-judgment from the Bad Fergie days
One of the biggest tragedies of Sarah Ferguson's life was her constant battle with the judgmental and cruel British press. In fact, it wasn't until she was in her 60s that she finally came to terms with the trauma the tabloids had caused. As she explained to People, "It's taken a great deal of work [to get over it] because I believed every word that the front pages told me. It was self-shame. I'm stratospherically sensitive."
Finally, Fergie feels "free" — even though she admits she'll never fully get over the damage to her self-esteem. "She's still with me, that person who thinks she's fat, ugly, and disgusting, and she still has to have her hair done to talk to you, but she's now not so vocal," she explained to Town & Country. "The truth is, I am 61 years old and I'm free of the self-sabotaging Sarah."