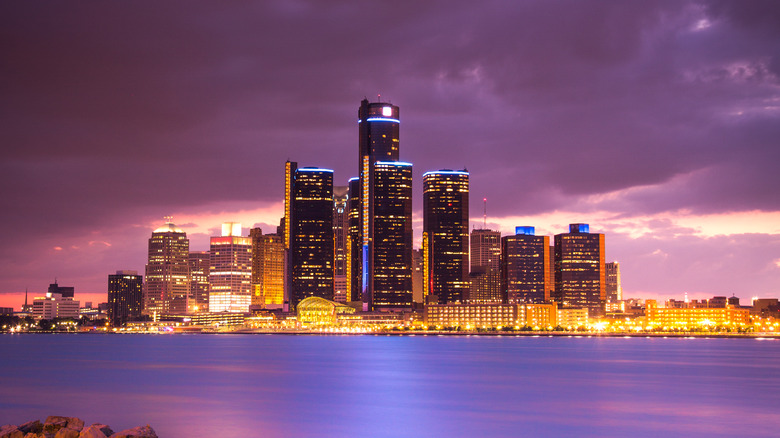 Known as the Motor City, Detroit has come a long way since filing for bankruptcy in 2013 when faced with a mammoth debt of $18 billion (via Detroit Free Press). However, about 10 years have passed, and investors and companies from all around the world are starting to see its potential. Just this year, luxury retailer Gucci opened up a location on Library Street, making it the first international fashion house to construct a shop in the metro city, according to Detroit Is It. As businesses continue to work on reviving Detroit, this means that residents and out-of-towners will also be able to enjoy a plethora of activities.
Are you traveling to Detroit soon and unsure where to start? Well, you're sure to enjoy your stay with our suggestions. From museums and baseball games to nature walks, there are several things to do for all different types of travelers. Are you a foodie? Shopping addict? Lover of art? You may not know it yet, but Detroit might be your new favorite traveling location. Don't believe us? Check out the activities we've handpicked to guarantee you have a good time.
An art lovers' wonderland
Art enthusiasts visiting Detroit cannot leave without stopping at the Detroit Institute of Arts. It's a giant art museum spanning over 650,000 square feet, and it contains over 100 galleries displaying more than 65,000 art pieces, according to the Detroit Institute of Arts. It was first founded in 1885, and its collection is ranked among the top six in the U.S. There's all different types of work to view — you're sure to find something that will touch your artistic heart.
There's Asian art, African American art, European modern art, Islamic Art, Ancient Middle Eastern art, and much more. There's also the Detroit Film Theatre located inside the museum, which features movies directed by people from all over the world. Visiting the Detroit Institute of Arts is quite an experience, and if you get hungry, there's also a cafe to order food and a beautiful courtyard where you can enjoy your meal.
Shopping paradise
Many of us love to shop when we go traveling. You can find stores you don't have locally and purchase items that can serve as a constant reminder of your trip. If you're planning on visiting Detroit, we urge you to take a step into Somerset Collection. This is a huge mall with a total of 180 stores and restaurants (via Somerset Collection). This shopping center is also located in an ideal location for travelers, as there are about nine hotels in the area, with Somerset Inn being only a short walking distance away.
Some popular stores you'll find there are Aritzia, Louis Vuitton, Anthropologie, Banana Republic, and Zara. Like everyone else, if you're a fan of Chick-Fil-A, you'll also be happy to know there is one located in the food court, along with a Shake Shack, Häagen-Dazs, and more.
East African cuisine
If you're a traveling foodie whose next stop is Detroit, we suggest taking a seat at Baobab Fare. An East African restaurant and market, Baobab Fare was ranked as one of the best new restaurants of 2021 by Eater. Owners and married couple Nadia Nijimbere and Hamissi Mamba opened the restaurant in 2021 after immigrating from Burundi in 2014, according to Baobab Fare. Their menu is full of traditional dishes, such as ugali, nyumbani, samaki, and mhogo. The latter dish is only available on Wednesdays and contains a Burundi staple ingredient — yuca, the root of the cassava plant.
If you enjoy your visit to Baobab Fare, you can bring a piece of it home with you. Their market offers Burundi coffee beans, hot sauce, and Ji passion fruit juice. For souvenirs, there are also aprons, T-shirts, and sweatshirts. As of this writing, out of 583 Google reviews, this restaurant holds a 4.7-star rating.
Baseball park
Fans of baseball have to make a stop at Comerica Park when visiting Detroit. This is where you can watch the Detroit Tigers in action in a stadium that cost $300 million to build (via Comerica Park). If your companions aren't into baseball as much as you are, they can visit the carousel or ferris wheel that is located on the premises. As you first step up to the gates of the stadium, you're met with two giant stone tigers roaring down at you with the famous Detroit "D" centered between them — a design perhaps meant to bolster the confidence of fans while simultaneously intimidating the competition.
If you end up falling in love with Comerica Park and wish to learn more, they also offer tours to learn about notable places, such as the clubhouse, champions club, Detroit Tigers Walk of Fame, and the batting tunnel. After a game, you can grab a souvenir at the D Shop located at the park.
An island of wonders
A trip to Detroit is not complete without stepping foot into Belle Isle. It's a park located on a nearly 1,000-acre island in Detroit (via Belle Isle Conservancy). There, you can visit the aquarium, conservatory, museum, nature center, and memorial fountain. The Belle Isle Aquarium opened in 1904, making it the oldest aquarium in the U.S (via Detroit Historical Society). It also contains one of the largest collections of air-breathing fish, and it seems to be the only aquarium that houses all seven species of gar in North America.
Michigan experiences all four seasons, and you can see its impact on nature while on a Belle Isle nature walk, per Belle Isle Nature Center. There's various wildlife and greenery to observe, and you can hike through the area with a group once you've met at the Nature Center. You'll be sure to come across various animals, such as a blanding's turtle, black rat snake, tiger salamander, a wood turtle, and more.