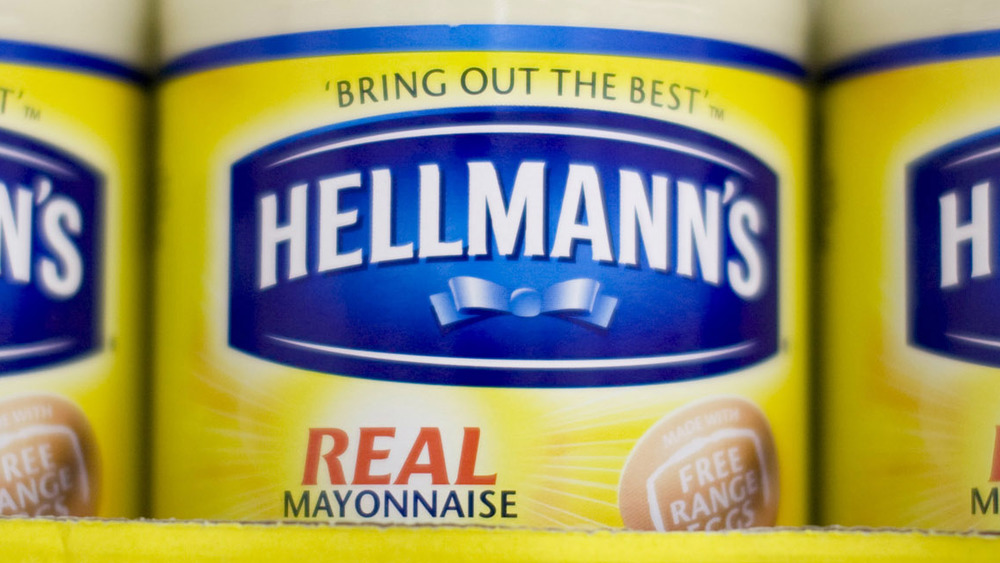 Some brand names are so iconic, so recognizable, that they are used interchangeably with the generic product name. There's Kleenex for tissues, ChapStick for lip balm, Popsicles for ice pops, and the list goes on, per Business Insider. And then there's Hellmann's. Whether you refer to the creamy condiment as mayonnaise, mayo, the holy emulsion, or Hellmann's itself, you can name the team behind the blue-ribbon jar. Here's what you may not know about the 100-year-old brand.
Hellmann's was born after 27-year-old German immigrant Richard Hellmann set foot in New York City in 1903, according to a historical article by Andrew F. Smith. Hellmann married Margaret Vossberg, the daughter of two deli owners, and the couple opened their very own Hellmann's Delicatessen on Columbus Avenue in Manhattan. Hellmann's mayonnaise was featured in salads and other dishes at the deli, and customers liked it so much that the duo began selling the dressing, first packaged in one-gallon stone jars.
The story behind the Hellmann's blue-ribbon label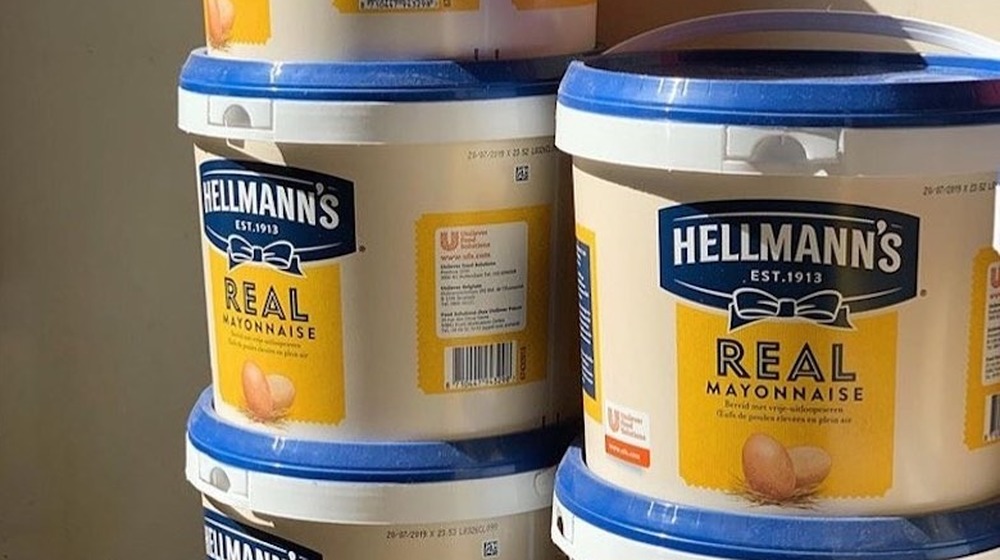 Hellmann's Delicatessen originally sold two versions of mayo, so Richard Hellmann used a blue ribbon to distinguish his favorite, a dutifully tested blend of egg yolks, vegetable oil, vinegar, salt, sugar, and other seasonings (via Hellmann's). Customers also preferred this recipe, requesting the "ribbon version" so often that Hellman began selling jarred mayonnaise with the signature ribbon-adorned label that fans know today.
By 1917, Hellmann had trademarked the name "Blue Ribbon Mayonnaise," which sold so well that he closed the deli, opened a mayonnaise factory across the country in San Francisco, and marketed his product, which became the leading mayonnaise in the United States, per Southern Living. Why the blue ribbon? All Hellmann said, writes Andrew F. Smith, is that the touch completed "a proper package." Smith speculates that the logo was meant to be a symbol of the mayonnaise's high quality, as first-place prize winners at state fairs usually receive blue ribbons.
Hellmann's is actually called Best Foods in other parts of the country
If you're reading this from somewhere west of the Rocky Mountains, you may be scratching your head because you recognize the blue-ribbon jar, but not the Hellmann's name. That's because Hellmann's is instead sold as Best Foods in much of the western United States. The two products share the same recipe, have similar packaging, and are even made in the same factory, per HuffPost, but they simply have different names. Why's that?
As Hellmann's swept the East Coast in popularity in the early 1930s, California-based mayonnaise brand Best Foods became the spread of choice in the West. Postum Cereal Company took notice, purchasing both Hellmann's and Best Foods, Southern Living reports. Not wanting to sacrifice either well-known name, the company decided to sell the mayonnaise as Best Foods to the west of the Rocky Mountains and as Hellmann's in the east. Parent company Unilever insists that the recipes are identical, but some fans say there's a difference; a HuffPost survey showed that a majority of tasters preferred Hellmann's over Best Foods, with many saying it tasted sweeter and less tangy than its West Coast counterpart.
Why does Hellmann's make such a big deal out of being 'real?'
If you've scanned the labels in the condiment aisle at your local grocery store, you might wonder why Hellmann's and Best Mayo label's products are labeled as "real mayonnaise." Why is mayo trying so hard to convince you that it's real? Are there that many mayo imposters out there?
As McGill University's Office for Science and Society explains, the FDA requires products have a specific list of ingredients to be classified as mayonnaise. Foods classified as mayonnaise need to have egg yolks and vegetable oil, the school explains. But products that are "mayo" and not "mayonnaise" don't need to meet those criteria. Miracle Whip, for example, differs from mayonnaise in the percentage of vegetable oil it contains, as well as its additional ingredients like corn syrup, which aren't present in traditional mayonnaise. And Just Mayo, as McGill notes, doesn't contain any eggs at all.
Hellmann's helped popularize the infamous chocolate mayonnaise cake
Included in Hellmann's early marketing efforts was a 1937 booklet called "Cakes and Cookies With Personality," writes Andrew F. Smith. Among the recipes was the iconic chocolate mayonnaise cake, developed by Mrs. Paul Price and now an American classic, reports the Milwaukee Journal Sentinel.
It's unknown if Price invented the chocolate mayonnaise cake; many websites refer to the dessert as World War II chocolate cake, or Depression-era chocolate cake, because its ingredients reflected the resourcefulness of home cooks during times of scarcity. While eggs, butter, and other pricey ingredients "couldn't be spared, but there was a jar of mayo in the closet," those living through the Depression could still make a mean chocolate cake, per Wide Open Eats. If you're skeptical, remember that the main ingredients in mayonnaise are eggs and oil, which are usually included in cake recipes. Plus, the vinegar enhances the flavor of the chocolate, according to Serious Eats.
Hellmann's is working to help the environment
If you caught Hellmann's 2021 Super Bowl commercial with Amy Schumer, you know that the mayonnaise brand is on a mission to reduce food waste. "They're doing so much work helping people with food insecurity," Schumer said to Parade in February 2021. "They've just educated me about how much food is wasted." As the brand's resident "Fairy Godmayo," Schumer shares tips on the Hellmann's website about how to waste less food, from freezing leftover pasta sauce to learning how to cook (or just marrying a chef, like she did).
Hellmann's also claims to be working toward a more environmentally friendly production process, using 100% cage-free eggs in its mayo and partnering with agricultural organizations to obtain sustainably sourced oils. The brand has also begun packaging some of its products with recycled plastic, and it aims to make all of its materials reusable, recyclable, or compostable by 2025.
Chefs have long been loyal to Hellmann's, but that could change
For decades, chefs, professional tasters, and everyday eaters have considered Hellmann's to taste just plain perfect, notes Slate. "It's what we would call a beautifully made product," Joanne Seltsam, a professional taster for a company studying the relationship between the senses and purchasing decisions, said to Slate. "All the flavors blend together. Hellmann's is just so interwoven that tasters have a very difficult time saying anything other than, 'It tastes like mayonnaise.'" In the same article, a Boston-based chef said that when he makes mayonnaise from scratch, he uses Hellmann's as a reference.
Hellmann's had 50% of the U.S. market share in mayonnaise in 2017, but the industry has become increasingly competitive as niche brands, grocers' in-house labels, and specialty products have turned customers' heads (via the Wall Street Journal). And then there's the Japanese Kewpie Mayonnaise, the umami-rich, all-yolk mayonnaise that has become "a darling of food professionals," writes Salon. But as long as America's number-one mayonnaise brand continues to develop organic and vegan options and promote its sustainability practices, DMS Insights suspects that millennials and Gen Z may continue to "Bring out the Best."
Dale Earnhardt, Jr. has professed his Hellmann's love
If you follow semiretired NASCAR racer Dale Earnhardt, Jr., you may have come across his love for Hellmann's Mayonnaise at some point. In 2016, Earnhardt, Jr. shared with his Twitter followers a photo showing a sandwich with a smear of a white condiment and part of a banana sitting atop a slice of bread. Its caption read, "Making my favorite sandwich. I swear it's delicious," (via Twitter).
That same day, Earnhardt, Jr. shared the sandwich recipe on his official website. Shocked fans soon learned that the mystery condiment was, sure enough, Hellmann's Mayonnaise. The sandwich includes a "generous portion of Hellmann's Mayo [on] two slices of bread."
It's not the first time that the driver has let his fans know about his banana-mayo-sandwich combo. In 2014, he shared this post on Twitter: "Working with my friends @Hellmanns today got me thinking. What's ur favorite use for mayo? Mine is a mayo/banana sandwich. #dontknockit." While it's possible that his sponsorship with Hellmann's sparked the sandwich creation, it's clear that it holds a special place in Earnhardt, Jr.'s heart.
Hellmann's wants you to put its mayo in coffee
Hellmann's is somewhat known for offering strange suggestions for using its mayo in recipes. For instance, one vintage advertisement touted ways to combine peanut butter and Hellmann's Mayonnaise on bread, with suggestions like topping both condiments with apples and marmalade. Another blast from the past ad suggested that people top their cranberry souffle salads with a big spoonful of Hellmann's Mayonnaise (via HuffPost).
If those aren't quite unappealing enough for you, perhaps Hellmann's latest idea will top them all. In October 2021, Hellmann's posted on Twitter, "Mayo in your coffee. That's it, that's the tweet." Twitter users quickly fired back with responses like, "I love you intensely, Hellmann's, but this tweet is pure violence" and "You must brew some really bad coffee to think that's a good idea." Apparently, the post even upset singer Dionne Warwick so much that she blocked Hellmann's account, stating that she absolutely can't get behind the idea of mayo in coffee (via The Mirror).
A popular sandwich shop adds it to its cheesesteaks
If you've been to a fair, food truck, or fast-food restaurant, you've probably used single-serve packets of Hellmann's Mayonnaise with your subs, fries, or burgers. Unilever Food Solutions boasts that these convenient packages make it easy for customers to add the perfect amount of mayo to whatever they're eating, and their easy-open packets make them a breeze to use.
Some restaurants choose to add the good stuff straight to their product offerings instead of handing over the reins to their customers. One such place is Erbert & Gerbert's, a sandwich shop with locations in 12 states, including its home state of Wisconsin, per Erbert & Gerbert's. In early 2022, the chain added two cheesesteak sandwiches to its menu, the Meatzilla Cheesesteak Sandwich and the Deluxe Cheesesteak Sandwich, both including Hellmann's Mayonnaise as their default condiments (via Thrillist). The sandwich shop joins the ranks of other famous brands using Hellmann's as their preferred mayo, like Jimmy Johns, which uses it as a primary ingredient in some of its menu items, per Jimmy Johns.
You can sometimes keep it out of the fridge
Is your Hellmann's Mayo tucked away in a door shelf in your refrigerator? If so, you're not alone. Many people think that this condiment always needs to be stored in the refrigerator once it's opened, but sources — even Hellmann's parent brand, Unilever — says that's not always true. According to Unilever Food Solutions, Hellmann's squeeze-bottle mayo is a "no refrigeration needed" formula, making it ideal for restaurants to add to their tables for customers to use at will.
According to NBC News editor Madelyn Fernstrom, some mayonnaise packages that can free themselves from the fridge have special formulas that make it possible without spoiling quickly. However, in many cases, "Mayo doesn't spoil faster than other foods," Fernstrom explains (via Today). According to monthly food tracking service, NPD Group SupplyTrack, the acidity level of mayo tends to inhibit bacteria growth (via CNBC). Still, some people and restaurants choose to put their Hellmann's back in the refrigerator when they aren't using it, to hang on to it a little longer, especially if they're modest mayo users.
The best way to know if your specific Hellmann's needs to chill is to check its label. Usually, you'll find this information right by the nutrition facts.
It has award-winning packaging
Who knew that a mayonnaise bottle could become such a hit in the food world? Such is the case of the Hellmann's Mayonnaise Squeeze Bottle, which Hellmann's introduced in 2015. The packaging was a new-and-improved version of a previous squeeze bottle, which the brand discovered was responsible for wasting about 1,000 pounds of mayo that could not escape the bottles. The newer version included an innovative design that allowed as much mayo to get squeezed out as possible and a cap that prevented gunk buildup, per a Hellmann's press release.
Later that year, the new squeeze bottle won the 2015 Package of the Year award from The Association for Dressings and Sauces, making it the 16th winner of the honor and the fourth award winner for Unilever, Hellmann's parent brand. Unilever research and development director Tom Wajda thanked its partnership with Enercon Industries for the successful design of the new bottles (via The Association for Dressings and Sauces).
Hellmann's is now vegan friendly
There's a newish product in the condiment aisle that you may not have noticed before: vegan-friendly mayo. Hellmann's released its first version of plant-based mayonnaise in 2016, originally known as Hellmann's Carefully Crafted Dressing & Sandwich Spread. The condiment was egg-free, cholesterol-free, and contained no artificial dyes or flavors. Hellmann's Marketing Director Russel Lilly noted that consumers had asked for vegan-friendly options for some time, and vegan mayo provided that without compromising the Hellmann's quality they've come to expect, per a Unilever press release.
Later, the mayo product became Hellmann's Vegan Dressing & Spread, containing all plant-based ingredients and leaving out eggs and gluten (via Hellmann's). In January 2021, Hellmann's released even more vegan goodies in the form of mayo-flavored spreads. Three new variations hit the shelves: Vegan Mayo Baconnaise, Vegan Mayo Chipotle, and Vegan Mayo Garlic. Currently, they appear to only be offered in the United Kingdom. Hellmann's U.K. & Ireland Senior Marketing Manager Rachel Chambers explains that the U.K.'s bacon-obsessed residents seem like a natural audience to try the products first (via Good Housekeeping).
Other countries have more offerings from Hellmann's
Not only does Hellmann's go by other names in other countries, and boast interesting uses like adding it to your coffee, but depending on where in the world you are located, there are several other Hellmann's offerings to be enjoyed.
In Australia, for example, you can get a Pub-style Garlic Aioli. True to the brand, it's made using only free-range eggs, locally sourced oils, and marketed as the perfect addition to your chips (fries). In 2018, Hellmann's got together with Tabasco and launched "the ultimate fiery chili mayonnaise" for the U.K. market (via Foodbev Media). The partnership was especially timely as mayonnaise sales had surpassed those of ketchup in the previous year. And more recently, three new flavors were added to Hellmann's U.K. lineup: extra spicy Chilli Charger, Coronation (made with mango and curry powder), and Gravy. As The Independent suggests, perhaps gravy mayo is just the thing to settle the longstanding rivalry among British Northerners (who dips their chips in mayo) and Southerners (who prefer gravy by and large). For the first time, chips can be broken to partake in the best of both condiment worlds.
Chef Mario Batali helped celebrate 100 years of Hellmann's
According to The Columbus Dispatch, when Hellmann's celebrated its centennial in 2013, the company also launched its biggest campaign to date. It spanned across television, print ads, and social media, had its own mobile app, and included an event featuring the world's largest picnic table. More notably, Hellmann's partnered up with celebrity chef Mario Batali, who created a twist on 15 existing recipes and 15 new ones, such as his favorite chipotle-deviled eggs recipe. Per the San Diego Union Tribune, these festivities also included a culinary contest in which home cooks could create their own renditions of Batali's recipes and stand a chance to win a trip to New York City.
On the note of contests, the brand's celebration picnic invited 500 guests to enjoy treats – including a chocolate cupcake with mayonnaise frosting – served on the table that broke the Guinness World Record for the world's longest picnic table. It measured in at 320 feet and 2 inches, and was officially adjudicated by a member of the Guinness World Records during the event (via Town & Country Magazine). It's unclear whether the mayonnaise giant has maintained ties with Batali, particularly since his sexual misconduct charges in 2019 that were later settled in 2022.
Hellmann's continues its Super Bowl presence
In 2021, Hellmann's gave new life to leftovers in its first Super Bowl commercial. Per AdWeek, Amy Schumer was featured as the Fairy Godmayo in a scenario many people can relate to — hunger strikes, and you approach the fridge only to find containers of random leftover bits that are not in the least bit exciting to behold. Enter Hellmann's which, with a little bit of its mayo magic, can transform those underwhelming leftover into a royal banquet of delicious concotions.
Hellmann's continued its Super Bowl campaigns in 2022. This time, linebacker Jerod Mayo — see what they did there — is featured tackling Pete Davidson along with several other people who dared to attempt throwing away leftovers. The running theme across both commercials is clear: Rather than throwing away food, you can revive it with just the right condiment. More importantly, the ads served as a gateway into conversation about the role everyone can play in broader issues of food waste and energy conservation (via Variety). With a stellar track record to date, the brand is set to return with another Super Bowl commercial in 2023, per Little Black Book.
Hellmann's fans have pledged their eternal love through tattoos
Most people will think twice, and then probably several more times, before permanently plastering the name of their partner or spouse on their bodies. If it's Hellmann's mayonnaise though? Fans will show up.
It all started with an age old rivalry between Hellmann's and Duke's. According to Vice, one fateful day in 2022, about 70 Duke's fans gathered at Yellow Bird Tattoo in Richmond, Virginia, and proceeded to choose from a selection of 47 mayo-themed designs to be tattooed on their bodies — all paid for by Duke's — to show their (literal) permanent devotion to the condiment. The takeaway — in Richmond, mayo is not mayo unless it is Duke's (it also happens to be where the company is headquartered).
This display of affection swiftly prompted Hellmann's to launch its own tattoo campaign. Per Thrillist, while Hellmann's did not offer free tattoos to dedicated fans, the brand did offer the chance to win a year's worth of free mayonnaise to customers who submitted photographs of their own Hellmann's themed tattoos. Nothing quite like a little bit of friendly competition between brands to highlight just how much Americans love their mayonnaise — over and above the $2 billion consumers reportedly spend on all that creamy goodness every year.