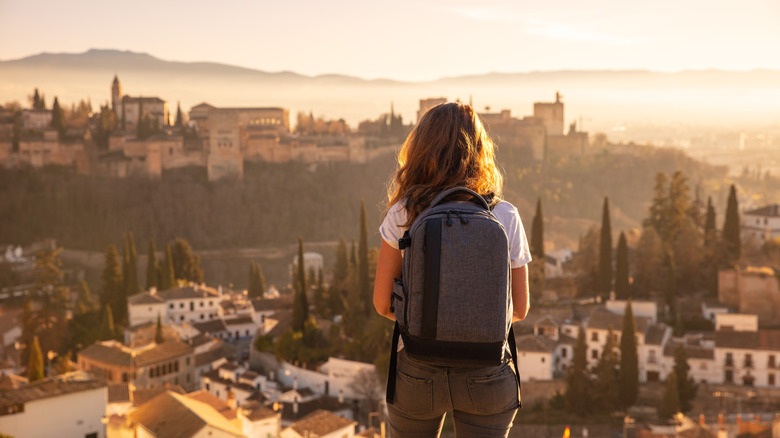 Solo travel is an exciting experience, no matter your intended destination. But jet setting off solo to Europe opens up a whole new world. With iconic cities, easy-to-use public transportation, and diverse cuisines, languages, and cultures, solo wanderers are in for a real treat. In many ways, Europe is the perfect place for solo travelers to dive in head first and simply enjoy themselves all on their own terms (via The Solo Globetrotter).
At first, exploring the world by yourself, particularly Europe, can seem overwhelming in the planning stages. Still, once you have figured out the important things like what you want to see, experience, and where you want to stay, the only thing left to do is finalize your plans and head out. Of course, traveling alone (especially as a woman) does come with some inherent risks in addition to potential pickpocketing (per Travelers). And so, it's not only important to be aware of your surroundings, but to also sign up for STEP (Smart Travel Enrollment Program), purchase travel insurance, and regularly keep someone at home apprised of your location. If you're looking for fun cities in Europe that are solo travel-friendly, you've come to the right place.
Edinburgh, Scotland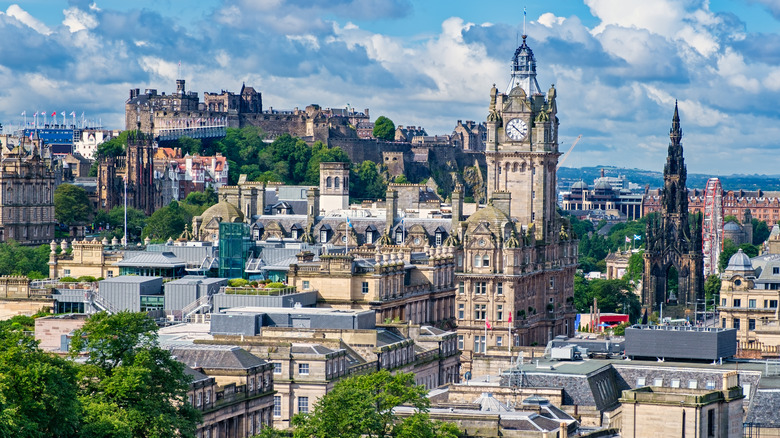 Scotland is a beautiful country with stunning scenery. Adventures abound, which makes for a fun-filled getaway for just about anybody. Scotland also has a relatively low crime rate, and in the city of Edinburgh, thefts and tourist harassment are very unlikely (via MacBackpackers). In fact, people are extremely welcoming in this compact city, which is pretty simple to navigate on your own. There is also a lively and thriving hostel scene in Edinburgh (as well as budget-friendly and 5-star accommodations), making it easy for a party of one to meet other like-minded people.
So it is not too surprising that Edinburgh is a popular destination for a solo vacation. It's a wonderful European city with a variety of experiences, tours, and local attractions that are ideal for solo travelers. Between lush Highlands, a bustling downtown area, and, of course, fairytale-like castles, solo travelers here will find plenty to do — especially if they're avid history and whiskey lovers. Plus, with an overall vibe best described as "intimate," single-serving travelers will hardly ever feel alone here (per Pocket Wanderings).
Amsterdam, Netherlands
Yet another popular city in Europe for solo wanderers is Amsterdam. The capital city of the Netherlands, Amsterdam, has a unique appeal with its works of art, history, stunning architecture, canals, ample tulips, live music festivals, affordable accommodations, and an overall chill vibe — you know all about those famed coffee shops! Amsterdam is actually one of the safest European cities with rave-worthy public transportation. However, visitors can also explore this destination on foot, bike, or boat — making it super easy for solo travelers to get from one local attraction to another (via Blonde Wayfarer).
The nice thing about experiencing Amsterdam solo is you can spend as much time as you want soaking up the culture, marveling at the many points of interest, visiting museums, and so much more (per Travel Triangle). This vibrant Dutch city also has incredible eateries and a world-renowned nightlife. If you check out Amsterdam after dark by yourself – which is absolutely amazing — be mindful of your surroundings and maybe avoid the Red Light District, as that's where some of the more rowdy tourists go.
Reims, France
Of course, you could sip champagne in countless destinations across the globe, but when you're in Europe, why not make it extra special? Reims is a lovely city in France that is a part of the illustrious region of Champagne, which is where champagne comes from. Here, solo wanderers can enjoy one of the less crowded cities in the region with a glass or bottle of bubbly (via Ordinary Traveler).
Reims is the perfect spot for kicking back and relaxing. So if you have been craving some solo downtime, this extremely safe city in France is the place to be. But that's not all — Reims is full of hidden gems, breathtaking scenery, phenomenal architecture, Roman ruins, museums, lavish hotels, mouthwatering cafes — and, oh yeah, champagne for days from all the nearby vineyards (per Solo Sophie). There are also fun biking tours and, well, so much more — just waiting for solo wanderers who love their champers.
London, United Kingdom
Solo travelers can never go wrong with London, England. This particular European city has a mirage of fun things to do, countless fascinating attractions, hidden must-sees, guided tours, and a rather exciting nightlife — making it a sure thing on your solo travel bucket list (via She Go Wandering). London also has great public transportation, is pedestrian-friendly, and is the perfect home base when traipsing through nearby countries like Scotland, the Netherlands, and France. Overall, this city is relatively safe for people traveling alone. Still, solo visitors should definitely "mind the gap," avoid ominous-looking streets at night, and watch out for pickpocketing.
You might need to make a few trips or stay for an extended period in London if you desire to cross everything off your potential itinerary. But the nice thing about exploring Londontown on your own (and anywhere else for that matter) is that you're in control of what your day-to-day adventures look like (per Pocket Wanderings). Plus, with ample accommodations that cater to solo travelers, London truly has the potential to become one of your lifelong loves.
Prague, Czech Republic
Avid history lovers out and about in Europe on a solo adventure should absolutely make a point to visit Prague in the Czech Republic. Much like other popular European cities, Prague has very low incidents of crime. But, the standard safety rules still apply when wandering solo. Here, after a long day of appreciating Medieval architecture in all its glory, you can easily make some new friends at the local beer gardens, galleries, and pubs scattered throughout this city (via The Points Guy). Since an extended vacation in Prague and the cost of living are both rather affordable for visitors, solo wanderers will have no trouble meeting like-minded nomads, who took advantage of the remote worker relocation movement — in fact, you might just end up moving to Prague after you spend a little time there!
Simply put, this phenomenal go-to city for world travelers is a great time waiting to happen (per World Packers). With informative walking, beer, and history tours, you can learn all about this wonderful European city while having a remarkably fun getaway. Even if you're not a history enthusiast, beer fan, or remote worker dreaming of a completely different life, there's no denying that Prague is still a solo traveler-friendly destination with a wealth of exciting things to see and do.
Seville, Spain
Seville, Spain, is another European city that feels like it was made for solo travelers. This incredibly safe and pedestrian-friendly city is full of adventures and opportunities to mingle with other solo explorers. With more than a few hostels in town, you can easily become part of a group or decide to venture out on your own (via Abroad With Ash). Regardless of whether you stay a party of one or not, this city is full of culture, local wonders, must-visit museums, delicious eats, free activities, and much more.
In general, this stunning part of Spain is an architectural feat with its ceramic pieces, vibrant colors, and historical buildings. Of course, you don't have to spend all your time marveling at one-of-a-kind structures in Seville. There are plenty of solo-traveler-approved excursions here, including an abundance of walking tours and stopping by the Basilica de la Macarena (for an impromptu flash mob of sorts). There is also a beautiful waterfront between Triana Bridge and San Telmo Bridge that was made for relaxing afternoons and enjoying the surrounding scenery (per The Occasional Traveller).
Athens, Greece
With all this talk of impressive architecture, Roman ruins, and more, a solo excursion to the capital of Greece is to be expected. Athens is a magnificent European city that is safe, fairly easy to navigate, and brimming with obvious cultural significance. In recent years, Athens has stepped it up a bit and become more than the convenient Gateway to the Greek Isles. The city itself is brimming with magnificent remnants of the past, bustling markets, delicious Mediterranean eateries, and so much more (via The Flash Packer).
All of these things make Athens a great destination for solo wanderers. With more than a few affordable hostels, you can take in all this city has to offer and then some with others or yourself. Of course, a bonus here is that you can spend a few days in Athens and then venture out to the surrounding Greek Isles simply because you're there and hundreds of incredibly scenic islands await your arrival (per Kim Kim).
Cologne, Germany
A lovely city in Germany that frequent visitors describe as the perfect-sized city for solo travel is none other than Cologne. Since this European city is not overwhelmingly big, solo adventurers tend to feel more at ease here. Though there isn't much you need to worry about in this little German town as it is more than safe for solo and female travelers (via Solo Guides). To the locals, Cologne is Germany's carnival city and is a great place to let your hair down.
In general, Cologne is a walkable destination with WWII history, unique landmarks, fun festivals, great restaurants, and a nightlife that keeps the party going well past 5 a.m. Cologne also has ample hotels and accommodations that fit any budget. But for solo travelers looking to mingle, the first-rate hostel, Die Wohngemeinschaft, is the place to stay. Conveniently located only minutes from the train station, Die Wohngemeinschaft is near Cologne's creative center (where the fun happens) and offers travelers a taste of Germany with all the trimmings (per Dym Abroad).
Gothenburg, Sweden
Solo travelers headed to Sweden will be delighted to know they are headed to the safest country in the world. So no matter what city you choose for solo adventure here, you can focus on the fun instead of being overly concerned for your safety (via Nomadic Matt). And so, Gothenburg, Sweden, is a favorite among lone wanderers for various reasons.
Not only is Gothenburg a very walkable and lively European city that is idyllic in the summertime, but it is also a destination full of exciting activities. Whether you enjoy history, architecture, lavish accommodations, budget-friendly stays, nature trails, botanical gardens, picturesque scenery, tasty eats, or the fine arts — you won't be disappointed here. With plenty of fun things to do and see, the only possible downside to a solo vacation in this part of the world is the overall cost. Though Gothenburg is definitely more affordable than Stockholm, it is very easy to spend a small fortune in this city. So to avoid this, it is best to steer clear of overly touristy areas and budget accordingly.
Valletta, Malta
Malta is also a wonderful option for solo wandering. On this stunning island, English is commonly spoken, the crime rate is low, and the overall culture here is very hospitable. What's more, solo travelers headed to Valletta, the capital of Malta, will have no trouble navigating this walkable and safe European city, even at night (via She Travelled The World).
In the quaint city of Valletta, a traveling party of one can spend ample time lounging on the beach, swimming in cooling waters, and relaxing seaside. Valletta also has a variety of shops and hidden gems located in its Old Town district, gorgeous cathedrals, museums, and other must-see local attractions (via Ars Currendi). All in all, Valletta is a rather small town. But there are quite a few activities perfect for solo travelers. And if you get a little antsy after taking it easy for a few days here, you can check out other nearby cities that showcase the island paradise that is Malta.
Split, Croatia
Speaking of literal paradise, Split in Croatia is breathtaking and promises uninterrupted fun in the sun for at least six months a year (via Travel Dudes). So if you enjoy swimming in shimmering waters, lounging on sandy beaches, sipping fruity drinks poolside, or taking out the sailboat into the deep blue sea, then Split awaits. If you happen to be a more adventurous solo traveler or fancy yourself an adrenaline junkie, Split is still a great option with its wealth of fast-pace water sports and activities.
Besides having some of the best beaches in Europe, this thrilling seaside city also has quite the nightlife and year-round festivals. Old Town is a perfect area to stay for solo travelers as it is close to all of the fun. Of course, the standard precautions apply, especially when partying until dawn solo. And much like other popular European destinations, theft and pickpocketing are something you still need to look out for when out and about on your own. But otherwise, Split is a very walkable and solo-travel-friendly destination where you can create lifetime memories (via Corr Travel).
Bansko, Bulgaria
Solo travel in Bulgaria may have never crossed your mind until now, which is okay. Here is your chance to try something new. With its diverse landscape and seasons, a solo vacation in Bulgaria can be a historical treasure trove, coastal respite, cold-weather recreational playground, or, if you have time, all of the above (via Girl About The Globe). Of course, if you opt to head out to the city of Bansko, you should expect a wintery wonderland that is ideal for winter sports enthusiasts and promises ample adventures.
Thanks to its increasing digital nomad population, Bansko is becoming more and more popular among lone wanderers, especially those looking to improve upon their skiing abilities (via The Flashpacker). What's more, Bansko is a remarkably safe destination for inexperienced skiers, newbie snowboarders, and every type of solo wanderluster. So, if this sounds like your cup of tea (or in this case hot cocoa), then pack your sports gear because Bansko might just be the place you're looking for!
Dublin, Ireland
Last but not least, Dublin is a lively city in Ireland that (we're guessing) not many people have ever returned home from without having an incredible time. With its beloved Temple Bar, legendary nightlife, one-of-a-kind live music scene, assortment of smooth whiskies, and frothy Guinness everywhere you turn, solo travelers headed to Dublin definitely won't regret it (via Ordinary Traveler). Besides a healthy dose of merriment, Dublin is brimming with history, art, culture, castles, natural wonders like the Cliffs of Moher, lore, and, well, great accents.
Dublin also has a low crime rate, easy-to-use public transportation, and countless sightseeing tours and amazing experiences readily available (via My Ireland Tour). By and large, Dublin is a welcoming destination — so even though you arrived as a party of one, be prepared for your solo vacation to feel like old home week faster than you think. What's more, there is a diverse selection of budget-friendly accommodations (hostels, castles, and hotels). So, it is safe to say that Dublin is one more destination that ranks high on the list of fun European cities for solo travelers.