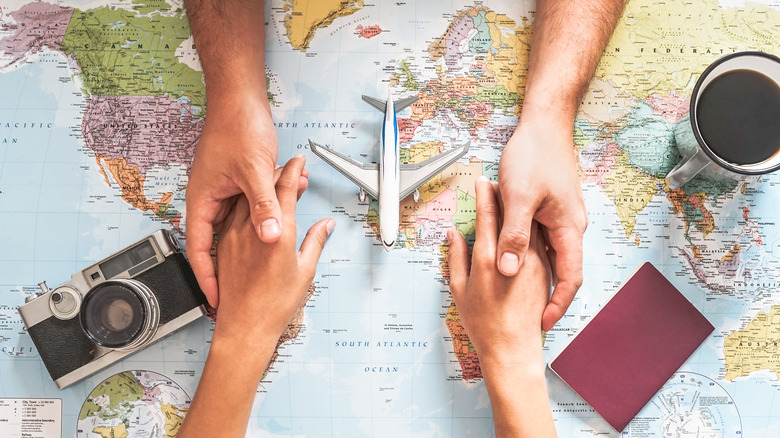 Couples who play together stay together, and this rule typically extends to vacations. So, whether it is a baecation, a moon (mini, honey, or baby), or simply a much-needed couple's getaway, exploring the world with your partner is a wonderful opportunity to bring you closer together. All-inclusive vacation packages for couples are one of the easiest ways to add to the overall enjoyment of your holiday so you two can focus on each other. Still, finding all-inclusive packages for couples is often not as easy as it sounds. But once you know where to look — on sites like Kayak, Hotels.com, Cheap Caribbean, Hotwire, and Expedia — the world is truly your oyster (via Upgraded Points).
With the help of all-inclusive vacation packages, you can take out a lot of the guesswork in the way of activities, dining, drinks, and certain amenities. But that's not all — these particular getaways also provide a clear vacation budget and offer couples a more stress-free respite (per Like Where You're Going). So, if one of you likes to splurge more than the other or you always end up being the vacation planner, these all-encompassing couple's escape packages are a surefire way to help keep everyone relaxed and happy.
Sandals Grande St. Lucian, St. Lucia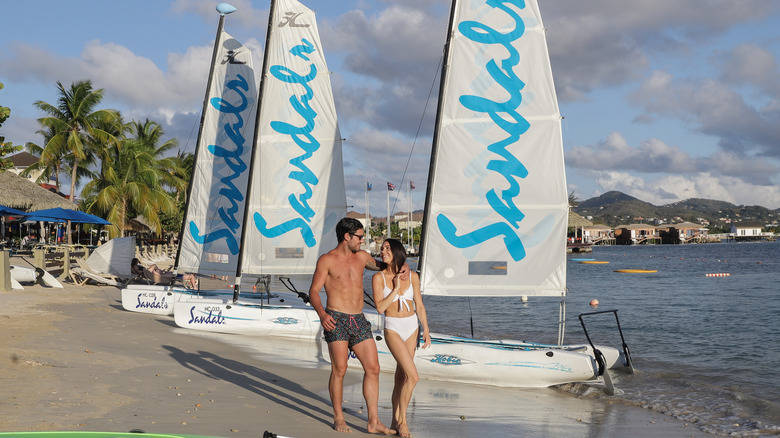 Sandals resorts will always be a popular option for couples, especially when planning a beach escape for two. The Sandals Grande St. Lucian definitely stands out with its picturesque over-the-water bungalows, everything's included packages, and wealth of complimentary activities. Located right on the beach, Grande St. Lucian is an all-inclusive adults-only resort. This larger Sandals on the island offers couples wonderful amenities, unlimited food and drinks, 24-hour room service, 12 onsite restaurants, two golf courses (with fees included), plus access to two other sister resorts (via Sandals).
Speaking of Sandals sister resorts, couples looking for something a little more intimate in St. Lucia can also opt for all-inclusiveness at Sandals Halcyon Beach and Sandals Regency La Toc. With options like swim-up rooms at Halcyon Beach and cliffside villas with private pools at Regency La Toc, you don't even have to leave your room. That said, couples can take advantage of all three of the Sandals resorts in St. Lucia and their amenities, no matter where they stay. So if you and your significant other are looking for an incredible beach vacation with all the trimmings, then you should check out Sandals Grande St. Lucian in St. Lucia and its sister resorts (per Honeymoon Always).
Excellence Playa Mujeres, Cancun, Mexico
For couples planning an amazing getaway to Mexico, booking an all-inclusive escape at Excellence Playa, Mujeres, Cancun, is a must. This lavish adults-only resort with a world-class sanctuary spa is perfect for couples in need of some rest and relaxation. From destination weddings, honeymoons, and anniversary packages to hotel + flight offers, Excellence Playa Mujeres has it all and then some (via Couple Travel The World).
With fantastic amenities, phenomenal ocean views, seven pools, 11 bars, nine different options for fine dining, a beachside grill, and a wealth of complimentary entertainment, it's hard to believe that this is one of the more budget-friendly beach escapes — but it is. Couples can also spend their days lounging on private beaches, sipping fruity drinks while floating down this resort's lazy river, or comfortably nesting in their oversized suite. Plus, ample adventures await guests here, with many local attractions within walking distance. So, if you've been dreaming of a luxurious one-stop shop for a holiday, Excellence Playa Mujeres is the place for you (per Oyster).
Komandoo Island Resorts & Spa, Maldives
Alternatively, if the Maldives have been calling your name for some time now, you're in luck. There are more than a few phenomenal packages available in this absolutely stunning part of the world. Known as the ultimate holiday destination, the Maldives is brimming with white sandy beaches, over-the-water stays with lavish amenities, and more than a few opportunities for romance (via Wanderlust Chole). Of course, lovebirds looking for all of the above plus all-inclusive amenities have several options in the Maldives. But by far, Komandoo Island Resort and Spa has some of the best all-inclusive packages for couples.
Thanks to these amazing getaway packages, Komandoo Island Resort and Spa is a frequent choice for jet-setting couples. This adults-only hideaway is nestled in the Lhaviyani Atoll and offers guests an ultra-private and customizable experience that is simply unforgettable (per Crown & Champa Resorts). Plus, it is an all-inclusive picture-perfect resort in the Maldives, so you can just go ahead and add it to your couple's travel bucket list now.
Belizean Dreams Resort, Belize
Another dreamy holiday option that allows couples to keep their wallets closed after booking is the Belizean Dreams Resort. With packages that cover it all for just about any occasion, the Belizean Dreams Resort promises the perfect getaway for you and your significant other. In total, there are five vacation packages for couples that offer everything from honeymoon bliss and romance to relaxation and adventuring — all of which can be tailored to your needs (via Belizean Dreams).
With stand-alone oceanfront villas and guest suites, personalized touches, ample privacy, and so much more, this is an excellent option for lovers. Located right on the coast of Hopkins Village in Belize, this all-inclusive resort is the ideal spot to decompress (per Fashion Travel Repeat). So, if you and your person are looking for exclusive accommodations with all the extras in a less crowded destination, then all that's left to do is pick the right all-inclusive couple's package and go.
Le Sivory Punta Cana, Dominican Republic
One of the nice things about beach vacations, other than all the fun in the sun, is the wealth of all-inclusive options these kinds of holidays afford travelers (via Oyster). So couples considering an island escape in the Dominican Republic definitely won't be disappointed with all the travel deals available here. Le Sivory Punta, in particular, has incredible amenities, budget-friendly complete couple's packages, and all the makings of a great getaway.
Located in Uvero Alto, this oceanside haven is adults-only and surrounded by a lush tropical landscape. Le Sivory is a boutique hotel with top-tier perks that rival those of the best a la carte resorts in the Dominican Republic. So, traveling twosomes can expect to enjoy a lovely selection of guest suites, access to stunning beaches, wonderful spa services, unique couple experiences, and multiple onsite gourmet restaurants (per Travel Weekly). Besides being an affordable beach baecation with great all-inclusive packages for couples, Le Sivory also ranks high on the list of places to relax and recharge.
Secrets Papagayo, Costa Rica
Couples looking for a little more privacy without sacrificing limitless opportunities for adventure should consider booking a lovey-dovey vacation at Secrets Papagayo, Costa Rica. This off-the-beaten-path resort can be found in the Gulf of Papagayo and offers its guests a high-end, modern, and downright stunning stay. But that's not even the best part — Secrets Papagayo has more than a few all-inclusive options that are quite alluring (via Vacation Express).
In fact, Secrets Papagayo couple's deals are well worth every penny. This posh adults-only hideaway is surrounded by several national parks and has a long list of fun activities for active couples who want to get out there and explore. Here, everybody wins with yoga classes, access to nearby golf courses, snorkeling, sports fishing, two gorgeous beaches, a local nightlife scene you'll never forget, and more. Plus, once you book, everything from food and drinks to activities is covered (per Oyster).
Bungalows Key Largo, Florida
Who says you need to travel across the world to enjoy the all-inclusive couple trip your heart desires? Bungalows Key Largo in Florida is a spectacular over-the-sea retreat that doesn't have to break the bank (via Follow Me Away). This is yet another adults-only resort that offers couples a wealth of water-filled activities, delicious cuisine, fruity drinks, and one-of-a-kind experiences.
So if you and your main squeeze crave all the fun of a beach escape, by now you know there are some affordable options, including Bungalows Key Largo. Of course, lovebirds can book a getaway practically anywhere. But, all-inclusive is rarely an option for vacationing in the United States, especially for a beachy jaunt for two (per Travellers Worldwide).
Twin Farms, Barnard, Vermont
Yet another great destination for a dreamy getaway with your significant other is Vermont. More specifically, in Barnard, Vermont, Twin Farms Resort offers all-inclusive vacation packages for couples. So if you and your partner are avid Vermont lovers, autumn weather enthusiasts, winter sports fans, or just appreciate a rustic cabin with everything included, then Twin Farms is the ideal stay (via Follow Me Away).
In addition to being a wonderful all-inclusive vacation for couples, Twin Farms has an extensive art collection, recreational courts, more than 300 acres of lush grounds, cozy suites with fireplaces (some with private Jacuzzis), fine wines, cocktails, and unlimited gourmet eats. Twin Farms also has a renowned spa and state-of-the-art fitness center (per Twin Farms). So couples can definitely choose their own adventure here. Overall, this Vermont Relais & Chateaux is a splendid spot for couples looking to reconnect and simply enjoy the finer things with one another — making a couple's vacation here an all-around win-win.
Cocos Hotel, Jolly Harbour, Antigua
For couples who love a good old-fashioned Caribbean getaway, there are plenty of holiday packages available that offer lovebirds a stress-free vacation. Though the Caribbean is a tropical region made up of more than 700 islands, there are definitely some popular destinations that stand out and were made for couples. For instance, the Cocos Hotel, located in the beautiful Jolly Harbour on the island of Antigua, is a delightful couple's all-inclusive retreat just waiting to happen (via Family Vacationist).
Cocos Hotel is a breath of fresh air with magnificent white sandy beaches, turquoise waters, unique yet incredible clifftop cottages, and an all-inclusive luxurious experience for couples. This Caribbean adults-only boutique prides itself on being different from the rest and its shows. With attention to detail, private cliff-side infinity pools, wait-staffed-only gourmet meals, international wines, flowing cocktails, first-rate relaxing spa services, cooking classes, and much more, Cocos Hotel is truly a heavenly stay (per Antigua Hotels).
Sandals Resort Montego Bay, Jamaica
Jamaica is another popular couples destination in the Caribbean that you don't want to miss out on. Here, couples can book an unforgettable and all-encompassing vacation at the Sandals Resort in Montego Bay, Jamaica. Much like other Sandals resorts around the world, Sandals Montego Bay offers couples a simply divine adults-only getaway experience (via Sandals).
With amazing amenities, legendary activities, an expansive private beach, shimmering waters, and all-inclusive goodness, this Sandals Resort is the way to go for any kind of couple's moon (via Honeymoon Always). Even if you and your partner just want to delight in each other's company, take a load off, or celebrate your love beachside, Sandals Montego Bay has you covered. With affordable couple's travel deals, swim-up rooms, more than a dozen 5-star restaurants, intimate cocktail bars, superb spa services, destination wedding packages, nightly entertainment, plus so much more, heading to Jamaica is never a bad decision.
Hotel Riu Palace, Aruba
Aruba is also a great Caribbean option for couples. With 5-star accommodations, romantic experiences galore, thrilling adventures, and all-inclusive resorts like the Hotel Riu Palace Aruba, couples can create lasting memories on this island getaway. What's more, beach lovers looking to relax and kick back will find plenty of opportunities to do just that (via Today).
Located on Aruba's stunning Palm Beach, Hotel Rui Palace is a fan favorite for most couples' vacations and honeymoons. Thanks to its powdery white beaches, 24-hour room service, multiple pools, first-rate restaurants, all-inclusive packages, and more, lovebirds will have no trouble at all enjoying themselves. Typically, couple's vacation deals for Aruba tend to be quite pricey, and some don't cover everything. But the nice thing about the Hotel Rui Palace Aruba is that there are reasonably priced couple's packages that are truly all-inclusive available through a variety of travel sites and companies (per Nomadic Matt).
Beach House, Turks and Caicos
Turks and Caicos is truly a paradise onto itself, with a handful of dreamy all-inclusive spots. Of course, if you are searching for more of an intimate getaway here, it really doesn't get much better than the Beach House located on the picturesque Grace Bay Beach. This modern gem is an exclusive boutique hotel with 21-themed suites (most guest accommodations are oceanfront) and incredible all-inclusive packages for couples that are worth every penny (via Family Vacationist).
Here, couples will find an adults-only, super inviting, and vacation fund-friendly beach retreat. With unlimited dining, strong drinks, attentive staff, complimentary activities, a phenomenal semi-private beach, and an overall serene vibe, you and your partner might become regulars at the Beach House before you know it. That said, the Beach House (as of this publication date) is being remodeled. But its grand re-opening is slated to happen in mid-2023 (via Visit Turks & Caicos Islands).
Barcelo Hydra Beach Resort, Thermisia, Greece
A trip to Greece with your significant other is always a good idea — whether you and your boo seek rest, rejuvenation, or sweet romance. Of course, the number one couple's destination in Greece is often Santorini. However, finding all-inclusive or budget-friendly options in Santorini is highly unlikely, but dreams of summering in Greece with your sweetheart aren't so easily dashed — enter the Greek Isle of Thermisia (via Hotel Planner).
The good news about jetting off to the incredibly scenic Greek Isle of Thermisia is you don't have to spend a small fortune to have an amazing couple's getaway (per Planetware). In fact, Barcelo Hydra Beach Resort in Thermisia is an upscale 5-star resort with rave-worthy amenities and some of the best inclusive packages for couples around. Located on the pristine shores of the Aegean Sea, couples can enjoy modern Greek décor, a vast selection of guest suites, a first-rate spa, the sweet smell of citrus and olive trees in the distance, and awe-inspiring island views.
Pestana Porto Santo, Porto Santo Island, Portugal
For couples looking for a taste of Europe, Portugal is an excellent destination (via Trip Masters). Not only is the country of Portugal brimming with romantic vibes, robust culture, and delicious cuisine, it is also home to some of the most lovely little getaway spots for couples around. For instance, Pestana Porto Santo is an inviting island resort that provides happy twosomes with a luxurious, all-inclusive, and unmatched stay.
Located on a gorgeous stretch of beach near the Madeira Islands, Pestana Porto Santo resort has great amenities, recreational courts, spa services, unlimited food, and drinks, plus more. Here couples can wine, dine, and unwind at their leisure (per Oyster). So if this sounds like something you and your partner could get into, then Pestana Porto Santo awaits.
Explora Patagonia Hotel Salto Chico, Chile
Finally, lovebirds interested in spending quality time together in Chile are in for a real treat at Explora Patagonia Hotel in Salto Chico (via Dive In). Explora Patagonia is nestled in Torres del Paine National Park, which just so happens to be one of the most colorful and picturesque spots in the world. Incredibly, Explora Patagonia has several complete holiday packages that are all-inclusive.
So, this once-in-a-lifetime couple's trip should absolutely be on your collective bucket list. Overall, Explora Patagonia is a high-end resort that overlooks Lake Pehoé, has fabulous amenities, guided excursions, outdoorsy activities galore, and offers couples truly wonderful travel deals that cover everything and then some (per Explora). So wonderful, in fact, that this amazing trip for two — like many other great couple's destinations with inclusive packages — practically plans itself.