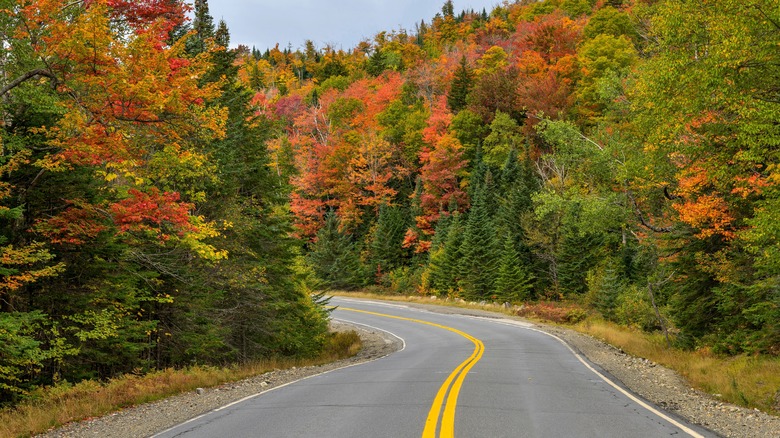 Maine's pristine wilderness, majestic waterfalls, dense forests, mountains, and waterways make it an excellent setting for nature lovers and travelers alike. The best way to ensure you fully enjoy what Maine has to offer is through a scenic drive that will take you through endless nature trails and old-fashioned coastal towns, with natural beauty at every turn. This state has something for you to enjoy regardless of the season, no wonder most people refer to it as Vacationland. For instance, you can try out rafting with your travel companions in one of the glacier rivers or sunbathe on the beach during the summer (via Maine Camp Experience). If you can't help taking photos of awe-inspiring fall foliage, Maine should be at the top of your bucket list — you'll be blown away by the red, gold, and orange colors that spice up the landscape.
If you're already itching for a scenic drive in Maine to interact with nature or understand the history of different parts of the state, you'll be spoiled for choice. Americasycho on Reddit said, "Took some lesser traveled roads to Bar Harbor from Portland. The foliage was breathtaking, and the scenery was really something to behold." Another Redditor noted, "I took my car on Route 26 in western Maine. Maybe the most beautiful drive I ever had. Trees on both sides and mountains." Here are some of the incredible drives in Maine that you should experience at least once in a lifetime.
Grafton Notch Scenic Byway (Route 26)
If leaf peeping is your thing, you won't be able to get enough of this 21-mile byway that starts at Newry and heads toward the New Hampshire Scenic Byway. While traveling along this route, the Grafton Notch State Park is a great stop to consider for picnics since you can enjoy the cool weather as you share a meal with your travel companions. If you have enough time to explore the park, you'll be lucky to view some beautiful bird species such as the yellow-bellied flycatchers, gray jays, bay-breasted warblers, and boreal chickadees (via Scenic USA). Along this route, you can as well get a close view of Mother Walk Falls and Screw Auger Falls to enjoy the scenery or take photos with the waterfalls as your backdrop.
Those who feel more adventurous are not left out because they can stop at one of the many swimming holes along Bear River to soak up the cool waters. Hiking trails are in plenty along the byway if you'd like to get out of the car to stretch your legs as you explore the landscape for other exciting opportunities such as spotting wild animals like bears and moose (per Explore Maine). The other notable features you can check out along this route include Lake Umbagog and Mahoosuc mountain range (via Girl With the Passport).
Saint John Valley Byway
Covering about 92 miles, this route that ends in Hamlin, Maine is rich in historical destinations, so if you're a history buff, there's a lot to marvel at and learn along the way. On the western end, the journey begins at Dickey, which is a short walking distance from the Allagash Historical Society Museum, so you can visit this museum before the trip begins to learn about Irish and Scottish settlers who inhabited different sections of the St. John's River in the early 19th century. Along the way, you'll pass by dense forests, traditional villages, and small towns where local communities embrace their old ways of living. Don't be surprised if you hear some French-speaking locals because the entire route is unified by a common theme, which is its cultural origin. Interacting with these communities is an amazing way to learn French recipes, see ancient tools, and learn the history of Maine Acadians and French-Canadians (per Aroostook County Tourism).
Since a large section of this byway is forested, you'll be lucky to spot various wild animals, including moose and eagles. You can pass by Portage Lake or Eagle Lake, which are amazing spots for fishing, boating, hiking, or camping. If a historical tour sounds more interesting to you, you can stop at history-rich sites such as the Musēe Culturel du Mont-Carmel, Fort Kent Block House, Louie's Antique Chainsaw Museum, and the Acadian Archives (via National Scenic Byway Foundation).