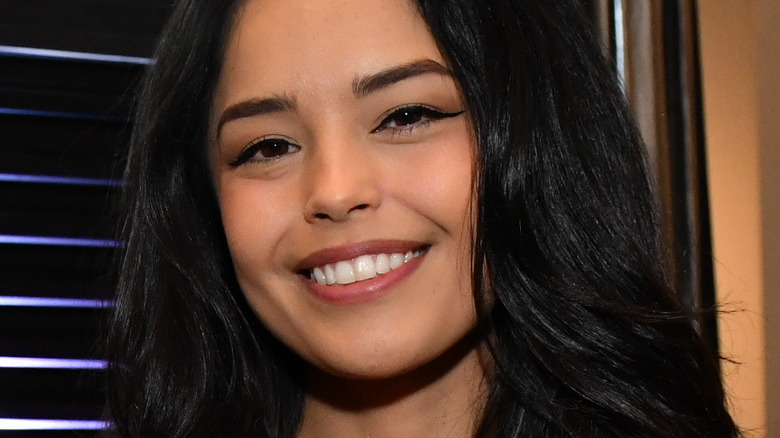 After an explosion of popularity for video gaming streaming during the quarantine of 2020, the streaming industry has maintained its elevated levels of production and viewership throughout 2022 (per Statista). For every quarter in 2022, over 5.5 billion hours of streaming content was watched on Twitch alone.
As competition within the streaming industry heated up, so did the platform wars between Twitch and YouTube. Gone are the days of Mixer transfers, and a wave of YouTube converts was ushered in their place. And, towards the end of the year, Kick threw its hat in the ring as well.
Streamers themselves made plenty of headlines in 2022, like the meteoric rises of some brand new stars, the proliferation of creator-based live events, and even industry-wide shake-ups like the banning of gambling on Twitch. Whether it's glory or shame, 2022 had it all in store for followers of the streaming industry, and here are those streamers that fans loved most.
xQc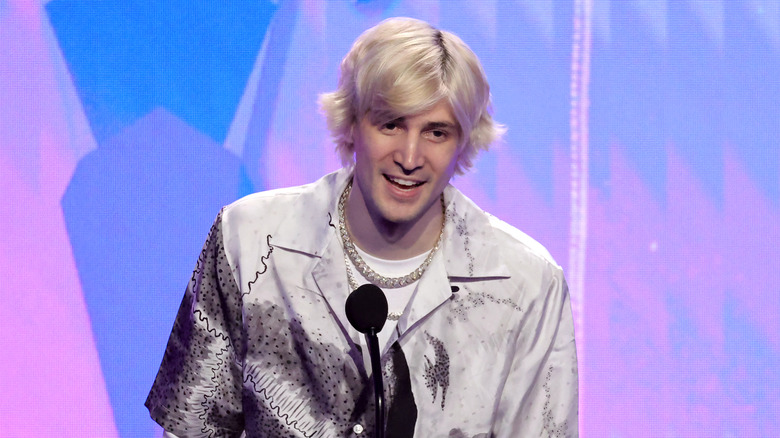 xQc is a Canadian-born streamer and is one of the most instantly recognizable faces of the industry. His original claim to fame began in 2016, when he became a professional "Overwatch" player (back then, his name was xQcOW, the OW standing for "Overwatch,"). His professional playing days for Denial Esports, Arc 6, and Dallas Fuel did not last long, and soon after, the streaming limelight found him.
Since his "Overwatch" days, xQc has taken to finding a home in basically every corner of Twitch. Whether it's true variety gaming, hanging out in Just Chatting, or finding himself a contributing part of platform-wide drama, xQc is always unapologetically himself. In 2022, xQc was front and center, alongside TrainwrecksTV, for the Twitch gambling ban because his streams garnered so much attention to the Twitch "gambling meta" (per SVG). Also in 2022, xQc broke gaming headlines for getting banned from the NoPixel "GTA 5" RP server yet again.
With over 221.86 million cumulative hours watched of his streams in 2022, xQc is undoubtedly one of the biggest livestreaming names in the world. His talent for creating and joining in on "Twitch metas" while remaining true to himself, regardless of ensuing controversies, means that xQc will continue to dominate the streaming world.
HasanAbi
The biggest political streamer on Twitch, Hasan Piker, continued the growth of his channel throughout 2022. Hasan, who got his start as a journalist for the progressive online news channel, The Young Turks, is now known as one of the most important political pundits of the Millennial generation (per Complex).
But politics isn't all that Hasan streams. Near the top of this year's list for most hours streamed, at just about 2,500 hours, Hasan also streams variety games. Some fan favorites of 2022 have been his streams of "Elden Ring" and his collaborative streams of "Valorant."
Hasan is also no stranger to controversy; his channel was temporarily banned in December and received a copyright strike after he watched "Saving Ye" live on stream. His channel was reinstated shortly thereafter, but he is now 1 copyright strike from receiving a permanent account ban on Twitch. It is hard to imagine Twitch ever letting Hasan be expelled from the platform for something like that, due to the over 81 million cumulative hours watched of his stream in 2022.
Asmongold
Asmongold is best known as an MMORPG streamer and co-creator of the One True King (OTK) streaming organization. He is, arguably, the face of the "World of Warcraft" community, as he has long been the top streamer of the game by a wide margin. But "World of Warcraft," wasn't all that Asmongold played in 2022. In fact, he expanded his MMORPG experiences by becoming a member of the "Final Fantasy 14" community in 2021 and he continued playing into 2022. He has also spent time with other games like "New World" and "Lost Ark," but "World of Warcraft" is and has always been his home game.
Beyond gaming, however, Asmongold shared his thoughts on a notable legal case by being one of the biggest hubs of social commentary on the Amber Heard vs. Johnny Depp court case that dominated headlines throughout the summer of 2022. And although his streaming numbers count him as one of the most successful influencers in the industry, with over 79 million cumulative hours watched in 2022, he revealed after taking a streaming break earlier this year that the next time he quits streaming, it might be for good.
Trainwreckstv
Trainswreckstv is a variety streamer most known in 2022 for his gambling streams. Train's streaming career began all the way back in 2015, where he found himself within the "World of Warcraft" community. He has been one of Twitch's most controversial streamers throughout his career, receiving streaming bans in both 2017 and 2018 for sexist comments made on stream (via Polygon).
His gambling streams are also part and parcel with his list of controversies, as his and xQc's wildly popular cryptocurrency gambling streams helped initiate a site-wide ban of slots-based gambling. Despite Train's insistent cautioning of the dangers of gambling, many found his and xQc's streams harmful to Twitch's younger audience, resulting in the slots ban. Train didn't let that end his gambling streams, because he took to promoting the new streaming platform, Kick, as a competitor to Twitch and YouTube. With over 74 million cumulative hours watched in 2022, it will be interesting to see if Train is able to maintain or improve those numbers on a new platform.
Tarik
Tarik made waves in 2022 as one of the most popular "Valorant" streamers on Twitch. Before he gained popularity in the streaming industry, however, Tarik spent the latter half of the 2010s playing professional "CS:GO." He had a very successful professional career, playing for organizations such as Counter Logic Gaming, OpTic Gaming, Cloud 9, MIBR, NRG, and Evil Geniuses. According to Dot Esports, he won 18 tournaments across those organizations and netted over $780,000 in prize money.
Tarik's supreme FPS skills, specifically with precision-based shooters like "CS:GO," primed him for taking over the "Valorant" category on Twitch when the game was released to massive success in 2020. One of his most headline breaking moments in 2022 came when he called out misogyny from one of his friends within the "Valorant" community (per SVG). Tarik's continued channel growth throughout 2022, with over 72 million cumulative hours watched of his stream, marks him as one of the fastest growing channels on the platform.
Summit1G
Summit1G is one of the original big content creators on Twitch. He was one of the earliest adopters of streaming as a professional "CS:GO" player all the way back in 2012. His "CS:GO" career ended in 2018, and ever since, he has played a wide variety of games, but FPS games remain his bread and butter. Summit's character on the NoPixel "GTA 5" roleplaying server, Charles Johnson, is one of the server's most notorious criminals and he recently had an emotional welcoming back to the server (per Dexerto).
From the Twitch earners leak in 2021, it was revealed that Summit was the platform's 3rd highest earner between 2019 and 2021. And it appears that his popularity on the platform hasn't petered out because, in 2022, his streams added up to over 68 million cumulative hours watched after streaming for more than 4000+ hours. As one of the most consistent streamers on the platform over the years, Summit's spot among the top echelon of the industry will likely continue into 2023.
KaiCenat
Kai Cenat has had one of the best 2022s out of anybody on this list. His meteoric rise in 2022 came from dominating the Just Chatting section on Twitch with his over-the-top personality and penchant for bringing famous people on stream (via Sportskeeda).
Just starting his streaming career in February of 2021, it has been a quick rise to fame for Kai Cenat. His charisma and comedic flare make him a natural entertainer in the Just Chatting section, and his high energy streams blend well with his style of "GTA 5" roleplaying.
When Kai Cenat was blowing up towards the end of summer in 2022, popular content creators like Asmongold and JiDion accused Twitch of being racist for not promoting or marketing his success story (per Dexerto). At that time, Kai had just over 60,000 subscribers on the platform, making him the second highest subscribed to channel. Well, a few months later Kai broke the subscriber record with over 90,000 subs and told Twitch, "I refuse for my community to go unnoticed," (per Tubefilter) With over 67 million cumulative hours watched of his stream in 2022, it is safe to say that he and his community has been noticed.
Tyler1
Tyler1 is Twitch's most popular "League of Legends" streamer. Known for his loud personality and bursts of rage, Tyler1 is perhaps one of "League of Legends'" most dedicated players. He started streaming the game back in 2014, and truly ever since, he has not stopped. According to Dot Esports, he's been banned on 22 different accounts across several regions, but Tyler1 will not be stopped from climbing the solo queue ladder.
Tyler1 is so dedicated to "League of Legends" that he has hit Challenger (the highest-ranking tier) in every role in the game. And beyond that, he has gone to other servers to try to hit Challenger there. Korea has long dominated competitive "League of Legends," so in 2022, Tyler1 teamed up with other content creators like thebausffs to climb Korean solo queue. Tyler1's trip there, however, didn't end with success or even satisfaction. His games were sabotaged so frequently by gambling betters that, by the end of the trip, Tyler1 was thrilled to be going home (per Dexerto). His streams topped over 63 million cumulative hours watched in 2022, so despite a failed Korea trip, his dedication to "League of Legends" is still paying off.
AdinRoss
Adin Ross is one of the biggest names on Twitch who blew up in 2022. Adin's streaming days began in 2019, when he began producing content about the "NBA2k" franchise of games. His gaming successes translated into success in streaming "GTA 5" roleplaying. Since gaining more notoriety, most of his streams now are in the Just Chatting section, and he has brought on famous guests like Tory Lanez to his livestreams.
Adin's name found itself in many headlines in 2022, with his controversies racking up a total of 6 channel suspensions over his short streaming career. He was part of the gambling controversy that swept across Twitch in August of 2022 (via Dot Esports). He's talked to and supports Andrew Tate, tweeting out a New Years pic of him imitating the recently-arrested influencer's look. He also candidly spoke about what really destroyed his chance for a big interview with Kanye West. Adin's name also often makes headlines for being the target of swatting, a situation he describes as, "getting even scarier." As one of the most unpredictable and fastest-growing streamers on the platform, with over 59 million cumulative hours watched of his stream in 2022, it will be interesting to see how 2023 goes for Adin Ross.
Nickmercs
Nickmercs is one of the biggest variety FPS players on Twitch. Like many other variety FPS streamers, Nickmercs began his gaming career as a professional player. He competed in "Gears of War" and had a brief stint competing professionally as a "Halo" player. In fact, during his brief "Halo" career he had a serious rivalry with Ninja before either of them were particularly famous.
His streaming career took off with the popularity of Battle Royale FPS games like "Fortnite" and "PUBG." After leaving 100 Thieves in 2019, Nickmercs joined up with FaZe Clan and has since become a co-owner of the organization (per Dexerto). He has since collaborated with the NFL, Under Armour, and in 2022, he and TimtheTatMan put on a head-to-head gaming tournament sponsored by the UFC where they competed in "Apex Legends" and "UFC 4" (via Dexerto). With over 44 million cumulative hours watched of his stream in 2022, it wouldn't be hard to imagine more big-name brand partnerships in the works for Nickmercs.
Shroud
Shroud is known by many as "The Human Aimbot" due to his incredible skill at FPS games. He started his gaming career as a professional "CS:GO" player, helping win the ESL Pro League Season 4 in 2016 for Cloud 9, but never achieving a victory at a Major. After switching to full-time streaming in 2018, Shroud has remained one of the most popular FPS players, and he has also expanded his game roster to MMORPGs like "World of Warcraft," and "New World." Shroud was one of the big name streamers who made the switch to Mixer alongside other stars like Ninja, but that stint didn't last long, and his next contract was signed back to Twitch where he has been ever since.
In 2022, Shroud briefly opened up about an idea he had for a game that he'd love to make or play–a survival game with massive time commitments and severe repercussions. But, even without his perfect hypothetical game, his streams have garnered over 38 million cumulative hours watched in 2022 so there are no signs of "The Human Aimbot" slowing down any time soon.
IShowSpeed
IShowSpeed, the 17-year-old YouTuber and streamer, has become a phenom in the industry in 2022. He began regularly making content in 2020, posting gameplay of "NBA 2k," "Five Nights at Freddy's," and "Fortnite," but it wasn't until 2022 that his channel reached its current high point.
IShowSpeed makes a wide variety of content in addition to streaming, such as making music — his most popular music video, "Shake," has over 160 million plays on YouTube. His streams are also chart-topping, with events like his World Cup 2022 stream garnering over 322k concurrent viewers (via Sportskeeda).
However, IShowSpeed's popularity has been populated with many controversies ranging from promoting cryptocurrency scams, to accusations of sexism and racism on-stream (via Dot Esports and Insider). Despite these incidents, fans of IShowSpeed show up to watch his unpredictable and dramatic antics, like when he accidentally set off "Pokémon" themed fireworks in his room. Throughout 2022, IShowSpeed's YouTube channel grew from around 2 million subscribers to around 15 million subscribers, so expecting new records out of IShowSpeed's YouTube streams in 2023 isn't unreasonable.
Valkyrae
Valkyrae is one of the most recognizable streamers on YouTube, with her channel having over 3.8 million subscribers. She began streaming on Twitch in 2015 and grew her brand quickly around her gaming content. In 2018, she became the first woman signed to 100 Thieves, where she remains to this day. Although, now instead of just being a content creator for 100 Thieves, she is a co-owner of the organization — once again breaking ground for women creators.
When she transitioned from being a Twitch partner to a YouTube partner, Valkyrae took a break from streaming, and it had her fans worried about her long-term streaming plans and a potential early retirement. Valkyrae is one of the most consistent streamers, playing a variety of games, and she reassured fans that she has no plans of retiring from streaming any time soon because she enjoys content creation and sharing her love of games with her audience.
Dr Disrespect
Dr Disrespect — also known as the Doc, also known as the Two-Time Champion – is an enigmatic streaming personality whose character-based performance dominates the streaming industry. His brazen machismo in character is matched by prowess in FPS games where he had already made a name for himself before becoming famous.
Not only is Dr Disrespect 6'8" tall with a 38-inch vertical leap, he also is one of hell of an event organizer and promoter. He's put on many of his own tournaments, with his "Fortnite" tournament breaking headlines in 2022 for barring Twitch streamers of the event from even saying his name (per SVG). Twitch and Dr Disrespect settled their murky court case in March of 2022 regarding his permanent ban from the platform in 2020. Dr Disrespect doesn't seem too hurt about leaving Twitch, however, as he mocked the streaming numbers of Twitch's largest creators on Twitter to end the year.
Fuslie
Fuslie is a long-time content creator who has grown her audience considerably in 2022 by shifting her channel from Twitch to YouTube. She began streaming full-time to Twitch in 2015, and she created content for organizations like Immortals and Phoenix1 before ending up with 100 Thieves, where she is currently. Her content has ranged between variety gaming and music. Each year she does one extended singing stream, and her 2022 singing stream ended up going for more than 3 hours straight of songs!
Her YouTube Gaming announcement video highlighted her musical flare with an original composition to break the news. Other popular content creators like LilyPichu and Sykkuno, who likewise switched to YouTube Gaming, appear in the video. Fuslie's collaborative streams with friends and creators like Sykkuno and LilyPichu, and others like Valkyrae, have helped her transition her long-time purple audience to the red streaming platform. Going into 2023, it will be interesting to see if others follow in her footsteps.
Gaules
Gaules was not only the most watched Portuguese-language channel on Twitch in 2022, he was the 2nd biggest streamer of any language on the whole platform, only surpassed by xQc (per Stream Charts). His streams garner so much attention because he is the official Portuguese broadcast of "CS:GO" majors. In May of 2022, during the PGL Antwerp Major, his stream peaked at over 700,000+ concurrent people watching, as the most popular "CS:GO" team in Brazil was playing to avoid elimination (via Dot Esports). He's revealed that his Twitch channel has reached over 100,000+ active subscribers during Majors, joining a select list of star creators to have accomplished that feat.
Gaules also broke barriers with the NBA, becoming the first Portuguese-speaking streamer to co-host an NBA game. His ability to disseminate entertainment to Brazilian audiences makes his channel, with over 160 million cumulative hours watched in 2022, one of the farthest reaching on this list.
Ibai
Ibai is one of most popular content creators on the planet, with Forbes naming him as one of the most influential Spanish people in the world in 2021. His 2022 left nothing wanted either, as he set the record for the highest concurrent view count on a Twitch livestream at over 3.2 million viewers during his boxing event, La Velada Del Año II (The Night of the Year) (via Dot Esports).
Ibai collaborates with some of the most popular athletes in the world, like Lionel Messi, and he even founded an Esports organization with ex-footballer, Gerard Piqué, named KOI. That new Esports organization made a splash in 2022 by buying their way into the European "League of Legends" competitive scene, the LEC, by partnering with Rogue, an existing organization within the LEC (via Esports Insider). Rogue's player roster will remain intact but the team will undergo a rebranding for the 2023 Spring Split, however, it is yet to be known if they will be directly repping KOI as their official team name. His streams on Twitch garnered over 108 million cumulative hours watched in 2022.
AuronPlay
A popular YouTuber before he started his Twitch stream back in 2019, AuronPlay is one of the faces of Spanish-speaking streaming. AuronPlay is a variety gaming streamer who has spent most of his stream time playing "Minecraft" and "GTA 5," roleplaying heavily in both settings.
In fact, AuronPlay's massive popularity can at least, in part, be traced back to his participation in and creation of the TortillaLand "Minecraft" server. He created this RP "Minecraft" server alongside Perxitaa and only invited the most popular Spanish-speaking streamers and content creators to join. Streams of this server during its launch consistently topped over 200,000+ concurrent viewers, and he has not slowed down his channel's growth since. This spike in popularity led to AuronPlay becoming the 2nd most followed channel on the entire Twitch platform. His continued variety streaming and charismatic entertainment has landed his channel with more than 100 million cumulative hours watched in 2022.