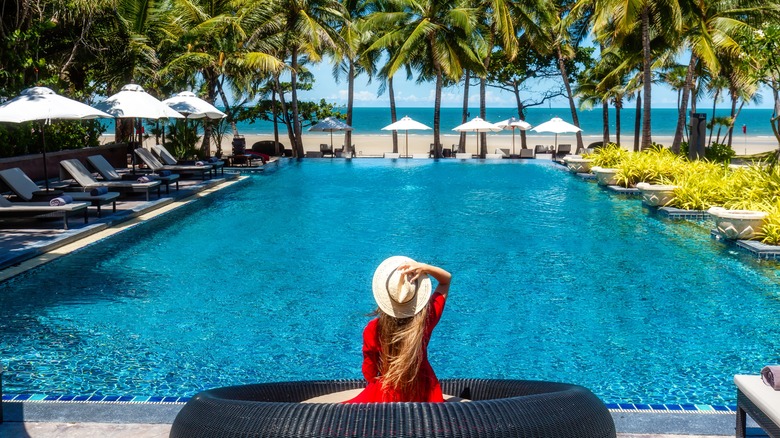 We all know that the world's a big, wildly varied place — there are 193 countries that are members of the United Nations — and the planet has no shortage of destinations to explore and enjoy when on vacation. Taking a holiday should be a relaxing, stimulating experience, and a straightforward way to take some of the stress out of a trip is to stay at an all-inclusive resort, where the room, food, drinks, and often activities are folded into the rate. That way, you won't have to worry about tallying small bill items at check out, studying menu prices to help lessen the sticker shock or rein in your evening tipples for fear of running up a mammoth tab.
There are scores of all-inclusive resorts around the world, many of which do a great job of keeping guests fully entertained on the property. Still, the ones we listed below are as much about the surroundings as they are about the resort experience, so a vacation at any will be well-rounded.
Vermont, USA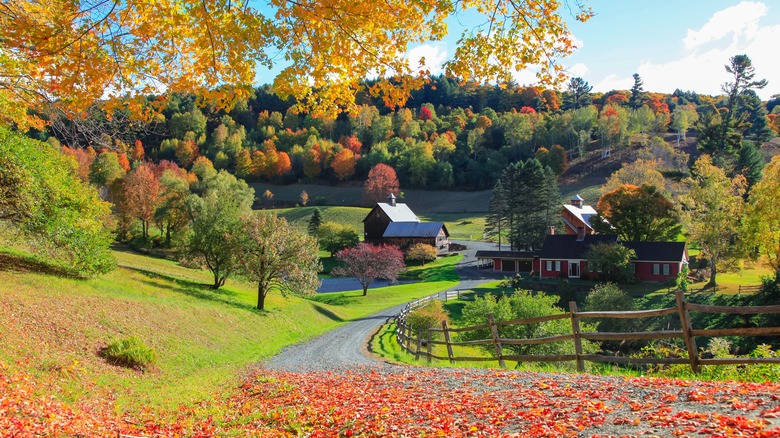 In the Vermont countryside a short distance from Silver Lake and the town of Barnard, Twin Farms is a comforting retreat that celebrates not only the surrounding gorgeous greenery but also the joys of gourmet meals. This is a beautiful part of the country — the nearby Silver Lake State Park opens during the summer season and is popular for fishing, swimming, and camping.
A stay at Twin Farms, which sits on 300 private acres, takes advantage of the fine natural environment but is much more luxe. Its 20 rooms are divided between suites and cottages that are spacious, distinctively appointed, and filled with art; the cottages all come with fireplaces. The hotel is a year-round destination, with hiking, kayaking, tennis, archery, ice fishing, a full array of winter sports, a spa and Japanese furo (hot bath), and even an art tour of the property among its lures.
The property admits adults only, and rates include all drinks, activities, and meals, which deserve special mention. The highbrow food is seasonally driven, using herbs and produce grown on-site, and can be served in the guests' room, all as part of the service.
St. Moritz, Switzerland
The town of St. Moritz has a long history as a ski mecca and has played home to two Winter Olympics, according to Switzerland Tourism. Today, this destination less than 10 miles from the Italian border is synonymous with the luxury experience, and stores here include Hermès, Alexander McQueen, Dolce & Gabbana, and Burberry. It's also where to find the family-friendly resort Saint-Moritz Roi Soleil, part of the all-inclusive French hotel chain Club Med.
Skiers are drawn to St. Moritz for its 350 kilometers (about 217 miles) of slopes, though the resort isn't just aimed at seasoned skiers — lift passes and lessons are all part of the rate, so novices can have an enjoyable time on the slopes like the veterans of the sport. Within the property, after a tiring day on the snow, guests can relax at the resort's heated pool, or refuel at restaurants that include The Stubli, where traditional Swiss dishes include that warming, savory treat fondue.
Cancún, Mexico
Who isn't captivated by stunning blue seas? This is what guests of the Secrets Maroma Beach Riviera Cancun will find right out front at this all-inclusive resort, a tropical treat with 412 suites situated on the coast south of the tourist hub Cancún, and just over a 30-minute drive from Cancún's international airport. Spread across 500 acres, the resort is loosely arranged in a U-shape, with trees on three sides and the Caribbean Sea completing the scenery. It's a popular refuge for couples and honeymooners thanks to its adults-only policy and all-inclusive set-up that covers food, drinks, activities, and room and cabana service.
Thanks to the design of the resort, many rooms have views of the sea, while certain Junior Suites come with direct access to a pool. While guests have plenty of opportunity to relax on the sand or by two huge pools, other exciting diversions await — live music, a spa, beach yoga, snorkeling, tennis, taco-making classes, kayak tours, and even exploration of Mayan ruins.
Hawke's Bay, New Zealand
Visitors to New Zealand often speak in hushed awe about the country's transcendent scenery, and for good reason. The two-island nation packs a huge variety into a compact space — mountains, rolling fields, steam-spewing geothermal lakes, indented fjords, and vast beaches. Some of that beauty is proudly on display at the hilltop Farm at Cape Kidnappers. Sitting at the southern end of Hawke's Bay, on the country's North Island, the all-inclusive resort entices travelers with fabulous food and wine as well as golf and its working sheep farm, not something you see every day at a resort!
Rooms are mostly suites, and are huge, with the sensibility of a chic, tastefully designed, contemporary barn, so imagine high ceilings and sliding wooden doors that create a comforting rustic ambiance. The pick is the Owner's Cottage, where each of the plush four bedrooms comes with a fireplace. There's so much to do here, from spa treatments to a tour of the area on a Can-Am off-road vehicle that winds through the sheep farm. Rounding out the experience is the food and wine, which mines both the wealthy bounty of local farms and the deep tradition of viticulture on Hawke's Bay (via New Zealand Wine).
Dubai, United Arab Emirates
One of the seven emirates of the United Arab Emirates, Dubai often grabs headlines for its marquee buildings — the swooping Jumeirah Beach Hotel, the sail-like Burj Al Arab, and the world's tallest building, Burj Khalifa, that Tom Cruise famously scaled in "Mission: Impossible — Ghost Protocol" (via UAE's National News). But it isn't sky-reaching towers that are the main attraction at Al Maha Dubai. This luxury desert camp, less than an hour outside the center of Dubai, is truly a fantasy come true.
The refuge sits in the Dubai Desert Conservation Reserve, the first national park to be established in the UAE and whose express mission is to safeguard this delicate, indigenous environment. Sand is central to any experience at Al Maha Dubai, it's visible from all corners of the property, but guests have plenty of options at their disposal beyond the delight of simply marveling at the dunes. Treks atop camels, a chance to practice the historic Middle Eastern tradition of falconry, and sundown drinks during that magical time in the grand expanse all keep visitors enthralled. And when it's time to decompress, travelers (all must be above 10 years of age) at this all-inclusive can retreat to tented suites, all of which come with a private pool.
Antigua, the Caribbean
Across the Caribbean, there is no shortage of fabulous beaches, but one island lays claim to having a beach for every day of the year. Antigua, part of the Leeward Islands, has 365 beaches (via Islands) dotted around its craggy coastline, and one of them is home to the adults-only Galley Bay. The resort faces west, sitting on a stretch of sand almost a mile long, so ah-inducing sunsets are to be expected.
Since the property is all-inclusive, the nightly rate covers cocktails and other drinks, plenty of activities, and dining that has plenty of Caribbean flavors. A full roster of water sports includes kayaking, stand-up paddleboarding, snorkeling, and the less-common chance to captain a Hobie Cat catamaran. When night-time descends, guests can retire to one of four bars or enjoy live music, watch movies screened on the beach, gorge on a local-style barbecue, mingle with staff and other travelers at a cocktail party, or simply marvel at the beauty of the beach and sea, shimmering under the night sky.
Montana, USA
The foothills of the Bitterroot Mountains, in western Montana, is where to find Triple Creek Ranch. An adults-only all-inclusive, this peaceful property places a premium on nature as part of the experience, with much of its offerings geared toward enjoying the surrounding forest and mountains. Rooms come in a variety of configurations, from those within the main lodge to standalone wood-log cabins that have hot tubs and feel like a private hideaway. Meals, drinks, and a wide range of ranch activities are entwined into the nightly price, and guests will find fabulous food and wine central to any stay.
The resort is a year-round destination, using the seasons to excellent effect in its generous spread of recreation options. Winter enthusiasts will enjoy the cross-country and downhill skiing here, or the chance to try out dog sledding (it's hugely popular, and reservations are recommended). In warmer seasons, you can join a cattle drive, get wet with some whitewater rafting, pan for sapphires, go for hikes, and even try hatchet throwing, among the many choices that commemorate the nature and history of the West.
Guanacaste, Costa Rica
The name Robert Trent Jones will ring familiar to golf lovers the world over — Trent Jones Sr. was a pioneering golf architect, a mantle that his son, Trent Jones Jr., has since taken on. Golfers at the Westin Reserva Conchal will also recognize the name since the property on Costa Rica's west coast is home to an 18-hole Robert Trent Jones Jr. course, making it a golfing paradise on the Pacific. The all-inclusive is a huge resort, extending across 2,400 acres of beach and forest, with 406 rooms and a mammoth freshwater pool near the shore.
Accommodations come in soothing tones, with plenty of wood accents and light hues on furnishings. Families will appreciate the kids' club, while the food you'll find while dining boldly captures the flavors of Asia, Europe, and the Americas. While active options include the beach, fitness center, spa, morning yoga, rainforest hikes, and tennis courts, the crowing jewel is the Reserva Conchal Golf Course, a par-71 course with lakes, ravines, and shot-distracting ocean views.
South Ari Atoll, the Maldives
This nation sprinkled across the Indian Ocean, southwest of Sri Lanka, checks many of the boxes of a quintessentially tropical paradise — 1,192 islands that promise stunning beaches, sublime baby-blue seas, water warm enough to bathe in year-round, impossibly sunny skies, and luxury resorts with overwater bungalows where every whim is appeased. The Maldives is a pioneer in the concept of the single-island resort, mini worlds unto themselves that for guests weave the mirage of being a shipwrecked castaway (albeit one with room service).
The waters here are clear and healthy, and when staying at the Lux South Ari Atoll, you might find yourself in them with a marine biologist swimming near a whale shark, the world's largest fish, per the American Museum of Natural History. Other water activities that will keep you excited and energized are the jet ski safari and the unique opportunity to do yoga aboard a dhoni, a traditional Maldivian boat. Plant-based foodies will revel in the choices here — all of the property's restaurants offer separate vegan and vegetarian menus.
Uluru, Australia
As the National Museum of Australia posits, Aborigines have lived in Australia for more than 60,000 years, settling into their homeland much earlier than the first inhabitants of North America who arrived 30,000 years ago (via Nature). For these ancient people, Uluru, a giant sandstone monolith in the heart of Australia that's sometimes referred to as the Red Centre, is a deeply sacred site, a place where the planet and memories converge (via Tourism Northern Territory).
The vastness of this natural formation, which seems to erupt from the land, is hard to fathom — just walking around it requires a stroll of more than five miles! It's a truly extraordinary, majestic site, and one that guests of Longitude 131 can witness from the comfort of their room. Accommodations are split between luxury tents and dune pavilions, both offering views of Uluru through floor-to-ceiling windows, while the later room category also gives guests a vista of the rocky formation Kata Tjuta. At the all-inclusive, meals, unlimited French Champagne, and experiences within the Uluru-Kata Tjuta National Park, a grand tract of breathtaking, spare natural beauty, are all part of the stay.
Patagonia, Chile
A vast expanse at the end of South America, Patagonia unfurls across 260,000 square miles of Argentina and Chile (via World Wildlife Fund). It's a part of the world where the geography is mouth-agape mind-blowing, a tableau of glaciers, jagged peaks, alpine lakes, and endless skies. Few parts of Patagonia, though, are as dramatic or stunning as Torres del Paine National Park, where the centerpiece is a trio of peaks that rise like giant shards of broken glass.
This stunning scenery is the setting for the all-inclusive Tierra Patagonia, a low-slung lodge where rates include transfers, rooms, meals and drinks, and trips around Patagonia. Rooms are simply put together so as not to detract from the gorgeous natural surroundings, with pale wood paneling, light tones throughout, and large windows that survey the park's beauty. The striking views are also available from the dining room, where a wall of windows allows diners to enjoy the panorama while enjoying modern Chilean fare. And to truly unwind while savoring the setting, you can lounge in a heated indoor pool while peering out at Mother Nature's marvel right outside the giant windows.
Halkidiki, Greece
The Greek islands, drops of culture, cuisine, and fabulous beaches sprinkled around the Aegean Sea, have long been a favorite haunt of vacationers to Greece. But travelers in search of more beyond the sultry charms of the water should consider Halkidiki (also written as Chalkidiki), a multi-pronged peninsula in northern Greece near Thessaloniki with beautiful waters, dense forests, and rich history represented through monuments and archaeological treasures (via Greece National Tourism Organisation).
Halkidiki is where visitors will find a pair of sister resorts a short drive from each other — Ikos Oceania and Ikos Olivia, both on TripAdvisor's 2022 Best of the Best. The two, beachfront all-inclusive resorts offer a relaxing environment, with spas, pools, rooms in soothing hues, activities like tennis and windsurfing, and nightly entertainment.
Meals can be taken on-site or at local restaurants, and guests can drive the properties' Teslas to explore the surroundings or visit churches and museums (such as the Gerovasileiou Vineyards & Wine Museum), all as part of the nightly rate. Sounds far more scintillating than just sitting on the sand, doesn't it?
Sabi Sands Game Reserve, South Africa
Kruger National Park sits in South Africa's northeast, close to the border with Mozambique, with 2 million hectares (about 5 million acres) of diverse terrain that has carved out a name for itself as a premiere safari destination. Its neighbor, Sabi Sands Game Reserve, is about 30 times smaller and might not receive as much recognition, but it's a fantastic place to get close to the Big Five — buffalo, elephant, leopard, lion, and rhino (via World Wildlife Fund). And for guests of Singita Boulders Lodge, that wildlife is just one part of the amazing experience.
The tiny all-inclusive safari camp — it only has 12 rooms — admits children aged 10 and above, and has a design vernacular that helps it to meld into its surroundings on the Sands River, with rooms exposed to the elements or brought closer to them through the clever use of glass screening. Interiors mix hard and soft elements, hence stone and sheepskin, and all have a plunge pool. Rates include two safari drives a day, where you have the chance to spot wildlife, as well as walking safaris taken with guides and trackers that know the terrain — and its wildlife — like the backs of their hands.
British Columbia, Canada
Exploring Bedwell River Canyon, searching out whales and bears, hiking to a waterfall, riding a horse through a fir forest, and climbing a towering tree… these are just a handful of adventures that await you at Clayoquot Wilderness Lodge. Glamping in the real wilderness — but also with supreme comfort — lets travelers truly appreciate the Great Outdoors at this luxury all-inclusive on Vancouver Island where access is via seaplane and where nature is firmly the star attraction. Rates include excursions, drinks, and food that is proudly and locally sourced. Given the property's remote location, it only opens seasonally, this year from May 18 to September 23.
The lodge has 25 rooms, and luxury canvas tents dotted around the grounds, some next to a river, others deep in the rainforest, though all come with outdoor seating so travelers can enjoy the setting. To give you an even greater sense of the beauty of this part of Canada, the property can take you aboard its helicopter on trips to a glacier, fly fishing, and hiking spots among snow-capped peaks. For nature lovers, this will be a vacation they will never forget.