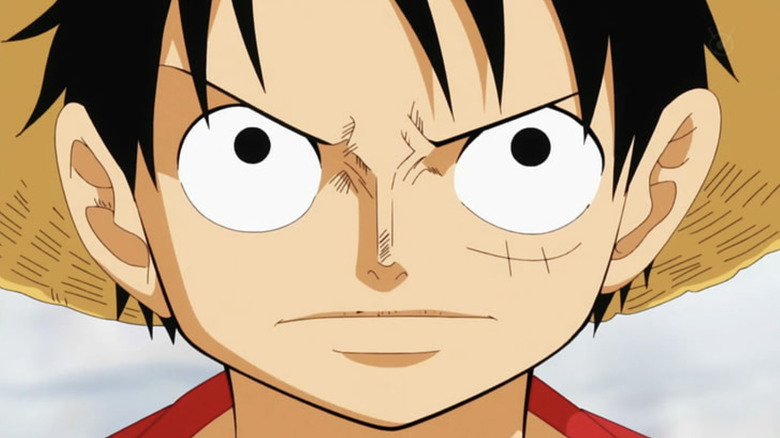 No combination of words sends shivers down the spine of anime fans quicker than "live-action adaptation." Adapting established anime and manga titles is often fraught with problems, and previous attempts have been hit-or-miss for several years. Aside from an occasional winner — such as "Pokémon: Detective Pikachu" — the sub-genre has been littered with some truly atrocious offerings. This includes the likes of "Ghost in the Shell," Netflix' "Death Note," and "Dragonball Evolution" — all hated by fans to varying degrees. Whether because of bad writing, misguided casting, or a misunderstanding of the source material, anime fans have relegated many of these films to the bargain bin.
Despite this uneven track record, there is still a slew of live-action anime adaptations set for release. From one-shot films to long-running anime tentpoles, many fan-favorite properties will be getting the live-action treatment — whether we like it or not. Here are some upcoming live-action anime projects that might've flown under your radar.
Avatar: The Last Airbender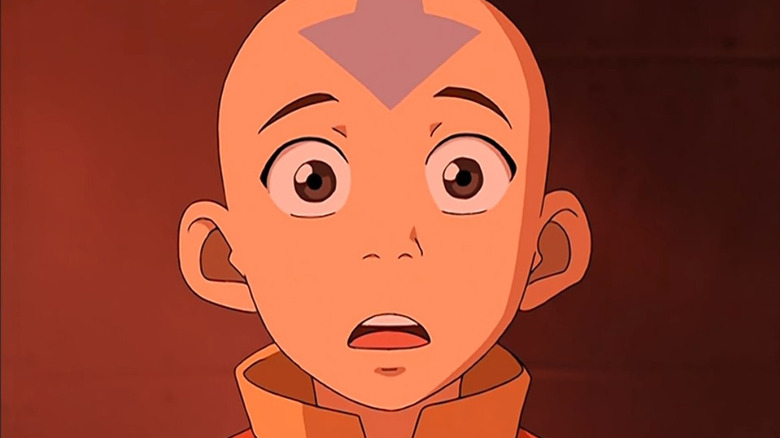 Created by Michael Dante DiMartino and Bryan Konietzko, "Avatar: The Last Airbender" is a series set in a world wherein people known as benders can control one of the four elements — earth, air, fire, and water. The original show follows Aang, a 12-year-old boy who must travel the four nations and master the elements for an eventual showdown with the Fire Lord. Along the way, Aang and his allies — Katara and Sokka — make new friends, all the while fleeing from the tenacious Prince Zuko.
The series — beloved by fans and critics alike — is no stranger to big-budget adaptations, having been previously adapted by M. Night Shyamalan in 2010. One need only look at the film's Rotten Tomatoes score to know that it was far from well-received. With that stigma in mind, many were curious when Netflix announced that they were taking a second crack at a live-action adaptation in 2018 (via The Hollywood Reporter). While a trailer has yet to be released, Netflix has announced the impressive cast which includes Gordon Cormier as Aang, plus Daniel Dae Kim, Tamlyn Tomita, Ken Leung, and Paul Sun-Hyung Lee.
One Piece
In the world of anime, few franchises are as daunting for newcomers as Eiichiro Oda's "One Piece." When it comes to length and longevity, "One Piece" stands as one of the longest-running serialized mangas, first seeing publication in 1997. With more than 100 volumes to its name — as well as an anime adaptation that has been going strong since 1999 — "One Piece" has remained consistently popular for more than 25 years.
The story follows Luffy P. Monkey, an aspiring pirate who consumes something known as Devil Fruit, which allows him infinite stretching abilities. However, this means he'll never be able to swim again, adding an extra hurdle to his high-seas aspirations. Over the series' long run in print and on TV, Luffy has amassed a formidable crew all while hunting for a grand treasure — the titular one piece.
While rumblings of a live-action adaptation began in the late-2010s (per Japan Times), it was formally announced on Twitter in 2020 that Netflix was moving ahead with the adaptation. In 2021, the main cast was revealed via a series of on-brand wanted posters, including Iñaki Godoy as Luffy and Emily Rudd as Nami (via Deadline). Production started in 2022 and Rudd confirmed on her Instagram that they had wrapped six months later. Hopefully, we won't have to wait too long to see the Straw Hat Pirates take sail.
Hellsing
Created by Kouta Hirano in the late '90s, "Hellsing" has been a favorite for those who love dark fantasy, action, and especially vampires. The manga was successful enough to last from 1998 all the way to 2009 — selling more than 4 million copies (via NBC Universal Japan) — and spawning two anime adaptations — the original series and "Hellsing Ultimate."
The series follows the Hellsing Organization — founded by Abraham Van Helsing — a group that deals with supernatural threats such as werewolves, ghouls, zombies, and vampires. At the beginning of the story, we follow a vampire named Alucard and his recently-turned assistant Seras, along with Integra Hellsing — the current leader of Hellsing. As the series progresses, crazy twists and turns abound — including a fascist group called Millennium who want to restart World War II with a vampire army.
With a premise this interesting and a world this unique, a live-action translation seems like a logical move. Fans have been waiting a while, but in 2021 it was announced that Amazon Studios was moving forward with a feature film (via Anime News Network). The man holding the pen this time around is Derek Kolstad — the writer for the "John Wick" series. While on paper this seems like a solid creative pairing, only time will tell if "Hellsing" will be a hit or a miss.
Kimi ni Todoke
"Kimi ni Todoke" is a coming-of-age romantic comedy manga written by Karuho Shiina that ran from 2005 to 2017. The slice-of-life title was so successful, it spawned an anime adaptation that ran from 2009 to 2011 for two seasons and 38 episodes. Following that, the title got another chance via a live-action movie directed by Naoto Kumazawa, released in 2010.
The story follows Sawako Kuronuma, a high schooler living in Hokkaido who has been an outcast among her peers mainly for her appearance. Due to her long black hair, her fellow students often call her "Sadako" — the character from "The Ring" — much to her embarrassment. However, things change when Kazehaya — one of the popular kids — takes an interest in her and the two begin hanging out. Soon enough, Sawako begins coming out of her shell as a charming romance begins to bloom between Kazehaya and her.
Fans of the series will be happy to know that it's getting a second more high-profile live-action adaptation — this time courtesy of TV Tokyo and Netflix (via Anime News Network). The TV series will be directed by Takehiko Shinjō and Takeo Kikuchi, with a release date set for sometime in 2023.
Sword Art Online
Virtual reality technology is becoming more and more prevalent, however, we're still far off from many of its fictional representations — like the one seen in "Sword Art Online." Starting life as a light novel — written and self-published by Reki Kawahara — the series was later adapted into a manga, a wide-spanning anime series, and — fittingly enough — video games as well.
The series follows Kazuto "Kirito" Kirigaya, a beta tester for Sword Art Online — an open-world MMORPG created by Akihiko Kayaba. However, it's soon revealed that Kayaba has trapped all the active players in the game via their VR gear. With real-life death now a built-in feature, Kirito, his love interest Asuna Yuuki, and the other players must clear the game to earn their freedom.
Back in 2016, The Hollywood Reporter confirmed that the franchise would be getting a live-action adaptation. Screenwriter Laeta Kalogridis — the scribe behind "Shutter Island" and "Alita: Battle Angel" — has been tasked to write the pilot episode. After two years, it was announced that Netflix had picked up the project for distribution and the cast would be Japanese (via Anime News Network). This has helped to calm the concerns about whitewashing — something that Kalogridis addressed in an interview with Collider.
YuYu Hakusho
If you stayed up late watching Cartoon Network's "Toonami" block — described by Vulture as the "anime gateway for millennials" — then there's a good chance that "YuYu Hakusho" left an impact on you. Based on the manga by Yoshihiro Togashi, the series follows Yusuke Urameshi, a teenager who ends up hit by a car trying to save a child. Following his "demise," Yusuke meets Botan, an uncharacteristically chipper and brightly colored grim reaper who offers him the chance to earn his prematurely-taken life back. Following a series of tests, Yusuke's life is returned but with one caveat: He must now take on the full-time job of a Spirit Detective. Now Yusuke — with his friends at his side — must investigate cases involving underworld demons and other paranormal incidents plaguing the human realm.
In 2020, fans were knocked for a loop when it was announced that Netflix was moving forward with a live-action series (via Anime News Network). It was later confirmed that Shō Tsukikawa will direct the series, and Takumi Kitamura and Shuhei Uesugi will be playing Yusuke Urameshi and Kazuma Kuwabara respectively (via Anime News Network).
Death Note
Written by Tsgumi Ohba and illustrated by Takeshi Obata, "Death Note" follows Light Yagami, a high schooler at the top of his classes. However, academic successes bring little in the way of happiness for Light, who is hopelessly bored with his day-to-day life. This all changes when a book labeled Death Note falls to earth and Light opts to pick it up. Upon experimenting with it, Light confirms the book's ability to kill anyone whose name is written within its pages. Additionally, Light meets the book's original owner, an apple-loving shinigami — aka god of death — named Ryuk. With the power of a god in his hands, Light looks to use the book to cleanse the world. However, things become complicated when he finds himself in the crosshairs of a reclusive detective named L.
The series has already seen a few live-action adaptations — both from Japanese and American creators — with mixed reactions from fans. However, in 2022 it was announced that the Duffer Brothers — the creators of "Stranger Things" — were helming a live-action series for Netflix (via Anime News Network). The Duffers have proven themselves when it comes to original stories, but it remains to be seen how they'll handle a known property like "Death Note."
My Hero Academia
If you walk the floors of an anime convention nowadays, you won't have to look too hard to find "My Hero Academia" fans." It's no secret that superhero media has become a sizable cornerstone of modern pop culture, largely due to the Marvel Cinematic Universe. With that in mind, it's not immensely surprising that Kōhei Horikoshi's world of heroes and villains has caught on quite as much as it has.
The series follows Izuku Midoriya, a boy who exists in a world filled with people with various superpowers — aka "Quirks." Those with impressive abilities tend to become heroes who help to protect the innocent and save the world. Unfortunately for Izuku, he was born Quirkless, making his dreams of following in the footsteps of his idol — the number one hero, All Might — seem like a distant hope. Following a surprising series of events, however, All Might takes Izuku under his wing in order to train him as his successor.
Through its lovable characters, charming designs, humor, and steadily increasing dramatic stakes, the series has struck a chord with countless hardcore and casual anime fans. The series' popularity reached such a fever pitch, that in the late-2010s, it was announced that a live-action film was in the works (via The Hollywood Reporter). While many details haven't been unveiled yet, what we do know is that the project will be directed by Shinsuke Sato and written by Joby Harold.
Pokémon
In the '90s, western kids were exposed to Japanese animation via a few different sources, but none were quite as culturally pervasive as "Pokémon." Whether through the manga, the hugely popular anime series, the collectible card game, and merchandise, or video games, "Pokémon" is a genuine phenomenon. In fact — according to Statista — the brand is "the world's most valuable media franchise with estimated all-time sales of $100 billion."
The series is set in a world largely populated by creatures known as Pokémon — creatures with different abilities that can shrink down to fit into your pocket. These Pokémon are often caught by trainers and used to compete in fighting tournaments, with the winners attaining status as Pokémon Master. The main anime series — which first aired in 1997 — largely followed Ash Ketchum and his Pokémon companion, Pikachu. Since then, both the anime, the manga, and the games have largely exceeded that scope and brought in other characters as well.
With a franchise this big, it's surprising that the only live-action content released for it was "Pokémon: Detective Pikachu" in 2019 — a hybrid live-action and animated film that was an unlikely hit with viewers. However, in 2021 it was announced that Netflix was teaming up with "Lucifer" showrunner Joe Henderson for a new live-action offering (via Variety). We've yet to learn what aspects of the Pokémon universe the live-action series will adapt, but it'll certainly be interesting to see down the line.
One Punch Man
If ever an anime lived and died by its own absurdity, it would most definitely be "One Punch Man," based on the manga by Yusuke Murata. First self-published by Murata and later remade by Jump Comics, the series has gone on to become a modern favorite.
On an alternate version of Earth, superpowered monsters and villains run amok, causing mayhem and suffering for the average citizen. This means ample work for employees of the Hero Association, a company that employs heroes to fight day-to-day threats. This is where One Punch Man aka Saitama comes in — a bald-headed hero whose grown disillusioned with superheroing due to his immense strength. Joined by Genos — a cyborg he's begrudgingly agreed to mentor — Saitama looks to jump up the scale in terms of hero work. However, as impressive as his physical strength is, Saitama is also a complicated and multi-faceted character, resulting in ample hilarity.
In 2020, Variety announced that Sony Pictures was developing a live-action adaption with "Venom" writers Scott Rosenberg and Jeff Pinkner set to pen the script. Additionally, it was later announced that Justin Lin — director of three "Fast & Furious" movies and "Star Trek Beyond" — would be stepping into the director's chair (via Deadline). A date for the film's release has yet to be announced, however the film officially entered production in the second half of 2022.
Your Name
Directed by Makoto Shinkai, "Your Name" is a film that people are still talking about — even several years after its release. The film follows Mitsuha Miyamizu and Taki Tachibana — two high schoolers living in different areas of Japan — who one day discover they can temporarily switch bodies. They then learn they can communicate with each other by leaving notes via text, on paper, and even on their skin. Mitsuha and Taki begin to see each other's lives firsthand and even lend a hand to one another while in the other's body. The film takes the body-swapping trope — as well as established rom-com tropes — and molds them into something utterly charming and unique.
A live-action film was announced back in 2017 (via The Hollywood Reporter) and has gone through a fair amount of creative reshuffling since then. While it was originally Marc Webb set to helm the film (per Deadline), the task was later passed to Lee Isaac Chung who himself dropped out after scheduling issues (via Deadline). In late 2002, Variety announced that the film had finally locked down a director in the form of Carlos López. The film is set to follow a more western narrative while still maintaining key elements of the original animated version, and hopefully, the revolving door of directors so far is not indicative of the film's quality.
Mobile Suit Gundam
When it comes to anime, few subgenres have permeated pop culture in quite the same way as mecha anime. A big part of this subgenre's success is due to "Mobile Suit Gundam," a series that started life in 1979 and ran for 43 episodes — ending the following year.
Created and directed by Yoshiyuki Tomino, the series is set in an alternate future where the Principality of Zeon has declared its independence from Earth's Federation. This erupts into a conflict that becomes known as the One Year War, wherein Zeon makes an advancement in the form of mobile suits. During an attack by Zeon, young Amuro Ray snatches the Federation's RX-78 Gundam and fights back their invading forces. This proves to only be the start for Amuro and his action-packed Gundam adventures.
Nowadays, Gundams have become a celebrated part of anime history, with Bandai Namco Group even releasing a 59-foot-tall Gundam (via People). The series has attained such a high status that in 2018, it was announced that Legendary Pictures were adapting it into live-action (per The Wrap). In 2021, a director was finally confirmed in the form of Jordan Vogt-Roberts — the man behind "Kong: Skull Island." Aside from one glorious teaser image, nothing in terms of a release date has been set, keeping hardcore "Mobile Suit Gundam" fans waiting with bated breath.