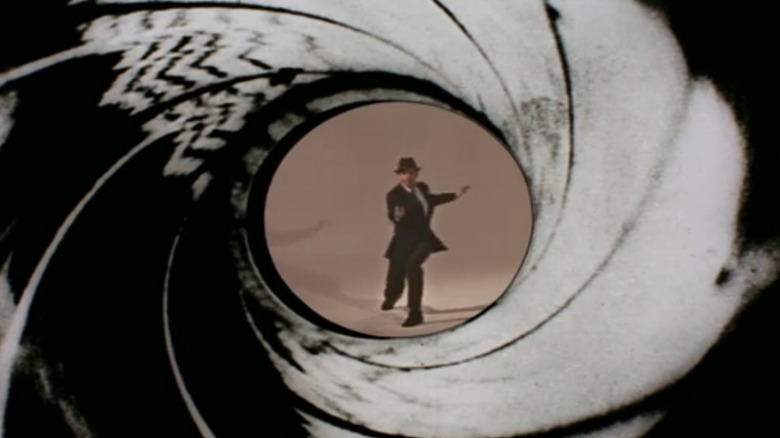 James Bond is the suave protagonist in one of Hollywood's longest-running and most-loved film franchises. Since Sean Connery introduced the mysterious world of Britain's Secret Intelligence Service in 1963, along with the dark forces of the evil criminal organization SPECTRE, secret agent 007 has wowed fans worldwide with action and spectacle. The Cold War featured in many of the initial Bond flicks, and as the series progressed beyond the fall of the Berlin Wall, spycraft continued to evolve.
The spectacle is the draw of a Bond film. The preposterous nature of the physical feats and last-minute saves brings audiences back time and again. The beautiful and daring Bond Girls are another obvious draw for the films, but equally memorable are the iconic automobiles. The cars supplied to 007 by gadget procurement specialist Q are nearly always a proper British gentleman's gran tourer fully equipped with menacing gadgets to ward off the baddies. Bond has sat behind the wheel of several makes and models, including a few random vehicles used specifically during chase scenes, a hallmark of the James Bond movie franchise. To date, James Bond has driven or been driven in 24 notable automobiles throughout the franchise and they are ranked here from worst to best.
Bajaj RE: Octopussy, 1982
In "Octopussy," we find our man of action, played by Roger Moore, eluding henchman Gobinda through the streets of Delhi. In this scene, Bond is but a passenger on a hectic ride. When being chased by murderous thugs, the Bajaj RE rickshaw is not usually the vehicle of choice, but sometimes you have to work with what you got. In this case, he had a three-wheeled tuk-tuk powered by a 10-horsepower 200cc engine and styled after the Piaggio Ape, which is also based on the Vespa scooter. The Bajaj has handlebars, seats three, and hits a top speed of about 35 mph, according to the manufacturer.
The Bajaj is not the most glorious vehicle Bond has ever used in a chase, but, as always, his quick-witted thinking and skill saved him from certain death. The wheelie done by the 10-horsepower Bajaj is a completely legitimate maneuver for this diminutive little taxi, and the ensuing series of events allowing Bond to escape are equally plausible. The truth is that regardless of how comical any vehicular maneuver might be, we love our hero anyway.
Renault 11: A View To A Kill, 1985
If you were to hail a taxi in the middle of Paris, chances are high you'd find yourself riding in a Renault. This has been true of Paris for many decades, so it's no surprise when Roger Moore's James Bond commandeers a taxi near the Eiffel Tower, it is a Renault 11, an unlikely escape vehicle. Still, a street chase through urban Paris is best suited for a small car rather than a fast one, as traffic and the tiny streets prevent anyone from gaining much speed. However, while French-English relations have been good for some time, authorities would surely frown on one of the queen's agents stealing a taxi and wreaking havoc on busy, populated French streets.
The Renault 11 is not much of a car, especially after Bond gets the top removed and then the rear half cut off by hazards in the streets. It was ubiquitous and basic French transportation, though some Americans may recognize it as the Renault Encore, built by AMC, according to Hemmings. The Kenosha-built car is a front-drive vehicle with 105 horsepower and terrible build quality. It never sold well and ended when Renault pulled out of the American market for good.
Citroën 2CV: For Your Eyes Only, 1981
An everyday French car is not the typical ride for 007. However, when the car provided by Q explodes as part of its high-tech anti-theft system, anything will do. The Citroën 2CV was developed as a capable, durable, and affordable car for the French. The 2CV is an ingenious little car powered by an air-cooled 2-cylinder engine making just 29 horsepower by the time 007 drove one, and rides on a unique suspension with coil springs underneath supplying pressure to the front and rear axles simultaneously (via Silodrome).
In "For Your Eyes Only," Bond takes his little yellow 2CV down a Spanish hillside on a torturous path to escape his assailants. The 2CV is a capable car, but some liberties were taken by the director and the actual movie car was fitted with a 4-cylinder engine, per Auto Express. Citroen also released an official 2CV for sale in the same color of yellow emblazoned with 007 decals and fake bullet holes to celebrate its success in the movie. Today, they are valuable to collectors and attract a nice premium.
Land Rover Series III: No Time To Die, 2021
In the latest installment of the James Bond franchise, we find agent 007 relaxing in retirement on the sunny island of Jamaica. Of course, organized crime never retires. While Bond is used to a fast and flashy sports car when on assignment, the proper retirement vehicle is a classic Land Rover Series III. Bond is drawn from retirement to join another MI6 agent, Nomi, played by Lashana Lynch. As this is Daniel Craig's last film as Bond, many assume this foreshadows upcoming changes in the Bond franchise.
Known for traversing dense jungles in Asia and crossing the vast savannah of Africa, the Series III, built from 1971 to 1985, is an evolution of the original Land Rover. Silodrome says it is mostly the same as the Series 2 mechanically, and most modifications are cosmetic or practical considerations. While this is likely the last of the vehicles to be driven by Daniel Craig's 007, fans have the opportunity to buy a nearly exact replica. LRO International reported that John Brown 4X4 was restoring these classics to spec and offering like-new examples just as seen on-screen for about $67,000. It's no DB5 with an ejector seat, but it still has a bit of automotive and movie history you can call your own.
1974 AMC Hornet Hatchback: The Man with the Golden Gun, 1974
There's nothing like driving a brand-new car straight from the dealer. If you are James Bond, you do that by driving straight through the front window of the dealership, with a prospective buyer in the passenger seat. The AMC Hornet from "The Man With The Golden Gun" is no official MI6 car, but another vehicle acquired in service to her majesty, the Queen. In this case, the car is displayed at an AMC dealer in Thailand where Bond is after the assassin Scaramanga, who is getting away in an AMC Matador that transforms into a plane and flies away.
It might be curious that Bond would be chasing an AMC in another AMC that came from a Thai dealership, where AMC cars were never exported. West Elgin Chronicle explains that AMC scored a big product tie-in with the producers that allowed them to insert its cars into the movie. It goes on to say that the movie was probably the first exposure to the Matador as a result. It appears that even MI6 spies have to find ways to pay the bills. The film-used Hornet sold at Sotheby's for $110,000.
1961 Sunbeam Alpine: Dr. No, 1962
James Bond debuted in the 1962 film "Dr. No" to critical acclaim. The film was a smashing success and set agent 007 on a trajectory that would entertain legions of fans for decades to come. "Dr. No" established Bond as a quick-thinking, charming, and agile protagonist, capable of getting himself out of a jam while often benefitting from dumb luck. The film also established the car chase as an integral part of the series, with our first chase having Bond in a Sunbeam Alpine evading baddies in a pre-war LaSalle funeral coach. Despite the Sunbeam having an overwhelming performance advantage, the coach gains on Bond, only to be foiled by road work equipment the little Sunbeam drives under, leaving the coach to swerve off the road and tumble to its demise.
In "Dr. No," the only special equipment provided by MI6 is a Walther PPK pistol. The infamous cars would come later. The Sunbeam used by Bond appears to be his regular transportation and is a typical English car for the time. It is an attractive little car, built in the English sports car tradition, offering lively driving and excellent handling. It is powered by a 1.5-liter 4-cylinder engine producing just 83.5 horsepower, according to Hemmings. Today, they are an affordable choice for those wanting a classic car at a moderate expense.
1935 Bentley 3 ½ Liter Drophead Coupe: From Russia With Love, 1963
In the second Bond film, we find the agent once again pitted against the evil SPECTRE organization mixed with a bit of Cold War intrigue by the inclusion of Soviet agents. The spy-versus-spy-versus-evil-organization would continue as a running theme in the franchise until the end of the Cold War. "From Russia With Love" epitomized this era.
This film does not have 007 driving any cars in elaborate chase scenes. He has a brush with a grenade-dropping helicopter while fleeing in a truck and an exciting boat chase evading SPECTRE agents, but the only car he is seen in is a finely-crafted English motorcar, a 1935 Bentley 3 ½ Liter Drophead Coupe. A Bentley is not a typical car for a government employee. But Bond is no regular government employee, so he gets an exquisitely crafted motorcar fully equipped with everything, including a phone.
1957 Ford Fairlane: Die Another Day, 2002
When agent 007 finds himself chasing down a terrorist from North Korea on the sunny tropical island of Cuba, it is fitting that he would find transportation in the form of an old American convertible, locally known as "Yank Tanks." Ever since Castro's communist revolution took over the country, American cars from before 1960 have roamed the streets and continue to be everyday transportation to this day. A 1957 Ford Fairlane convertible such as the one Pierce Brosnan drives in "Die Another Day" is a common sight on the roads of Havana.
The Fairlane Bond drives gets little screen time and is not involved in any real action. It seems as though it is in the film just to reinforce the idea that it is Cuba, where cars like this are common. In its debut model year of 1955, Ford sold 1.4 million Fairlanes, beating out its competing Chevy model by 250,000 units, according to How Stuff Works. The Fairlane convertible is the essence of American style for the era, with its curves, chrome, and a powerful 312 cu. In. V8 to get it rumbling along the Havana seawall. Bond is always for his style and panache, which makes the Fairlane a good fit.
1962 Rolls Royce Silver Cloud II :A View to a Kill, 1985
One of the many roles of a secret agent is undercover work, and James Bond is well-versed in this art. When posing as a wealthy patron of thoroughbred horses to join an auction where nefarious deeds are in motion, arriving chauffeured in a Rolls Royce is a fitting way to play the part. This is the ploy of agent 007 in the 1985 film "A View to a Kill." Roger Moore as James Bond must infiltrate the equine auction of industrialist psychopath Max Zorin, played by the incomparable Christopher Walken.
The Silver Cloud is aptly named due to the nature of the car to drive as though it were floating on a cloud. The hallmark of a Rolls Royce motorcar is sublime luxury and, in the '60s, they were built for supreme comfort and to exude a sense of unattainable class. The Silver Cloud introduced the venerable 6.2-liter V8 — later enlarged to 6.75-liter — that was used by Rolls Royce and Bentley for decades until it was retired by Bentley in 2020. Sadly for the car in the film, it was sent to the bottom of a lake with Bond inside, but, of course, he escaped and lived to win the day.
Toyota Prado: No Time To Die, 2021
Escaping baddies through the wilds of Norway is a tough job that requires an even tougher vehicle. Fortunately for Bond, he has the venerable Toyota Prado. When hiding in the Norwegian woods protecting a young mother and her child goes astray, the trio packs up in the Toyota to try and escape a couple of late model Range Rovers. This is the only real car chase in this movie and it does not disappoint.
Toyota has made tough trucks and off-roaders for most of its history, exporting them to all corners of the Earth. In North America, the best-known models are the Land Cruiser and 4Runner, but internationally, the Prado is a popular choice. It is smaller than the other two but is available in the North American market as the Lexus GX range. Auto Evolution states the first gen Prado came with a V6 gasoline or 4-cylinder diesel engine, and limited options. These were rugged vehicles meant for tackling terrain while retaining legendary Toyota reliability. Perfect for getting the MI6 out of a jam.
1969 Mercury Cougar XR-7: On Her Majesty's Secret Service, 1969
George Lazenby replaced Sean Connery as James Bond for the first and only time in "On Her Majesty's Secret Service" in 1969. The action kicks off immediately with the Bond hallmarks of a car chase — an Aston Martin, Bond saving a damsel in distress, and foiling an attempt to capture him, all followed by the damsel fleeing in a flashy American sports car. The Sports car, a 1969 Mercury Cougar XR-7, makes another appearance when Contessa Teresa di Vicenzo helps Bond escape assassins, ending up joining an Alpine stock car race in progress, with his assailants following and turning the race into a snowy catastrophe.
The car in the movie that helped Bond elude the baddies is a rare XR-7 convertible with the 428 Cobra Jet engine. It is one of only 127 examples of the car built in 1969, and one of the screen-used cars went up for auction in 2020. SlashGear reported on the sale with predictions of selling for $130,000 to $200,000, noting that cars used in films tend to raise final bids significantly. The Bonham's hammer fell on December 16, 2020, at a final value of $432,912, far exceeding expectations.
1971 Mustang Mach I: Diamonds Are Forever, 1971
Sean Connery's last James Bond movie with the original production company found agent 007 chasing after stolen diamonds all the way to Las Vegas, Nevada. The Mustang is originally driven by an unwitting accomplice of SPECTRE, Tiffany Case. However, Bond takes over driving as they escape local bigwig Willard Whyte, whose security gets his well-bribed local police force to pick up Bond as he returns to the city in what is possibly the best chase scene of the Connery films.
The film used five Mustangs in the production, according to Street Muscle Magazine, and the hero car used for close-ups was equipped with the C-Code 429 Cobra Jet engine, the most powerful offered at the time. The Mach I would have been among the fastest cars on the American roads at the time, and difficult to catch in a pursuit with the big, lumbering police cars used in the chase sequence. Bonds manages to outwit the locals with clever driving, including a fantastic scene in which he tips the Mustang to drive on two wheels through a tight alleyway.
1981 Lotus Esprit Turbo: For Your Eyes Only, 1981
Roger Moore's portrayal of James Bond is known for having traded in the Aston Martin for another English carmaker, Lotus. However, the 1981 Lotus Esprit Turbo he begins the film in is destroyed early on when henchmen attempt to steal it and its over-the-top theft deterrent causes it to explode, forcing him to flee in a 2CV. The replacement car, another Esprit Turbo, makes only a brief appearance. Its special equipment is only alluded to as Bond instructs a passenger not to touch any switches while he is away, only to return to the car to find the man has been killed.
Lotus cars have long been known for their tight handling and adept speed resulting from having a lightweight chassis rather than brute force power from their engines. Another uniquely Lotus quality is building cars that look like and drive like supercars at a fraction of the cost. Petrolicious said as much in 2016, looking at the Turbo Esprit as a car with many flaws and poor build quality, but a driving experience that sends chills of excitement through the spine, summing up the drive, "The Lotus really is that good… when it works." At that time, the car was an exotic performance car with an attainable value, although values have surely risen as of late.
1969 Aston Martin DBS: On Her Majesty's Secret Service, 1969
When George Lazenby debuted as James Bond, he arrived in a new car, the Aston Martin DBS. This car makes its appearance in Lazenby's only Bond film, "On Her Majesty's Secret Service." It makes but a brief appearance and gives but one clue that it is equipped by Q. In the opening scene, it is revealed that the glovebox is custom molded to stow the components of a rifle. The most impactful scene featuring the DBS comes at the end of the movie, which shall be withheld to prevent spoilers.
The DBS was only produced for five years from 1967 through 1972 and tends to take a back seat to its more famous DB5 predecessor. The DBS departed drastically in styling from the previous car and introduced an Aston with sharp creases and fewer curves. Sports Car Market says the DBS has for years failed to get the love and attention as other similar cars, even though the base model comes with a healthy 325 horsepower from a 4.0-liter inline-six while a 5.3-liter V8 was offered. Today, they are valuable but somewhat reasonable compared to other late '60s GT cars. Recent sales on Bring a Trailer hover just above $100,000, a considerable bargain considering comparable Italian cars of the same vintage.
1985 Aston Martin V8 Vantage: The Living Daylights, 1987
Timothy Dalton arrives in his first Bond film with agent 007 back in an Aston Martin for the first time in a decade. The Aston plays an integral part of the story, showing up in Q's laboratory to be fitted with an array of accessories meant to assist the driver to ward off would-be assassins. They come in handy, as Bond uses the wheel-mounted laser cutter, bulletproof glass, forward-facing rocket launchers, side-mounted skis, and rear-mounted rocket booster to evade communist Slovakian authorities to enter neutral Austrian territory in one of the most action-packed scenes of the film.
The manufacturer claims the V8 Vantage could hit 60 mph in just 5.2 seconds with a top speed of 170 mph, making it the first true British supercar. It was the flagship model produced from 1977 to 1989, powered by a 5.3-liter dual overhead cam V8 producing 380 horsepower, and respectable output for its time. Bond shows up in the same model once more in the 2021 film, "No Time To Die," although it is obviously a different car as the first one self-destructed in Slovakia.
1997 BMW 750iL: Tomorrow Never Dies, 1997
The '90s marked the end of the Cold War and the emphasis of defense forces turned toward rogue terrorist organizations. The same shift happened with James Bond films, continuing until today. When Pierce Brosnan took over the role of 007, the usual proper English sports car was traded in for upscale German machines, with "Tomorrow Never Dies" introducing Q's first spy-equipped sedan, the 1997 750iL. In the scene where Bond takes possession of the car, a prelude of real technology to come is displayed as Q uses a remote control to summon the vehicle automatically from its parking space. It goes into the realm of fiction as Bond then drives the car completely by remote control, but that's part of the Bond allure.
The top-of-the-line 750 in 1997 featured the legendary BMW 5.4-liter V12 with automatic transmission and every possible option at the time, standard. Motor Trend compared the interior to that of an opulent library, but with technology. The standard car came with double-glazed glass to deaden sound, but Q made it bulletproof and added machine guns, missiles, and self-inflating tires. Like so many others, this BMW gets destroyed, but standard issue non-MI6 750s can be bought today for about a tenth of the original price.
1995 BMW Z3: Goldeneye, 1995
The first time Pierce Brosnan shows up as James Bond, he's in a silver DB5 just like his predecessor. But, with every new Bond comes a new car and this time it isn't British nor is it right-hand-drive. Among the many ubiquitous chase scenes, close calls, and martinis shaken in "Goldeneye" and other Bond classics are a stream of product placements, according to Business Insider. Like the paid inclusion of AMC in "The Man With The Golden Gun," the BMW marketing department held enough sway to put the hero in a German ride. The film was a great way to boost sales of the Z3, which was the first sports car from BMW since the 507 of the '50s.
To say Bond drove a German car is not completely accurate, as the car is made in South Carolina, a first for BMW, according to Motoring Research. The car gets little screen time and does not influence the plot. We see it has a parachute and Q tells Bond about its stinger missiles, radar, and self-destruct system, but none of those get deployed, but all the fun BMW bits have to wait for the next film. However, the best product tie-in comes later, when Nintendo released Goldeneye for N64, regarded by many as one of the best video games of the '90s, if not all time.
2002 Aston Martin Vanquish: Die Another Day, 2002
"Die Another Day" marked James Bond's return to the Aston Martin brand as well as Pierce Brosnan's departure from the franchise. With the Cold War long ended, North Korea steps in as the rogue state at odds with the British and American intelligence. It also sidesteps the traditional entanglement with SPECTRE in favor of North Korean illegal arms trafficker Zao.
Bond once again is issued a fully Q-equipped automobile. This one is an Aston Martin V12 Vanquish with the usual complement of bulletproof glass, an ejector seat, and concealed machine guns. However, this Aston has an all-new feature never before seen from Q — an invisibility cloak. The Vanquish is a powerful car and a huge step up in performance and luxury from Bond's previous BMW rides. Its 6.0-liter V12 cranks out 460 horsepower and runs it to the tires through a 6-speed clutchless gearbox, a new development at the time. Edmunds says it is British luxury that goes toe-to-toe with the best of Italy, which means it is a perfect fit for the properly English 007.
1999 BMW Z8: The World Is Not Enough, 1999
Pierce Brosnan's third installment of Bond films with a BMW was 1999's "The World Is Not Enough." Bond is given his usual rundown of automotive spycraft in a new BMW Z8, courtesy of a new Q played by John Cleese. Bond's second BMW sports car plays a fairly small role in the movie and, like so many others, gets totally destroyed. This time the car gets cut in half by a giant multi-bladed buzzsaw hanging from a helicopter because that is just the type of thing that happens to intelligence agents.
The most interesting fact about the Z8 is that it isn't a Z8. BMW released the car under the Z8 moniker for the 2000 model year, and filming for the movie commenced in 1998 before a pre-production car was ready. To get the car placed, BMW offered fabricators specs to build a car that would be essentially a replica, which is not an uncommon practice for films. The car rode on a Jaguar suspension with a Chevy V8. The production cars went on to sell from 2000-2003, ending after just 5,700 units were built.
2007 Aston Martin DBS V12: Casino Royale, 2006
"Casino Royale" introduces Daniel Craig as James Bond, who goes on to make five films showing us a more serious and athletic Bond along with a hard-nosed, no-nonsense M from Judi Dench. The film is no less entertaining, though it is missing Q and some of the more jovial banter. Without Q, we also miss out on Bond's introduction to his new car, an Aston Martin DBS. Returning to the English marque puts Bond again in an English luxury Grand Tourer but with far more power and driving capability than previous Astons.
"Casino Royale" gave Aston Martin a chance to showcase its upcoming range-topping sports car. The movie was filmed in 2006, but the car would not be released until the 2007 model year, according to Aston Martins. This meant that Aston Martin had to create mockup vehicles to use in the film with the upcoming body panels used on an older chassis. The car gets little screen time and the only special equipment used in this one is a special medical device that includes a defibrillator that helps save a poisoned 007. The car crashed spectacularly just minutes later.
2020 Aston Martin DBS Superleggera: No Time To Die, 2021
Certainly, the fastest and most advanced car driven in any Bond film to date is the Aston Martin DBS Superleggera. Not much is given about this car as it is never even driven by Bond but is briefly driven by 007. Details are withheld to prevent spoilers. You will have to watch the film. The car gets a scant 70 seconds of screen time in "No Time To Die" and only serves to have Bond picked up by his MI6 colleague and taken to a NATO base in Norway.
Removing any assumptions of modifications Q may have made to this car, it is an impressive machine. SlashGear drove one back in 2018 and finished the drive rather impressed. It is propelled by a 5.2-liter twin-turbocharged V12 engine delivering an impressive 715 horsepower and loads of torque. The car is aimed squarely and ultra-fast competitors from Italy and Germany, but refined in a uniquely English manner. This Superleggera, or superlight, edition sheds some 158 pounds from liberal use of aluminum and carbon fiber. At more than $300,000, it is probably a bit ostentatious for a government employee. We already know that 007 demands only the best, and the new Aston Martin is well-suited for such tastes.
1967 Toyota 2000GT: You Only Live Twice, 1967
In "You Only Live Twice," James Bond finds himself chasing yet another evil plot from SPECTRE in Japan. While in the country, Bond teams up with a Japanese special agent, Aki, who saves Bond from security and local henchmen twice, arriving just in time in her white convertible Toyota 2000 GT. Being a proper Japanese agent, her car is outfitted with the top Japanese spy gear, including state-of-the-art Sony color screen in-car communications equipment.
The late '60s was a time when Toyota saw great export opportunities and sought to expand its market share considerably in Europe and the United States. Placing its premier Yamaha-tuned limited-run sports car designed by the legendary Raymond Loewy in a blockbuster movie must have been a coup for the Japanese company. It could easily be said the 2000 GT is the most beautiful car Toyota ever made. It has curves and chrome in all the right places, competes directly with the Jaguar XKE, but comes with Toyota reliability. The convertible is one of two movie cars as all production 2000s are hardtops. Sean Connery may have helped to make them famous but their rarity means values hover near a million dollars today.
1977 Lotus Esprit: The Spy Who Loved Me, 1977
"The Spy Who Loved Me" debuted a new Bond and a new Bond car, Roger Moore in a 1977 Lotus Esprit. This happened to be a time when Lotus needed a new car. Founder Colin Chapman decided more upscale and well-appointed cars were necessary to be profitable, and the Esprit was the answer, Motor Trend notes. The Esprit is a striking Giugiaro-designed mid-engined sports car and set Lotus on a path to making cars akin to the exotics while selling for far less money. Bond drove two of them in the film, but the 1977 model gets the most attention, and for good reason.
The James Bond Esprit is an icon for a generation growing up in the seventies and eighties as it is among the best of Q's creations from the whole franchise. Not only did it have the requisite bulletproof glass and rocket launchers, but the most iconic feature is its aquatic capabilities. What makes the 1977 Esprit one of the top Bond cars is that it doubles as a submarine and is capable of launching rockets out of the water and torpedoes underneath. The screen-used submersible mockup was somewhat lost in storage for many years, later coming up for auction only to be bought by Tesla and Space X CEO Elon Musk in 2013.
1964 Aston Martin DB5: Goldfinger, 1964
Sometimes the best thing is not the most capable or powerful. Sometimes being the first and the original makes it the best. Such is the case with the 19674 Aston Martin DB5 used by James Bond in "Goldfinger." This car introduced the idea of the secret agent driving a car outfitted by Q with special gadgetry and weapons to make his job easier. With machine guns hidden behind the headlights, oil slick sprayer out back, and a passenger ejection seat at the ready, the DB5 with a 007 agent in control makes a formidable crime-fighter.
The car's placement in the film proved to be a boon to the niche automaker, helping it to sell 1,000 units of the DB5 before production ended. Compared to most automakers, that is small, but for a boutique brand like Aston, it was almost unheard of, per Inside Hook. The DB5 went on to be most identified with Sean Connery's Bond but reappeared in seven more films. It has grown such legendary status and devoted fanbase that Aston Martin restarted production of the classic grand tourer, complete with faux guns, faux oil slick, and a sunroof cutout to make way for an ejector seat, however, production was limited to 25 units for $3.4 million each.