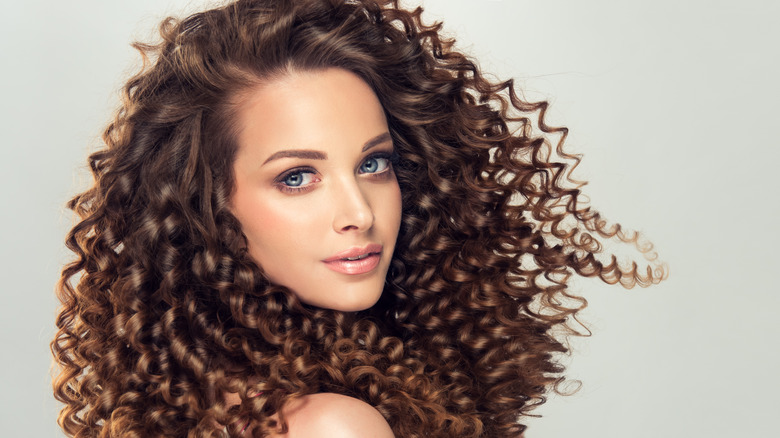 Little did we know 2020, widely recognized as the year of hell, would kick off a renaissance for the curly-haired community. People all over the country used lockdown to let their hair down, embrace their natural curls, and swap tips on getting the best, bouncy mane. Exemplified best by celebrities of color like Megan Thee Stallion, Uzo Aduba, and Shingai Shoniwa, this new online conversation about natural hair propelled curls into the spotlight, making curly hair more popular than ever. #Curlygirl hacks, curly bangs, and modern perms have been trending ever since, thanks also in part to throwback fashion trends inspired by the '80s, '90s, and early 2000s.
If you spend most evenings scrolling through videos of coily shags, soft beach waves, and other curly hair transformations, you may be considering getting a perm yourself. A perm, as explained by hairstylist Priscilla Flete, "reprograms the hair internally by breaking down its natural molecular structure" (Well + Good). In other words, the process transforms your old hair texture into a completely new curled texture (of your choice) using specially formulated treatments. No more daily curling or sleeping on rods!
Before you book an appointment, there are several important questions to ask yourself to make sure a perm is right for you. We've outlined the most important topics below with all the info you need to make a well-researched, informed decision.
What type of perm do I want?
A traditional frizzy, over-the-top '80s perm comes to mind when we visualize a typical perm, but there are dozens of different perm styles for you to choose from in 2023 — and the process behind the style has become a breeze. "The original perm was done with bare tongs that fit together, which were heated on the gas stove," salon co-owner Philippe Depeyrot told Popsugar. "The treatment has come a long way, from hours upon hours on a machine that could burn a person quick and painless."
Pilorum Salon and Spa broke down each type of perm in a super useful guide with pictures. For more relaxed, looser waves, you'll want to go for a beach wave perm, body wave perm, or an American wave perm. Emma Stone showed off an American wave perm on Instagram in 2018. "Some friends get tattoos well we get perms! We're here to tell you that they are BACK and they're not your grandma's perm!" she wrote. Cara Delevingne also rocked a beach wave perm in 2021 after transitioning from blonde to brunette hair (per Vogue).
If you like tight coils, the elegant spiral perm, super dense bricklay perm, or multitextured perm may be what you want. The best part: these perms add more volume and last longer than loose curl perms! "The curls are normally tighter and last longer due to the thinner perm rods used," explained stylist Mateo Lara (via Byrdie).
Do I like how it looks on me?
Now that you've picked your favorite perm style, it's time to test-run it. Before you call up your favorite salon or start Googling "perms near me," you'll want to try the style out. Fake your perm with heatless curls, put your curling rod to work — grab a budget-friendly wig off of Amazon if you have to, and don't go in blind! You can even try on a perm with apps like Hairstyle Try On or Hairstyle Changer. Regarding testing out the actual perm chemicals themselves, don't sweat it — your stylist will take care of that for you. "This test curl should form an 'S' shape indicating that the desired curl pattern has been achieved," Sally Beauty's perm FAQ page.
Another important thing to know: the tighter the curls, the short your hair will become after you get the perm. To maintain a certain hair length, you may need to grow it longer to compensate. Popular haircare company Prose claims your hair length may shrink as much as two inches shorter when curly. Even if your length is good to go, you can't just walk into your local salon with any old haircut and come out with your dream look. To achieve a certain kind of celebrity-inspired mullet or stacked perm, you must get a specific haircut before locking in your new curls.
Am I ready for a permanent change?
According to the Online Etymology Dictionary, "perm" was first used in the 1920s to describe a "permanent wave" hairstyle. As its name suggests, a perm is not a quick two-week trend to be tried; it's a long-lasting hair transformation that can't be undone. "Usually, you'll get around three to four months of wear from a perm," hair brand Hersheson CEO Luke Hersheson told Stylist. "If you get super tight curls, they tend to drop out slower." For long hair, another stylist suggested the look could last even longer — up to eight months (per Good Housekeeping).
Experts also emphasized you have to be willing to commit to the curls before getting a perm. Celebrity stylist Anthony Cole advised readers to avoid heat styling after getting a perm, especially with a straightener. "If you're using it at 450º, you're blasting all of the hydration out of the hair," he told Good Housekeeping. "It shocks the hair and you can lose the perm from heat damage." Likewise, Hersheson pointed out that there's no way to quickly get rid of a perm other than cutting off your whole mane (per Stylist): "You either grow it out or cut it off! It's a commitment, for sure."
Can my hair handle the chemicals?
This is probably the most important question on the list! If you've lightened, highlighted, or dyed your hair recently (or performed any other chemical treatments on your natural hair), the experts have said to proceed cautiously. While it is possible to get a cute perm if you've highlighted or dyed your hair thanks to special hair-strengthening treatments like Olaplex, most perms will only wreak havoc on your already chemical-dried hair.
Hersheson told Stylist: "If you've already got heavily bleached or highlighted hair, you can't really [get a perm] and maintain strong hair. Having a perm and keeping your hair in good condition is really important, so you need to bear this in mind if your hair isn't in the best condition starting out. Perms are definitely most suitable on virgin hair." If your ends feel fried or you're experiencing a lot of breakages, definitely consider waiting on the perm while your hair grows out.
How will my hair type affect my perm?
Hair type plays a vital role in the finished result of a perm. According to stylists, the amount of moisture, curl, and layering in your hair will determine the perm's results. "People with straight hair get volume and shape (or curls); wavy hair types can balance the curl throughout the hair; curlier types can reduce the intensity of the curl or rebalance the coil," salon co-owner Philippe Depeyrot said (via Popsugar). "It is not recommended that people with extremely curly or frizzy hair get perms."
Stylist Charlotte Mensah noted certain hair textures would have more trouble with recovery than others. "Afro/textured hair tends to experience excessive breakage after a perm," hair pro Charlotte Mensah told Elle. "Although this depends a lot on the skill of your stylist and your commitment to properly moisturize your hair daily." If you have 4C hair, for example, and you're dedicated to getting a perm, know that it's an intense process that requires a double chemical treatment to create. Rumbie and Co., a salon dedicated to styling curling hair, explains it best: "The perm process for straight or wavy hair is a completely different process from that used on Afro hair. … A curly perm on 4C hair is a two-step process. Firstly, the natural curl is removed, the hair is set in perm rods, and a waving or reshaping lotion is applied. Because this is two steps, it is often called a double processed style."
Will a perm work with my lifestyle?
As you jump into the world of curly hair, you'll also need to consider whether a perm is right for the kind of life you want to live. Are you in the water a lot? A perm might not be your best pick. You probably already knew that repeated chlorine and saltwater exposure can dry your hair, but it's significantly worse for treated hair. In a blog post about chlorine damage, the Academy Swim Club wrote: "Chemically treated or permed hair, which is already porous and protein damaged, will tend to absorb chlorine, becoming further damaged and over-processed. … This results in dry, brittle, straw–like hair." If you're still committed to the perm, stylist Sally Jameson recommends applying "conditioner or a hair oil before you swim — it will act like a shield and prevent the water from penetrating your hair — and wear a swimming cap" (via Beauty Insider).
If you're addicted to dying your hair different colors, same deal. It's doable to dye your perm, but the more frequently you do, the more damage you do to your hair (per Prose). "You can't just color your hair whenever you want," their blog post on perms read. "If you lift your color, as previously mentioned, perming is probably not for you because it could cause too much damage."
Do I have time to maintain the perm?
With a curly head of hair comes new responsibilities! As Prose director of education Faith Huffnagle put it: "A perm isn't always a wash and go style. It can be a challenge to learn how to manage curly or wavy hair if that isn't your natural texture." You may need to stock up on a bunch of products you've never used or are not used to using to maintain your new curly mane. Stylist Priscilla Flete gave Well + Good some good general advice: "To maintain the style and to keep permed hair healthy, avoid using heat, use products to help support your new texture, and sleep with a satin pillowcase."
Hair expert Charlotte Mensah also recommended using leave-in conditioners and "deep-conditioning treatments to replace lost moisture and protein treatments on a monthly basis" (per Elle). Make sure you're researching the right products, too, because you've got a new hair type; essentially, the wrong products can mess up your expensive new 'do. "Putting pressure on your hair by pulling it back tightly, brushing it roughly, not allowing ample time to set in its new shape, or using products formulated for straight hair can ruin a perm," perm expert Katherine Pittman wrote (via Katie Couric.com).
Am I prepared to spend extra to get a quality perm?
Ready to get the perm of your dreams? Check in with your bank account. According to Pilorum Salon and Spa, average prices for quality perms start at around $120. If you only want to perm a small amount of hair or DIY it, it will cost you less, but in general, you're looking at about $200 spent for a professionally created perm. "If done correctly by a professional on hair that is healthy and not overly processed, though, there shouldn't be any damage," noted hairstylist Priscilla Flete (via Well + Good). A digital perm, which uses curlers with heat to set in nice loose waves, could cost you as much as $300. Specialty treatments and proprietary perms, like the Curl Cult perm Kathy Lee detailed on The Zoe Report, will add to this cost — as much as $700 for long hair.
Don't forget the added cost of regular touch-ups! Sally Beauty recommends returning to the salon every three or four months, but you may choose to return sooner if you want to keep the extra volume on top. "If you have no natural texture to your hair, you will need [the perm] more frequently because it won't blend in as much when your natural hair starts to grow in," salon owner Janine Jarman advised Kathy. "With short hair, you will need a perm every three to four months because you end up cutting off the perm."
How do properly I prep for my perm appointment?
If you've read all the way through this list and you're ready, we've got the best tips to help prepare. In the days and weeks leading up to your appointment, the experts recommended giving your tresses some extra love with hair masks and deep conditioning treatments. Don't worry too much about product built-up — your hairdresser will likely take care of that for you by starting your session with a clarifying shampoo (per Yahoo!).
We recommend doing a light workout before your appointment or bringing something handheld to do (read a book, play games on the Switch, etc.) because you will be sitting in a chair for a while. "The process can take two hours depending on hair length," one expert told Elle. Healthline claimed it could take even longer, up to five hours, depending on how much hair you have and what you're doing to it.
Also, be prepared not to shower or do anything too crazy with your hair for the first few days after your perm. "If you're at all familiar with 'Legally Blonde,' then you'll know that the first cardinal rule of perm maintenance is that you're forbidden to wet your hair for at least 24 hours after," Hersheson told Stylist. Celebrity stylist Sascha Breuer recommended 72 hours to really set the curls in. "Even the most basic hairstyles or hair accessories can potentially cause your perm to break or set in a unwanted shape," she added.